Synology DiskStation DS116

Discover the power of anywhere access, streamline your workflow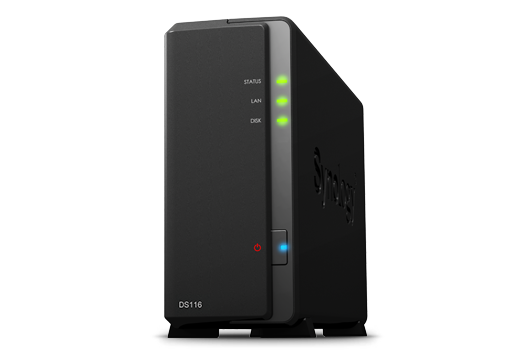 Synology Products
Synology DiskStation
Synology DiskStation DS116 1-bay
#DS116
Our Price: $206.00
Click here to jump to more pricing!
Overview:
DiskStation DS116
This compact 1-bay NAS server comes with comprehensive features, allowing you to share and synchronize files across any device wherever you are, boost work productivity, and enhance team collaboration – everything you need for small offices and workgroup environments.
A private cloud beyond just data storage
DS116 lets you do much more than store important digital assets. It allows you to sync files across multiple devices and popular public cloud storage services in one single interface, increase work productivity with collaboration tools, and protect sensitive data with advanced backup packages.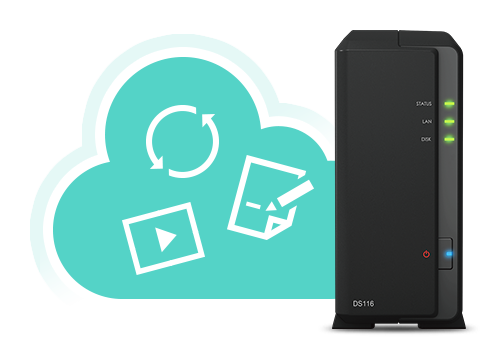 ---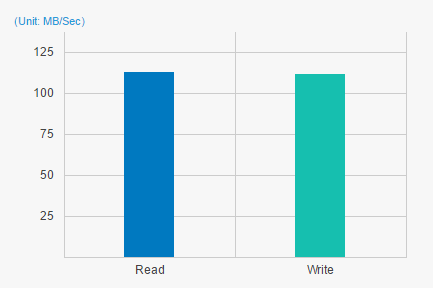 Great value, speedy performance
Powered by a 1.8 GHz dual-core processor, DS116 delivers high speed performance exceeding 112 MB/s writing and 111 MB/s reading. With a dedicated hardware encryption engine, DS116 delivers significantly improved performance when transferring encrypted data, with 112 MB/s encrypted reading and 93 MB/s1 encrypted writing — an increase exceeding 241% in encrypted reading speed and 364% in encrypted writing speed when compared with its predecessor.
---
Dual USB 3.0 ensures high speed data transmission
The dual USB 3.0 ports offer fast and efficient data transmission to a wide range of external devices. USB 3.0 supports faster transfer speed to external hard drives while consuming less power.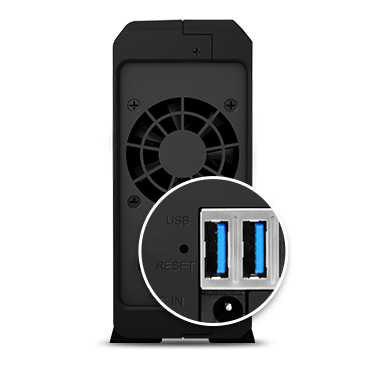 ---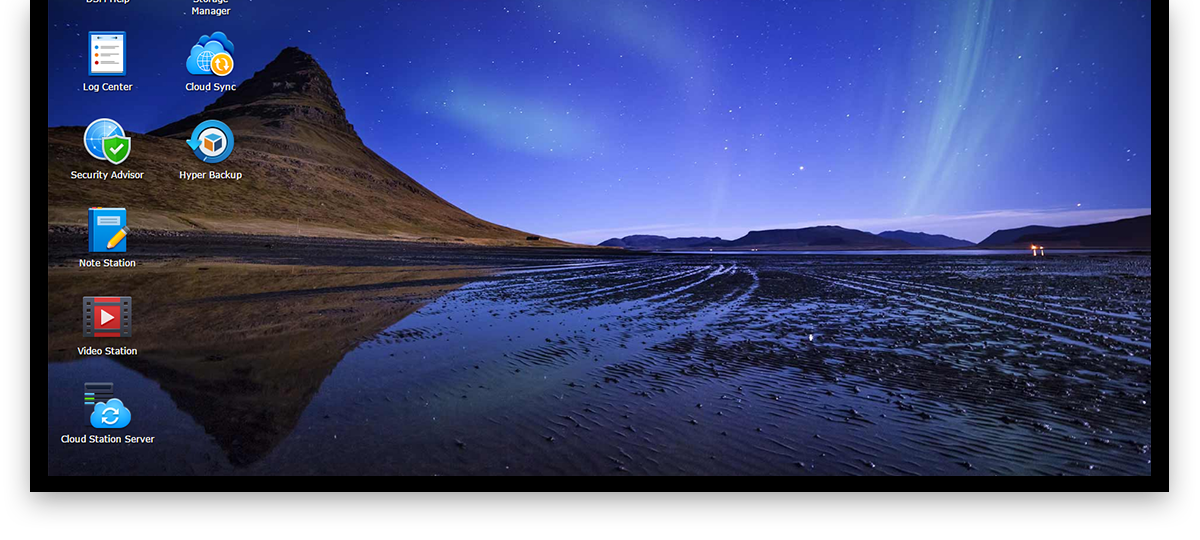 Award winning OS - DiskStation Manager
Synology DiskStation Manager (DSM) is a sleek, browser-based operating system running on every DiskStation and RackStation, which makes managing your Synology NAS a breeze. Featuring an intuitive user interface, DSM makes accessing and sharing your data smarter and simpler. Synology's Package Center lets you download and install useful add-on packages designed specifically for individual or business needs, meaning you can enjoy more entertainment in your life or better productivity at work.
---
Modern collaboration tools
DS116 comes with a comprehensive set of office applications, allowing you to maximize work productivity and improve team dynamics. Whether you are keeping track of household expenses or updating your project status, with SpreadSheet you can work together with other people on the same document in real-time as if you were sitting next to each other – even when you are miles apart. In addition, Note Station lets you and your team keep detailed notes and accomplish more tasks with features such as charts, presentation view, mail clipper, and much more.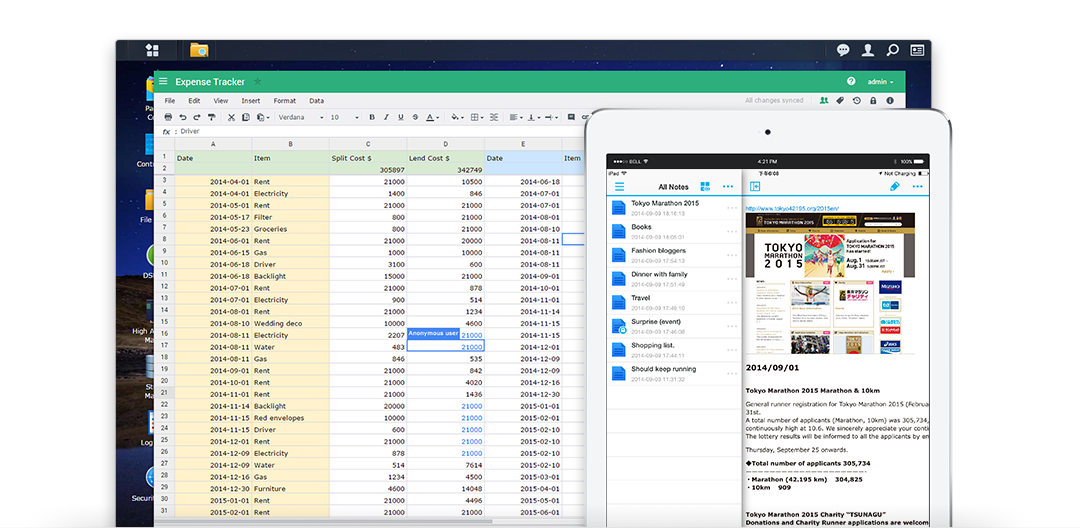 ---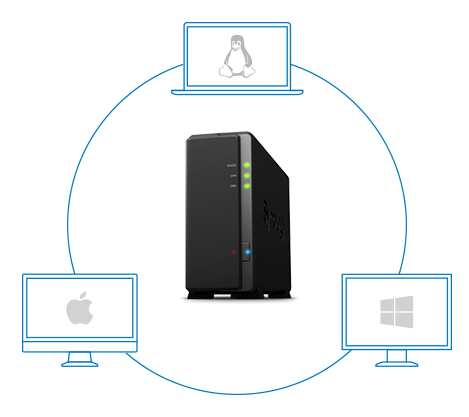 The most compatible sharing
Enjoy seamless files sharing across Windows®, Mac®, and Linux® platforms as DS116 offers comprehensive network protocol support including FTP, SMB2, AFP, NFS and WebDAV. With Windows AD and LDAP integration, DS116 can fit effortlessly into any existing network environment - there is no need for IT administrators to maintain two sets of credentials. You also won't worry about missing files with the Recycle Bin feature which is supported on AFP, CIFS, File Station, and WebDAV. All files deleted in a shared folder will be automatically moved into the Recycle Bin.
---
Your files anywhere with cloud service
DS116 brings you comprehensive cloud service. Cloud Station lets you sync files among DiskStations and multiple devices, including Windows PC, Mac, Linux, iOS, Android, as well as Windows mobile devices, whereas 2-way sync allows file synchronization among different DiskStations. With Cloud Sync, you can even sync your DiskStation with Amazon Cloud Drive, Google Drive, Microsoft OneDrive, Dropbox, Box, Baidu Cloud, and many more — establish your hybrid cloud to enjoy more storage flexibility and prevent data loss.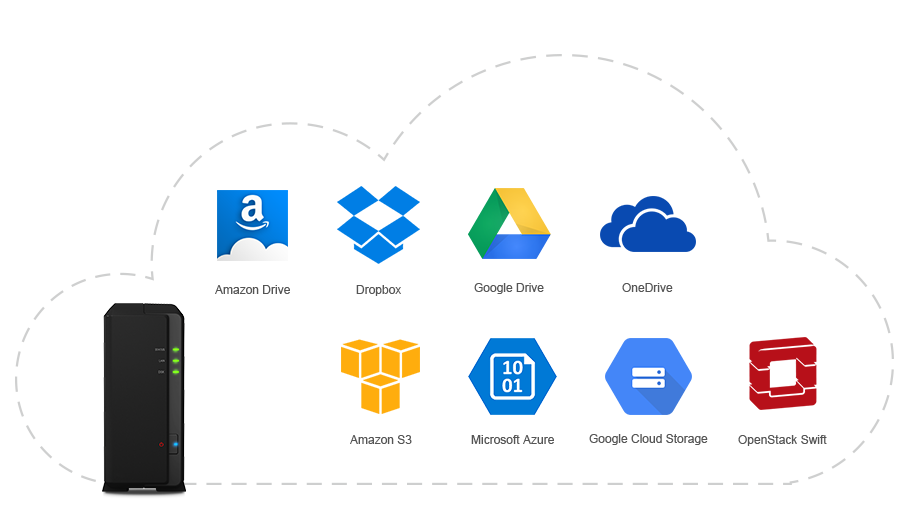 ---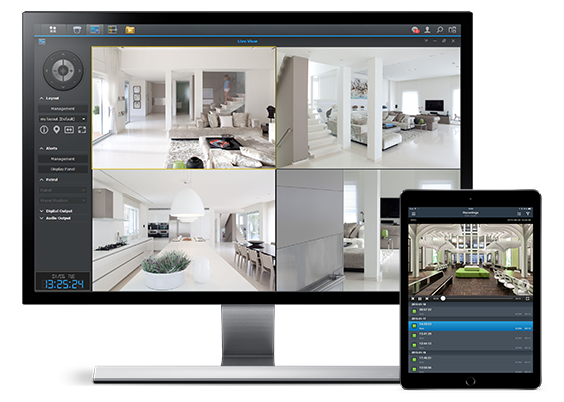 Home surveillance, accessible for all
With the Surveillance Station add-on package and two free IP camera and device licenses, DS116 serves as your home surveillance hub. Simply connect multiple IP cameras or I/O modules to the home network, pair them with DS116, and then easily view live surveillance feeds, record videos, or enjoy other advanced features like motion detection or push notifications. Support for thousands of IP cameras makes it easy to find compatible models and brands. Safeguard your home, without breaking the bank.
---
Enjoy multimedia library
DS116 provides you a central platform to organize, backup, and share photos, music, and video collections. Featuring a streamlined and sleek interface, Synology packages — Photo Station, Audio Station and Video Station — let you build a seamless entertainment hub effortlessly. Since everything is saved on DS116, you can enjoy more customizable content arrangement, and no worries about extra monthly fees for storage capacity. Better yet, your digital collections can be shared with others via a simple link.
Photo Station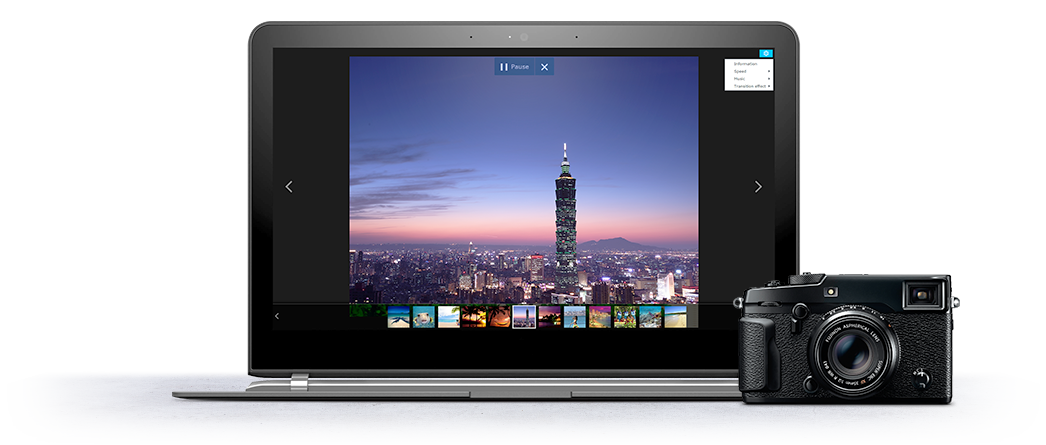 Video Station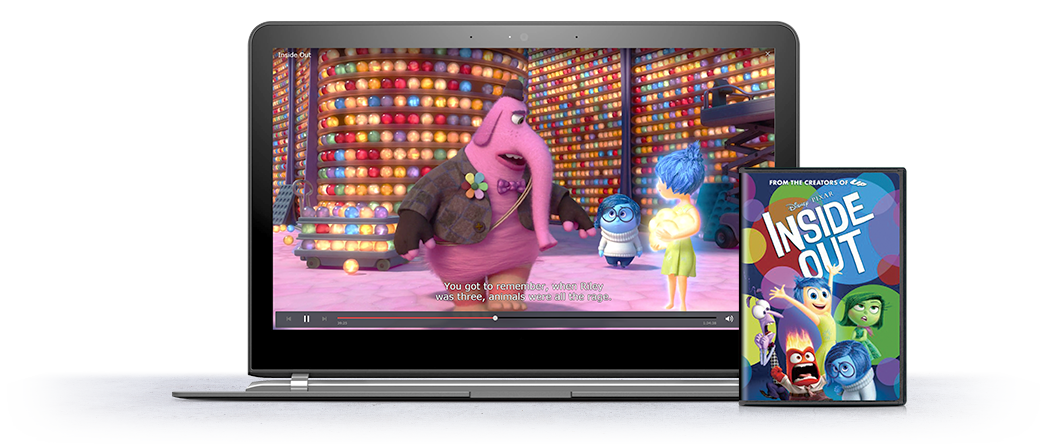 Audio Station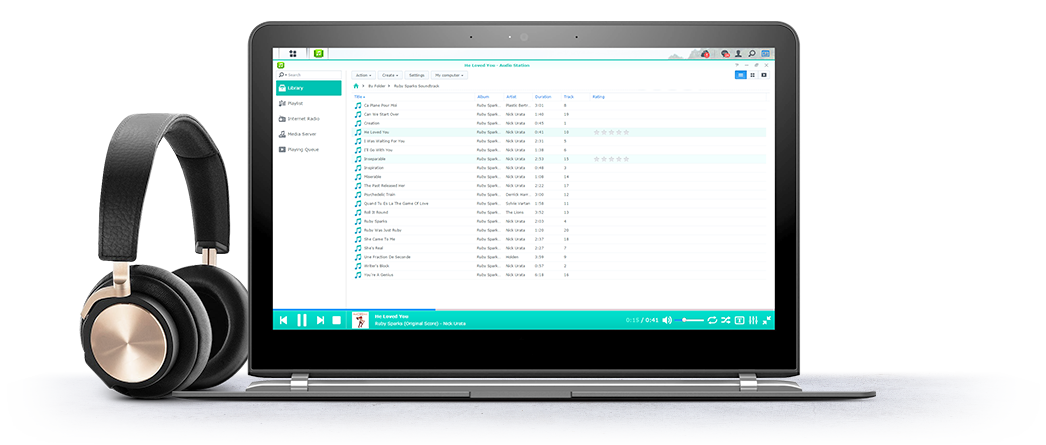 ---
Stream content to your TV
DS116 is highly compatible with other devices, letting you manage and enjoy digital content with the devices you already have: computers, mobile devices, TVs, DLNA devices, and stereos. Synology offers the latest support for TV streaming, including Samsung TV, Roku players, Apple TV, and Google Chromecast, meaning you can stream digital content stored on DS116 to your widescreen TV effortlessly.
Samsung TV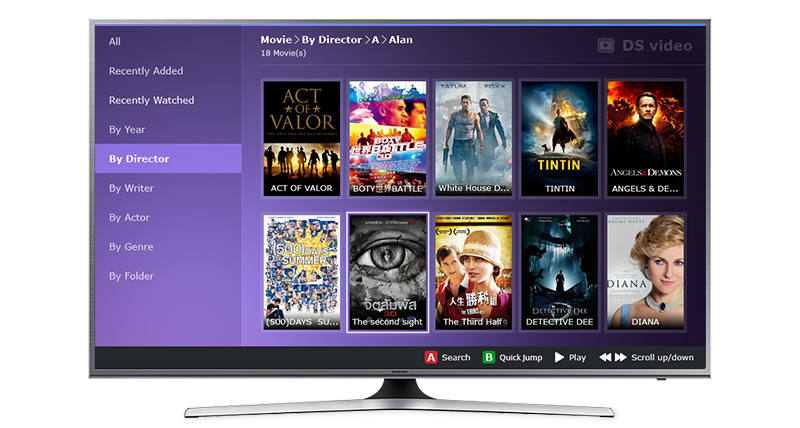 Apple TV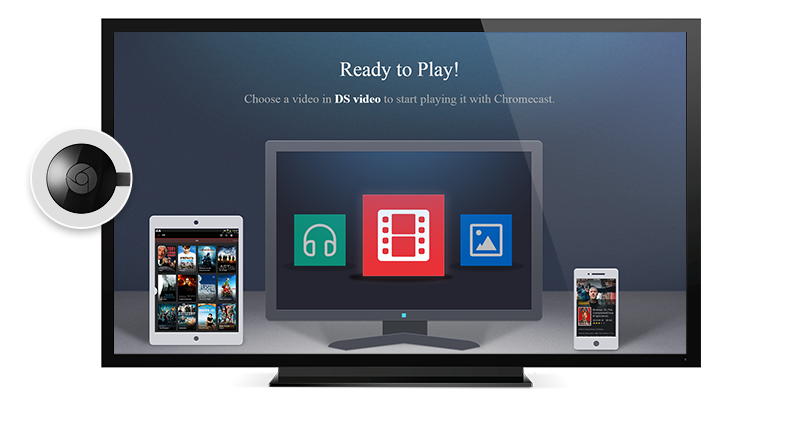 Chromecast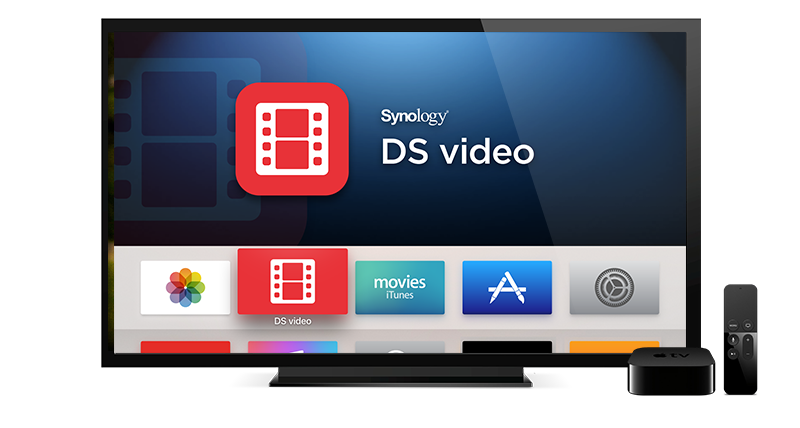 Roku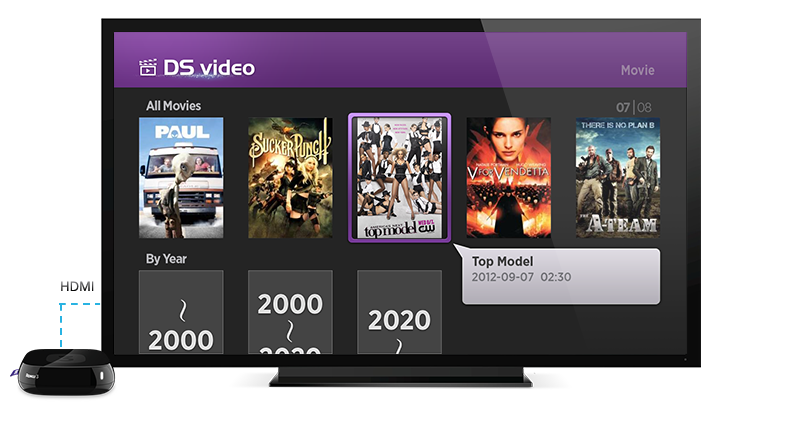 ---
DLNA Certified® media server
As a DLNA Certified® DMS (Digital Media Server), DS116 can serve as your primary media server, with the capability to host digital multimedia content for local or remote playback. Once connected to a router, DS116 streams music, photos, and videos to DLNA-compliant devices, such as DLNA TVs or gaming consoles without any pre-configuration. You can even browse and select content on DS116 using DS audio and designate a DLNA player within the same local network to play it.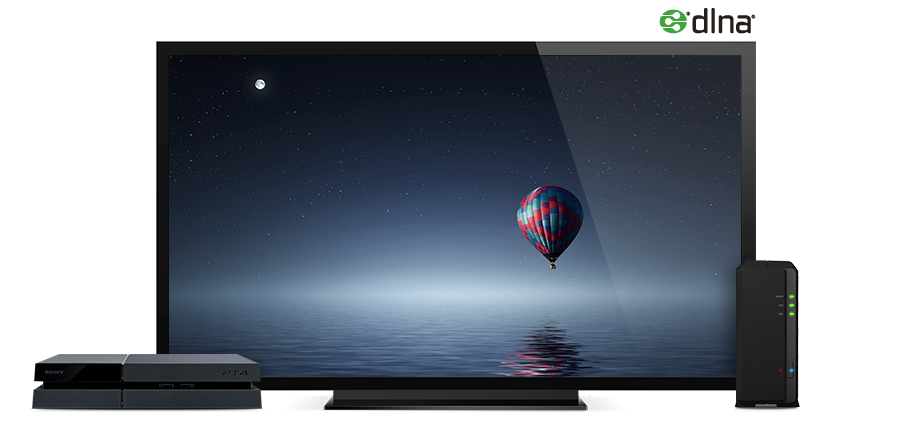 ---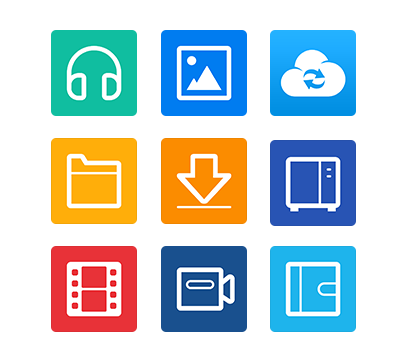 Get mobility with our apps
Synology develops versatile mobile apps — DS note, DS audio, DS video, DS photo, DS cloud, DS file, DS get and DS cam — allowing you to access and manage the contents of your DS116 with smartphones and tablets. QuickConnect brings an easier network experience as it eliminates complicated router configuration or port forwarding. With Synology mobile apps, your multimedia collection and work files are always on the go.
---
Connect your data quickly and easily
Synology aims to provide you the most convenient way to enjoy all services on DS116. With Synology QuickConnect, you don't have to deal with difficult DDNS setup. QuickConnect frees you from complicated router configuration and port-forwarding, so your entertainment and work files can be accessed on any computer, laptop, or mobile devices instantly without extra charge.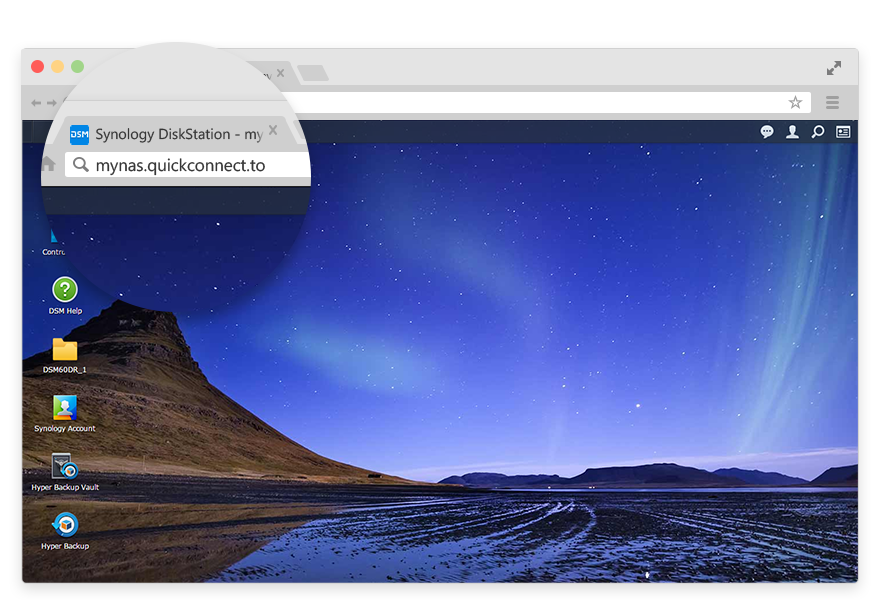 ---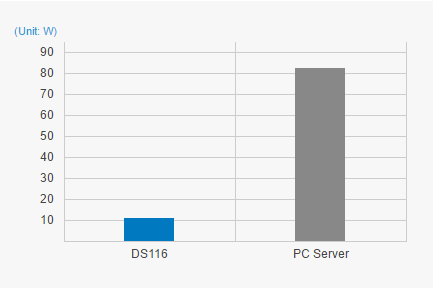 Eco-friendly NAS server
All Synology NAS is designed with energy efficiency in mind. DS116 only consumes 6.28W in HDD Hibernation and 10.68W in access*. With special fan and the smart airflow design, the DS116 keeps the system running cool 24/7, while its noise dampening design makes it quieter than PC counterparts. Synology acknowledges the responsibility as a global citizen, so all Synology products are produced with RoHS compliant parts and packed with recyclable packing materials.
* The power consumption figures may vary on different environments.
---
Notes:
1. Performance figures may vary depending on environment, usage and configuration.
Technical Specifications:
Technical Specifications:
Hardware Specifications
CPU Model
Marvell Armada 385 88F6820
CPU Architecture
32-bit
CPU Frequency
Dual Core 1.8 GHz
Hardware Encryption Engine
Memory
System Memory
1 GB DDR3
Storage
Drive Bay(s)
1
Compatible Drive Type*

3.5" SATA III / SATA II HDD
2.5" SATA III / SATA II HDD (with optional 2.5" Disk Holder)
2.5" SATA III / SATA II SSD (with optional 2.5" Disk Holder)

Maximum Internal Raw Capacity
10 TB (10 TB HDD x 1) (Capacity may vary by RAID types)
Maximum Single Volume Size
16 TB
Notes
"Compatible drive type" indicates the drives that have been tested to be compatible with Synology products. This term does not indicate the maximum connection speed of each drive bay.
External Ports
USB 3.0 Port
2
File System
Internal Drives
EXT4
External Drives

EXT4
EXT3
FAT
NTFS
HFS+*
exFAT*

Notes

HFS+ is read only, max 2TB volume size.
exFAT Access is purchased separately in Package Center.

Appearance
Size (Height x Width x Depth)
166 mm x 71 mm x 224 mm
Weight
0.7 kg
Others
RJ-45 1GbE LAN Port
1
Wake on LAN/WAN
System Fan
60 mm x 60 mm x 1 pcs
Fan Speed Mode

Cool Mode
Quiet Mode
Low-power Mode

Wireless Support (dongle)
Brightness adjustable front LED indicators
Power Recovery
Noise Level*
16.4dB(A)
Scheduled Power On/Off
Power Supply Unit / Adapter
36W
AC Input Power Voltage
100V to 240V AC
Power Frequency
50/60 Hz, Single Phase
Power Consumption*
10.68 W (Access)
6.28 W (HDD Hibernation)
British Thermal Unit
36.44 BTU/hr (Access)
21.43 BTU/hr (HDD Hibernation)
Environment Temperature
Operating Temperature
5°C to 40°C (40°F to 104°F)
Storage Temperature
-20°C to 60°C (-5°F to 140°F)
Relative Humidity
5% to 95% RH
Certification

FCC Class B
CE Class B
BSMI Class B

Warranty
2 Years
Notes:

Power consumption is measured when fully loaded with Western Digital 1TB WD10EFRX hard drive(s).
Support for Wake on WAN needs switch and routers which recognize Magic Packet.
Noise Level Testing Environment: Fully loaded with Seagate 1TB ST31000520AS hard drive(s) in idle; Two G.R.A.S. Type 40AE microphones, each set up at 1 meter away from the Synology NAS front and rear; Background noise: 16.49-17.51 dB(A); Temperature: 24.25-25.75˚C; Humidity: 58.2-61.8%
Pricing and product availability subject to change without notice.
Synology Products
Synology DiskStation
Synology DiskStation DS116 1-bay
#DS116
Our Price: $206.00