Synology Router RT1900ac

High-speed wireless router designed for homes and offices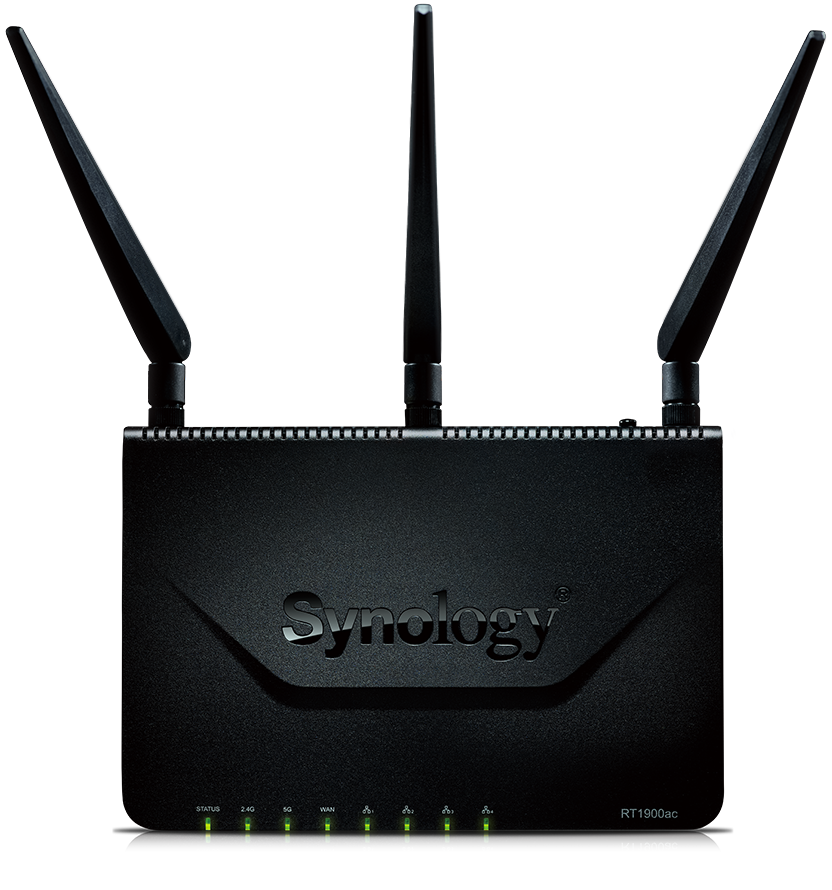 Synology Products RT1900ac
Synology Router
Synology Router RT1900ac
#RT1900ac
Our Price: $172.00
Click here to jump to more pricing!
Overview:
RT1900ac
Synology Router RT1900ac is a high-speed wireless router designed for homes and offices. The latest wireless technologies provide swift and reliable Wi-Fi connectivity. The revolutionary software experience is incredibly intuitive even for non-techy people. And advanced management tools enable power users to fine-tune the flow of data in the network.
Game-changing software experience
Synology Router Manager (SRM) 1.1 is the operating system that powers the Synology Router RT1900ac. With the friendly interface, it makes managing your network and Wi-Fi settings super simple, while delivering robust tools for power users and professionals.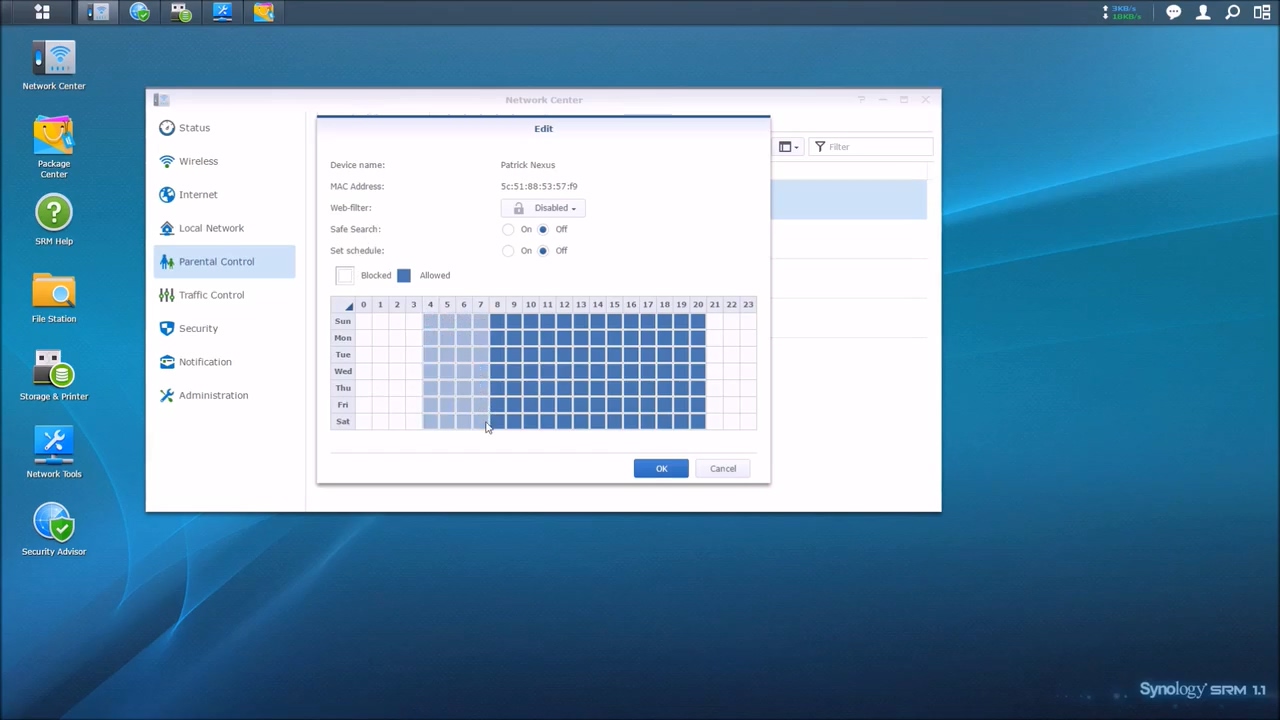 ---
Tap, swipe, and manage everything
Install the DS router on your Android or iOS device and conveniently manage settings on Synology Router RT1900ac from the palm of your hand. DS router delivers robust tools and options, such as easy installation, wireless network management, real-time traffic monitoring and controls, as well as much more.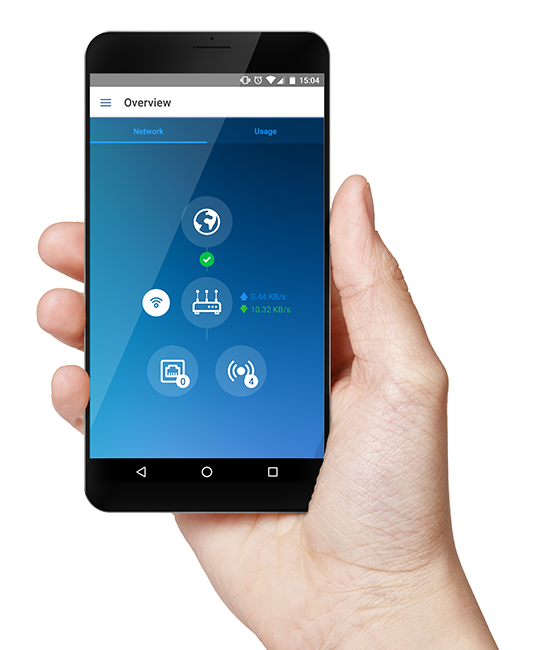 ---
Quick and easy setup
Synology Router RT1900ac is designed to simplify the initial setup process. Simply plug it into your existing modem, enter router.synology.com in a web browser, and follow the interactive installation guide to finish.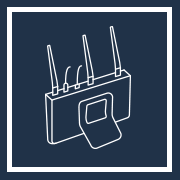 1. Connect cables according to the included installation note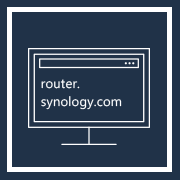 2. With a computer connected to Synology Router, open a web browser and go to router.synology.com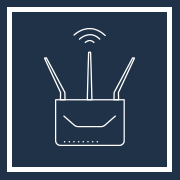 3. Complete the installation guide, and your Synology Router will be ready!
---
Fast, reliable Wi-Fi
Equipped with three powerful antennas and support for the latest 802.11ac wireless networking standard, Synology Router RT1900ac broadcasts both 2.4 and 5 GHz spectrums for combined data transfer speeds of up to 1900 Mbps. Never worry about speed bottlenecks even when multiple people are connected to the network.

Lag-free online gaming
Take advantage of easy-to-use bandwidth prioritization and network traffic controls, so your games always get the speed and low latency they need.

Smooth video streaming
Enjoy buffer-free playback when streaming 4K movies from your favorite online video service, or play home videos stored on external storage directly on a DLNA compatible TV or media player.

Fast file transfers
Share important files and documents quickly and smoothly when collaborating with business partners or others.
---
Robust connectivity with Beamforming
Traditional routers broadcast wireless signals in all directions, regardless of the position of your laptop or smartphone. With smart Beamforming technology, Synology Router RT1900ac focuses wireless signals toward up to six supported devices, reducing latency, economizing power consumption, and improving wireless range.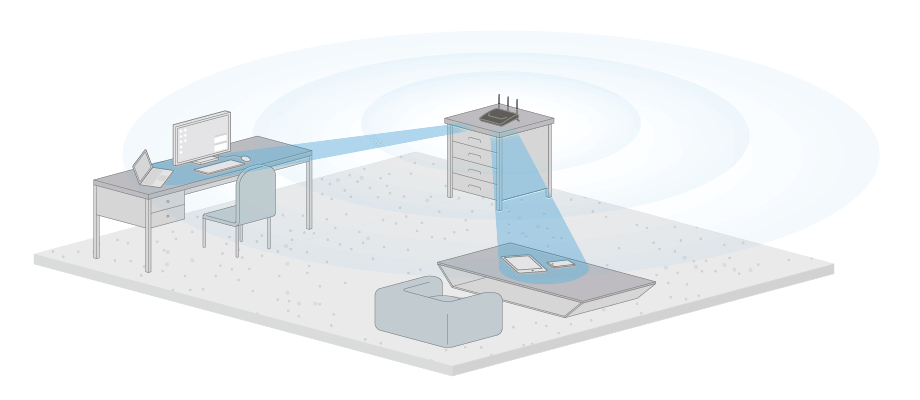 Powerful connectivity management
For advanced home users and company admins, Synology Router Manager 1.1 delivers tools to manage connectivity so your network runs smoothly and just the way you want.
---
Smart WAN
For those who need uninterrupted network connectivity, Smart WAN allows Synology Router RT1900ac to connect to the Internet via two network interfaces. If one of the connections goes offline due to ISP problems or other issues, traffic can failover to the other interface. Additionally, load balancing can spread traffic across both interfaces according to customizable settings, allowing you to route traffic through a specific interface according to the destination or source address.
Failover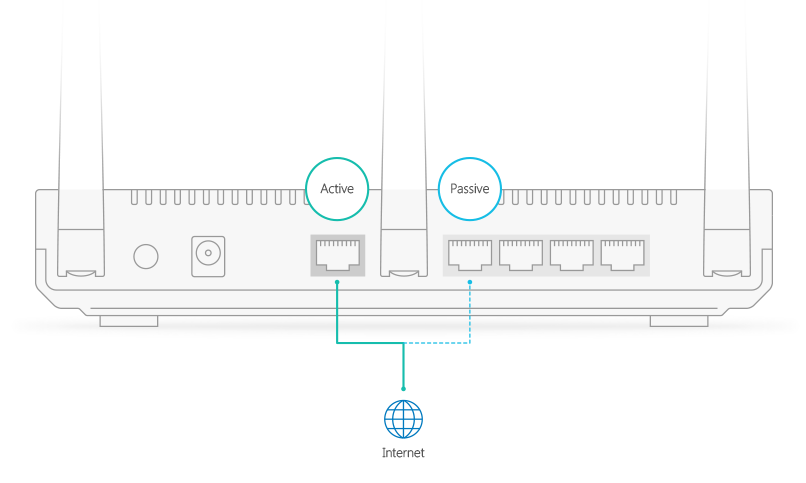 Load balancing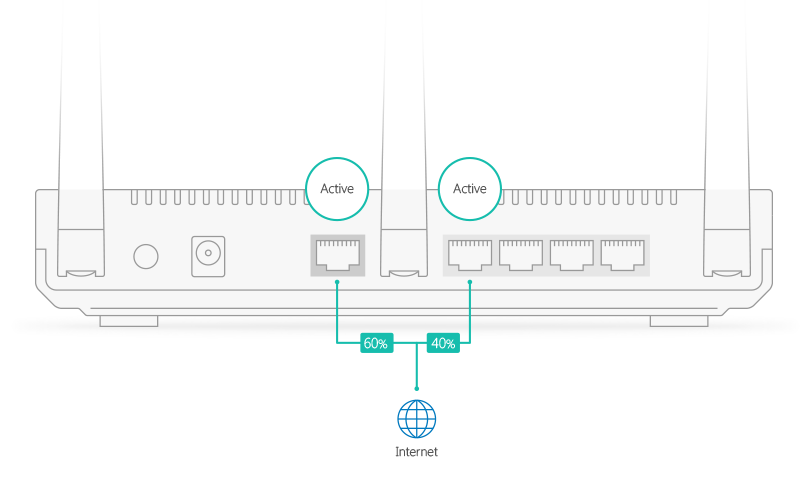 ---
Smart Connect
Not sure which devices should connect to the 2.4 and 5 GHz bands? With Synology's Smart Connect wireless technology, devices are connected to the most appropriate band automatically according to preset or customizable criteria, letting users experience the best Wi-Fi without worrying about technical details.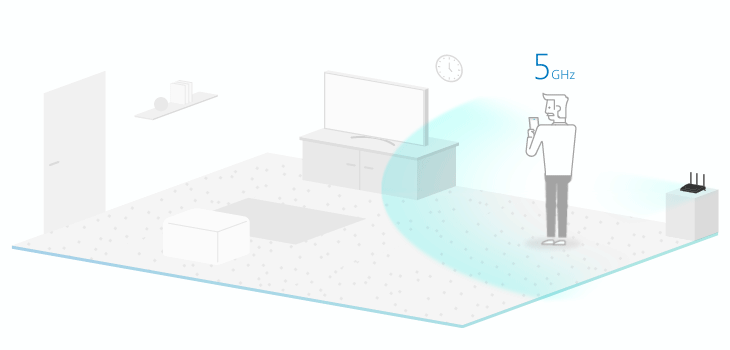 ---
Content filtering & monitoring
Synology Router Manager (SRM) 1.1 includes advanced traffic tools that surpass the common router. Limit bandwidth consumption, block malicious content, and fine-tune how data travels through your home or office network.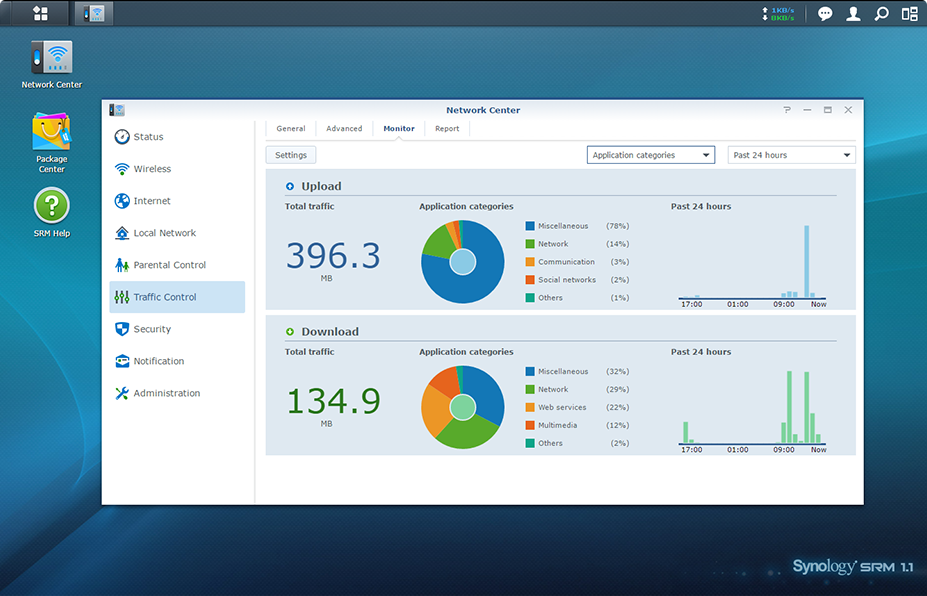 ---
Protect your network
In addition to standard security tools like denial-of-service blocking and firewall management, Synology Router Manager delivers innovative tools to help protect your network from outside attacks.
Intrusion Prevention Beta
The Intrusion Prevention add-on package brings intrusion detection system (IDS) and intrusion prevention system (IPS) features to actively protect your network and devices from malicious parties. IDS analyzes traffic and detects intrusion within network, thus enhancing security rules to avoid future security problems. IPS inspects network packets in order to proactively prevent suspicious traffic and requests from entering your network.
Security Advisor
This handy diagnostics tool helps you optimize and understand security settings for your specific environment. By performing a comprehensive analysis of system settings, password strength, and network preferences, Security Advisor minimizes security holes and protects Synology Router RT1900ac — and your whole network.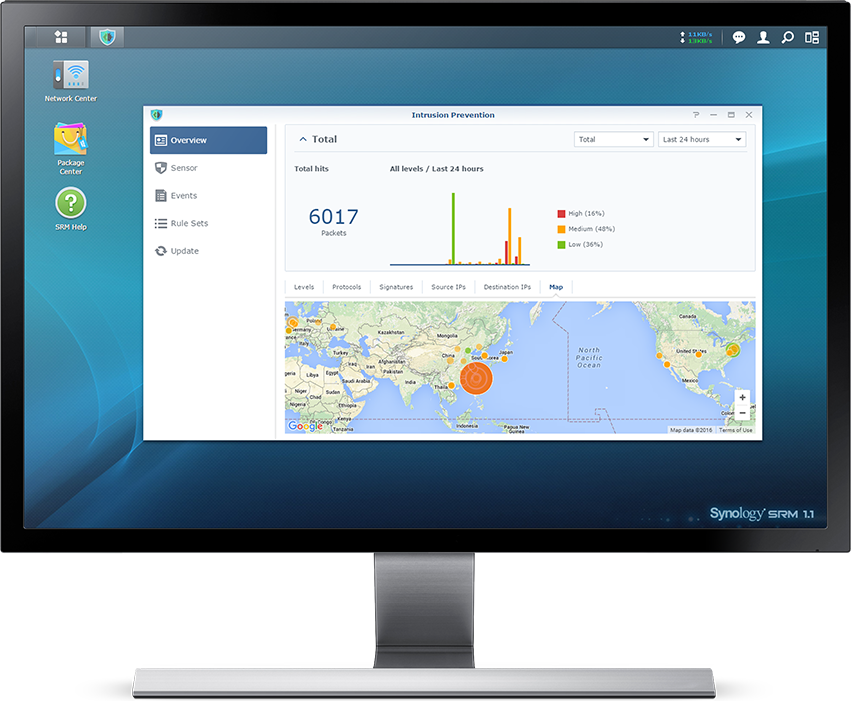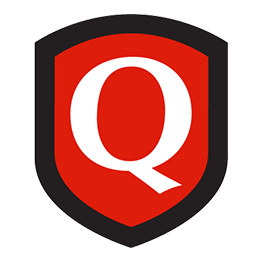 QualysGuard Security Scan
Synology strives to guarantee a secure software experience for all users. With the help of QualysGuard, a trusted and market-leading vulnerability scanner, Synology can conduct thorough system scans and implement remediation.
---
Take your files everywhere
By connecting an external storage device, Synology Router RT1900ac can become a private cloud server, allowing you to access files from anywhere, share photos with family and friends, or backup data from your Windows or Mac computers.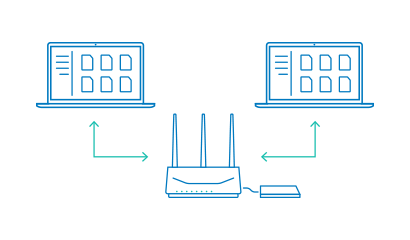 Browse and manage files
File Station is a handy file explorer for organizing and sharing files stored on storage devices connected to Synology Router RT1900ac. Upload files from a computer by simply dragging and dropping them into your browser, and then share with friends or coworkers by simply sending them a link.
Synchronize data across devices
Cloud Station lets you set up a private file syncing server, so you can synchronize documents, videos, or photos between Synology Router RT1900ac and other devices, like your computer or mobile devices. When you modify a file on one device, it is automatically updated on the other devices, allowing you to move between home and work, desktop and mobile, all while seamlessly working on the same file.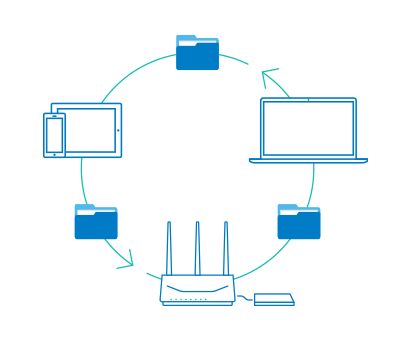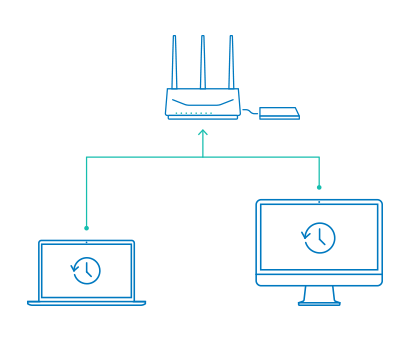 Back up personal computers
With the Cloud Station Backup application, you can easily back up files from your Windows, Mac, or Linux computers to a storage device connected to Synology Router RT1900ac. File version history saves up to 32 copies of each file, allowing you to go back in time and recover files that were overwritten or accidentally deleted.

Works with Time Machine
With support for Apple's Time Machine backup, Mac users can connect an external storage device to Synology Router RT1900ac and start backing up files from one or more Mac computers. Since the backup tasks are handled over the network, you skip the hassle of plugging in an external hard drive every time you want to back up data.
---
VPN support, RADIUS server, and other possibilities
Go beyond a simple router with a rich selection of add-on software packages available on Synology's Package Center. Transform your Synology Router RT1900ac into a personal VPN server, professional RADIUS authentication server, 24/7 download hub, multimedia library, or add other handy features for use at home or the office.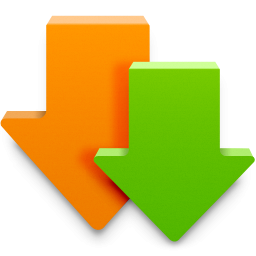 Download Station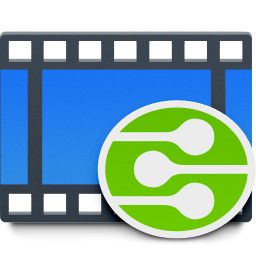 Media Server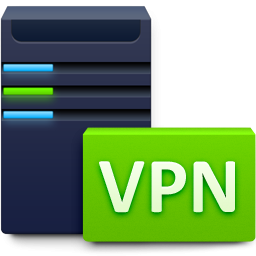 VPN Server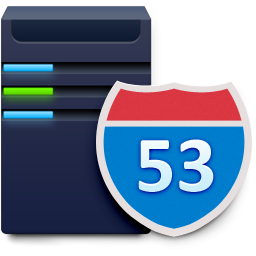 DNS Server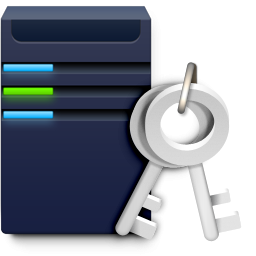 RADIUS Server
---
Dual guest Wi-Fi
You can create dual guest wireless networks, allowing temporary visitors to connect to the Internet, while restricting them from accessing local resources, such as servers with sensitive data and files. This is useful for businesses or other institutions who want to provide a wireless connectivity for visitors, but keep them from accessing sensitive resources, such as the office file server.
Anywhere access with QuickConnect
Synology's free QuickConnect service is the simplest way to access your Synology Router RT1900ac, even when you're away from home or the office. Just register a unique and customizable QuickConnect ID, and you'll to be able to log in to Synology Router Manager, access connected storage devices, and do much more from anywhere with an Internet connection.
Network Tools
With Network Tools, you can easily test, analyze, and troubleshoot network connections using the Ping and Traceroute tools. In addition, you can remotely wake up devices connected to Synology Router RT1900ac using the Wake on LAN panel.
Printer sharing
The USB port allows for sharing a printer across your wireless network. Simply plug it in and everyone connected to the network can take advantage of a centralized network printer — without having to worry about plugging in more wires.
---
Standing position for improved cooling and performance
Synology Router RT1900ac comes with an optional standing kit, allowing it to be placed in an upright position. In addition to saving space, the stand kit helps dissipate excess heat and thus deliver improved wireless performance.
---
Technical Specifications:
Technical Specifications:
Hardware Specifications
CPU
Dual core 1.0 GHz
Memory
256 MB DDR3
Antenna type
3x3 MIMO Omni-directional high-gain dipole (2.4GHz / 5GHz)
Antenna gain
2.4GHz 3.5dBi, 5GHz 4.6dBi
LAN port
Gigabit (RJ-45) x 4
WAN port
Gigabit (RJ-45) x 1
External Ports

USB 3.0 x 1 (5V, 1.5A power output)
SD card reader x 1 (SDXC, SDHC)

Button and switch
WPS, USB/SD eject, Power, Reset, Wi-Fi On/Off
Appearance
Size (Height x Width x Depth)
66 mm x 206 mm x 160 mm (without antenna)
Weight
0.51 kg
Others
AC Input Power Voltage
100V to 240V AC
Power Frequency
50/60 Hz, Single Phase
Power Consumption
10.82 W (Access)
7.45 W (Idle)
Temperature
Operating Temperature
5°C to 40°C (40°F to 104°F)
Storage Temperature
-20°C to 60°C (-5°F to 140°F)
Relative Humidity
5% to 95% RH
Certification

FCC Class B
CE Class B
BSMI Class B

Wi-Fi Certification
Warranty
2 Years
Wireless
IEEE 802.11ac

IEEE 802.11a/b/g/n/ac
Simultaneous dual-band Wi-Fi
2.4GHz: 600Mbps (256-QAM supported)
5GHz: 1300Mbps

Beamforming
Schedulable Wi-Fi
WPS 2.0 (Wi-Fi Protected Setup 2.0)
3G/4G mobile dongle support
Maximum MAC filters
64
Maximum connected devices
70
Note

In real-world testing, RT1900ac could have at least 70 devices connected concurrently, with the tested device ratio of 5GHz (channel 161) : 2.4GHz (channel 1) = 1 : 3.
Not all of the connected 70 devices in the testing are in transmission, some of them remained idle.
RT1900ac supports at least 40 connected devices that are concurrently transmitting data.
The numbers above are for reference only, which could vary dynamically according to users' network scenarios and conditions.

Network
Internet connection
Dynamic IP, Static IP, PPPoE
Port forwarding
Setup via manual management or UPnP
Maximum port forwarding rules
64
Maximum UPnP rules
64
Port triggering
Maximum port triggering rules
32
Minimum port triggering timeout
30s
Maximum port triggering timeout
3600s
DMZ
IPv6
IPv6 DHCP server/client, IPv6 tunneling
DHCP
Server/client mode, client list, MAC address reservation
Maximum DHCP reservations
500
LAN/WLAN IGMP snooping
VPN

VPN server/client (PPTP, OpenVPN, L2TP/IPSec)
VPN pass-through (PPTP、IPSec、L2TP)

Policy route, Static route, Network Address Translation (NAT), PPPoE relay
Maximum IPv4 static routes
100
Maximum IPv6 static routes
100
Diagnosis tools
Management
Operating system
Synology Router Manager (SRM)
Free OS upgrade
Anywhere access to SRM
Synology QuickConnect & Dynamic DNS (DDNS)
Operation modes
Wireless Router, Wireless AP, Wireless Client
Wake on LAN (WOL)
WOL over QuickConnect
Maximum connected devices
100
Notification
Email, SMS, push service (via DS router)
SSH
SNMP
Configuration backup & restore
User account management
Printer server
Maximum printer: 1
Parental Control
Customized Internet schedule DNS-based web-filter with built-in database Customized allow/block list
Setup by single / multiple devices
Maximum devices
50
Maximum blocked URLs
100
Maximum allowed URLs
100
Traffic Control
Internet ban, device speed & priority
Application layer (L7) quality of service (QoS)
Maximum device rules
64
Maximum application rules per device
32
Traffic Monitor for graphical live / history statistics
Security
Wi-Fi encryption
WEP, WPA/WPA2-Personal, WPA/WPA2-Enterprise
Wi-Fi MAC address filter
Firewall/SPI Firewall
DoS Protection
Auto block
SSL certificate
Security Advisor
Mobile Apps
DS cloud (Android/iOS)
DS get (Android/iOS)
DS file (Android/iOS)
DS router (Android/iOS)

Network traffic overview
Wi-Fi management
Parental Control
Traffic Control
Network security (firewall, port forwarding, Internet ban)
Wake on LAN

USB/SD Card File Service
File System
EXT4, FAT, NTFS, HFS+
Access support

File explorer (via LAN only)
Web browsers: Chrome™, Firefox®, Internet Explorer®: 8 onwards, Safari® 7 onwards, Safari (iOS® 7 onwards on iPad®), Chrome (Android 4.0 onwards on tablets)
Mobile device: DS file

Protocol support
Windows file service (CIFS), Mac file service (AFP), FTP/FTPS, WebDAV
Apple Time Machine
Shared Folder privileges
Storage hibernation
Package Center
Cloud Station Server
Sync data from multiple platforms, centralizing it on the router while easily keeping historical versions of important files.
Maximum Concurrent File Transfers
64
Note
Cloud Station ShareSync is not supported
DNS Server
Helps users find and translate domain names into IP addresses
Download Station
Supported download protocols: BT/HTTP/FTP/NZB/eMule
Maximum concurrent download tasks
50
Maximum concurrent BT download tasks
20
Media Server (DLNA/UPnP®)

Media indexing
DLNA certified
PS3/PS4/Xbox 360/Xbox One supported

RADIUS Server
Provides centralized authentication, authorization, and accounting for wireless network access
VPN Server
Supported VPN protocols: PPTP, OpenVPN™, L2TP/IPSec
Maximum Connections
5
Intrusion Prevention (Beta)
Greatly enhance the security of your router with IDS and IPS systems, designed to safeguard your network against internet threats.
Intrusion Detection System (IDS)
Intrusion Prevention System (IPS)
VPN Plus Server (Beta)
Easily create and manage secure VPN access through a web browser or client. Supports various VPN services — WebVPN, SSL VPN, SSTP, OpenVPN, L2TP over IPSec, and PPTP.
Environment & Packaging
Environment
RoHS Compliant
Packaging Content

Main Unit
Antenna x 3
Stand Kit
AC Power Adapter
RJ-45 LAN Cable
Welcome Note
Pricing and product availability subject to change without notice.
Synology Products RT1900ac
Synology Router
Synology Router RT1900ac
#RT1900ac
Our Price: $172.00