Synology VS360HD

Ultra compact PC-less live view and playback solution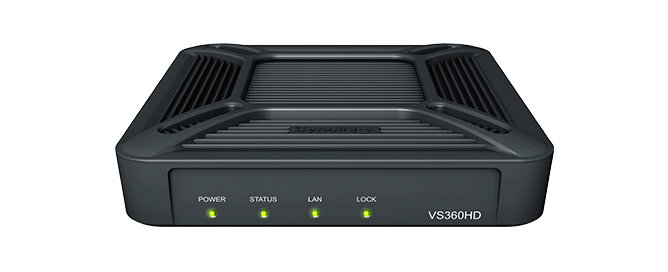 Synology Surveillance Products
Synology Surveillance Stations
Synology VS360HD Surveillance Station
#VS360HD
Our Price: $511.00
Click here to jump to more pricing!
Overview:
Paired with any Synology NVR server, VisualStation VS360HD, a video decoder, allows you to create an amazingly compact monitoring and playback station for your local teams —without a computer. VS360HD is ideal for deployments in harsh environments and where space is limited. In addition, it allows the main recording servers to remain hidden from prying eyes. VS360HD includes HDMI and VGA output to decode and display up to 36 video feeds with each camera configured at 720p/10fps.
Convenient live view and playback interface
Thanks to the versatile features of Surveillance Station, VS360HD is suitable for both beginner and advanced users. The intuitive interface ensures easy access to the most common functions, such as Live View, Customizable Layout, and Timeline. The Recording List allows you to browse and export recordings. With a few simple clicks, useful camera angles can be saved and grouped together to form "Patrol" cycles.
Easy to Setup, Easy to Use
To setup VS360HD, simply pair it with a Synology NAS running Surveillance Station 7.0 and onwards. With VS360HD, you can watch up to 36-channel live feeds in H.264. VS360HD is also compatible with MJPEG or MPEG4 video format1. When you turn it on, you are taken directly to the Live View panel, so you can perform PTZ actions, or switch to Timeline to watch recorded events, take snapshot, and export to an external storage device, all by using a USB mouse.

Ideal for TV wall setup
TV walls are ideal for monitoring a massive amount of cameras at a glance. Thanks to the dual video output, you can connect multiple VS360HD units to a KVM switch to create a cost-efficient, easy to setup, and scalable TV wall.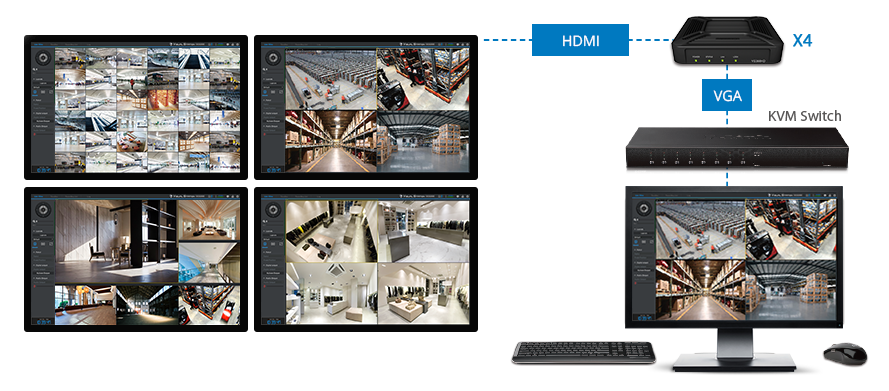 Achieve flexibility through rich connectivity
Despite its small form factor, VS360HD packs a multitude of ports for guaranteed flexibility. With the USB 3.0 and 2.0 ports, it's easy to connect a drive and save video recordings or snapshots. With a total of three USB ports, the VS360HD can be plugged to a mouse, keyboard, and even a joystick for PTZ control.
Robust and certified hardware for harsh environments
Free from mechanical moving parts, VS360HD is more resistant against vibration and hardware failure. Its solid outer case and optimized design allows VS360HD to run within industrial temperature ranges, from -20˚C to 50˚C. In addition, VS360HD is EN45545, EN50155 certified.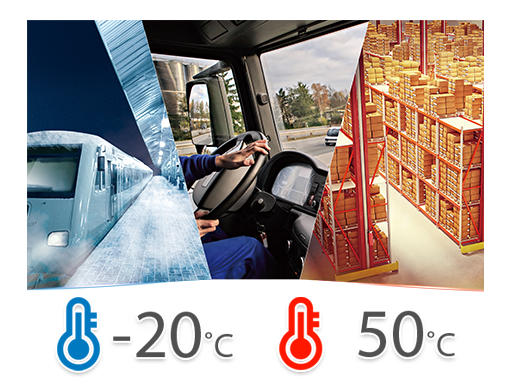 Energy efficiency and compact design
Thanks to its fanless design, VS360HD is completely silent, and its energy consumption is less than 5W when fully used, even less than a smartphone charger. Even more impressive is that the whole system fits in a palm-sized enclosure and can be easily attached on a wall or at the back of a screen with a VESA compatible mount.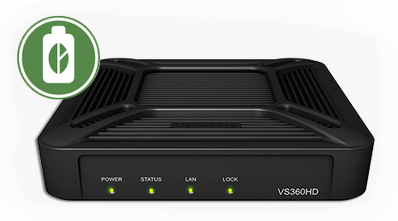 Specifications:
Hardware Specifications
Video Outputs
Video Output
VGA X 1, HDMI X 1
Supported Video Resolution
1080p 60Hz
Audio Output
3.5 mm Stereo Audio Jack X 1
USB 2.0 Port
2
USB 3.0 Port
1
Appearance
Size
32 mm X 130 mm X 130 mm
Weight
0.3 kg
Others
RJ-45 1GbE LAN Port
1
Power Supply Unit / Adapter
36W
AC Input Power Voltage
100V to 240V AC
Power Frequency
50/60 Hz, Single Phase
Power Consumption
4.76W (24ch full-load)
3.61W (Power on Idle)
Environment
Operating Temperature
-20°C to 50°C (-4°F to 122°F)
Adapter Operating Temperature
0°C to 40°C (32°F to 104°F)
Storage Temperature
-20°C to 60°C (-4°F to 140°F)
Relative Humidity
5% to 95% RH
Certification

FCC Class B
CE Class B
BSMI Class B
EN50155
EN45545

Warranty
3 Years
Software Specifications
Maximum IP cam
36
Total FPS (H.264)*

360 FPS @ 720p (1280x720), 36 Channels
160 FPS @ 1080p (1920×1080), 16 Channels
60 FPS @ 3M (2048x1536), 6 Channels
10 FPS @ 5M (2591x1944), 1 Channel

Total FPS (MJPEG)*

150 FPS @ 720p (1280x720), 15 Channels
40 FPS @ 1080p (1920×1080), 4 Channels
20 FPS @ 3M (2048x1536), 2 Channels
10 FPS @ 5M (2591x1944), 1 Channel

Video Compression Format
Audio Codec

PCM
ADPCM
G711
G726
AMR
AAC

Snapshot Support
eMap Support
PTZ Control / Patrol
Log Viewer
Notes

VisualStation throughput is tested with Axis P1347 (H.264@1280x720@10FPS).
The channel numbers indicated in the Total FPS column of each resolution is the maximum number VS360HD supports for live view display.

Environment and Packaging
Environment
RoHS Compliant
Package Content

Main Unit X 1
Quick Installation Guide X 1
AC Power Adapter X 1
RJ-45 LAN Cable X 1
VESA mounting kit
Pricing and product availability subject to change without notice.
Synology Surveillance Products
Synology Surveillance Stations
Synology VS360HD Surveillance Station
#VS360HD
Our Price: $511.00