Rethink Storage

Solutions for Backup, Storage and File Management
Small and Medium Businesses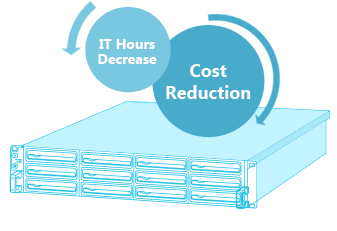 The current trend in the IT World is moving businesses towards a virtual environment. Cost reduction in both running the machines as well as reduced IT hours managing the system.
However one challenge businesses are facing is the new cost of storage. With more and more virtualized, reliable storage, and uptime, becomes a necessity. Synology has created a storage solution with small and medium businesses in mind.
For a fraction of the cost of the bigger SAN options, the Synology XS+ Series introduces business grade storage to companies with a smaller budget.
Synology RackStation RS10613xs+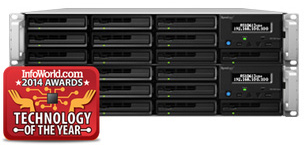 Synology RS10613xs+ provides the reliable, superior-performance network attached storage solution for uninterrupted business productivity. Complete with comprehensive business applications, this powerful solution is also scalable up to 424 TB. Best of all, our simplified data management system minimizes time investment in setup and maintenance, allowing companies to utilize their IT resources elsewhere. Synology RS10613xs+ is backed with Synology's 3-year limited warranty, which can be expanded to 5 years.
Home Lab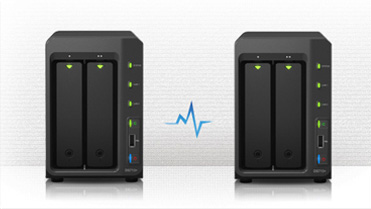 For IT professionals who like to test inside the virtual lab, Synology provides smaller units starting at affordable prices. We are proud to offer fully VAAI Certified storage options starting at under $400.
Using Synology's budget-friendly line of NAS units, you can:
Set and manage iSCSI targets
Test cluster failover using Synology High Availability
Practice MPIO and Link Aggregation


An Affordable Virtualization Solution
Virtual Storage for Home and Business
From our DS713+ to our XS+ Series, Synology is fully compliant with VMware, Citrix, and Hyper-V, with iSCSI and VAAI support. The DS713+ is the most affordable virtualization storage solution of its kind, allowing SMB users to consolidate data storage while giving the illusion of locally attached disks.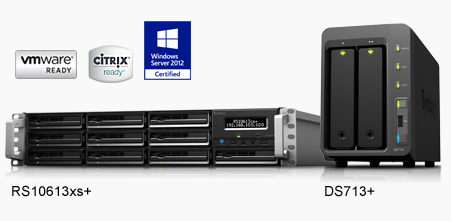 Tools for IT Admins

Lower the complexity of high tech storage solutions with tools and features specifically for IT Admins.

The XS+ Series

400,000+ IOPS
SSD Cache Boosts Throughput
VMware vSphere 5 & VAAI Certified
High Availibility to Reduce Downtime

Milwaukee Area Technical College Case Study

See how Synology's RS3412RPxs came to good use for virtualization students at MATC.
Synology High Availability
At Synology we know that the cost of downtime is significant. We also know that the current solutions are often out of reach for Small and Medium businesses with limited budgets. Therefore we created a solution that meets SMB's demands, but falls within the smaller budget- a line of network attached storage devices that combine with Synology High Availability.
High availability allows businesses to minimize their downtime by providing a cluster failover system. If there is an issue with one storage server, the second server will take over, keeping all data accessible.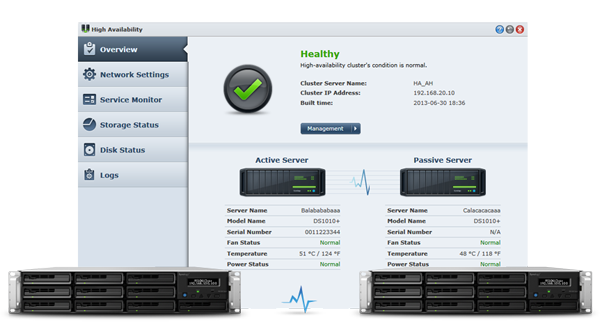 Mini SAN
The following diagram represents the ideal setup for maximizing uptime using two Synology NAS units within an business environment.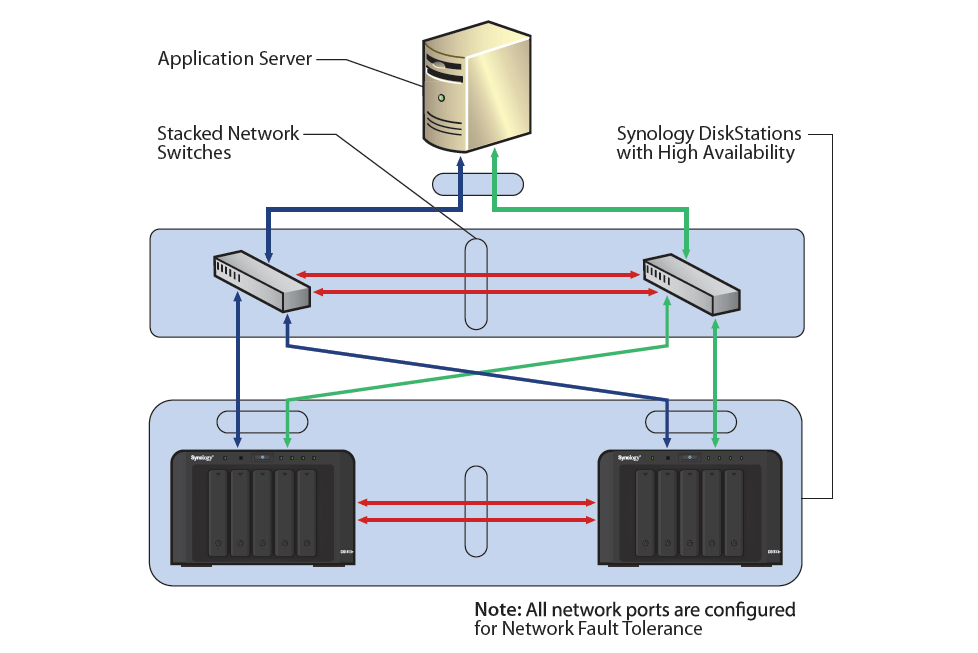 The above graph shows the concept of how a Small Business can build their own Mini-SAN Cluster. Using Synology High Availability, when combined a pair of stackable switches and along with an application server that supports network fault tolerance of NICs, this diagram shows that no single network path failure or single storage failure will affect the availability of the network and services.
This solution bare bone, can be attained well within an SMB budget. Now businesses are able to reduce downtime from network or storage errors.