As Your Business Grows, Your Storage Should Expand With You

Solutions for Backup, Storage and File Management
Businesses everywhere are facing the day-to-day challenge of managing an ever increasing volume of digital assets. From small businesses to enterprises, the growth in the internet has resulted in an enormous challenge to effectively and affordably manage, store, and archive digital files. Making the right storage decision with expansion in mind is key to saving money and time for small businesses.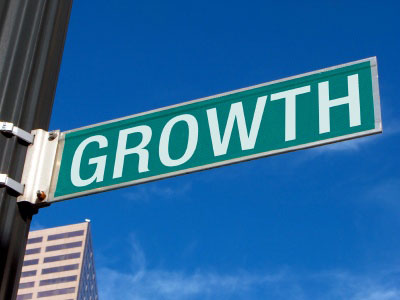 Benefits of Expansion with Synology Storage Solutions
Choices to Fit Your Needs: From home use to mid-sized businesses.
Complete Backup Solution: Automate, schedule and manage your backups easily.
Affordable Expansion: Cost-effective options to expand your storage
Peace of Mind: Make decisions now that will grow with you in the future
Value: Get more for your money with Synology solutions right "out of the box"
Read the White Paper: Growth Solutions for Data Storage: Meeting the Needs Now and in the Future for Small Business
Read the White Paper: Backup in a Data Driven World: Affordable Backup Options for Home and SMB
There are four common ways to ensure that the file management and backup solution will support growth as data storage needs of the organization grow;
Vertical Expansion
Horizontal Expansion
Plug and Play
System Migration
Network Attached Storage (NAS) systems can be an ideal solution for growing companies that require affordable and flexible expansion in an easy to use system. Ideal small business solutions will offer all four growth expansion methods as they will be the most cost-effective over time and provide the most options. Synology DiskStations meet the needs of growing business through any of the four expansion methods.
Vertical Expansion
With vertical expansion, growth is achieved by expanding the storage volume with larger hard drives. Vertical expansion is a cost effective method of expanding storage capabilities within a single machine by replacing existing hard drives.
Horizontal Expansion
By implementing horizontal expansion, growth is achieved by expanding the storage volume with additional hard drives. Horizontal expansion or "volume reshape" benefits budget-constrained administrators who must start with only one or two hard drives, but plan to add additional drives in the future. It is an affordable solution to expanding storage volume because you only invest in the drives you need today but are able to plan for future growth.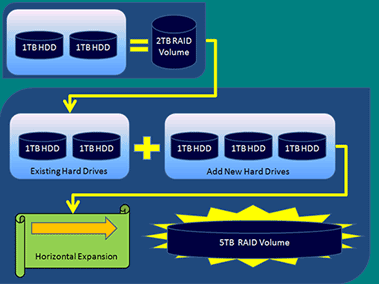 Plug-and-Play Expansion
Plug-and-play expansion, or the ability to "scale-out" is the ability to expand your storage capabilities "on-the-fly" and without turning off your system by simply adding an expansion box. Administrators who need to expand storage but can't afford to have any downtime benefit as the data on their Synology DS509+ will not be affected during PnP expansion and no data migration is required. Plug-and-play expansion is supported on Synology Disk and Rack Stations with expansion DX & RX models.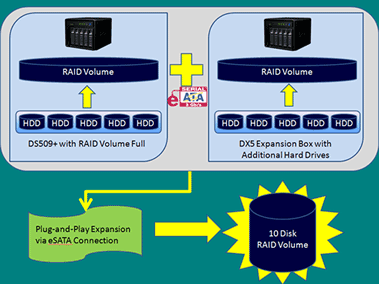 System Migration
System Migration is an often overlooked method of growth, until the time comes when the existing system is full and a new solution is sought. Finding a storage solution that not only allows the flexibility to start small but also supports growth in a variety of ways is a must for any small business.