Camera Management

Solutions for Surveillance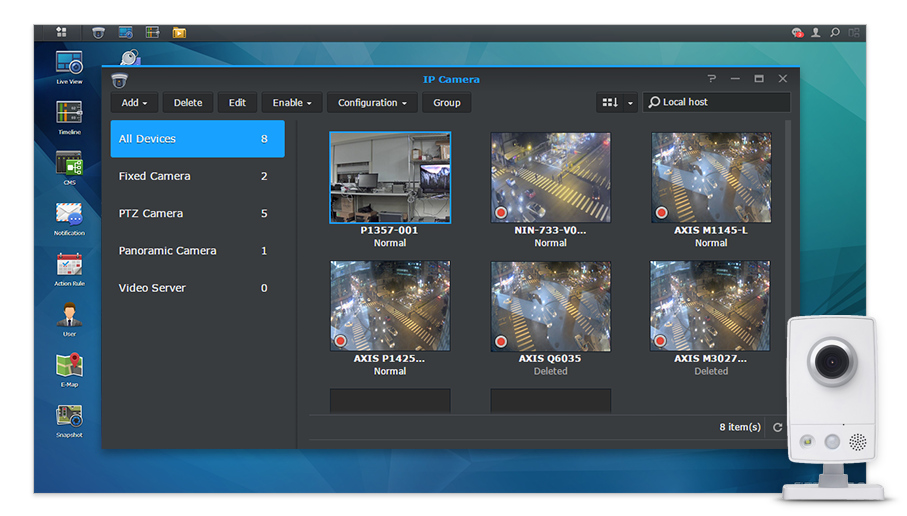 Surveillance Station aims to be as intuitive and effortless as possible. Featuring support for a wide range of cameras combined with a powerful suite of management tools, Surveillance Station helps you organize, automate, and deploy surveillance systems of all sizes.
Vast camera support
Native support for over 3000 kinds of cameras and other equipment means Surveillance Station can be easily integrated into your existing setup. In addition, compatibility with ONVIF 2.4 Profile S increases interoperability, while third-party integrators can use the Surveillance Web API to tailor their applications depending on the current project or environment.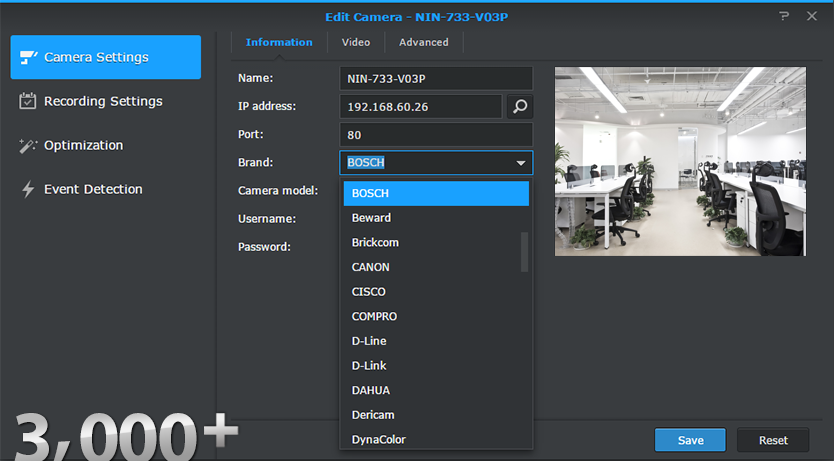 Specialized camera integration
Synology works with IP camera vendors to integrate advanced camera features, including fisheye, multi-lens cameras, digital input, two-way audio, multiple streams, TV standards, fields of view, bitrate controls, and RTSP/RTP protocols. Support for Mobotix MxPEG video codec uses less computing power and storage space, while still capturing movements in high quality.
Easy camera setup
The IP Camera panel displays an overview of your cameras and camera groups that are connected to Surveillance Station. The list of cameras is easily sortable according to status, brand, or device so you can quickly find the camera you're looking for. Whenever you need to change something, all camera settings and recording schedules can be found here.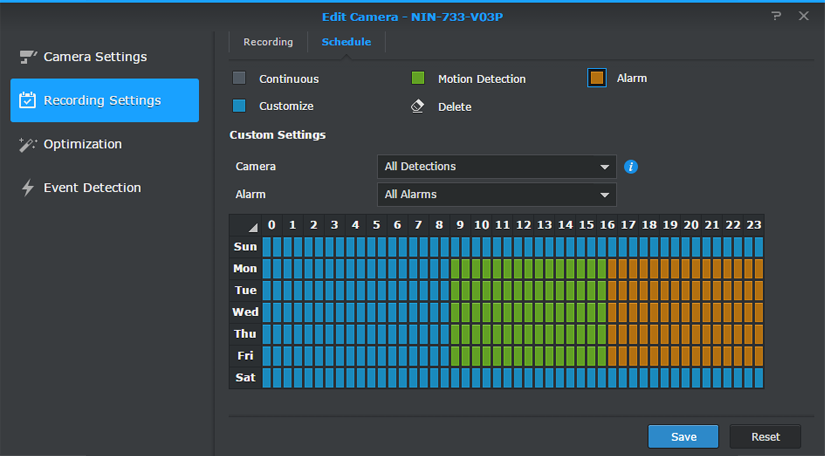 Manage everything from one place
Check your cameras' basic information, IP addresses, storage usage, and other advanced settings such as video format, resolution, recording schedule, motion detection, and image optimization.
Camera management is easy
Save time with the streamlined camera setup wizard when adding one or more cameras, or export and import configurations for future system restoration or migration. This ensures the flexibility that is required for large-scale deployment.
Get visual guidance with e-map
Use the e-map feature to create a visual and interactive representation of cameras' physical location. For multi-site or large surveillance deployments, this makes it easier for surveillance personnel to understand surveillance coverage.
Fisheye and multi-lens cameras
For wide open spaces, such as offices, parking lots, or shopping centers, fisheye cameras provide advantages over standard cameras due to their wider viewing angles1. With support for in-camera or software dewraping, you can separate the video feed from fisheye cameras into easily viewable chunks or 180° panorama views. Alternatively, you can set up a multi-lens camera, take in several video streams and create a wide-angle view. This means you can safeguard more spaces while installing less cameras, thus reducing operating costs.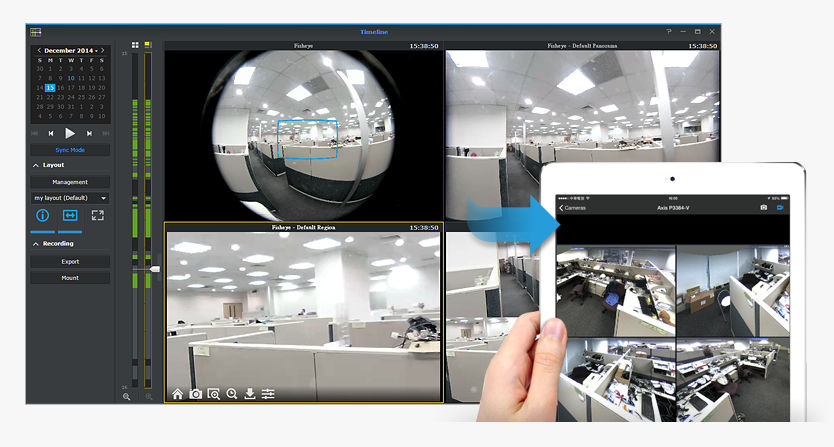 Recording at the edge
By storing videos in a camera's on-board SD card, edge recording allows cameras to continue recording even when the network connection is temporarily lost or when the server is down. This ensures your physical environment is always monitored and reduces the risk of video loss due to network or hardware failure.

Versatile deployment options
In addition to offering recording redundancy, edge recording makes it easier to implement a surveillance system in unconventional locations, such as trains, a buses, or aircraft. The recordings captured inside a travelling vehicle may be stored in cameras' on-board storage. Then, all videos are downloaded after it returns to a station at the end of the day.
Event linking, camera patrol, and notifications
Surveillance Station intelligently guards your surroundings with customizable event linking rules, automatic patrol routes2, and immediate notifications sent to your email or smartphone. These features increase efficiency, reduce human error, and close potential security gaps.

Event linking
Create "action rules" to automatically perform specific actions when a pre-defined event occurs. For example, if one camera goes offline, another camera can start patrolling a specified area. Or if a connected door is opened, a nearby camera can automatically take a snapshot or sound an alarm.
Camera patrol
Set up patrols routes to have supported PTZ cameras automatically move along a designated path. This allows the camera to quickly capture footage from different angles. Patrol paths can be included in actions rules, so a camera can start patrolling when certain events occur, such as motion detection.
Notifications
Upon detection of certain events, Surveillance Station can send notifications to specified personnel by means of SMS, email, or push notifications. For example, get a notification when someone tampers with a physical access point or camera goes offline. This lets you stay informed and solve issues even faster.
Privilege and security
A surveillance solution should be equipped with proper privilege control. To ensure simple and uncomplicated management, Surveillance Station offers integrated privilege settings for local accounts. For businesses and large-scale projects, support for Windows AD and LDAP accounts streamlines the integration process. Whichever accounts you are using, your connection is safe and secure with HTTPS and SSL/TLS encryption.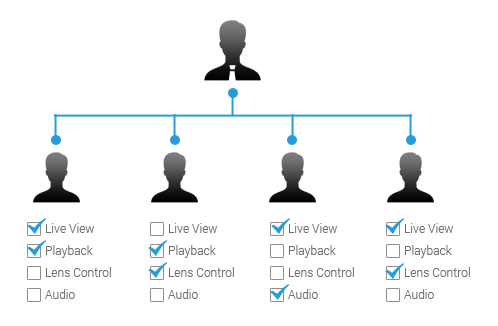 Managers and spectators
Surveillance Station offers privilege settings that differentiate managers' and spectators' access rights with flexibility and nuance. Administrators can designate "spectators" with monitor-only privilege and "managers" with camera and e-map management privilege, or set up privilege profiles for individual accounts. They can also specify whether a spectator may access a camera's live feeds, video playback, audio, or lens control functions.
Windows AD / LDAP support
Enterprise-level surveillance projects require more efficient account management. Surveillance Station supports Windows AD, LDAP, and Trust Domain. Existing accounts and privilege settings can be adopted by Surveillance Station to increase system integrity and management efficiency.
Applied Models
16-series: RS18016xs+, RS2416+, RS2416RP+, DS416, DS216play, DS216se
15-series: RS815, RS815+, RS815RP+, RC18015xs+, DS3615xs, DS2415+, DS2015xs, DS1815+, DS1515, DS1515+, DS715, DS415+, DS415play, DS215+, DS215j, DS115, DS115j
14-series: RS3614xs+, RS3614RPxs, RS3614xs, RS2414+, RS2414RP+, RS814, RS814+, RS814RP+, RS214, DS414, DS414j, DS414slim, DS214, DS214+, DS214play, DS214se, DS114, EDS14
13-series: RS10613xs+, RS3413xs+, DS2413+, DS1813+, DS1513+, DS713+, DS413, DS413j, DS213, DS213+, DS213air, DS213j
12-series: RS3412RPxs, RS3412xs, RS2212+, RS2212RP+, RS812, RS812+, RS812RP+, RS212, DS3612xs, DS1812+, DS1512+, DS712+, DS412+, DS212, DS212+, DS212j, DS112, DS112+, DS112j
11-series: RS3411RPxs, RS3411xs, RS2211+, RS2211RP+, RS411, DS3611xs, DS2411+, DS1511+, DS411, DS411+, DS411+II, DS411j, DS411slim, DS211, DS211+, DS211j, DS111
10-series: RS810+, RS810RP+, DS1010+, DS710+, DS410, DS410j, DS210+, DS210j, DS110+, DS110j