Surveillance solution for small businesses

user-friendly and cost-effective
Overview:
Quickly set up a cost-effective surveillance solution by yourself
Surveillance Station is a powerful surveillance software that runs on Synology NAS. It is a web-based solution so you can conduct monitoring and management on any computer. Through the convenient and multitasking web interface, you can set up your cameras, archive and consult past recordings, manage user permissions, or even interface with analog devices, such as door controllers . Since Surveillance Station is easy to set up and manage, you can reduce costs by installing everything by yourself and avoid getting any third party involved.
Compatibility

You can pick the cameras most adapted to your needs either by choosing an ONVIF compatible camera or one of the 3,300 devices tested by Synology.
Simplicity

Synology's user interface aimed at delivering the easiest user experience without sacrificing possibilities, allowing you to streamline maintenance and to focus on other tasks.
Future-proof

Benefiting from frequent updates, worldwide technical support and high scalability, Surveillance Station maximizes your ROI.
What does a typical installation look like?:
Starting your own monitoring environment is easy. You only need the following core components: at least one IP camera , a Synology NAS for running Surveillance Station and storing recoding files, a computer or a decoder such as VisualStation , and, if needed, a mobile device for monitoring, controlling, and receiving notifications on-the-go. Surveillance Station is a web-based solution, so you can simply use your existing computer without needing to worry about buying a new one.

Keep your assets and personnel safe:
Easily monitor your shop in real-time
The Live View panel allows you to monitor video streams from multiple IP cameras in real time, adjust camera angle and zoom, and set up smart analytics tools to catch suspicious behavior. Watch events as they unfold and respond swiftly to resolve any suspicious activity.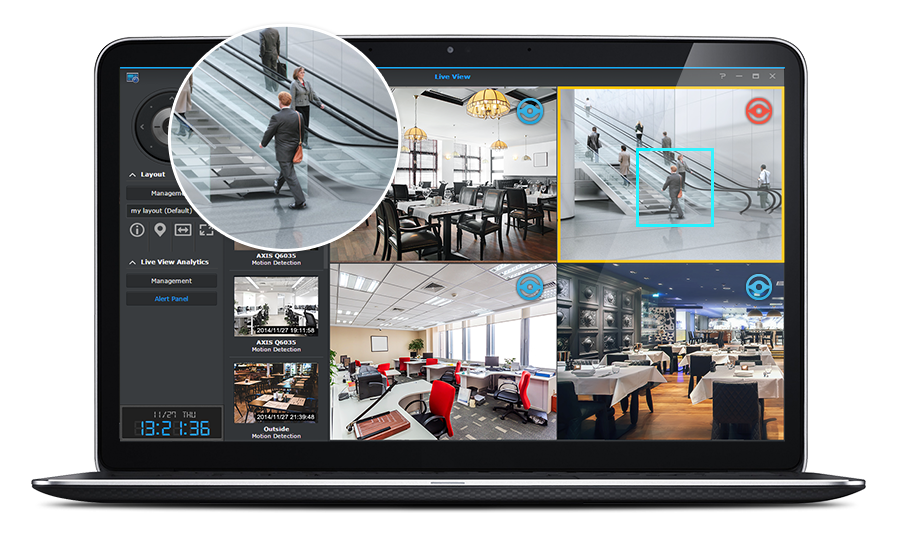 Notifications and alerts with action rules
Surveillance Station intelligently guards your surroundings with customizable event linking rules, automatic patrol routes, and immediate notifications sent to your email or smartphone. Carefully planned snapshots and recordings can help reduce the overall storage needs.

Archive and find recordings in a minute
As time passes and your business thrives, you'll have an enormous amount of recordings from multiple cameras and not necessarily the time to review everything. Surveillance Station provides tools to not only watch recordings, but also manage them and choose what can be deleted or archived. Smart Search lets you easily track any change during your IP camera's recording time, and customize search parameters to narrow down a search to avoid false alarms.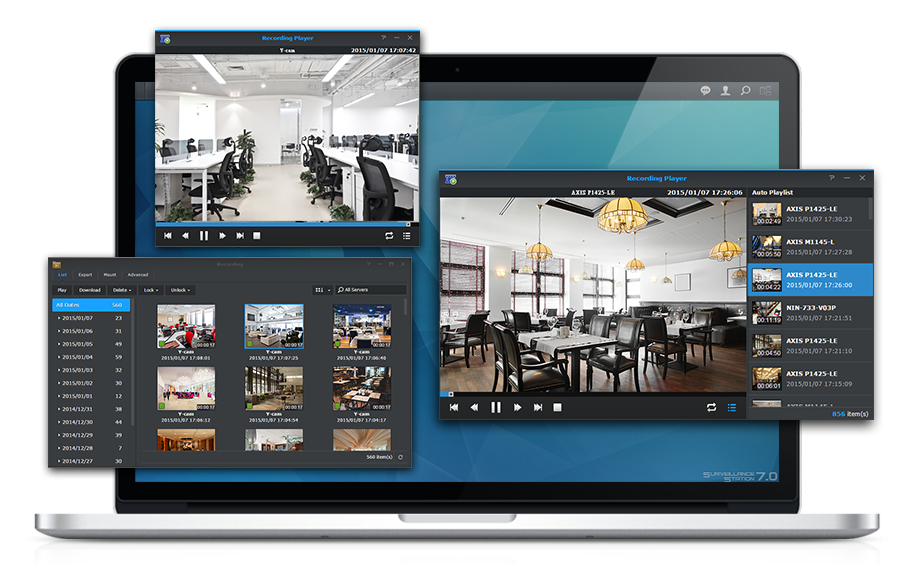 Mobile support
Available on iOS and Android devices, DS cam is the mobile extension of Surveillance Station. With DS cam, you can watch up to six channels simultaneously, take snapshots anytime, and adjust your cameras' position and zoom with PTZ actions. You can also browse through recorded events and use a timeline bar to move backward or fast forward. At night or when you're away from the work station, DS cam even supports push notifications, so you'll know as soon as something happens.