PC File Server Replacement

Solutions for Backup, Storage and File Management
Learn how replacing your PC file server can benefit you when you upgrade to a Synology NAS.
Take a look at our chart below for a comparison of costs associated with an old PC file server vs. a Synology DiskStation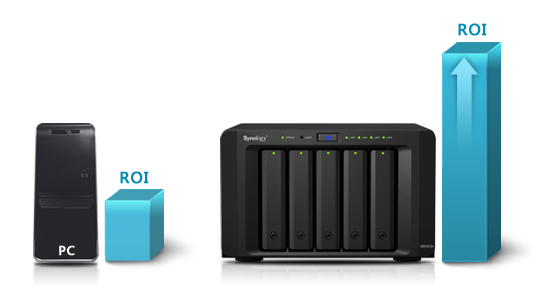 | Item | PC File Server | Synology DiskStation |
| --- | --- | --- |
| Storage Unit | Multiple components, no unifying software | Unified software with hardware |
| Client Access License (CAL) cost | Expensive | No licensing necessary |
| Maintenance Cost | High | Low with our admin friendly features |
| Downtime | High | Minimal with Synology High Availability |
| Admin Hours Cost | Extensive | Minimal |
| Electricity Cost | High Power Consumption | Energy saving |
| Backup both PC and Mac | Needs third party software | Included Data Replicator 3 or Apple Time Machine |
| Cloud Backup Services | Limited | Easy to schedule and execute |
| Notifications | Limited | Included – Email, SMS, Skype, Mobile app |
Learn more about why Synology is the perfect PC File Server Replacement
Upgrade your PC File Server to a Synology NAS
Introducing Synology DiskStation
With today's technology constantly evolving, it is important to stay ahead of the competition by updating old servers that are eating up your valuable resources. Synology DiskStations make it easier than ever to centralize your servers into one, easy to maintain unit. Many companies have found that they can centralize three or four of their older servers into one Synology unit. For small and medium businesses that have limited IT resources, this alone helps to decrease maintenance cost.
Easier Administration
Synology specializes in software, the DiskStation Manager (DSM) that is integrated with the latest technology in hardware. As the DSM is intended to aid the IT administrator for easier administration, it is integrated with a comprehensive suite of tools. . Tools including traffic control and speed limit, it is easy to set bandwidth limits and control the upload/download speed for each group of users. Another tool is system notifications option, which gives you 66 different types of notification events to opt into. And best of all, you can choose the way you get each notification- set SMS or Skype for the urgent ones and leave email for the rest.
For companies using iSCSI LUNs, LUN Clone and LUN Snapshot* which allows you to duplicate or backup a LUN at a click of a button. LUN Clones are also stored in a way that only consumes a fraction of the storage space in order to maximize the way your space is used.

Scalable Storage
With Synology DiskStations, scaling out to increase the amount of storage space available is simple. You can simply add a new drive in an empty bay, replace small drive with a bigger one, or, on specific models, plug in an expansion unit.
Synology also offers Synology Hybrid RAID (SHR). This RAID is similar to classic RAID, but with more flexible options. For example, unlike classic RAID where you're limited to the smallest drive in your RAID system, SHR allows you to utilize your larger drives provided that you have two or more in the array.
Also with Synology Hybrid RAID, you are able to choose one or two drive automatic redundancy, to maintain access to your data in case of a drive failure.


High Availability
In the business world, downtime of business servers is expensive. Yet, many businesses don't realize that it is also avoidable. With Synology High Availability, any IT admin can easily set up and manage two Synology DiskStations in a High Availability Cluster. This means that if there was a power failure or volume failure with the primary DiskStation, the second DiskStation with exact copies of all the data will automatically take over as the primary DiskStation.

Backup Options (backup PC and Mac)
Synology NAS Servers offer flexible data storage and sharing among Windows, Mac, and Linux clients. Windows users can access the server via Samba and FTP, Mac users can use these as well and including AFP. The built-in NFS service gives Linux users an easy access option via NFS protocol. As for options to schedule backups to the Synology Server, this is made easy with Time Machine for Mac users and Data Replicator 3 for Windows users.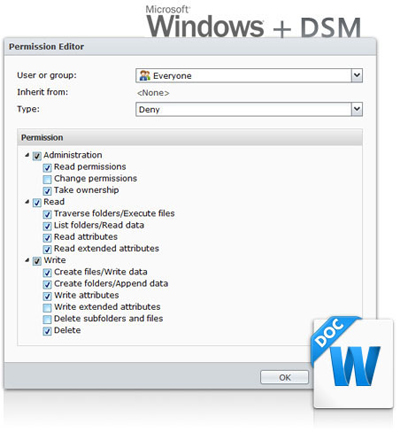 Easy Upgrade
Synology DiskStations offer support for access control lists (ACLs) for granular, NTFS-style permissions down to the file level. Our ACL migration guide helps new users migrate data from an existing PC file server, while retaining existing ACLs. File Station allows for creating and editing ACLs from within the DiskStation Manager (DSM) using Windows, Mac, and Linux clients.
Additionally, DiskStations can be joined to ADS domains (tested with up to 100,000 users and groups). The domain users and groups can be used to assign share level privileges, or even assigning ACLs.
Home Server
Top 8 Reasons Why People Choose Synology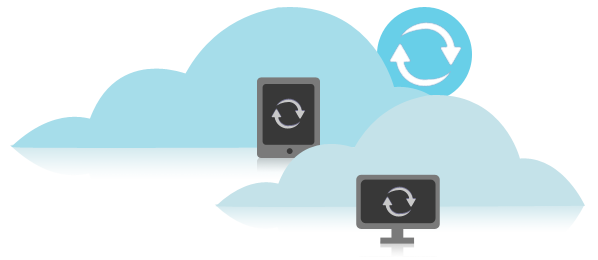 So it is time to replace your old home server. A Synology storage solution can keep up with your growing media collections and file archives, while providing data redundancy in an easy to use platform. Our OS DSM provides remote access and continues free updates.
The Synology DiskStation is the network-attached storage (NAS) solution that meets your every need. This device helps solve a variety of problems for everyone from the casual home user to a system administrator at a large company. Below are the top 8 reason why home and small business users choose Synology.
1. Centralized Backup and Restore
Imagine if you lost everything that is on your computer. Make sure that never happens by backing it up to a Synology DiskStation. Our NAS devices support multiple platforms simultaneously, providing Mac, PC, and Linux computers with backup options. You can also do automatic backups using Data Replicator and Time Machine.
2. Media Streaming/Sharing
Synology offers a Media Server feature that streams your video to the DLNA-enabled TV, your mobile device, or even another computer. You can also send a limited-access quick-share link so that your friend can watch that movie or see that photo, while not allowing them to access anything else.
3. Automated Storage Management
It is not a secret that technology is not perfect- far too many of us have lost precious data because of hard drive failure. With our easy Synology Hybrid RAID (SHR), you can have the protection of data redundancy while occupying the least amount of space possible. If one disk fails, you can easily replace it without losing a byte of data.
4. Built-in Remote Access Host your own Cloud
Forgetting files at home is no longer an issue. Using Synology DiskStation, you can always access your data- no matter which computer you are using. And with our Cloud Station App, you can now host your own personal cloud.
5. Mobile Apps
With mobile devices becoming more and more common, Synology DiskStations lets you take full advantage of the mobility of your data. With our various Apps, including DS audio, DS video, and DS file, you can access your data millions of miles away with a swipe across the screen.
6. Scalable
If you think the world is digitized now, imagine all the files you will be downloading in the future- all the latest songs, newest movies, and updated reports. You're going to need somewhere to store it all. With our Synology DiskStations, you can easily expand your storage by adding a new hard drive or adding an extension unit to hold more drives.
7. Desktop like Platform (like Windows)
Synology DiskStation Manager (DSM) is an award winning, well-designed interface that is a lot like a Window's Desktop. It allows you to change settings to your liking, including adding your favorite photo as the background.
8. DSM 4.3
At Synology, we are always working to create a better product, as well as a better user experience. We listen to the feedback from our users and implement the requested features into the next free software update. DSM upgrades are released often and improve the performance of our DiskStations- no upgrade fees required.