Easy Photographer

Solutions for Backup, Storage and File Management
Synology for Photographers
The Synology DiskStation Advanced storage for photographers
Below we will help you understand what Synology is, and how we can help preserve and share your beautiful art.
Where do you store your photos?
Many photographers use a DAS (directly attached storage). This includes external hard drives and USBs. But when these fill up, you have to buy another. And pretty soon you have your files spread out over a pile of storage devices, which makes finding the file you need difficult. Also, when you need the file, you have to carry the storage around with you, and if you forget it at home, you're out of luck. The solution? Network Attached Storage, from Synology.
What is a Synology DiskStation?
Network attached Storage (NAS) is simple to understand: A NAS is a stand-alone storage device consisting of one or more hard drives that is connected directly to your internet router, instead of your computer. Because your storage is connected to your router, you can always access your files over the internet, even from another location- much like a personal cloud. You can also share your files within your home or office, with user accounts and user privileges.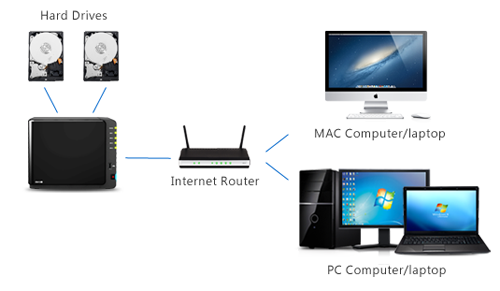 How will a NAS help me store my photography?
Synology DiskStations offer many advantages over directly attached storage devices. Below is a list of the top 4 reason photographers like our DiskStations better than their previous solutions.
1. Centralize Your Data with Scalable Storage
Rather than multiple storage devices piled high, you can have one reliable storage device holding all your data. When your drives fill up, you can simply add a new drive, replace the existing drives with larger drives, or add an expansion bay for more space; this will still keep all your files in one device.
Add a new disk
Replace a disk with a larger one
Plug in an extension unit
2. Access Your Files Anytime, From Anywhere
With Synology DiskStations, you never have to worry about carrying around your storage device with you- instead you upload and download your files over the internet through the browser interface. And with port forwarding set up, you can access your files from anywhere around the world (with port forwarding set up). Best of all, Synology works flawlessly on any platform, including Mac and PC.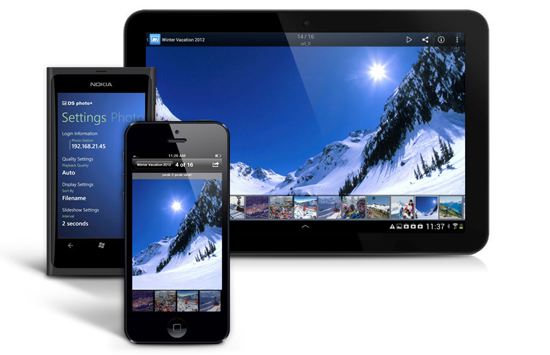 3. Sharing Photos with Clients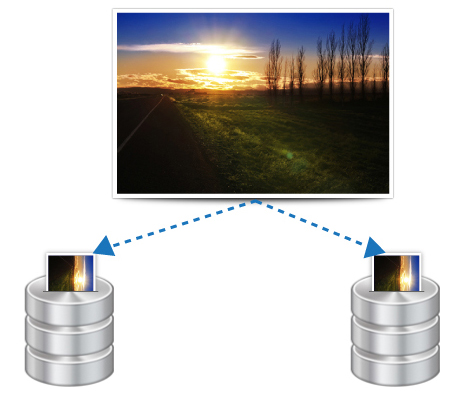 Now you no longer have to worry about paying outside services to send your files to a client, or burning/mailing CDs. With our DiskStations, you can share your work with your clients in a professional manner. Photo Station will display your folders as albums, both password protected or public, and once you send them the link, you can chose to allow clients to download the images directly to their own computer, or lock the images so that they cannot be right clicked.
4. Automatic Photo Protection
If you have ever used a RAID system before, you know how it works. If you want the details, check out our wiki on RAID, but the basic idea is that your data is copied onto another multiple hard drives so that when one disk fails, you won't lose your files. If you want the fast and easy option, simply choose Synology Hybrid RAID. Your data will be safe, and you can expand it when you add a new or bigger disk.
What happens when a drive goes bad? Your DiskStation will send you a notification. Then you simply take out the bad drive, replace it with a new disk, and let the DiskStation fill it up for you, so that your data is safely duplicated once again.
Store Your Images Beautifully
Synology DiskStations help you grow your photography business in many ways. With a DiskStation, you can ensure that your photos are safely protected against hard drive failure- you can always access them when you need them, and share them in a professional way. And best off all, you keep them completely organized and in one location- even when you need to add new space. All of these advantages are why so many photographers chose Synology.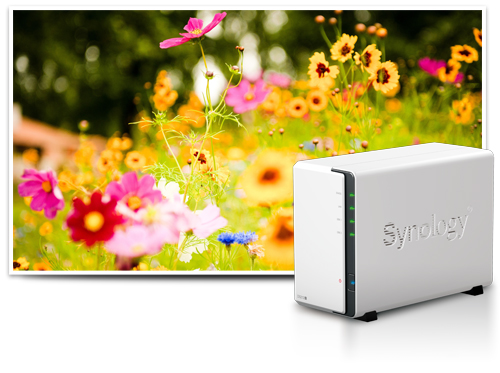 Cost-Effective, Reliable, Expandable, and Multi-Purpose Storage
A Synology NAS does more than store data, it keeps important information safe and makes it easy to add more storage when needed. With optional software packages, a Synology NAS goes beyond storage and provides a web image gallery, an email server, and powerful web server all in one device.
Storage That Grows With Your Needs
Use each Synology NAS with as few as one disk, and add more as needed. Additionally, most devices in the plus-series and above can take advantage of plug-and-play expansion units. Giving you more bays at an affordable price.
Synology continually releases software updates for its products, long after your initial purchase. With performance improvements, security fixes, and new features that keep innovation coming both in your work, and the equipment you use.
Enterprise Reliability
High Availability provides organizations with the option to pair two identically configured Synology NAS devices in a mirrored pair. Reducing downtime by directing services from a primary server experiencing problems to a healthy device. Keeping your security intact.
Optional Advanced Warranty
For XS+ and XS series Synology NAS, purchase the Advanced Warranty for a priority phone line, no questions asked replacement service, and automatic next-day shipping on replacement hardware.
Software That's Always Improving
Long after your initial purchase, new features, security fixes, and usability improvements will be made available for your NAS. This means not only having access to great features for you, but also features that benefit your relationship to your clients.
Security
Set permissions on who has access to particular data, and keep the data safe in transmission with built-in encryption features.
Multi-Purpose Server
A Synology NAS can host websites, run an image gallery, provide image editing in a browser, and even provide physical security with Surveillance Station managing security cameras.
Flexibility
Optional packages are available to support PEAR PHP, Perl, Node.js, Mono, Python, and Ruby applications and web pages.
Applied Models:
Synology expansion units are designed for pairing with specific expansion-ready DiskStation/RackStation models to enlarge the internal volume, or form independent volumes for backup or additional storage. Refer to the table below to see which DiskStation/RackStation are designed to support expansion units:
Expansion Unit
Models
RX1216sas
RS18016xs+
RXD1215sas
RC18015xs+
RX1214(RP)
RS3614xs+, RS3614(RP)xs, RS2416(RP)+, RS2414(RP)+, RS3413xs+, RS3412(RP)xs, RS3411(RP)xs, RS2212(RP)+, RS2211(RP)+
RX1213sas
RS10613xs+
RX1211(RP)
RS3413xs+, RS3412(RP)xs, RS3411(RP)xs, RS2212(RP)+, RS2211(RP)+
RX415
RS815(RP)+, RS814(RP)+, RS815, RS814, RS812(RP)+, RS812
Independent volumes only: RS214
RX410
RS814(RP)+, RS814, RS812(RP)+, RS812, RS810(RP)+
DX1215
DS3615xs, DS2015xs, DS3612xs, DS3611xs, DS2415+, DS2413+, DS2411+
DX1211
DS3612xs, DS3611xs, DS2413+, DS2411+
DX513/DX213
DS1815+, DS1813+, DS1812+, DS1515+, DS1515, DS1513+, DS1512+, DS1511+, DS1010+, DS715, DS713+, DS712+, DS710+
Independent volumes only: DS415+, DS413, DS412+, DS215+, DS214+, DS214play, DS213+, DS212+, DS115, DS114, DS112+, DS112
DX510
DS1813+, DS1812+, DS1513+, DS1512+, DS1511+, DS1010+, DS713+, DS712+, DS710+
Expansion units may be able to automatically power-on or off alongside paired DiskStations. However, expansion units and paired DiskStation/RackStation must be connected using the original cable provided by Synology Inc.; otherwise automatic power-on/off may not function as normal.
FAQ for photographers

What is a NAS?
NAS is short for Network Attached Storage. It's a box that holds your hard drives, and connects to your internet router instead of your computer. And because it's connected to your router you are able to access it from anywhere you are, on any device, over the internet.
I'm a photographer, what does a Synology NAS have to offer for my photography?
There are many uses for a Synology NAS. For photographers, some of the most used features include:

Remote Access- access files from anywhere
Centralization- put your files all in one place, instead of multiple hard drives
RAID- protection from hard drive failure
Scalability- Hard drive fills up? Simply add a new one or replace one with a bigger drive
File sharing- easily share files with clients, without paying a third party service
Computer backup- backup multiple computers to one shared storage device
How is it different than an external Hard Drive?
Synology NAS devices connect to your router, not your computer. Because of this, your storage is free from many limitations, and can offer things like remote access, centralization, file sharing, and multiple computer backup. Also because most of our boxes use more than one hard drive, you get the RAID protection as well as scalability options.
Does it work with Mac and PC?
Yes- because DSM (the software that runs on the NAS) is browser based, it does not need a client in order to work. Therefore, you log in using your typical internet browser (be it safari, chrome, or something else). This makes it easy to share files across platforms.
Does Synology offer RAID protection?
Yes. And that includes classic RAIDS (such as 0,1,5,ect) as well as Synology Hybrid RAID (SHR). SHR is a Linux based RAID that allows you to mix and match drives of different sizes, as well as expand your volume when you add new or bigger drives.
Is Synology Hybrid RAID proprietary?
No. We use RAID 5 technology, based on Linux. Therefore, a data recovery center or user with some knowledge of Linux will be able to recover the data from your drive.
Do you have any mobile apps ?
Yes, we have plenty! Including apps for photo viewing and sharing, music, video, docs, ect. They work on Android, iOS, Windows devices.
How do I share files with clients?
After you set up port forwarding, file sharing is easy! Simply right click the file or folder you want to share, and select "Share File Link". This will give you a link, as well as the option to password protect it. Once the user clicks the link, they will be able to download the files, right off your DiskStation.

Have frequent clients? Simply give them a user name/password, and set their privileges, and they will be able to download/upload as you allow them to.
How do I set up remote access?
In order to access your DiskStation from outside your network, you will need to set up port forwarding. Basically that means you open a port to allow access from outside the firewall. The process depends on the type of router you have.
What happens if a hard drive fails?
The DiskStation will beep and you can set it up to send you a notification (via text or email for example). If you have RAID set up, switching out the bad drive for a new drive is easy. Simply take out the bad drive (your DiskStation will let you know which one it is) and pop in the new one. The DiskStation will detect the new drive and ask you if you would like to rebuild the volume. Once you select yes, your DiskStation will do the rest. And you will be able to access your data while this process is happening.
How does Synology work with Lightroom (LR)?
Although Lightroom does not directly allow you to back-up your catalogue to a network volume, there are plenty of ways to use your DiskStation with LR. Some photographers like to use the DiskStation to store the raw images (import them to a second location in LR and point to the DiskStation) as well as the finished images (when exporting in LR). And only keep their files on their local drive while they are editing them. Other photographers make use of Cloud Station, and keep their catalogue and the files they are working on in their Cloud Station folder- this allows them to be both local, as well as synced with your DiskStation, both at once.
Which device should I get?
Because photographers are often dealing with very large files, we recommend the plus series. However, this question always varies depending on your usage.
What do I do if my drive fills up?
Unlike external hard drives, Synology units allow you to add more drives, plug in an expansion unit (on select models), or replace smaller drives with larger drives (2TB with a 4Tb). This helps keep all your data in one centralized place.
Do I need to carry the NAS with me?
Nope! That's one great thing about Synology NAS devices- you can set up remote access, then access your files from anywhere, as long as you have an internet connection. This includes Mac, PC, Linux, as well as mobile devices like iOS, Android, and Windows phones.