iSCSI - Virtualization Solutions

An Affordable Virtualization Solution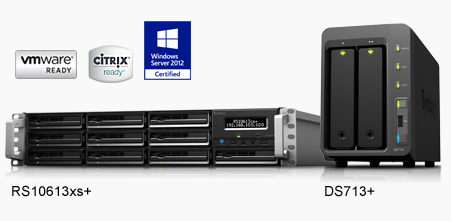 Virtual Storage for Home and Business
From our DS713+ to our XS+ Series, Synology is fully compliant with VMware, Citrix, and Hyper-V, with iSCSI and VAAI support. The DS713+ is the most affordable virtualization storage solution of its kind, allowing SMB users to consolidate data storage while giving the illusion of locally attached disks.
Tools for IT Admins

Lower the complexity of high tech storage solutions with tools and features specifically for IT Admins.

The XS+ Series

400,000+ IOPS
SSD Cache Boosts Throughput
VMware vSphere 5 & VAAI Certified
High Availibility to Reduce Downtime

Be in Full Control- Tools for IT Admins
Synology strives to help lower the complexity of high tech storage solutions by providing tools and features that help IT Admins with this task.
DSM Embedded Windows ACL
Synology DiskStations offer support for access control lists (ACLs) for granular, NTFS-style permissions down to the file level. An ACL migration guide is available to help new users migrate data and retaining existing ACLs.
Windows AD Integration
DiskStations can be joined to AD domains, tested with up to 100,000 users and groups. The domain users and groups can be used to assign share level privileges, or even assigning ACLs. Users can use the same credential to access many DiskStations on the same network.
Traffic Control
The Traffic Control allows the designated network services can receive a guaranteed outgoing bandwidth without being affected by other services. In addition, the Speed Limit allows you to limit bandwidth usage by users and groups for DSM internet file transfer services.
Speed Limit
One of the limitation of Traffic Control is the rules are only applied to individual ports or services. Synology understands that users also need a finer-grained QoS control on user-level when they transfer files over the Internet. The most used Internet file transfer protocols in DiskStation are FTP, File Station and WebDAV. Now in DSM, each user and group can have an upload/download speed limit for these services.
Notifications
Synology has a full-range notifications service that can help businesses know exactly what's going on in their DiskStation at all times.
Select from 66 different types of notification events
Customize message and get notified via SMS and email
Push service is available on mobile devices1 and Skype
LUN Clone and LUN Snapshot
Duplicate with LUN Clone
Synology's LUN Clone lets you create near-instantaneous virtual copies of a LUN with a simple click. For system engineers, it means much higher productivity and less complex deployment during system-wide operations. LUN Clone also consumes only a fraction of storage at the time of creation. The result: Your overall performance won't be compromised thanks to the seamless and fluid LUN Clone.
With LUN Clone, you can develop and test applications faster by creating instant virtual copies that reduce the time needed for design cycles, as well as improve overall service quality.
Protect your data with LUN Snapshot
Synology's LUN Snapshot lets you create up to 256 snapshots per LUN using point-in-time technology without having any impact to system performance. It's efficient for your valuable storage space and also increases the level of protection, knowing that you can easily recover valuable data.
Try Out These Features and More on Our Interface, DiskStation Manager (DSM):