Central Management System

Solutions for Surveillance
Synology Central Management System (CMS) is designed for multi-site and multi-server surveillance deployments. CMS provides surveillance personnel with an effective solution to monitor and manage surveillance deployment of all scales.
The CMS hierarchy consists of a CMS host server who has total control over all other recording servers across different locations. IT administrators can enjoy the following benefits from CMS deployment.
Efficient Management: All configurations are merged into a single portal to reduce total time consumption.
Flexible Deployment: From retail stores, commercial buildings to shopping centers, business owners can choose how to deploy and adjust as they grow larger in size.
Proactive Control: IT administrators can focus on taking proactive measures to ensure valuable property is well protected.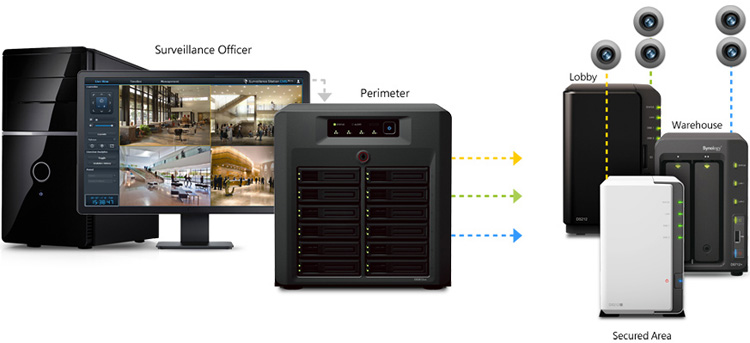 Efficient Large-Scale Setup
You may purchase a batch of cameras of the same model in surveillance projects for easy configurations. Surveillance Station offers the convenience to set up these cameras in one step. It is not only time-efficient but much more secure.
Greatly reduce installation time by configuring cameras of the same model.
Configure the advanced settings to optimize surveillance performance according to the actual environment.1
Synology Surveillance Station Web API is available for extensive system integration.
Manage Cameras in High Efficiency
Individually managing cameras is time consuming. On Surveillance Station, you can organize cameras into different groups to enhance management efficiency. IT administrators are also able to pinpoint camera locations more easily. For example, cameras in the same location can be grouped within a single Live View layout in one step. There is no need to add cameras individually. Camera groups can be used in Live View, TimeLine and CMS Setup.
Live View & Recording on CMS

Enjoy up to 49 channels of 1080p live view on each monitoring screen. Synology NAS servers act as dedicated NVR to host IP cameras and be deployed across different geological locations. The CMS host centralizes live feeds and recording footages to allow management via a single web portal.

Up to 49 channels of 1080p live view on single screen: Set up video wall in Full HD quality. Available on Internet Explorer, Firefox, and Chrome for Windows.
See more live streams on one browser: Surveillance Station is now compatible with multiple live view windows in one single browser. Users now can enjoy different layouts and live feeds in various screens.
Playback recordings from various recording servers: Security personnel can search for specific recordings according to camera models, recording modes or video formats to greatly reduce required time and resources.
Privileges, E-Maps & Notifications
Synology CMS makes managing a large-scale surveillance deployment much easier by covering all grounds, such as user privileges, e-maps and system notifications.
User Privilege: Authorize camera access rights by account. Windows AD, LDAP, and Trust Domain are supported.
E-Map: By creating a central and interactive e-map that pinpoints the locations of each recording server and IP camera, security personnel can react to incidents in a timely fashion.
Notification: The CMS host aggregates system alerts from recording servers to allow you to stay on top of everything via Skype, email, SMS or push notifications on mobile devices.
Batch edit only applies to cameras of the same model.
Applied Models
16-series: RS18016xs+, RS2416+, RS2416RP+, DS416, DS216play, DS216se
15-series: RS815, RS815+, RS815RP+, RC18015xs+, DS3615xs, DS2415+, DS2015xs, DS1815+, DS1515, DS1515+, DS715, DS415+, DS415play, DS215+, DS215j, DS115, DS115j
14-series: RS3614xs+, RS3614RPxs, RS3614xs, RS2414+, RS2414RP+, RS814, RS814+, RS814RP+, RS214, DS414, DS414j, DS414slim, DS214, DS214+, DS214play, DS214se, DS114, EDS14
13-series: RS10613xs+, RS3413xs+, DS2413+, DS1813+, DS1513+, DS713+, DS413, DS413j, DS213, DS213+, DS213air, DS213j
12-series: RS3412RPxs, RS3412xs, RS2212+, RS2212RP+, RS812, RS812+, RS812RP+, RS212, DS3612xs, DS1812+, DS1512+, DS712+, DS412+, DS212, DS212+, DS212j, DS112, DS112+, DS112j
11-series: RS3411RPxs, RS3411xs, RS2211+, RS2211RP+, RS411, DS3611xs, DS2411+, DS1511+, DS411, DS411+, DS411+II, DS411j, DS411slim, DS211, DS211+, DS211j, DS111
10-series: RS810+, RS810RP+, DS1010+, DS710+, DS410, DS410j, DS210+, DS210j, DS110+, DS110j