Live View

Solutions for Surveillance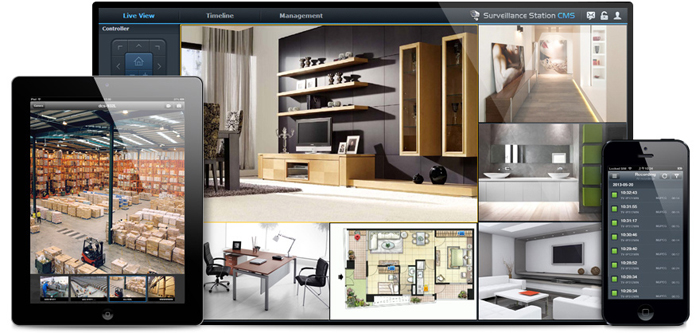 Live View allows you to monitor in real time all your IP cameras. You can access it from almost any device: PC or Mac owners can use Chrome, Firefox or IE while mobile users benefit from the free app DS cam. See things now in different perspectives!
Surveillance Anywhere
Every Surveillance Station feature is available on Chrome, Firefox, Safari and Internet Explorer. In addition, live feeds and recorded events are available on your mobile devices via the free app DS cam. No matter where you are – on a bus, at the office in front of your computer or at the other side of the world – you can always stay on top of everything.
Cross Browser
Surveillance Station works on PC and Mac on all major browsers - Google Chrome, Mozilla Firefox, Internet Explorer and Safari. We make it that it doesn't matter which browser you are using, you will always get the best experience out of Surveillance Station. And even if when you switch to another one, the experience carries on seamlessly.

Mobile Surveillance
Surveillance Station is also available on mobile devices - iPad, iPhone, iPod touch and Android devices. Install DS cam from App Store or Google Play and you'll be able to use Live View, Event Playback, PTZ and receive push notifications. With DS cam installed on your mobile device, you can connect to any DiskStation and monitor IP cameras located anywhere in the world.
Concurrent Live View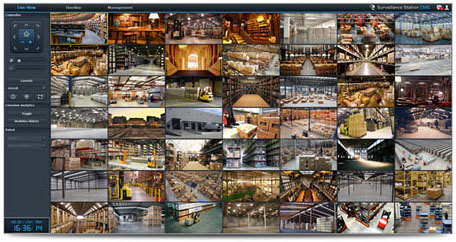 With Live View, you can watch up to 49 channels in Full HD. Use Live View tools such as on-screen operations and interactive e-maps to boost efficiency. No matter how many IP cameras you host, your monitoring experience remains smooth and hassle-free.
Watch 49 Channels in Full HD
Surveillance Station allows you to watch up to 49 channels on single Live View panel with 1080p resolution. You can use all cameras from one DiskStation, or merge different cameras hosted on various DiskStations to have them all through one single interface.1
Optimized Live View Experience
From general household users to multi-site surveillance personnel, the following tools help you refine your Live View experience.
On-screen operation, including PTZ for up to 32 directions, absolution position, focus, iris, and much more.2
Interactive e-maps to provide overviews of your cameras' locations and allow live feeds previews.
6 different live view analytic options to track events as they happen.
Automatic and scheduled camera patrol to increase surveillance efficiency.
Fisheye Camera Support

One of the problems with traditional surveillance cameras is blind spot. The traditional and inefficient answer to this problem is setting up multiple cameras from different point of views. Fisheye camera features 360° surveillance coverage, so your property is more efficiently and cost-effectively safeguarded.

Obtain a 360° panorama view of the environment.
Dewarp a specific region or a hemispheric area (180°) from the fisheye image.
Multiple live view channels can be extracted from dewarped images.
Support ceiling mount camera only.
Suitable for Large-Scale Deployment
Even for large-scale environment with hundreds of cameras, everything is unified and readily available. IT administrators can consolidate live view feeds from different recording servers in the CMS host. This offers efficient management, flexible deployment, and proactive control.
For detailed information please refer to software specifications or release note.
On-screen operation support depends on each IP camera's specifications.
Live View Analytics
Those free enhancement tools are designed to make surveillance more versatile and precise. Live View Analytics can intelligently track targets and detect suspicious events which will trigger a recording. Each recorded session will be archived for future analysis.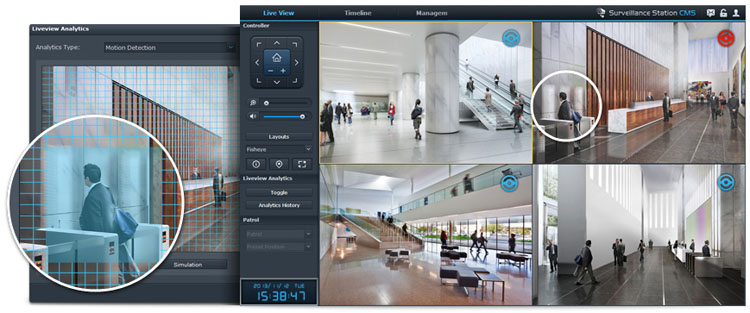 Live View Analytics
Surveillance security deals with matters that are measured in seconds. You need a reliable method to keep track of the events as they are happening. Live View Analytics offers real-time event tracking with 6 different live view analytic options for your selection:
Motion Detection
System detects if there's any movement in a pre-determined area.
Missing Object
Any object that's removed or missing from a pre-defined area triggers the alarm.
Foreign Object
Any object that enters and remains in a pre-defined area is taken as a foreign object.
Camera Occlusion
When an IP cam's lens is blocked by unknown objects, the system will trigger an alert.
Focus Lost
When an IP cam's focus is adjusted or lost focus, the system will trigger an alert.
No-Idle Zone
Any object that stays in the no-idle zone for over a set period of time will trigger an immediate alert.
Review Events Within 1 Hour
There are times when you are busy taking care of one event, another event struck without being noticed. Surveillance Station keeps events that happened within one hour. So you can check if there's anything that slipped past you.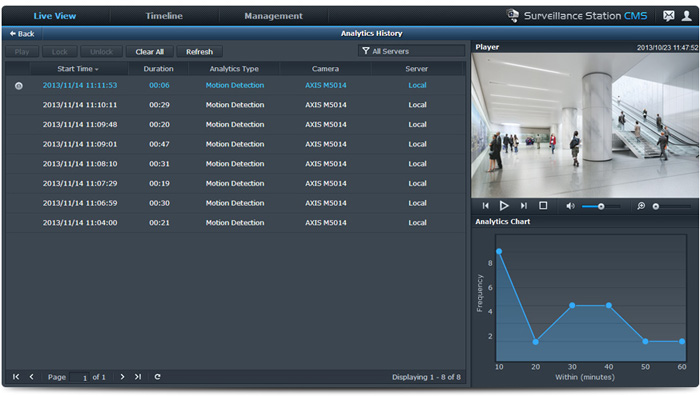 Snapshots
Sometimes a simple image is more powerful than an entire video. You can easily capture snapshots of camera feeds and then quickly edit each snapshot before saving it to your Synology NAS or downloading it to a local computer. Simple editing features include rotate, blur, and mask, allowing you to remove any sensitive information, such as bystanders' faces or vehicle license plates.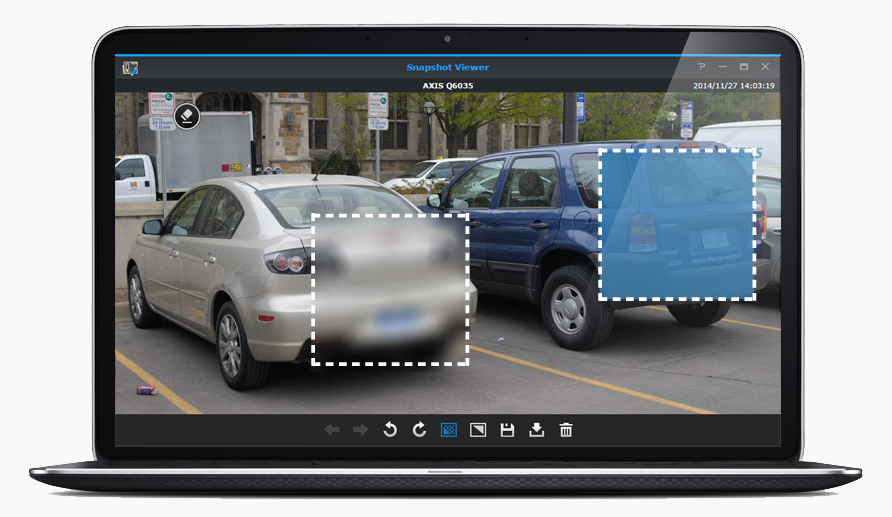 Applied Models:
16-series: RS18016xs+, RS2416+, RS2416RP+, DS416, DS216play, DS216se
15-series: RS815, RS815+, RS815RP+, RC18015xs+, DS3615xs, DS2415+, DS2015xs, DS1815+, DS1515, DS1515+, DS715, DS415+, DS415play, DS215+, DS215j, DS115, DS115j
14-series: RS3614xs+, RS3614RPxs, RS3614xs, RS2414+, RS2414RP+, RS814, RS814+, RS814RP+, RS214, DS414, DS414j, DS414slim, DS214, DS214+, DS214play, DS214se, DS114, EDS14
13-series: RS10613xs+, RS3413xs+, DS2413+, DS1813+, DS1513+, DS713+, DS413, DS413j, DS213, DS213+, DS213air, DS213j
12-series: RS3412RPxs, RS3412xs, RS2212+, RS2212RP+, RS812, RS812+, RS812RP+, RS212, DS3612xs, DS1812+, DS1512+, DS712+, DS412+, DS212, DS212+, DS212j, DS112, DS112+, DS112j
11-series: RS3411RPxs, RS3411xs, RS2211+, RS2211RP+, RS411, DS3611xs, DS2411+, DS1511+, DS411, DS411+, DS411+II, DS411j, DS411slim, DS211, DS211+, DS211j, DS111
10-series: RS810+, RS810RP+, DS1010+, DS710+, DS410, DS410j, DS210+, DS210j, DS110+, DS110j