Mobile

Solutions for Surveillance

A Reliable & Secure Solution
Safeguard large property and construction sites with DS cam: our mobile app allows your surveillance personnel to take proactive control with preset camera positions, and even move cameras along their pre-defined patrol routes. Even with a massive installation of hundreds of cameras, your surveillance personnel can monitor and respond to any situation, in real-time.
In situations involving large team of surveillance staff, administrator can enhance security by delegating privileges in Surveillance Station. The mobile app follows the privilege hierarchy to maintain the integrity of your surveillance settings.
Smart Streaming Wherever You Are
Streaming live feeds through mobile network used to pose a challenge to surveillance on the go. With DS cam, however, you can pre-define the frame rate and resolution in which videos are streamed. Even under bandwidth constraints, monitoring on mobile devices will still be perfectly smooth. When switching to a computer, you can have the Live View back in high resolution.
To simplify things further, Synology QuickConnect allows you to remotely access your DiskStation without complicated router configuration. Register the service for free, and you will immediately be able to check on your property from the other end of the world.
DS cam Keeps You Notified
Surveillance Station provides a full-fledged notification system that keeps you aware of anything that's happening on your IP cameras. Choose from 9 different triggering events and receive message via SMS, e-mail, and push notifications on DS cam for iOS and Android devices. You can also create a customized notification schedule and decide when you want to receive messages. And when you do receive one, you can go straight to DS cam and see what's happening at the other end of the camera. Stay alert at all times, so you can respond immediately to minimize danger for your family, business or property.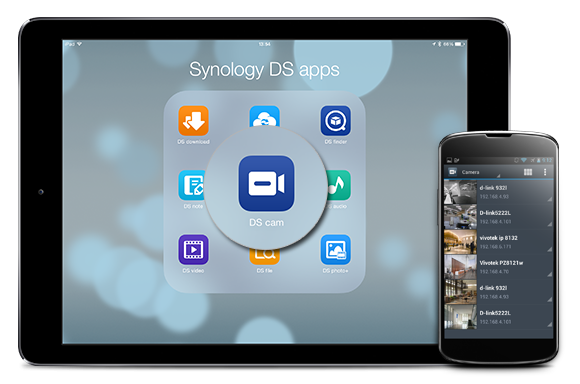 No Extra Cost
DS cam is available for iOS and Android users, for free. So when you're out, you can still monitor what's going on in your house or office, and respond immediately to any incident. Download the apps through the official stores to received regular updates and enjoy the latest features we develop and release for Synology DiskStation users.



| | |
| --- | --- |
| iPhone/iPad | Android |

Applied Models
16-series: RS18016xs+, RS2416+, RS2416RP+, DS416, DS216play, DS216se
15-series: RS815, RS815+, RS815RP+, RC18015xs+, DS3615xs, DS2415+, DS2015xs, DS1815+, DS1515, DS1515+, DS715, DS415+, DS415play, DS215+, DS215j, DS115, DS115j
14-series: RS3614xs+, RS3614RPxs, RS3614xs, RS2414+, RS2414RP+, RS814, RS814+, RS814RP+, RS214, DS414, DS414j, DS414slim, DS214, DS214+, DS214play, DS214se, DS114, EDS14
13-series: RS10613xs+, RS3413xs+, DS2413+, DS1813+, DS1513+, DS713+, DS413, DS413j, DS213, DS213+, DS213air, DS213j
12-series: RS3412RPxs, RS3412xs, RS2212+, RS2212RP+, RS812, RS812+, RS812RP+, RS212, DS3612xs, DS1812+, DS1512+, DS712+, DS412+, DS212, DS212+, DS212j, DS112, DS112+, DS112j
11-series: RS3411RPxs, RS3411xs, RS2211+, RS2211RP+, RS411, DS3611xs, DS2411+, DS1511+, DS411, DS411+, DS411+II, DS411j, DS411slim, DS211, DS211+, DS211j, DS111
10-series: RS810+, RS810RP+, DS1010+, DS710+, DS410, DS410j, DS210+, DS210j, DS110+, DS110j