Recording Management

Solutions for Surveillance
Your recordings are valuable assets to you, but only when you can use them effectively. Surveillance Station offers just the right tools for you. This means you can find recordings a lot quicker and easier, search and analyze them, view them in different modes to cut down time, or export them to archive and check back later.
View Recordings
Surveillance Station offers a variety of ways to watch recordings. Recording Playback has a timeline bar to let you navigate through time to find what you want. Sync & Non-Sync modes let you watch recordings continuously without breaks, or watch multiple recordings at the same time. Time Slice mode divides your recording into four parts for you to get through it faster. Image Enhancement is a great tool to adjust the image's settings of Brightness, Saturation, Contrast and Sharpness.
Convenient & Unified Recording Playback Center
Surveillance Station offers 4-channel playback in both sync and non-sync modes. Timeline lines up all recordings to allow easy navigation. Even for large-scale environment with hundreds of cameras, everything is unified and readily available.
Efficient Recording Playback Management
Just like live view surveillance, Timeline offers on-screen operations to increase management efficiency. Management actions are no longer tied to the sidebar. IT personnel can manage videos, take screenshots, zoom in or out directly on the live view screen.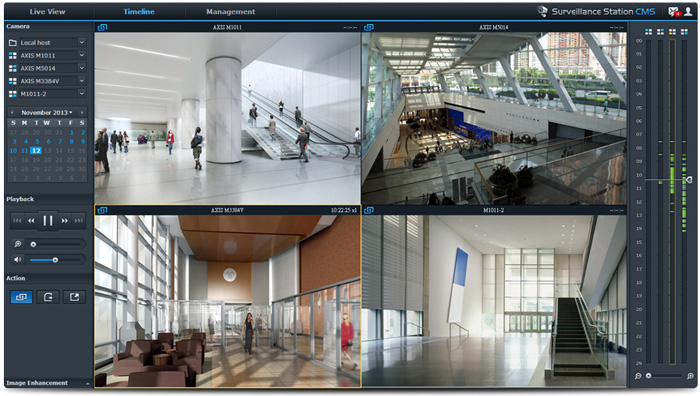 Sync & Non-Sync Mode
The Sync mode in recording playback allows you to simultaneously play multiple recordings. That means you only have to navigate one single timeline to view all events that happened during different hours in a day from each camera. The non-sync mode eliminates the break between various recordings of a camera, and plays without gap multiple videos. With sync & non-sync modes, you can view your daily recordings with much more efficiency.
Time Slicing
With recordings longer than a minute, you can activate Time Slicing. It will divide a recording into 4 separate channels for you to view simultaneously. You will be able to browse through a day's recording more quickly and efficiently.


Image Enhancement
There are definitely times when you wish to see the recording better. Perhaps the sunlight is blocking the view, or maybe there is a facial feature that you want to check in more details. With Image Enhancement, you can adjust several image attributes: brightness, contrast, saturation and sharpness to have a better and clearer picture.




Find Recordings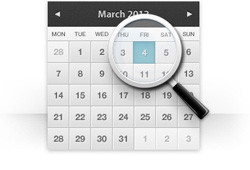 Over time there'll be a huge amount of recordings. Surveillance Station's Recording List lets you easily see a complete list of recordings arranged by many attributes for you switch in between and prioritize recordings. Use Calendar to pick any date and move navigation bar in Timeline to go backward or fast track to a particular moment in time.
Recording List
All your recordings from every camera are consolidated in a recording list. From there, you can sort them based on different attributes, such as camera model, recording mode, recording size. You can also filter your database to display only the recordings you need.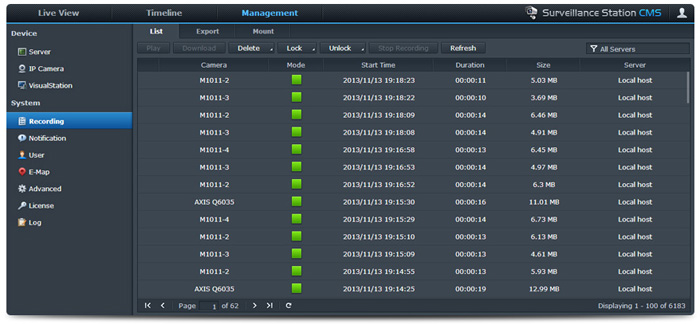 Timeline & Calendar
In addition to finding a recording, Surveillance Station also allows you to locate the actual recorded footage via Timeline and calendar support. The calendar lets you pick any date to show the day's recording. Using Recording Timeline, you can easily identify recordings recorded in different modes, labeled by color on the timeline. To find a specific time during a recording, just drag the cursor on the timeline.
CMS Support
The integration with Synology Central Management System (CMS) allows IT administrators to look up recordings from different recording servers on a same monitor. Even for massive architecture with hundreds of cameras, everything is unified and readily available.
Smart Search
Archived recordings are very informative source for any kind of analysis. Smart Search lets you easily track any change during your IP camera's watch time, and customize search parameters to narrow down a search to avoid false alarms.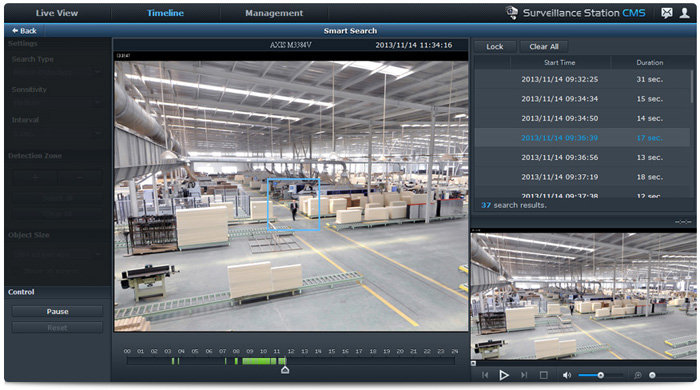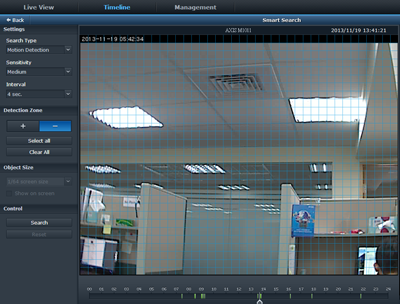 Uncover more from recordings with Smart Search. There are 6 different video analytics to locate events quickly and efficiently, helping you to eliminate any potential false alarms.
Motion Detection
System detects if there's any movement in a pre-determined area.
Missing Object
Any object that's removed or missing from a pre-defined area triggers the alarm.
Foreign Object
Any object that enters and remains in a pre-defined area is taken as a foreign object.
Camera Occlusion
When an IP cam's lens is blocked by unknown objects, the system will trigger an alert.
Focus Lost
When an IP cam's focus is adjusted or lost focus, the system will trigger an alert.
No-Idle Zone
Any object that stays in the no-idle zone for over a set period of time will trigger an immediate alert.
Archive & Authentication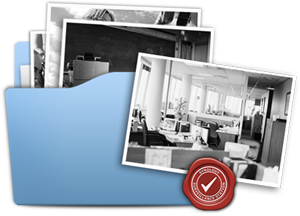 Export recordings to a shared folder on DiskStation, where space is more than enough. Use Archive Rotation System to help you get rid of the outdated recordings and keep only the recent ones. When facing circumstances where proof is needed to support your stance, the Evidence Integrity Authenticator can validate and prove that your recording or snapshot image from Surveillance Station is 100% genuine and isn't edited.
Efficient Recording Archiving
Recorded footages are always archived and used in the future for a variety of reasons – government regulations, business analysis, security, evidence in law, and many more. On Surveillance Station, you can export any recording to a shared folder on your DiskStation, a place where space is immense, and the only place you need to go to find archived recordings. Should you come across any emergency to get the file immediately, you can always download it to a client computer, and take it wherever you go.
Evidence Integrity Authenticator
All recorded videos and snapshot have embedded invisible digital signatures. The Evidence Integrity Authenticator developed by Synology can validate and confirm that a recording or an image hasn't been tampered with, and is as genuine as it was originally. The authenticated recordings or images will show the exact recording time and the hosting DiskStation. Evidence Integrity Authenticator can be used best when controversies in court occur, as anything that has passed the test will qualify for admissible evidence.
Recording
Recording is not just playback of past events on Surveillance Station. It's intelligent. There are five modes of recording in which it'll start by itself when something is triggered. Recording can also be run automatically by setting up a schedule. All your recordings can be "recycled" to make more space for new ones.
Manual

In Live View, you can click the record button located on control panel to start a recording session. You can manually stop the recording by clicking it. The recording will also stop when it reaches a limit on your storage space. Manual recording is agile as it's completely controlled by you.

Continuous

Continuous recording overruns any pre-set event trigger or system settings. The recording continues non-stop until it meets the end of its schedule session, or when the storage space is insufficient. If you are faced with mission-critical occasions, continuous recording is a great way to make sure that nothing will be missed.

Motion detection, Alarm, and Custom

Start recording based on motion detection, audio detection, digital input from external devices like alarms and sensors, or a mixture of each. Simply select the detection type and choose when to activate it depending on day and time. Advanced settings let you customize detection area and adjust attributes like detection sensitivity.

Edge recording

Cameras equipped with an on-board SD card ensure redundancy when the network connection is unstable. Just enable edge recording and when the connection between a camera and the server goes down, the former will continue to record in its own SD card. All videos inside are downloaded once full network service resumes.

Event linking

By creating "action rules", you can have cameras start recording when pre-defined events occur. For example, when one camera unexpectedly goes offline, another nearby camera could start recording automatically. Or whenever a specified door is opened, a nearby camera could automatically capture a snapshot.
Applied Models
16-series: RS18016xs+, RS2416+, RS2416RP+, DS416, DS216play, DS216se
15-series: RS815, RS815+, RS815RP+, RC18015xs+, DS3615xs, DS2415+, DS2015xs, DS1815+, DS1515, DS1515+, DS715, DS415+, DS415play, DS215+, DS215j, DS115, DS115j
14-series: RS3614xs+, RS3614RPxs, RS3614xs, RS2414+, RS2414RP+, RS814, RS814+, RS814RP+, RS214, DS414, DS414j, DS414slim, DS214, DS214+, DS214play, DS214se, DS114, EDS14
13-series: RS10613xs+, RS3413xs+, DS2413+, DS1813+, DS1513+, DS713+, DS413, DS413j, DS213, DS213+, DS213air, DS213j
12-series: RS3412RPxs, RS3412xs, RS2212+, RS2212RP+, RS812, RS812+, RS812RP+, RS212, DS3612xs, DS1812+, DS1512+, DS712+, DS412+, DS212, DS212+, DS212j, DS112, DS112+, DS112j
11-series: RS3411RPxs, RS3411xs, RS2211+, RS2211RP+, RS411, DS3611xs, DS2411+, DS1511+, DS411, DS411+, DS411+II, DS411j, DS411slim, DS211, DS211+, DS211j, DS111
10-series: RS810+, RS810RP+, DS1010+, DS710+, DS410, DS410j, DS210+, DS210j, DS110+, DS110j