Synology DiskStation DS116

Step up to an enhanced private cloud solution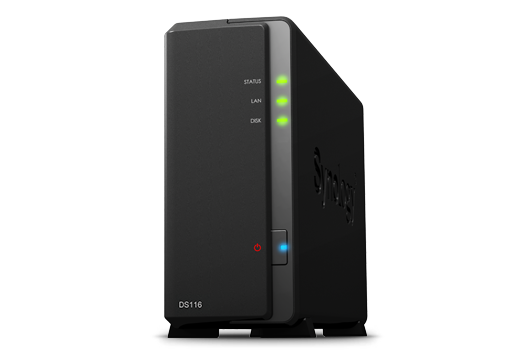 Sorry, this product is no longer available. Please contact us for more information.
Overview:
Synology DiskStation DS116 is a compact 1-bay NAS server with outstanding performance, bringing you a novel way to store, share, stream and synchronize data in your daily life. With comprehensive business and multimedia applications, DS116 is designed to boost up productivity and let you enjoy multimedia content effortlessly. Synology DS116 is also backed with Synology's 2-year limited warranty.
Compact & quiet, blending into your small offices and home
Dual-core CPU with hardware encryption engine
Over 112.67 MB/s reading, 111.82 MB/s writing
Dual USB 3.0 ports for external storages and printers
Multimedia streaming via DLNA-certified media server
Brightness adjustable front LED indicators with schedule control
Easy-to-use, web-based operating system for all browsers
Optimal Price/Performance Ratio
Synology DS116 is a compact, all-purpose 1- bay NAS with supreme performance, designed to make your daily data storage simpler than ever. Equipped with a Marvell ARMADA dualcore CPU and 1GB DDR3 RAM, DS116 delivers high performance – 112.67 MB/s reading speed and 111.82 MB/s writing speed – in a Windows environment. Powered with a hardware encryption engine, DS116 excels with its high-speed encrypted data transmission – over 112.97 MB/s for reading and 93.73 MB/s for writing – making itself one of the best NAS available today. DS116 comes with built-in floating-point unit support that allows quick thumbnail generation for your photos. The dual USB 3.0 ports on the rear panel can provide high speed data transmission to a large variety of external USB devices, including Wi-Fi dongles, printers, external hard drives and more.
Supported by numerous feature-rich applications, DS116 turns your hard drive into a versatile storage server, which acts not only as your private cloud for anywhere access, but also as a backup device, online photo album, local storage of your public cloud data, 24/7 download portal, and so much more.
Cross-Platform File Sharing and Data Synchronization
Synology DS116 supports comprehensive network protocols, ensuring a seamless file sharing experience across Windows, Mac, and Linux platforms. Windows AD and LDAP integration allow DS116 to fit quickly and effortlessly into any existing network environment without the necessity to recreate user accounts. Cloud Sync keeps your Dropbox, Google Drive, Microsoft OneDrive, Baidu and Box storages in sync with your personal DiskStation at home. The Cloud Station Suite allows you to sync files among multiple devices — Windows PC, Mac, Linux, iOS or Android tablets/phones — effortlessly keeping everything up-to-date. All the seamless file sharing over the Internet is protected at a high security level with the HTTPS, firewall, and IP auto-block mechanisms supported by DS116.
Comprehensive Office Applications
With Synology DS116 and its rich business applications, you can boost personal productivity and therefore become more efficient at work. SpreadSheet allows you to create, edit and simultaneously collaborate on a spreadsheet with multiple users on any browser, and share it with a specific group of people effortlessly. VPN Server offers an easy VPN solution that turns your Synology DS116 into a VPN server, providing a secure way of connecting to a private LAN from a remote location. RADIUS Server strengthens network security by overseeing wireless access authentication via the RADIUS (Remote Authentication Dial-In User Service) networking protocol. Surveillance Station offers a centralized interface to manage IP cameras deployed in your office or home, allowing users traveling miles away to safeguard their personal environment by watching live views, recording events, and taking snapshots with a computer or iOS/Android device.
Extensive Multimedia Features
With various tools supported by DS116, managing your multimedia content has never been easier. Photo Station's intuitive design allows you to effortlessly organize photos into customized categories, smart albums, and blog posts; as well as link them to social networking websites like Facebook, Twitter, Flickr, and Weibo with just a few clicks. Audio Station comes with a built-in lyrics plugin, Internet radios, and support for DLNA, AirPlay, and Bluetooth speakers for quality playback. With Video Station, you can watch movies and TV shows online or directly through the DS video app on Apple TV.
DLNA-Certified Media Server
As a certified DLNA DMS (Digital Media Server), DS116 serves as a ready media server with the capability to host digital multimedia content for remote playback. DLNA-compliant devices can access the shared content on DS116 in the same local area network without fussing over privilege settings. DS116 not only makes your multimedia files accessible without preconfiguration, but also transforms your mobile device into a remote control through Synology mobile apps. Movies, photos, and music can be immediately streamed to your TV or players, right from the palm of your hand.
Anywhere/Anytime Availability
QuickConnect and EZ-Internet configure your DS116 to be accessed over the Internet with minimal effort. Multimedia content is downright accessbble via Synology's popular mobile apps like DS photo, DS audio, and DS video. DS download, DS file, and DS cloud allow file download/access/synchronization from anywhere at anytime.
Energy-efficient with Cool and Quiet Design
All Synology NAS are designed with energy efficiency in mind. Inside DS116, there's a 60 x 60 mm fan with smart airflow functions that keep the system running cool 24/7. DS116 consumes minimal power at only 10.68 watts during access and 6.28 watts during hard drive hibernation. The noise dampening design makes DS116 quiet compared to its PC counterparts. The support of Wake on LAN/WAN, scheduled power on/off can further reduce power consumption and operation cost.
All Synology products are produced with RoHS compliant parts and packed with recyclable packing materials. Synology acknowledges the responsibility as a global citizen to continually work to reduce the environmental impact of every product produced.
Features:
Powerful compact solution
Powered by a blazing-fast, dual-core processor, DS116 delivers powerful performance, while enabling real time file syncing across multiple devices and public cloud storage services under a single pane of glass. Enhance your work productivity with enhanced collaboration tools and further protect your data with backup solutions.
Synchronize files across your devices
Cloud Station Suite provides real-time data synchronization across all your devices, such as computers, mobile devices, and other Synology NAS whenever a file is modified. "Intelliversioning" keeps the most important file versions to better utilize storage space.

Cloud Station Sharesync

Cloud Station Drive

Cloud Station Server

DS Cloud

Easy file access with QuickConnect
Access files on your Synology NAS over the Internet without the hassle of setting up port forwarding rules, DDNS, or other complicated network settings. QuickConnect allows you to connect via a simple customizable address (e.g. https://customID.quickconnect.to), so that you can instantly access media and work files on any Windows/Mac/Linux computer, laptop, or mobile device without additional charge.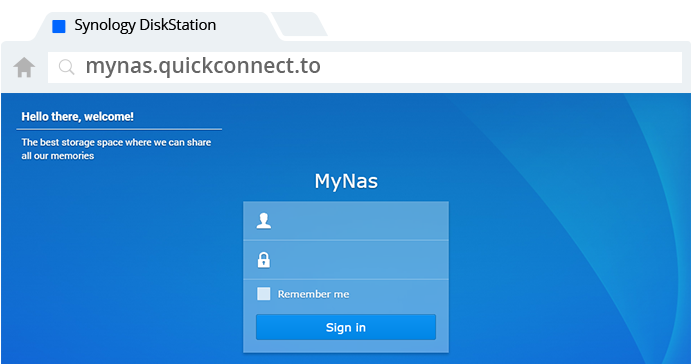 Stream content to your TV
Turn your Synology NAS into a home media hub and stream your digital contents to computers, mobile devices, Samsung TV, Roku players, Apple TV, Google Chromecast, and DLNA devices.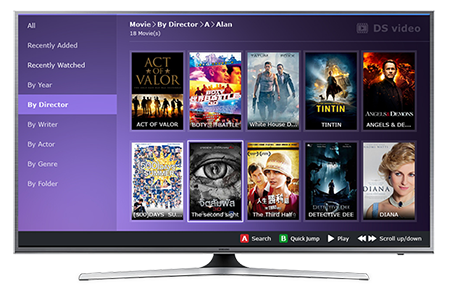 Samsung TV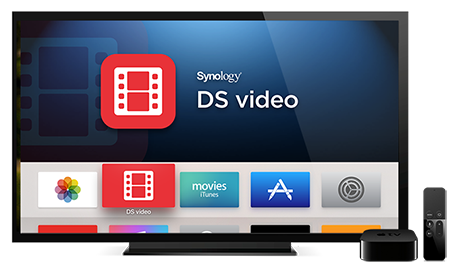 Apple TV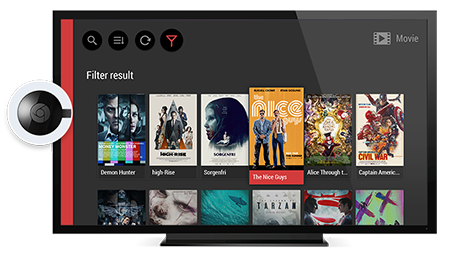 Android TV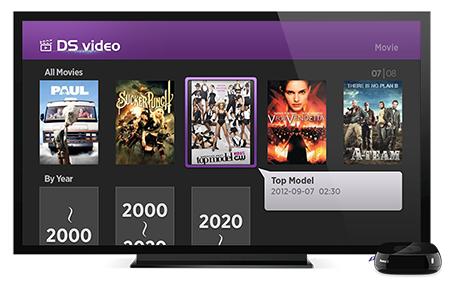 Roku

Seamless integration with your mobile devices
Synology mobile applications are designed to allow quick and secure access to your data wherever you are.
DS Audio
DS Photo
DS Video
Powered by Synology DSM

Office
Collaborate together on spreadsheets and documents on your own private cloud.

Public Cloud Integration
Backup and synchronize data easily between your public cloud accounts and your NAS.

File Server/Management
Powerful built-in file management and sharing services.

DSM UI
Award-winning operating system with an intuitive user interface and powerful capabilities.
Security
Comprehensive built-in security tools are constantly updated to tackle evolving threats and protect your devices.

Multimedia
Complete multimedia solution for management, streaming, and playback.
Technical Specifications: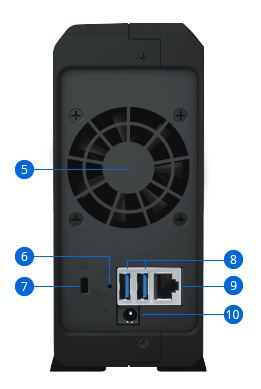 Status indicator
LAN indicator
Drive status indicator
Power button and indicator
Fan
Reset button
Kensington Security Slot
USB 3.0 port
1GbE RJ-45 port
Power port
Technical Specifications:
Hardware Specifications
CPU Model
Marvell Armada 385 88F6820
CPU Architecture
32-bit
CPU Frequency
Dual Core 1.8 GHz
Hardware Encryption Engine
Memory
System Memory
1 GB DDR3
Storage
Drive Bay(s)
1
Compatible Drive Type*

3.5" SATA HDD
2.5" SATA HDD (with optional 2.5" Disk Holder)
2.5" SATA SSD (with optional 2.5" Disk Holder)

Maximum Internal Raw Capacity
10 TB (10 TB HDD x 1) (Capacity may vary by RAID types)
Maximum Single Volume Size
16 TB
Notes

"Compatible drive type" indicates the drives that have been tested to be compatible with Synology products. This term does not indicate the maximum connection speed of each drive bay.
The maximum single volume size is not directly related to the maximum raw capacity.

External Ports
RJ-45 1GbE LAN Port
1
USB 3.0 Port
2
File System
Internal Drives
EXT4
External Drives

EXT4
EXT3
FAT
NTFS
HFS+*
exFAT*

Notes

HFS+ is read only, max 2TB volume size.
exFAT Access is purchased separately in Package Center.

Appearance
Size (Height x Width x Depth)
166 mm x 71 mm x 224 mm
Weight
0.7 kg
Others
System Fan
60 mm x 60 mm x 1 pcs
Fan Speed Mode

Cool Mode
Quiet Mode
Low-power Mode

Brightness adjustable front LED indicators
Power Recovery
Noise Level*
16.4 dB(A)
Scheduled Power On/Off
Wake on LAN/WAN
Power Supply Unit / Adapter
36W
AC Input Power Voltage
100V to 240V AC
Power Frequency
50/60 Hz, Single Phase
Power Consumption*
10.68 W (Access)
6.28 W (HDD Hibernation)
British Thermal Unit
36.44 BTU/hr (Access)
21.43 BTU/hr (HDD Hibernation)
Environment Temperature
Operating Temperature
5°C to 40°C (40°F to 104°F)
Storage Temperature
-20°C to 60°C (-5°F to 140°F)
Relative Humidity
5% to 95% RH
Certification

FCC Class B
CE Class B
BSMI Class B

Warranty
2 Years
Notes

Power consumption is measured when fully loaded with Western Digital 1TB WD10EFRX hard drive(s).
Support for Wake on WAN needs switch and routers which recognize Magic Packet.
Noise Level Testing Environment: Fully loaded with Seagate 1TB ST31000520AS hard drive(s) in idle; Two G.R.A.S. Type 40AE microphones, each set up at 1 meter away from the Synology NAS front and rear; Background noise: 16.49-17.51 dB(A); Temperature: 24.25-25.75˚C; Humidity: 58.2-61.8%

General DSM Specifications:
Networking protocol
CIFS, AFP, NFS, FTP, WebDAV, CalDAV, iSCSI, Telnet, SSH, SNMP, VPN (PPTP, OpenVPN , L2TP)
File system

Internal: ext4
External: ext4, ext3, FAT, NTFS, HFS+ (read only)

Supported RAID type
Basic
Storage management

Maximum single volume size: 16TB
Maximum internal volume: 1
Maximum iSCSI Target: 10
Maximum iSCSI LUN: 10

File sharing capability

Maximum user accounts: 2048
Maximum groups: 256
Maximum shared folders: 256
Maximum concurrent CIFS/AFP/FTP/File Station connections: 128

Privilege
Windows Access Control List (ACL)
Directory service
Windows AD Integration: Domain Users login via Samba (CIFS)/AFP/FTP/File Station, LDAP integration
Security
FTP over SSL/TLS, IP Auto-Block, Firewall, Encrypted Network Backup over Rsync, HTTPS Connection
Utilities
Synology Web Assistant, Cloud Station Drive, Cloud Station Backup, Photo Station Uploader, Evidence Integrity Authenticator
Supported client
Windows 7 onwards, Mac OS X 10.10 onwards
Supported browser
Chrome, Firefox, Internet Explorer: 9 onwards, Safari 8 onwards, Safari (iOS 7 onwards on iPad), Chrome (Android 4.0 onwards on tablets)
Language
English, Deutsch, Français, Italiano, Español, Dansk, Norsk, Svensk, Nederlands, Русский, Polski, Magyar, Português do Brasil, Português Europeu, Türkçe, Český
Packages and Applications:
File Station
Virtual drive, remote folder, Windows ACL editor, compress/extract archived files, bandwidth control for specific users or groups, create sharing links, transfer logs
Backup Solutions
Network backup; local backup; desktop backup; configuration backup; OS X Time Machine; backup data to public cloud; shared folder sync - maximum task number: 2
FTP Server
Bandwidth control for TCP connections, custom FTP passive port range, anonymous FTP, FTP SSL/TLS and SFTP protocols, boot over the network with TFTP and PXE support, transfer logs
Printer Server
Maximum printer: 2, printing protocols: LPR, CIFS, IPP, iOS printing, Google Cloud Print™, multi functional print server (MFP functions are for Windows PC only)
Storage Analyzer
Volume and quota usage, total size of files, volume usage and trends based on past usage, size of shared folders, largest/most/least frequently modified files
Security Advisor
Malware detection/removal, user account/password, network, system-related security scan
Log Center
SSL connection, log rotation: 6 months, 1 year, 2 years, 3 years, email notification
Antivirus Essential
Full system scan, scheduled scan, white list customization, virus definition auto update
Surveillance Station
Maximum IP camera: 16 (total of 480 FPS at 720p, H.264) (Including two free camera licenses. Procurement of additional licenses is required.)
VPN Server
Maximum connections: 5, supported VPN protocols: PPTP, OpenVPN, L2TP
Web Station
Virtual Host (up to 30 websites), PHP/MariaDB®, 3rd-Party applications support
Mail Server
Supported Mail Server protocols: POP3, SMTP, IMAP, support LDAP/AD account
Mail Station
Webmail interface for Mail Server; receiving mails from multiple POP3 mailboxes, customizable SMTP server
Cloud Station
Maximum concurrent file transfers: 128, retain historical and deleted file versions
Cloud Sync
One or two-way synchronization with public cloud storage providers including Amazon Cloud Drive, Amazon S3-compatible storage, Baiduyun, Box, Dropbox, Google Cloud Storage, Google Drive, hubiC, Megafon Disk, Microsoft OneDrive, OpenStack Swift-compatible storage, WebDAV servers, Yandex Disk
DLNA/UPnP Media Server
DLNA certified, PS3/PS4/Xbox 360/Xbox One support
Note Station
Rich-text note organization with versioning, encryption, sharing, media embedding and attachments
Download Station
Supported download protocols: BT/HTTP/FTP/NZB/eMule
Maximum concurrent download task: 30
Other packages
Photo Station, Audio Station, iTunes Server, 3rd-party packages
iOS/Android applications
DS cloud, DS file, DS finder, DS cam, DS note, DS audio, DS get, DS photo, DS video
Windows Phone applications
DS file, DS finder, DS audio, DS get, DS photo, DS video
Environment & Packaging:
Environment
RoHS Compliant
Packaging Content

DS116 main unit
Welcome note
Accessory pack
AC power adapter
RJ-45 LAN cable

Optional Accessories

Camera License Pack
2.5" Disk Holder Type C
VS360HD
*Model specifications are subject to change without notice. Please refer to www.synology.com for the latest information.
1 The performance figures could vary on different environments.
Performance:
1-bay NAS
Synology strives to enhance the performance of our NAS with every software update, even long after a product is launched. For enterprises and users that demand uncompromising performance from their servers, check the figures below to find the most suitable choice.

1GbE SMB - Sequential Throughput (64KB)
| Model | DS116 | DS115j |
| --- | --- | --- |
| Read | 112.98 | 100.29 |
| Write | 112.68 | 64.3 |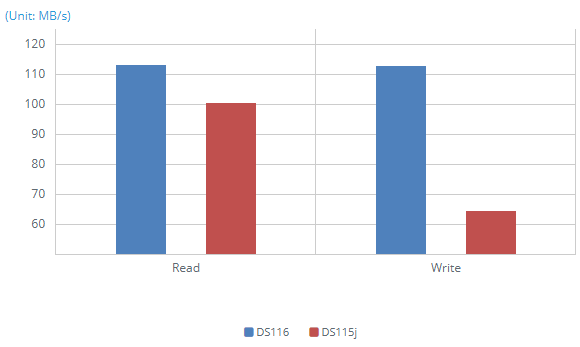 1GbE SMB - Sequential Throughput via Encrypted Shared Folder (64KB)
| Model | DS116 | DS115j |
| --- | --- | --- |
| Read | 112.9 | 30.36 |
| Write | 93.37 | 12.41 |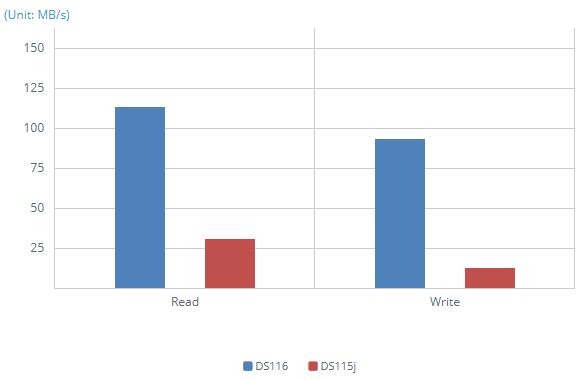 1GbE SMB - Windows File Transfer (3GB file x 1)
| Model | DS116 | DS115j |
| --- | --- | --- |
| Windows Download | 112.21 | 98.74 |
| Windows Upload | 111.28 | 62.17 |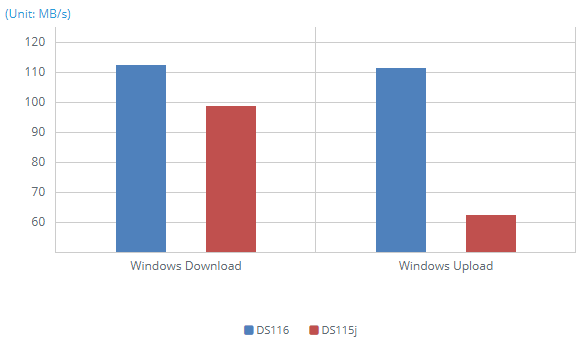 1GbE SMB - Windows File Transfer (1MB file x 3000)
| Model | DS116 | DS115j |
| --- | --- | --- |
| Windows Download | 84.97 | 61.57 |
| Windows Upload | 62.03 | 33.09 |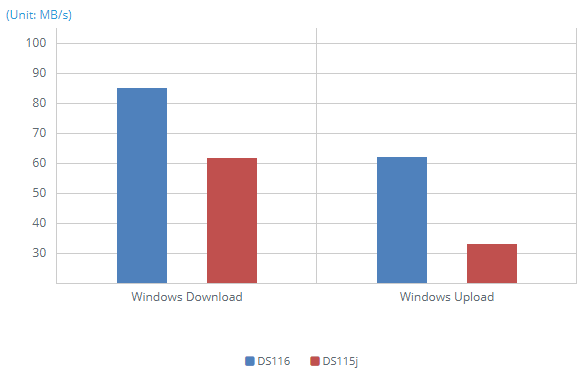 1GbE SMB - Windows File Transfer via Encrypted Shared Folder (3GB file x 1)
| Model | DS116 | DS115j |
| --- | --- | --- |
| Windows Download | 58.62 | 25.02 |
| Windows Upload | 43.74 | 12.64 |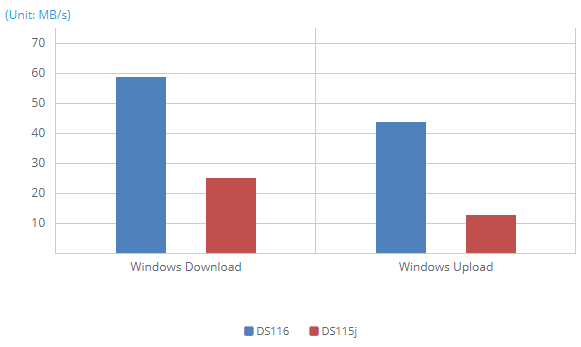 1GbE SMB - Windows File Transfer via Encrypted Shared Folder (1MB file x 3000)
| Model | DS116 | DS115j |
| --- | --- | --- |
| Windows Download | 46.31 | 21.32 |
| Windows Upload | 27.21 | 8.28 |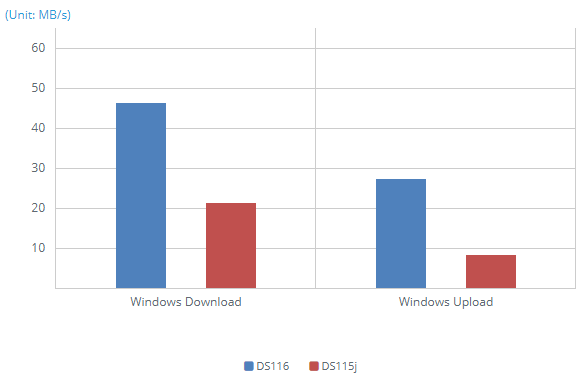 1GbE AFP - Mac File Transfer (3GB file x 1)
| Model | DS116 | DS115j |
| --- | --- | --- |
| AFP Download | 93.82 | 85.07 |
| AFP Upload | 93.41 | 59.66 |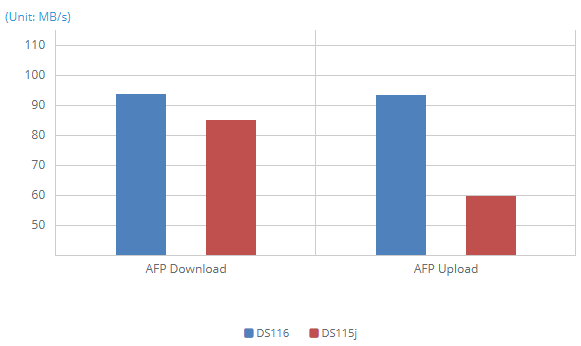 1GbE AFP - Mac File Transfer (1MB file x 3000)
| Model | DS116 | DS115j |
| --- | --- | --- |
| AFP Download | 51.62 | 43.26 |
| AFP Upload | 61.24 | 35.3 |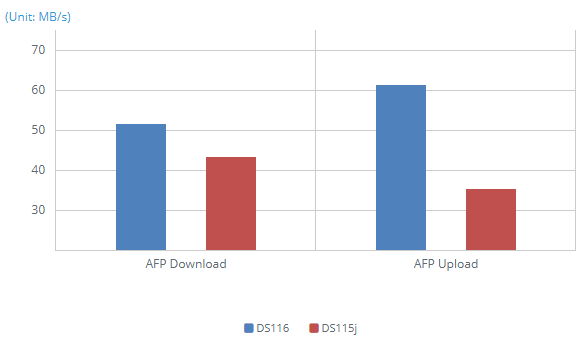 1GbE Web Server - HTML Response Efficiency
| Model | DS116 | DS115j |
| --- | --- | --- |
| Responses per second | 33740.35 | 3668.92 |
1GbE Web Server - PHP Response Efficiency
| Model | DS116 | DS115j |
| --- | --- | --- |
| Responses per second | 6020.35 | 761.35 |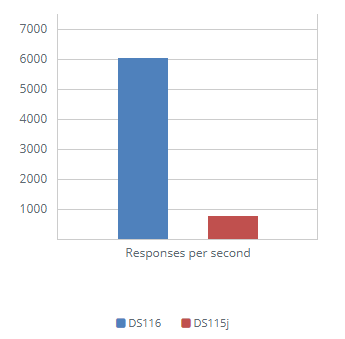 NAS:
Operating System: DSM 6.1
Volume Type: RAID 5 (4 bay), RAID 1 (2 bay), Basic (1 bay)
Drives:

DS416slim: Fully loaded with Intel 535 Series 240GB SSDSC2BW240H6 SSD
Other models: Fully loaded with Seagate ST6000VN0001 6TB HDD

File System:

EXT4:

[1-bay] DS116, DS115j
[2-bay] RS217, DS216, DS216play, DS216j, DS216se
[4-bay] RS816, DS418, DS418j, DS416slim

Btrfs:

[2-bay] DS718+, DS218+
[4-bay] RS815(RP)+, DS918+, DS418play

1GbE Network Environments:

For models with single 1GbE LAN port: MTU 1500; connected to 1 client PC via HP 2530-48G switch
For models with multiple 1GbE LAN ports: Link Aggregation is enabled for Sequential Throughput tests; MTU 1500; connected to client PCs via HP 2530-48G switch
Client PC:
1GbE SMB Network Environments:

For NAS models with single 1GbE LAN port: Intel Core i7-3770 3.40GHz; 32GB DDR3-1866; RAMdisk with 14GB source partition and 14GB target partition; Intel Gigabit CT; MTU 1500; Windows 7 64-bit
For NAS models with multiple 1GbE LAN ports: Intel Core i7-3770 3.40GHz; 4GB DDR3-1600; Intel 520 (120GB) SSD x 2; striped volume; Intel Gigabit CT; MTU 1500; Windows 7 64-bit

IOMeter setting for Sequential Throughput tests: Continuously read from/write to a single 8GB file for 3 minutes; Block size: 64KB
1GbE Web Server Network Environment:

Intel Core i7-6700 3.40GHz; 16GB DDR4-2133; Intel Gigabit CT; MTU 1500; Ubuntu 16.04
(html) wrk -t 8 -c [10-250] -d 60s -H "Host: benchmark" http://DS_IP/index.html
(php) wrk -t 8 -c [10-250] -d 60s -H "Host: benchmark"http://DS_IP/echo.php

1GbE AFP Network Environment: Mac Mini; 2.3GHz 4 core Intel Core i7; 16GB DDR3-1600; RAMdisk with 7GB source partition and 4GB target partition; MTU 1500; OSX 10.9
Special Note:
Performance figures are achieved in the Synology lab by using very powerful client computers with optimized network settings, and could vary in different environments. Regular office desktop or notebook computers may not be able to reproduce these figures.