Network Storage Solutions for the Research Industry

Solutions for Backup, Storage and File Management
Benefits of Synology DiskStations in a Research Environment
Peace of Mind: RAID-protected backup
Easy-to-Use: Windows,Mac, and Linux compatibile
Safe and Secure: Private folders, SSL, HTTPS and more
Save Money: Affordable Solution replaces other network hardware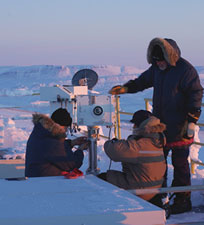 Recommended Features for Research and Discovery
Backup Solutions
File Station
Security Features
Surveillance Station
Whether measuring ice floe patters in the arctic or creating new molecular combinations for medicinal purposes, large amounts of data are produced in the research process. Ensuring that research data is backed up and not lost is critical to research and discovery organizations ensuring time, money, and efforts are not lost to something as preventable as a drive failure. Using technologies such as RAID, automatic backup, and network backup, research organizations are able to prevent data loss and, more importantly, provide peace of mind to their researchers that their hard work is not in vain. With cross-platform support, Time Machine integration for Macs and Data Replicator for PCs, configuring scheduled backups for every computer on the network is easy and reliable to do with Synology DiskStations.
Collaboration on projects can spur faster discoveries or improve idea generation which helps to develop theories and solve problems more efficiently. As collaboration is part of most research endeavors, having the technologies in place to foster collaboration can be a huge benefit to the research process. With the browser-based DiskStation Manager and the included File Station feature, sharing data between research facilities or individuals has never been easier.
While local drives may be mapped for faster access, remote access allows team members in an adjacent building or across the globe to access and interact with the data. A built-in FTP server distributes data and provides encryption for secure transfers.
In sensitive industries where trade secrets and discoveries are often held with caution, protecting and securing data is important to the safety of both the organization and the public. To protect primary data and other sensitive material from being accessed by third parties, Synology DiskStations provide a built-in firewall, autoblocking capabilities, and secure FTP and HTTPS support.
Securing data over a network or the internet is just the first step to ensure data is stored and shared securely. On-site surveillance to protect the building, lab, or remote research station from unauthorized access is important not just for the safety of the research, but team members as well. With Surveillance Station, DiskStation Manager provides scheduled and motion-detection recording through IP cameras plugged into the network. The result is having peace of mind that both important research data is protected as well as research team members.
Windows ADScontrol, user permission control
With dozens and often hundreds of users in an organization it is difficult to keep up with the varying data access demands. WindowsADS support in DiskStation Manager allows for seamless integration with user databases where each user has a custom permission level.
A key advantage of Synology DiskStations to research organizations is the price. Synology DiskStations are a more affordable alternative to PC servers, which can run thousands of dollars just for the hardware - often not including hard drives, software, or warranty. Synology DiskStations provide everything in one box and are easily transportable, simple to install with a user-friendly interface. By replacing several pieces of network hardware with one Synology device, the organization saves on energy costs, maintenance, time and money, and controls costs on their hardware investments.