DiskStation DS1819+

Scalable 8-bay NAS for small- to medium-sized businesses
Sorry, this product is no longer available, Please contact us for a replacement.
Overview:
Ready to Grow as Your Business Thrives
DS1819+ is an 8-bay desktop NAS providing superior performance with great expandability, allowing for seamless expansion and upgradability to satisfy your growing business needs.
CPU
Quad-core 2.1GHz with AES-NI encryption engine
RAM options
4GB DDR4, expandable up to 32GB

High Performance
2,045 MB/s sequential reading and 656 MB/s writing
---
Ultimate Backup Solution
DS1819+ integrates various backup applications into an intuitive user interface, offering durable storage technologies to safeguard your valuable data on any device.

Active Backup for Business
Centralize backup tasks for VMware, Windows, and file servers. Restore whatever you want fast and reliably when needed.

Hyper Backup
Comprehensively back up your data to a local shared folder, an external device, another Synology NAS, an rsync server, or a public cloud to ensure data safety.

Drive Package
Safeguard your computer with Synology Drive Client. Effortlessly perform real-time data backups and point-in-time file recovery.

Active Backup for Office 365 / G Suite
Protect corporate data stored on the cloud. On-premise backup solution with a centralized dashboard. Optimize storage efficiency with single instancing.
---
Supercharge your storage with speedy performance
DS1819+ comes with a PCIe expansion slot to support add-in cards. Install a dual M.2 SSD card for high-IOPS system caching, or a 10GbE NIC for ultra-fast data transmission.
---
Btrfs: Next generation storage efficiency
The Btrfs file system introduces cutting-edge storage technologies and optimized snapshots to prevent data corruption and reduce maintenance overhead. While ensuring high-level data integrity, it also offers flexible, efficient data protection and recovery tools.

Flexible Shared Folder/User Quota System provides comprehensive quota control on all user accounts and shared folders
Snapshot Replication provides schedulable and storage capacity-saving data protection with 1,024 shared folder backups and 65,000 system-wide snapshots
File or folder level data restoration makes data recovery fast and flexible
Automatic file self-healing detects and recovers corrupted files without user intervention
---
Ultimate file management and sharing
File Station is a web-based, fast and secure management tool built to allow easy, drag-and-drop operations without requiring any complex setup on Mac or PC. Advanced search and filtering tools allow for easy organization and file sharing. For complete compatibility, DS1819Plus supports the following protocols: AFP, FTP, iSCSI, NFS, SMB, and WebDAV.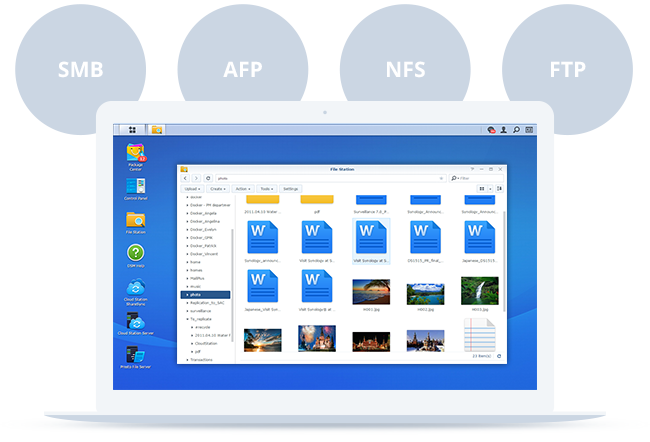 ---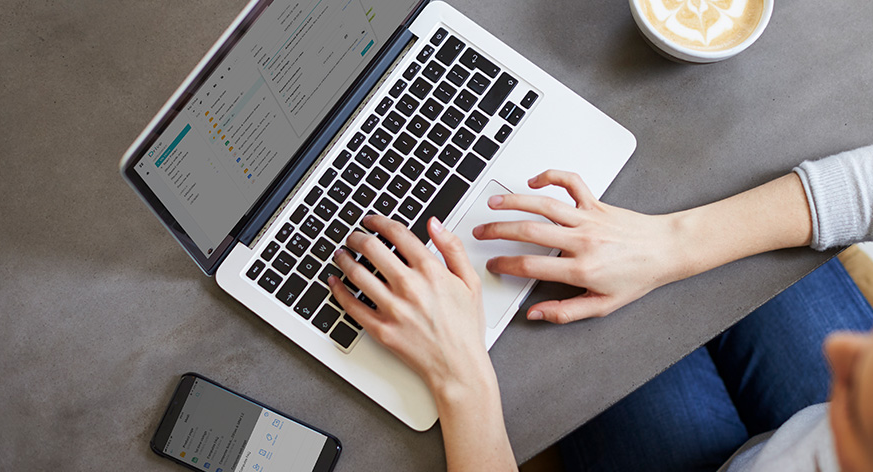 Access and sync your files seamlessly
Synology Drive provides a built-in universal portal to access your data anytime and anywhere, and synchronize all your files across platforms, including Windows, macOS, Linux, Android, and iOS.
Sync files on demand: Save the storage space and network bandwidth of your PC.
Go back in time: Easily retrieve previous versions of your shared files.
Back up your data: Protect your files with scheduled backups or in real-time.
Features:
DSM UI
Award-winning operating system with an intuitive user interface and powerful capabilities.
Synology High Availability
Seamless transition between clustered servers in the event of a server failure to minimize the impact on applications.
Public Cloud Integration
Backup and synchronize data easily between your public cloud accounts and your NAS.
Snapshot Replication
Schedulable and instantaneous data protection of shared folders and iSCSI LUNs for quick disaster recovery.
Synology Drive
A versatile solution for file management and synchronization.
Security
Comprehensive built-in security tools are constantly updated to protect your devices against evolving
---
Physical Features:

Specifications:
DiskStation DS1819+ Hardware Specifications

CPU

CPU Model
Intel Atom C3538
CPU Architecture
64-bit
CPU Frequency
4-core 2.1 GHz
Hardware Encryption Engine (AES-NI)

Memory

System Memory
4 GB DDR4 non-ECC SODIMM
Memory Module Pre-installed
4 GB (4 GB x 1)
Total Memory Slots
2
Maximum Memory Capacity
32 GB (16 GB x 2)
Notes

For more information on memory upgrade limitations, visit here.
Please select Synology memory modules for optimum compatibility and reliability. Synology will not provide complete product warranty or technical support if non-Synology memory modules are used for memory expansion.
For more information on the recommended memory configurations, visit here.
Synology reserves the right to replace memory modules with the same or higher frequency based on supplier's product life cycle status. Rest assured that the compatibility and stability have been strictly verified with the same benchmark to ensure identical performance.

Storage

Drive Bays
8
Maximum Drive Bays with Expansion Unit
18 (DX517 x 2)
Compatible Drive Type* (See all supported drives)

3.5" SATA HDD
2.5" SATA HDD
2.5" SATA SSD

Maximum Internal Raw Capacity
128 TB (16 TB drive x 8) (Capacity may vary by RAID types)
Maximum Raw Capacity with Expansion Units
288 TB (128 TB + 16 TB drive x 10) (Capacity may vary by RAID types)
Maximum Single Volume Size*
108 TB
Hot Swappable Drive
Notes

"Compatible drive type" indicates drives that have been tested to be compatible with Synology products. This term does not indicate the maximum connection speed of each drive bay.
The maximum raw capacity is not limited by the maximum single volume size. Synology NAS models may utilize capacities over the maximum single volume size as long as each volume created is below the limit. (Learn more)
Each internal volume (may consist of multiple drives) is expandable up to 108TB.

External Ports

RJ-45 1GbE LAN Port
4 (with Link Aggregation / Failover support)
USB 3.0 Port
4
eSATA Port
2

PCIe

PCIe Expansion
1 x Gen3 x8 slot (black, x4 link)

File System

Internal Drives
External Drives

Btrfs
EXT4
EXT3
FAT
NTFS
HFS+
exFAT*

Notes
exFAT Access is purchased separately in Package Center.

Appearance

Size (Height x Width x Depth)
166 mm x 343 mm x 243 mm
Weight
6 kg

Others

System Fan
120 mm x 120 mm x 2 pcs
Fan Speed Mode

Full-Speed Mode
Cool Mode
Quiet Mode

Easy Replacement System Fan
Brightness Adjustable Front LED Indicators
Power Recovery
Noise Level*
22.2 dB(A)
Scheduled Power On / Off
Wake on LAN / WAN
Power Supply Unit / Adapter
250 W
AC Input Power Voltage
100 V to 240 V AC
Power Frequency
50/60 Hz, Single Phase
Power Consumption*
66.96 W (Access)
29.39 W (HDD Hibernation)
British Thermal Unit
228.63 BTU/hr (Access)
100.35 BTU/hr (HDD Hibernation)
Notes

Power consumption is measured when it is fully loaded with Western Digital 1TB WD10EFRX hard drive(s).
Noise Level Testing Environment: Fully loaded with Seagate 2TB ST2000VN000 hard drive(s) in the idle state. Two G.R.A.S. Type 40AE microphones, each set up 1 meter away from the Synology NAS at the front and rear. Background noise: 16.49-17.51 dB(A); Temperature: 24.25-25.75˚C; Humidity: 58.2-61.8%

Temperature

Operating Temperature
0°C to 40°C (32°F to 104°F)
Storage Temperature
-20°C to 60°C (-5°F to 140°F)
Relative Humidity
5% to 95% RH

Certification

FCC
CE
EAC
BSMI
VCCI
CCC
RCM
KC

Warranty

3-year hardware warranty, extendable to 5-year coverage - EW201
Notes
The warranty period starts from the purchase date as stated on your purchase receipt. (Learn more)

Environment

RoHS Compliant

Packaging Content

Main Unit X 1
Accessory Pack X 1
AC Power Cord X 1
RJ-45 LAN Cable X 2
Quick Installation Guide X 1