Synology DiskStation DS213j

Your Own Cloud Entertainment Starts Here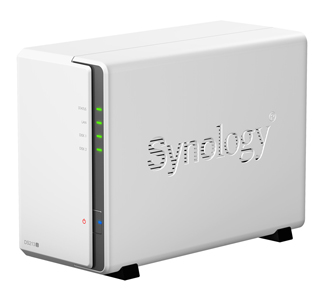 Sorry, this product is no longer available, Please, contact us for a replacement product!
Overview:
Synology DiskStation DS213j is a budget-friendly 2-bay NAS server for small offices and home use, specifically designed to provide a solution for file storage and sharing with data protection for your home environment with low power consumption, quiet operation and reliability. Running on DiskStation Manager (DSM) operating system, it delivers ease of use and variety of features.
Floating-Point Unit Enabled CPU Favored Multimedia Processing
Large 512MB RAM for Multitasking
Over 100MB/sec Reading, 70MB/sec Writing
Wake on LAN Ready
Cool and Quiet Chassis
DLNA® Compliant Media Server
Running on Synology DiskStation Manager
High-Performance Multimedia Processing with Smart Energy Management
With a RAID 1 configuration in a Windows environment, Synology DS213j delivers read and write speeds of over 100MB/sec and 70MB/sec respectively, allowing you to share an entire Blu-ray quality video in less than 3 minutes. The built-in Floating-Point Unit CPU speeds up thumbnail processing to enhance photo viewing at different resolutions, while the large 512MB RAM ensures maximum speed when running multiple multimedia applications.
Synology DS213j is designed with energy efficiency in mind. Not only does it provide a large 92mm fan and smart airflow to keep the system running cool 24/7, but its noise dampening design makes it quiet compared to a public space in a library. Support for Wake on LAN/WAN, multiple scheduled power on/off, and hard drive hibernation can further reduce power consumption and operating costs.
Your Data is Safe with Synology
DS213j with Synology Hybrid RAID helps you balance storage capacity and data redundancy so you can have your space and use it too (custom RAID configuration available for advanced users). Your DS213j is also the ideal one-stop centralized backup solution: from PCs to NAS, NAS to NAS, NAS to peripheral storage media (such as USB stick) or NAS to remote storage via a whole host of options.
24/7 Download Portal
Feed your data-appetite with Download Station, your 24/7 download portal. With its comprehensive built-in BT search engine, you can find and download files in just a few clicks. So turn off your PC and let your DS213j download all your content directly to your centralized storage. With DS download on iPhone and Android™, you can manage download tasks even while on the go.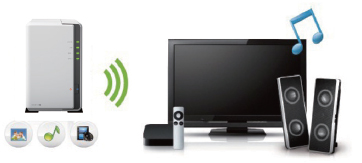 Personal Entertaining Center
DS213j changes your living room to a fascinating entertaining center with an integrated NAS as well as Internet connection.
Personal Entertainment Center
Enjoy multimedia easily with Audio Station, and Video Station. Find movies and TV shows online or record your favorite programs with a DVB-T stick, and play them on all devices including Windows, Mac, DLNA, AirPlay, Bluetooth, iOS, Android, and Windows Phone.
Take photos on your mobile device and let Instant Upload automatically send them to your DiskStation so they are ready for sharing through Photo Station or social networks including Facebook, Twitter, Plurk and Picasa.
Anywhere / Anytime Availability
QuickConnect and EZ-Internet configure your DS213j for accessing over the Internet with minimal effort. Combined with Synology's mobile apps for every popular feature, including DS photo+, DS audio, and DS video for anywhere multimedia access, DS download, DS file, and DS cloud for seamless file download/access/synchronization, DS cam for home security, you can enjoy your NAS anywhere, any time.
Powered by Synology DSM
Synology DiskStation Manager (DSM) is a web-based OS that provides private cloud service. It is designed to make your everyday living easier.
The built-in Package Center allows you to download and install the packages designed specifically for your unique needs, whether it's sharing files on the cloud, sharing photos on an online album, setting up a VPN environment or even an antivirus to protect your system. All will happen with just a few clicks.
The simple interface allows you to obtain and configure storage capacity with minimal friction. It provides you with complete control of your personal cloud and lets you access it anywhere. Synology DSM will help you maximize productivity and get more out of your digital assets with minimal fuss.
Specifications:

Technical Specifications
Hardware Specifications
CPU Frequency
Marvell Kirkwood 1.2GHz
Floating Point
Yes
Hardware Encryption Engine
Yes
Memory
DDR3 512MB
Internal HDD/SSD
3.5" or 2.5" SATA(II) X 2 (hard drives not included)
Max Internal Capacity
8TB (2 x 4TB hard drive) (The actual capacity will differ according to volume types.)
External Storage Interface
2 x USB 3.0 ports
Size (HxWxD)
165mm x 100mm x 225.5mm
Weight
0.91kg
LAN
1 x Gigabit
Wake on LAN/WAN
Yes
Wireless Support
Yes (wireless dongles not included)
Noise Level2
19.0 dB(A)
AC Input Power Voltage
100V to 240V
Power Frequency
50Hz to 60Hz, Single Phase
Power Consumption3
19.82 W (Access), 3.65 W (HDD Hibernation)
Operating Temperature
5°C to 35°C (40°F to 95°F)
Storage Temperature
-10°C to 70°C (15°F to 155°F)
Relative Humidity
5% to 95%RH
DSM Specifications
Max File System Size
16TB
Max Internal Volume Number
256
Max iSCSI Target Number
10
Max iSCSI LUN Number
10
RAID
Synology Hybrid RAID, Basic, JBOD, RAID 0 and RAID 1 are supported
Synology Expansion Unit Support
No
Max User Account
512
Max Groups
128
Max Shared Folder
256
Max Shared Folder Sync Tasks
2
Max Concurrent CIFS/AFP/FTP/File Station Connections
64
Synology Web Assistant (installer)
Yes
General Specifications
Networking Protocols
CIFS, AFP, NFS, FTP, WebDAV, CalDAV, iSCSI, Telnet, SSH, SNMP, VPN (PPTP, OpenVPN)
File System
Internal: EXT4
External: EXT3, EXT4, FAT, NTFS
Privilege
Windows Access Control List (ACL)
Directory Service
Windows ADS Domain Integration, LDAP Integration
Security
FTP over SSL/TLS, IP Auto-Block, Firewall, Encrypted Network Backup over Rsync, HTTPS Connection
Utilities
Synology Web Assistant, Synology Assistant, Synology Data Replicator
Supported Clients
Windows XP onward, Mac OS X 10.5 onward, Ubuntu 9.04 onward
Support Browsers
Chrome, Internet Explorer: 8, Firefox, Safari: 5
Add-on Packages
Cloud Station
Maximum Concurrent Connections: 64, Retain Historical and Deleted File Versions
VPN Server
Maximum Connections: 5, VPN Method: PPTP, OpenVPN™
Time Backup
Maximum Task Number: 1, Multiple File Versions Retained, Instant File Restoration
Surveillance Station
Default IP cam #: 1, MAX IP cam # (licenses required): 5 (1 free license to install 1 IP camera. Additional licenses can be purchased to expand the license quota.)
Download Station
Supported Download Protocols: BT/HTTP/FTP/NZB/eMule
Maximum Concurrent Download Tasks : 30
Other Packages
Antivirus Essential, Audio Station, DHCP Server, Directory Server, DNS Server, Glacier Backup, HiDrive Backup, iTunes Server, Mail Server, Mail Station, Media Server, Photo Station, Radius Server, Syslog Server, Video Station, 3rd-party packages
Environment and Packaging
Environment
RoHS Compliant
Package Content

Main Unit
Installation Disc
Welcome Note
Accessory Pack
AC Power Adapter
AC Power Cord
RJ-45 LAN Cable

Optional Accessories

Remote
Camera License Pack
Disk Holder: Type C
VS80
VS240HD

Warranty
2 years
1. Fully loaded with Seagate ST31000520AS hard drive(s) in operation; Two G.R.A.S. Type 40AE microphones, each set up at 1 meter away from the DiskStation front and rear; Background noise: 17.1 dB(A); Temperature: 24.2˚C; Humidity: 63; More details about dB(A) value, check http://www.memtechacoustical.com/facts.asp
2. Power consumption is measured when fully loaded with Western Digital 3TB WD30EZRS hard drive(s).
Performance:
2 bay NAS Server
Windows Upload/Download (10GB File)
Model
RS214
DS713+
DS214+
DS214play
DS214
DS213air
DS213j
DS214se
Windows Upload
69.97
107.13
106.15
100.58
105.59
58.66
70.15
57.87
Windows Download
110.97
107.74
111.92
110.97
111.34
108.07
109.82
101.79
Model
RS214
(Link Aggregation)
DS713+
(Link Aggregation)
DS214+
(Link Aggregation)
Windows Upload
78.44
135.84
153.42
Windows Download
167.34
202.30
208.65
Windows Upload/Download (1MB x 5000 Files)
Model
RS214
DS713+
DS214+
DS214play
DS214
DS213air
DS213j
DS214se
Windows Upload
36.11
51.62
46.63
45.44
45.21
36.87
37.85
37.32
Windows Download
56.56
69.06
66.92
65.14
65.14
62.21
61.34
57.05
AES 256-bit Encrypted File Upload/Download1 (5GB File)
Model
RS214
DS713+
DS214+
DS214play
DS214
DS213air
Windows Upload
15.48
20.62
21.38
10.54
17.95
12.42
Windows Download
28.72
30.56
37.81
14.04
31.53
22.63
iSCSI Write/Read2 (5GB File)
Model
RS214
DS713+
DS214+
DS214play
DS214
DS213air
iSCSI Write
86.37
106.07
106.51
96.40
107.95
94.02
iSCSI Read
75.01
88.06
94.72
86.20
95.31
77.84
Web Server Responsiveness3 (1,000x requests)
Model
RS214
DS713+
DS214+
DS214play
DS214
DS213air
Seconds
125.91
28.49
64.41
48.82
80.31
139.16

Test Environment:
Server:
Operating System: DSM 4.2 and DSM 4.3
HDD: WD2003FYYS 2TB HDDs (DS411slim uses WD5000BEKT 500GB HDDs, DS112+ uses HE103UJ 1TB HDD)
Volume Type: Basic (1-bay models), RAID 1 (2-bay models), RAID 5 (all other models)
Network Environment: 1Gbps LAN; MTU 1500; directly connected to the client PC and D-Link DGS-1210-28 for Link Aggregation testing
Client PC:
For All Testings: Intel Core i7-3770 3.90GHz; 4GB DDRIII; Intel 520 120GB SSD x 2, RAID 0 ; Intel Gigabit CT; MTU 1500; Windows 7; Transfering single 10GB file (For Link Aggregation); Ubuntu 9.10; Apache v.2.2.12 (Web Server Responsiveness Testing)
Note:
(1) AES 256-bit Encrypted File Upload/Download test is conducted only on models with more powerful CPU/RAM.
(2) iSCSI targets formatted in NTFS; DS114 & DS112+ uses file-based iSCSI target, other models use block-based iSCSI target
(3) Benchmark Tool: (server) phpBB-3.0.7, (client) Apache benchmark tool command: ab -n 1000 -c 10 http://Server-IP/phpBB3.0.7/index