DiskStation DS218+

All-around storage solution optimized to safeguard your data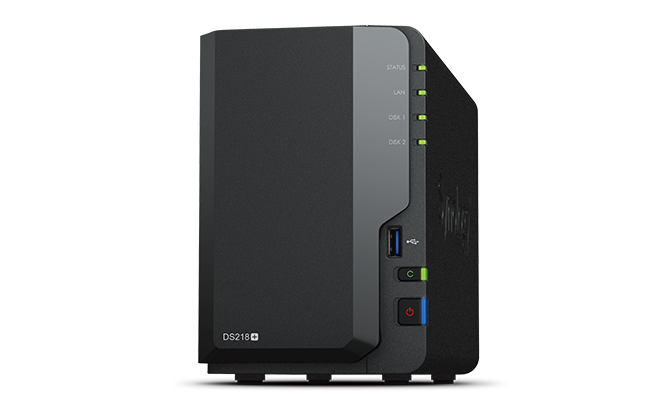 Sorry, this product is no longer available, Please contact us for a replacement.
Overview:
Synology DiskStation DS218+ features a dual-core processor with AES-NI encryption engine and transcoding engine, providing high-speed file transfers and supporting real-time 4K transcoding. DS218+ is ideal for protecting critical assets and sharing files across different platforms. Synology DS218+ is backed by Synology's 2-year limited warranty.
Powerful 2-bay all-round storage solution for small businesses
Encrypted sequential throughput performance at over 113 MB/s reading and 112 MB/s writing
Dual-core processor with AES-NI encryption engine
2GB DDR3L-1866 memory (expandable up to 6GB)
Advanced Btrfs file system offering 65,000 system-wide snapshots and 1,024 snapshots per shared folder
Live transcoding of up to two concurrent H.265/H.264 4K video streaming
Compact yet Powerful Storage Solution
Synology DiskStation DS218+ is designed for home users or small businesses pursuing a compact and reliable shared storage solution, offering the flexibility to expand the 2 GB RAM to up to 6 GB RAM to process intensive workloads. DS218+ features a dual-core 2.0 GHz processor with a burst frequency of 2.5 GHz. With AES-NI, DS218+ delivers encrypted performance of up to 113 MB/s reading and 112 MB/s writing under RAID 1 configuration.
DS218+ comes with three USB 3.0 ports. The hot-swappable drive tray design allows easy installation and maintenance on 3.5-inch HDDs without additional tools.
Comprehensive Business Applications
Powered by the innovative Synology DiskStation Manager (DSM), DS218+ comes fully-equipped with applications and features that are designed specifically for small or growing businesses:
Windows AD and LDAP support allow easy integration with existing business directory services, without needing to recreate user accounts.
Windows ACL support provides fine-grained access control and efficient privilege settings, allowing DS218+ to fit seamlessly into current infrastructure.
Internet file access is simplified by the encrypted FTP server and Synology File Station, a web-based file explorer. HTTPS, firewall, and IP auto-block support ensure file sharing over the Internet is protected with a high level of security.
Application Privileges controls access to applications and packages based on each individual account, user group, or IP address.
MailPlus allows your business to set up a secure, reliable, and private mail server, while giving your employees a modern mail client for receiving and sending messages.
The powerful Collaboration Suite integrates Synology Office, Calendar, and Chat, ensuring secure and effective private communications and allowing your organizations to easily manage and control the relevant content.
Personal Multimedia Library
Synology DiskStation DS218+ supports transcoding of up to two concurrent H.264/H.265 4K video streaming2, featuring support for the latest multimedia file. With Video Station, you can easily organize and sort your personal digital video library with comprehensive media information and watch 4K Ultra HD movies and films. Photo Station allows you to effortlessly organize photos into customized categories, smart albums and blog posts, and link them to social networking websites within a few clicks. Audio Station comes with Internet radio and lossless audio format support, and is capable of music playback via DLNA or AirPlay-compliant devices.
24/7 Smart Security Solution
Featuring user-friendly video management tools and an intuitive desktop-like interface, Synology Surveillance Station is a reliable private-security solution that can support multiple IP cameras connected to DS218+. Surveillance Station features optimized live view together with streamlined real-time monitoring. Its powerful analytics, such as motion detection and alert notification, allows you to stay informed of any suspicious activity with triggers sent via SMS, e-mail, and DS cam mobile applications.
Features:
Compact yet powerful storage solution
Equipped with a dual-core processor and AES-NI hardware encryption engine, DS218+ delivers exceptional file transfer speeds. Supporting real-time 4K video streaming, DS218+ is ideal not only for protecting critical data but for storing ultra-high definition media contents as well.
Next-generation file system for better data protection
The Btrfs file system introduces advanced storage technologies and optimized snapshots to prevent data corruption and reduce maintenance overhead. While ensuring high-level data integrity, it also offers flexible, efficient data protection and recovery tools.
Flexible Shared Folder/User Quota System provides comprehensive quota control on all user accounts and shared folders
Snapshot Replication provides schedulable and storage capacity-saving data protection with 1,024 shared folder backups and 65,000 system-wide snapshots
File or folder level data restoration makes data recovery fast and flexible
Automatic file self-healing detects and recovers corrupted files without user intervention
4K Multimedia Server
Access and stream your 4K media content anytime and anywhere. DS218+ supports 4K H.264/H.265 online transcoding via Video Station and DS video, allowing 4K videos to be converted and played on the fly on other computers, smartphones, and media players that originally do not support Ultra HD formats.

Synchronize files across your devices
Cloud Station Suite provides real-time data synchronization across all your devices, such as computers, mobile devices, and other Synology NAS whenever a file is modified. "Intelliversioning" keeps the most important file versions to better utilize storage space.

Cloud Station Sharesync

Cloud Station Drive

Cloud Station Server

DS Cloud
Digital asset protection
Powered by Synology DiskStation Manager (DSM), Synology NAS offers advanced security measures to protect against sudden data loss and potential security holes.
Security Advisor
Analyzes system settings, password strength, network preferences, and removes any possible malware.
AppArmor
A kernel-level enhancement that blocks malicious programs from accessing unauthorized system resources.
AES 256-bit encryption
Encrypt shared folders and network data transmission to keep data from unauthorized access.
2-step verification
Prevent others from logging in to your DSM by generating a one-time password (OTP) on your mobile device.
Trust Level
Customize the trust level in Package Center to avoid installing packages from untrusted sources, safeguarding your NAS from unknown or tampered package files.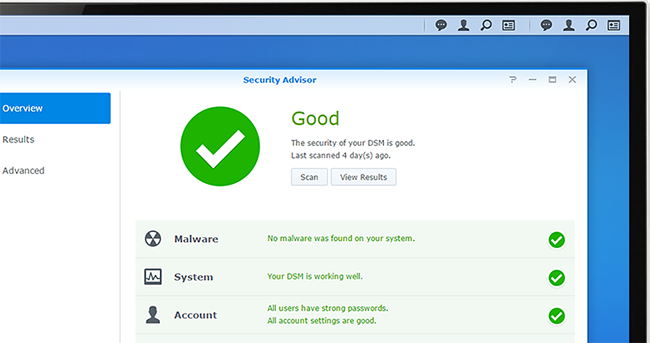 Easy file access with QuickConnect
Access files on your Synology NAS over the Internet without the hassle of setting up port forwarding rules, DDNS, or other complicated network settings. QuickConnect allows you to connect via a simple customizable address (e.g. https://customID.quickconnect.to), so that you can instantly access media and work files on any Windows/Mac/Linux computer, laptop, or mobile device without additional charge.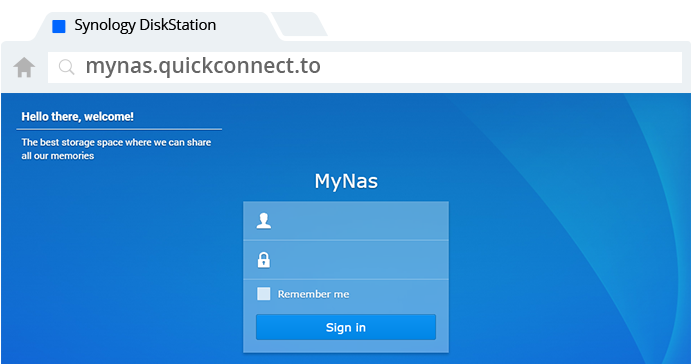 Powered by Synology DSM

Surveillance Station
Complete surveillance solution for recording, monitoring, and management.

Office
Collaborate together on spreadsheets and documents on your own private cloud.

File Server/Management
Powerful built-in file management and sharing services.

DSM UI
Award-winning operating system with an intuitive user interface and powerful capabilities.

Desktop Backup
Simplified backup solution for your Mac, PC, and mobile devices.

Multimedia
Complete multimedia solution for management, streaming, and playback.
Technical Specifications: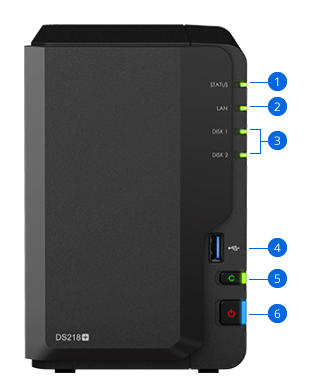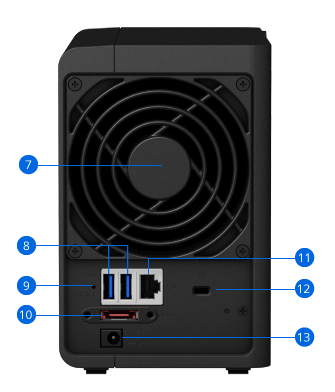 Status indicator
LAN indicator
Drive status indicator
USB 3.0 port
USB copy button
Power button and indicator
Fan
USB 3.0 port
Reset button
eSATA port
1GbE RJ-45 port
Kensington Security Slot
Power port
Hardware Specifications:
CPU
CPU Model
Intel Celeron J3355
CPU Architecture
64-bit
CPU Frequency
Dual Core 2.0 burst up to 2.5 GHz
Hardware Encryption Engine
Hardware Transcoding Engine
H.264 (AVC), H.265 (HEVC), MPEG-2 and VC-1; maximum resolution: 4K (4096 x 2160); maximum frame rate per second (FPS): 30
Memory
System Memory
2 GB DDR3L
Memory Module Pre-installed
2GB (1 x 2GB)
Total Memory Slots
2
Memory Expandable up to
6 GB (2 GB + 4 GB)
Storage
Drive Bay(s)
2
Compatible Drive Type

3.5" SATA HDD
2.5" SATA HDD
2.5" SATA SSD

Maximum Internal Raw Capacity
20 TB (10 TB drive x 2) (Capacity may vary by RAID types)
Maximum Single Volume Size
108 TB
Hot Swappable Drive
Notes

"Compatible drive type" indicates the drives that have been tested to be compatible with Synology products. This term does not indicate the maximum connection speed of each drive bay.
The maximum single volume size is not directly related to the maximum raw capacity.
Expansion of the internal volume is only supported if the combined single volume size does not exceed the maximum limit of 108TB.

External Ports
RJ-45 1GbE LAN Port
1
USB 3.0 Port
3
eSATA Port
1
USBCopy
File System
Internal Drives
External Drives

Btrfs
EXT4
EXT3
FAT
NTFS
HFS+
exFAT*

Notes

exFAT Access is purchased separately in Package Center.

Appearance
Size (Height X Width X Depth)
165 mm x 108 mm x 232.2 mm
Weight
1.30 kg
Others
System Fan
92 mm x 92 mm x 1 pcs
Fan Speed Mode

Full-Speed Mode
Cool Mode
Quiet Mode

Brightness adjustable front LED indicators
Power Recovery
Noise Level
19.3 dB(A) 
Scheduled Power On/Off
Wake on LAN/WAN
Power Supply Unit / Adapter
60W
AC Input Power Voltage
100V to 240V AC
Power Frequency
50/60 Hz, Single Phase
Power Consumption
17.23 W (Access) 
5.4 W (HDD Hibernation)
British Thermal Unit
58.79 BTU/hr (Access) 
18.43 BTU/hr (HDD Hibernation) 
Environment Temperature
Operating Temperature
5°C to 40°C (40°F to 104°F)
Storage Temperature
-20°C to 60°C (-5°F to 140°F)
Relative Humidity
5% to 95% RH
Other
Certification

FCC Class B
CE Class B
BSMI Class B

Warranty
3 Years Hardware Warranty
Notes
Power consumption is measured when fully loaded with Western Digital 1TB WD10EFRX hard drive(s).
General DSM Specifications:
Networking protocol
SMB, AFP, NFS, FTP, WebDAV, CalDAV, iSCSI, Telnet, SSH, SNMP, VPN (PPTP, OpenVPN , L2TP)
File system

Internal: Btrfs, ext4
External: Btrfs, ext4, ext3, FAT, NTFS, HFS+, exFAT3

Supported RAID type
Synology Hybrid RAID (SHR), Basic, JBOD, RAID 0, RAID 1
Storage management

Maximum internal volume: 256
Maximum iSCSI target: 32
Maximum iSCSI LUN: 256
iSCSI LUN clone/snapshot support

File sharing capability

Maximum user account: 2048
Maximum group: 256
Maximum shared folder: 256
Maximum concurrent SMB/NFS/AFP/FTP connection: 500

Privilege
Windows Access Control List (ACL), application privilege
Virtualization
VMware vSphere 6, Microsoft Hyper-V, Citrix, OpenStack
Directory service
Windows AD Integration: Domain Users login via Samba (CIFS)/AFP/FTP/File Station, LDAP integration
Security
Firewall, Encryption shared folder, SMB encryption, FTP over SSL/TLS, SFTP, Rsync over SSH, Login auto block, Let's Encrypt support, HTTPS (customizable cipher suite)
Supported client
Windows 7 and 10, Mac OS X 10.11 onwards
Supported browser
Chrome, Firefox, Internet Explorer: 10 onwards, Safari 10 onwards, Safari (iOS 10 onwards on iPad), Chrome (Android 6.0 onwards on tablets)
Language
English, Deutsch, Français, Italiano, Español, Dansk, Norsk, Svensk, Nederlands, Русский, Polski, Magyar, Português do Brasil, Português Europeu, Türkçe, Český
Packages and Applications:
File Station
Virtual drive, remote folder, Windows ACL editor, compress/extract archived files, bandwidth control for specific users or groups, create sharing links, transfer logs
FTP Server
Bandwidth control for TCP connections, custom FTP passive port range, anonymous FTP, FTP SSL/TLS and SFTP protocols, boot over the network with TFTP and PXE support, transfer logs
Universal Search
Offer global search into applications and files
Hyper Backup
Support local backup, network backup, and backup data to public clouds
Active Backup for Server
Centralize data backup for Windows and Linux servers without client installation
Backup tool
DSM configuration backup, macOS Time Machine support, Cloud Station Backup
Shared folder sync - maximum task number: 4
Cloud Station Suite
Sync your data between multiple platforms by installing client utilities on Windows, Mac, Linux, Android, and iOS devices, while retaining up to 32 historical versions of files
Maximum concurrent file transfer: 500
Cloud Sync
One or two-way synchronization with public cloud storage providers including Amazon Drive, Amazon S3-compatible storage, Baidu cloud, Box, Dropbox, Google Cloud Storage, Google Drive, hubiC, MegaDisk, Microsoft OneDrive, OpenStack Swift-compatible storage, WebDAV servers, and Yandex Disk
Surveillance Station
Maximum IP camera: 25 (total of 750 FPS at 720p, H.264) (includes two free camera licenses; additional cameras require the purchasing of additional licenses)
Virtual Machine Manager
Deploy and run various virtual machines on Synology NAS, including Windows, Linux, or Virtual DSM
Snapshot Replication

Maximum of replications: 64
Maximum of shared folder snapshots: 1,024
Maximum of system snapshots: 65,536

Active Directory Server
Provide a flexible and cost-effective domain controller solution
CMS
Provide a single interface to manage and monitor multiple Synology NAS
VPN Server
Maximum connection: 20, supported VPN protocol: PPTP, OpenVPN, L2TP/IPSec
MailPlus
Intuitive webmail interface for MailPlus Server, customizable mail labels, filters, and user interface
MailPlus Server
Secure, reliable, and private mail solution with high-availability, load balancing, security and filtering design (includes 5 free email account licenses; additional accounts require the purchasing of additional licenses)
Collaboration Suite

Chat maximum user: 1,000
Office maximum user: 200, maximum simultaneous editing user: 60
Calendar: Support CalDAV and access via mobile devices

Note Station
Rich-text note organization with versioning, encryption, sharing, media embedding and attachments
Storage Analyzer
Volume and quota usage, total size of files, volume usage and trends based on past usage, size of shared folders, largest/most/least frequently modified files
Security Advisor
Malware detection/removal, user account/password, network, system-related security scan
Antivirus Essential
Full system scan, scheduled scan, white list customization, virus definition auto update
Download Station
Supported download protocols: BT, HTTP, FTP, NZB, eMule, Thunder, FlashGet, QQDL
Maximum concurrent download task: 80
Web Station
Virtual host (up to 30 websites), PHP / MariaDB, third-party applications support
Other packages
Video Station, Photo Station, Audio Station, DNS Server, RADIUS Server, iTunes Server, Log Center, third-party packages available on Package Center
iOS/Android applications
DS audio, DS cam, DS cloud, DS file, DS finder, DS get, DS note, DS photo, DS video, MailPlus
Windows Phone applications
DS audio, DS file, DS finder, DS get, DS photo, DS video
Environment & Packaging:
Environment
RoHS Compliant
Packaging Content

DS218+ main unit x 1
Quick Installation Guide x 1
Accessory pack x 1
AC power adapter x 1
RJ-45 LAN cable x 2

Optional Accessories

D3NS1866L-4G
Synology VS360HD
Surveillance Device License Pack
MailPlus License Pack
*Model specifications are subject to change without notice. Please refer to www.synology.com for the latest information.
1 Performance figures may vary depending on environment, usage, and configuration.
2 DS218+ can transcode 4K video to 1080p or lower. The maximum number of concurrent video transcoding channels supported may vary depending on the video codec, resolution, bitrate and FPS.
3 exFAT Access is purchased separately in Package Center.
Performance:
2-bay NAS
Synology strives to enhance the performance of our NAS with every software update, even long after a product is launched. For enterprises and users that demand uncompromising performance from their servers, check the figures below to find the most suitable choice.
1GbE SMB - Sequential Throughput (64KB)
| Model | RS217 | DS718+ | DS218+ | DS216 | DS218play | DS218j | DS216se |
| --- | --- | --- | --- | --- | --- | --- | --- |
| Read | 221.65 | 226.22 | 113.11 | 113.02 | 112.83 | 113.11 | 101.8 |
| Write | 171.6 | 188.27 | 112.62 | 108.54 | 112.1 | 112.35 | 64.1 |
1GbE SMB - Sequential Throughput via Encrypted Shared Folder (64KB)
| Model | RS217 | DS718+ | DS218+ | DS216 | DS218play | DS218j | DS216se |
| --- | --- | --- | --- | --- | --- | --- | --- |
| Read | 118.64 | 226.13 | 113.11 | 112.35 | 112.69 | 105.67 | 30.21 |
| Write | 64.64 | 184.7 | 112.04 | 69.97 | 112.93 | 58.93 | 12.6 |

1GbE SMB - Windows File Transfer (3GB file x 1)
| Model | RS217 | DS718+ | DS218+ | DS216 | DS218play | DS218j | DS216se |
| --- | --- | --- | --- | --- | --- | --- | --- |
| Windows Download | 111.89 | 112.36 | 112.77 | 111.47 | 112.23 | 111.95 | 96.33 |
| Windows Download | 111.32 | 111.83 | 111.55 | 110.67 | 110.78 | 109.31 | 59.37 |

1GbE SMB - Windows File Transfer (1MB file x 3000)
| Model | RS217 | DS718+ | DS218+ | DS216 | DS218play | DS218j | DS216se |
| --- | --- | --- | --- | --- | --- | --- | --- |
| Windows Download | 82.04 | 85.53 | 84.53 | 82.11 | 82.81 | 80.28 | 5.62 |
| Windows Download | 58.54 | 68.21 | 68.39 | 59.47 | 63.9 | 57.82 | 32.27 |

1GbE SM - Windows File Transfer via Encrypted Shared Folder (3GB file x 1)
| Model | RS217 | DS718+ | DS218+ | DS216 | DS218play | DS218j | DS216se |
| --- | --- | --- | --- | --- | --- | --- | --- |
| Windows Download | 49.94 | 112.27 | 112.63 | 51.05 | 112.29 | 48.9 | 24.59 |
| Windows Download | 35.52 | 104.67 | 110.94 | 35.91 | 111.15 | 33.07 | 12.3 |

1GbE SMB - Windows File Transfer via Encrypted Shared Folder (1MB file x 3000)
| Model | RS217 | DS718+ | DS218+ | DS216 | DS218play | DS218j | DS216se |
| --- | --- | --- | --- | --- | --- | --- | --- |
| Windows Download | 40.53 | 85.27 | 83.43 | 40.9 | 57.03 | 39.1 | 20.94 |
| Windows Download | 21.9 | 41.87 | 42.59 | 22.24 | 43.5 | 20.8 | 8.14 |

1GbE AFP - Mac File Transfer (3GB file x 1)
| Model | RS217 | DS718+ | DS218+ | DS216 | DS218play | DS218j | DS216se |
| --- | --- | --- | --- | --- | --- | --- | --- |
| AFP Download | 94.46 | 93.5 | 94.25 | 93.96 | 94.44 | 93.01 | 84.35 |
| AFP Upload | 94.09 | 92.49 | 92.9 | 93.19 | 93.55 | 90.19 | 57.05 |

1GbE AFP - Mac File Transfer (1MB file x 3000)
| Model | RS217 | DS718+ | DS218+ | DS216 | DS218play | DS218j | DS216se |
| --- | --- | --- | --- | --- | --- | --- | --- |
| AFP Download | 50.25 | 68.68 | 69.81 | 50.26 | 51.73 | 50.08 | 42.2 |
| AFP Upload | 57.99 | 64.4 | 57.13 | 57.43 | 60.89 | 55.31 | 33.66 |

1GbE Web Server - PHP Response Efficiency
| Model | RS217 | DS718+ | DS218+ | DS216 | DS218play | DS218j | DS216se |
| --- | --- | --- | --- | --- | --- | --- | --- |
| Responses per second | 4502.74 | 13329.55 | 8763.35 | 4481.41 | 8920.13 | 4632.2 | 765.5 |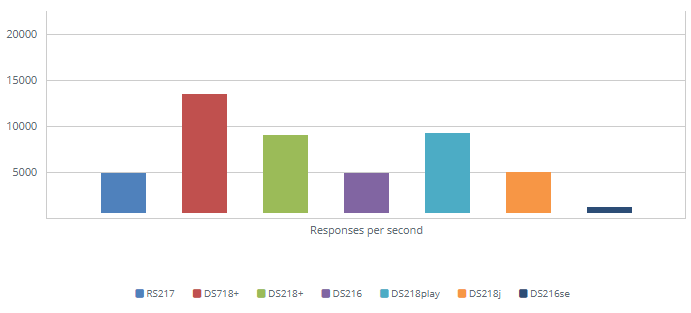 NAS:
Operating System: DSM 6.1
Volume Type: RAID 5 (4 bay), RAID 1 (2 bay), Basic (1 bay)
Drives:

DS416slim: Fully loaded with Intel 535 Series 240GB SSDSC2BW240H6 SSD
Other models: Fully loaded with Seagate ST6000VN0001 6TB HDD

File System:

EXT4:

[1-bay] DS118, DS115j
[2-bay] RS217, DS216, DS218play, DS218j, DS216se
[4-bay] RS816, DS418, DS418j, DS416slim

Btrfs:

[2-bay] DS718+, DS218+
[4-bay] RS815(RP)+, DS918+, DS418play

1GbE Network Environments:

For models with single 1GbE LAN port: MTU 1500; connected to 1 client PC via HP 2530-48G switch
For models with multiple 1GbE LAN ports: Link Aggregation is enabled for Sequential Throughput tests; MTU 1500; connected to client PCs via HP 2530-48G switch
Client PC:
1GbE SMB Network Environments:

For NAS models with single 1GbE LAN port: Intel Core i7-3770 3.40GHz; 32GB DDR3-1866; RAMdisk with 14GB source partition and 14GB target partition; Intel Gigabit CT; MTU 1500; Windows 7 64-bit
For NAS models with multiple 1GbE LAN ports: Intel Core i7-3770 3.40GHz; 4GB DDR3-1600; Intel 520 (120GB) SSD x 2; striped volume; Intel Gigabit CT; MTU 1500; Windows 7 64-bit

IOMeter setting for Sequential Throughput tests: Continuously read from/write to a single 8GB file for 3 minutes; Block size: 64KB
1GbE Web Server Network Environment:

Intel Core i7-6700 3.40GHz; 16GB DDR4-2133; Intel Gigabit CT; MTU 1500; Ubuntu 16.04
(php) wrk -t 8 -c [10-250] -d 60s -H "Host: benchmark"http://DS_IP/echo.php

1GbE AFP Network Environment: Mac Mini; 2.3GHz 4 core Intel Core i7; 16GB DDR3-1600; RAMdisk with 7GB source partition and 4GB target partition; MTU 1500; OSX 10.9
Special Note:
Performance figures are achieved in the Synology lab by using very powerful client computers with optimized network settings, and could vary in different environments. Regular office desktop or notebook computers may not be able to reproduce these figures.