DiskStation DS715

Blazing speed, future-proof scalability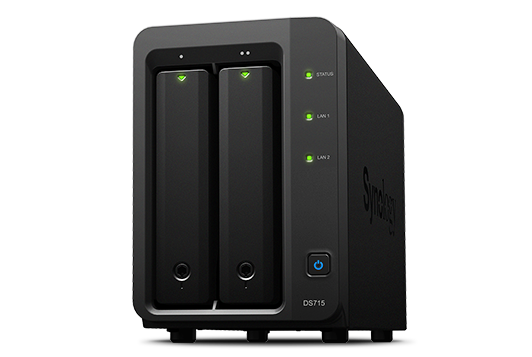 Sorry, this product is no longer available, Please, contact us for a replacement product!
Overview:
DS715 is an expandable NAS server, equipped with a quad-core processor and hardware encryption engine which delivers speedy performance for small business workgroups with growing needs. With dual LAN ports featuring failover and Link Aggregation, plus High Availability, DS715 offers a reliable storage solution to protect your precious data.
Quad-core CPU for high performance
Powered by a quad-core 1.4 GHz CPU combined with 2GB RAM, DS715 delivers speedy performance over 216.1 MB/s reading speed and 142.5 MB/s writing1 speed under RAID 1 configuration in a Windows environment.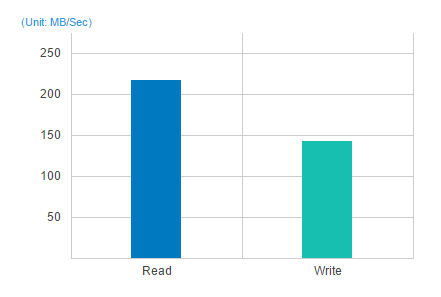 Hardware encryption engine
Encrypting data is essential to a healthy security policy. Equipped with a dedicated hardware encryption engine, DS715 is the ideal digital locker for sensitive data; files and folders are encrypted on the fly without any perceived performance loss. DS715 delivers encrypted data transmission speeds over 205.58 MB/s reading and 77.62 MB/s writing.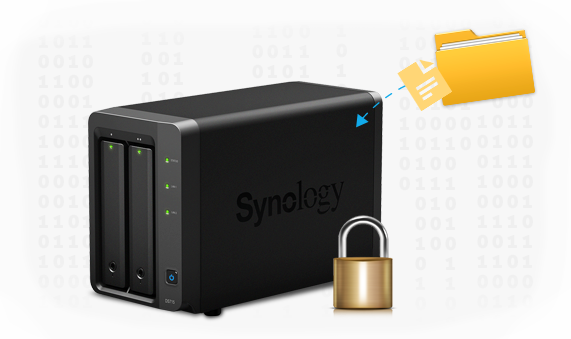 Robust scalability up to 7 drives
As your data storage needs grow, DS715 can be connected to a dedicated DX513 expansion unit for additional storage on the fly, growing capacity with minimal effort. Connected via eSATA with specially designed locking devices, raw capacity can be as high as 56TB.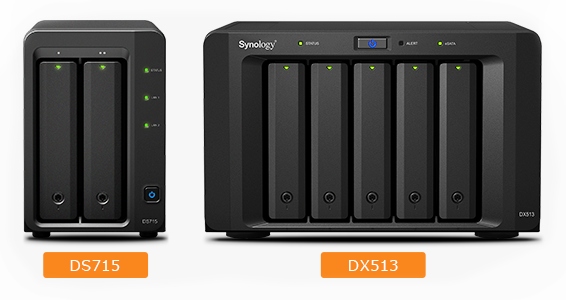 Robust NVR server for monitoring your environment
DS715 is an robust NVR server, it is capable of hosting up to 30 IP cameras (900 FPS @ 720p). Powered by Surveillance Station, DS715 allows SMBs to centralize IP camera management and integration for door monitoring, as well as safeguard the environment by watching live view, recording events, and taking snapshots with a computer or mobile device.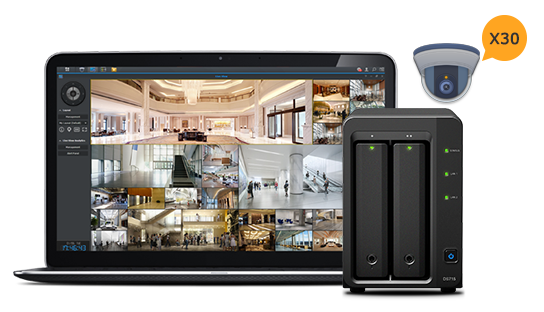 Award winning OS - DiskStation Manager
Synology DiskStation Manager (DSM) is a sleek, browser-based operating system running on every DiskStation and RackStation, which makes managing your Synology NAS a breeze. Featuring an intuitive user interface, DSM makes accessing and sharing your data smarter and simpler. Synology's Package Center lets you download and install useful add-on packages designed specifically for individual or business needs, meaning you can enjoy more entertainment in your life or better productivity at work.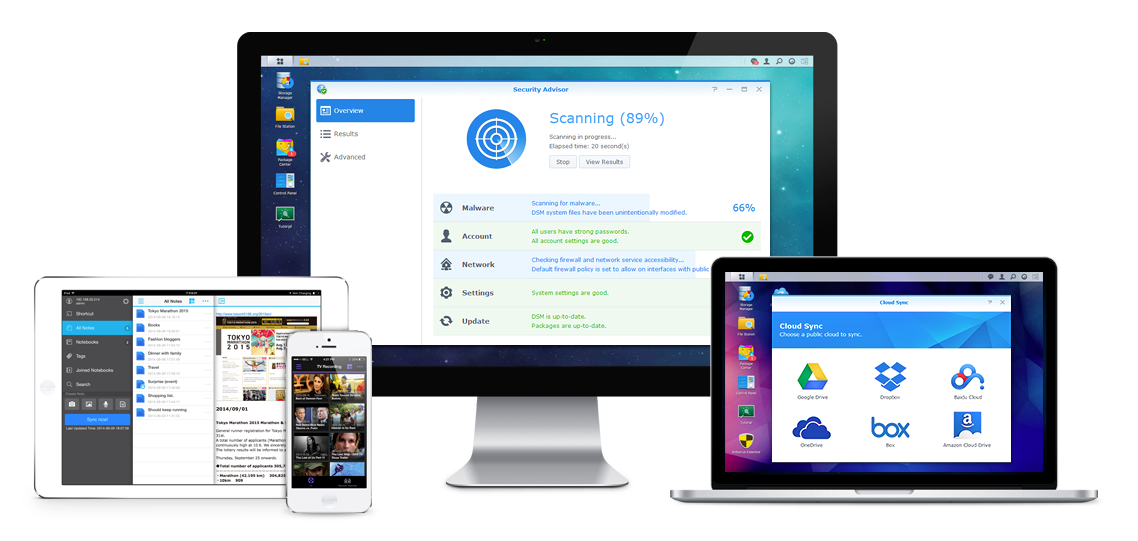 Fit into business environments easily
With the support of Windows AD, LDAP, and Domain Trust, DS715 enables seamless account integration. The User Home feature can automatically create a "home" folder for every user account to minimize the administrator's effort in repeatedly creating "home" folders for all accounts. Windows ACL support on DS715 allows IT administrators to fine tune access controls and set up privileges to files and folders on DS715 through the familiar Windows user interface. With compatibility for major protocols, DS715 can eliminate server configuration overhead and enhance IT administrators' efficiency.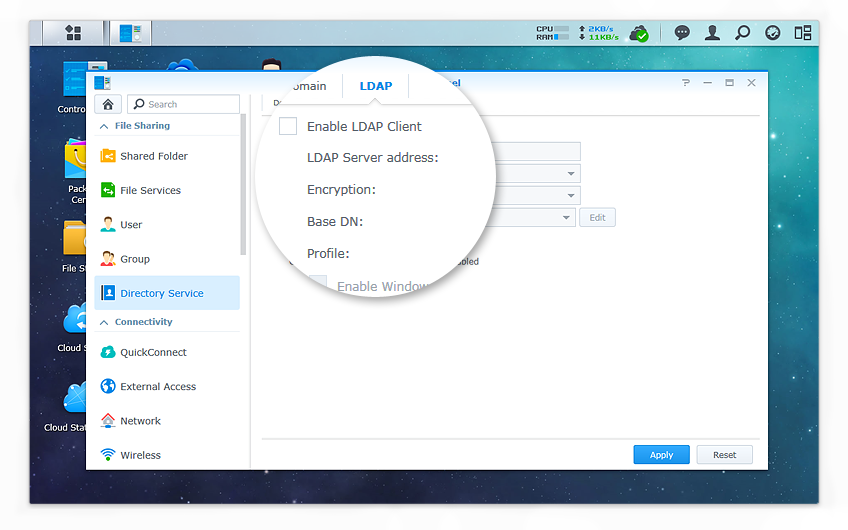 The most compatible sharing
Enjoy seamless files sharing across Windows®, Mac®, and Linux® platforms as DS715 offers comprehensive network protocol support including FTP, SMB2, AFP, NFS and WebDAV. With Windows AD and LDAP integration, DS715 can fit effortlessly into any existing network environment - there is no need for IT administrators to maintain two sets of credentials. You also won't worry about missing files with the Recycle Bin feature which is supported on AFP, CIFS, File Station, and WebDAV. All files deleted in a shared folder will be automatically moved into the Recycle Bin.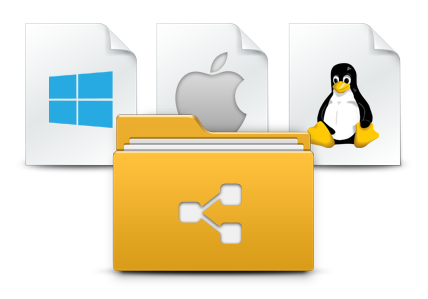 All-in-one server
With just one DS715, it's possible to handle a vast amount of tasks. DS715 helps your company gain a competitive edge by acting as your multi-function server. Directory Server provides LDAP service, while DNS and DHCP packages allow you to host a domain name server and automate network IP assignment at no extra cost. With Synology's Proxy Server, you can regulate content access and monitor who can access which website while saving bandwidth. You can host up to 30 websites with Web Station, safeguard the office environments with Surveillance Station, send and receive mails using your own email domain with Mail Station, share printing capability with Printer Server, make DS715 act as a VPN server to access company's resources remotely, and more.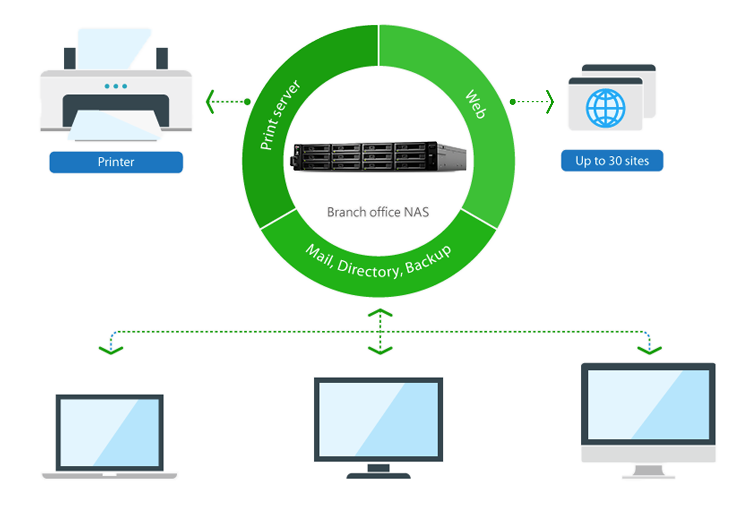 Optimize storage management
With Synology's Storage Manager, DS715 allows for flexible storage deployment and utilization. You can optimize RAID configuration with Synology Hybrid RAID (SHR) while providing redundant data protection. Other features such as multiple volumes on single RAID and Global Hot Spare also greatly enhance management efficiency and fit deployment of any kind.

Ensuring business continuity
Uninterrupted availability is a critical goal for all businesses. DS715 supports Synology High Availability (SHA) technology which combines an active and passive server into one cluster, the former always mirrored to the latter. The Heartbeat mechanism detects regular "heartbeats" between the two servers. If the main server encounters unexpected downtime, the passive server immediately takes over. With multiple LAN ports, DS715 also ensures redundancy in the event of unexpected network failure.

Increase business productivity with cloud solutions
With comprehensive cloud solutions, DS715 lets you create your own private cloud easily. Cloud Station is the perfect package to sync files across multiple devices. Files can be edited in offline mode and later synced to Cloud Station, which keeps up to 32 historical versions, allowing you to restore a file back to previous version or recover deleted files. With the mobile app DS cloud, any change made to a file is automatically synced to your smartphones and tablets. For distributed enterprises, Synology's 2-way sync between different DiskStations ensures employees at different locations share the same information in real-time. IT administrators can handpick individual folders that they want to sync to different devices, manually or automatically based on file format and size. Folders synced by Cloud Station can be encrypted on DSM — no one will be able to access its content without your private key.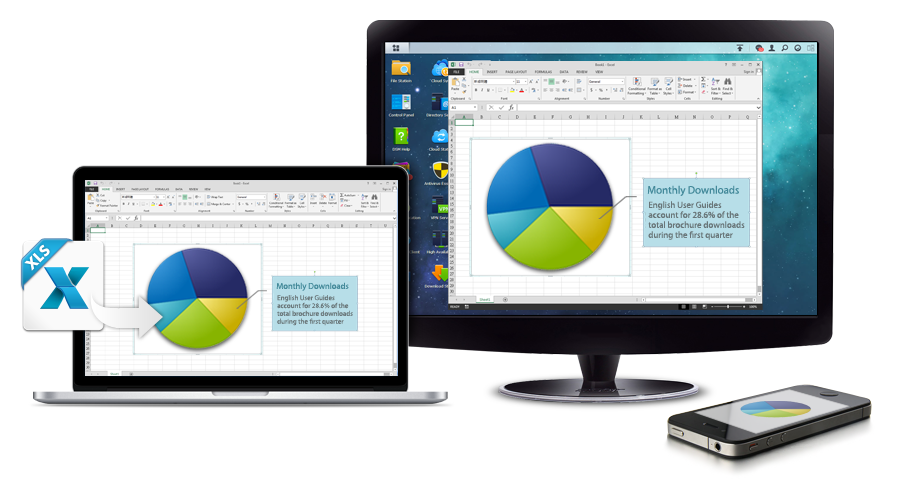 Secure your data
DS715 offers advanced security measures to protect you from potential security holes. Security Advisor analyzes system settings, password strength, network preferences and removes any possible malware. AppArmor blocks malicious programs from accessing unauthorized system resources. You can also customize the trust level in Package Center to avoid installing packages from untrusted sources, safeguarding your NAS from unknown or tampered files. In addition, DS715 provides other security add-ons, such as AES encryption, 2-Step verification, IP block & allow list, Antivirus packages, firewall, and DoS attack prevention.
Technical Specifications:
Technical Specifications:
Hardware Specifications
CPU Model
Annapurna Labs Alpine AL-314
CPU Frequency
Quad Core 1.4 GHz
System Memory
2 GB DDR3
Drive Bays
2
Maximum Internal Raw Capacity
16 TB (8 TB HDD X 2) (Capacity may vary by RAID types)
USB 3.0 Port
2
Size (Height X Width X Depth)
157 mm X 103.5 mm X 232 mm
Weight
1.69 kg
RJ-45 1GbE LAN Port
2 (with Link Aggregation / Failover support)
System Fan
92 mm X 92 mm X 1 pcs
Noise Level
19.2 dB(A)
Power Supply Unit / Adapter
72W
AC Input Power Voltage
100V to 240V AC
Power Consumption
21.37 W (Access)
9.37 W (HDD Hibernation)
Power Frequency
50/60 Hz, Single Phase
Environment Temperature
Operating Temperature
5°C to 35°C (40°F to 95°F)
Storage Temperature
-20°C to 60°C (-5°F to 140°F)
Relative Humidity
5% to 95% RH
Warranty
2 Years
Certification

FCC Class B
CE Class B
BSMI Class B
Notes:

Power consumption is measured when fully loaded with Western Digital 1TB WD10EFRX hard drive(s).
Noise Level Testing Environment: Fully loaded with Seagate 1TB ST31000520AS hard drive(s) in idle; Two G.R.A.S. Type 40AE microphones, each set up at 1 meter away from the Synology NAS front and rear; Background noise: 16.49-17.51 dB(A); Temperature: 24.25-25.75˚C; Humidity: 58.2-61.8%
Performance:
2-bay NAS


Gigabit Link Aggregation Environment - Sequential Throughput (64KB)
| Model | RS214 | DS713+ | DS715 | DS215+ |
| --- | --- | --- | --- | --- |
| Read | 129.13 | 225.57 | 219.34 | 209.22 |
| Write | 70.31 | 141.78 | 144.77 | 132.14 |

Gigabit Link Aggregation Environment - Sequential IOPS (4KB)
| Model | RS214 | DS713+ | DS715 | DS215+ |
| --- | --- | --- | --- | --- |
| Read | 5557.66 | 32030.43 | 42687.21 | 21281.53 |
| Write | 3952.62 | 21705.70 | 26050.53 | 16878.24 |

Gigabit Link Aggregation Environment - Windows Upload/Download (1MB x 5000 files)
| Model | RS214 | DS713+ | DS715 | DS215+ |
| --- | --- | --- | --- | --- |
| Windows Download | 95.69 | 138.20 | 139.56 | 138.85 |
| Windows Upload | 43.25 | 107.77 | 138.53 | 128.56 |

Gigabit Link Aggregation Environment - AES 256-bit Sequential Throughput (64KB)
| Model | RS214 | DS713+ | DS715 | DS215+ |
| --- | --- | --- | --- | --- |
| Read | 33.12 | 82.49 | 206.50 | 146.08 |
| Write | 14.82 | 60.38 | 78.08 | 70.80 |

Gigabit Link Aggregation Environment - AES 256-bit File Upload/Download in Windows (1MB x 5000 files)
| Model | RS214 | DS713+ | DS715 | DS215+ |
| --- | --- | --- | --- | --- |
| Windows Download | 25.39 | 55.59 | 77.53 | 77.52 |
| Windows Upload | 13.07 | 40.10 | 49.31 | 44.02 |

Gigabit Ethernet Environment - Windows Upload/Download (5GB file)
| Model | RS214 | DS713+ | DS715 | DS215+ | DS215j | DS214play | DS214 | DS214se |
| --- | --- | --- | --- | --- | --- | --- | --- | --- |
| Windows Download | 110.21 | 111.83 | 112.67 | 111.78 | 112.08 | 106.31 | 112.35 | 103.15 |
| Windows Upload | 70.79 | 111.09 | 110.09 | 109.23 | 94.37 | 106.66 | 105.06 | 59.22 |

Gigabit Ethernet Environment - Windows Upload/Download (1MB x 5000 files)
| Model | RS214 | DS713+ | DS715 | DS215+ | DS215j | DS214play | DS214 | DS214se |
| --- | --- | --- | --- | --- | --- | --- | --- | --- |
| Windows Download | 59.09 | 74.32 | 81.65 | 82.50 | 61.44 | 68.13 | 66.16 | 58.93 |
| Windows Upload | 34.37 | 46.47 | 53.68 | 54.68 | 38.16 | 43.12 | 41.45 | 29.64 |

Gigabit Ethernet Environment - AES 256-bit File Upload/Download in Windows (5GB file)
| Model | RS214 | DS713+ | DS715 | DS215+ | DS215j | DS214play | DS214 | DS214se |
| --- | --- | --- | --- | --- | --- | --- | --- | --- |
| Windows Download | 30.82 | 32.19 | 111.90 | 105.67 | 31.32 | 17.80 | 34.03 | 25.83 |
| Windows Upload | 16.26 | 26.25 | 48.95 | 47.82 | 18.90 | 13.65 | 18.49 | 13.11 |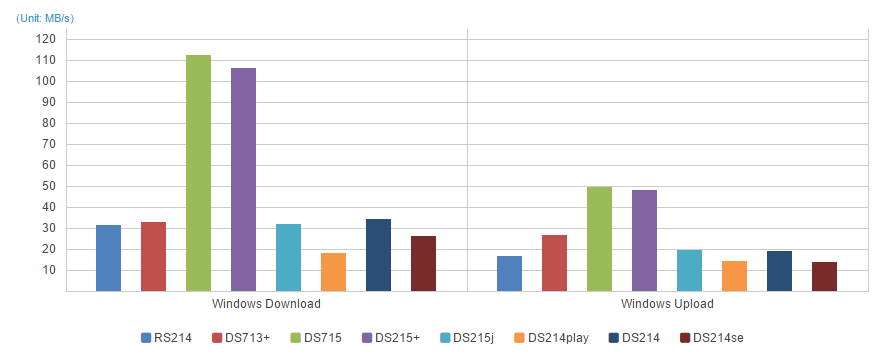 Gigabit Ethernet Environment - AES 256-bit File Upload/Download in Windows (1MB x 5000 files)
| Model | RS214 | DS713+ | DS715 | DS215+ | DS215j | DS214play | DS214 | DS214se |
| --- | --- | --- | --- | --- | --- | --- | --- | --- |
| Windows Download | 24.53 | 26.71 | 74.97 | 71.89 | 24.89 | 15.76 | 27.60 | 21.22 |
| Windows Upload | 9.73 | 15.55 | 23.82 | 22.09 | 10.96 | 9.56 | 10.65 | 7.78 |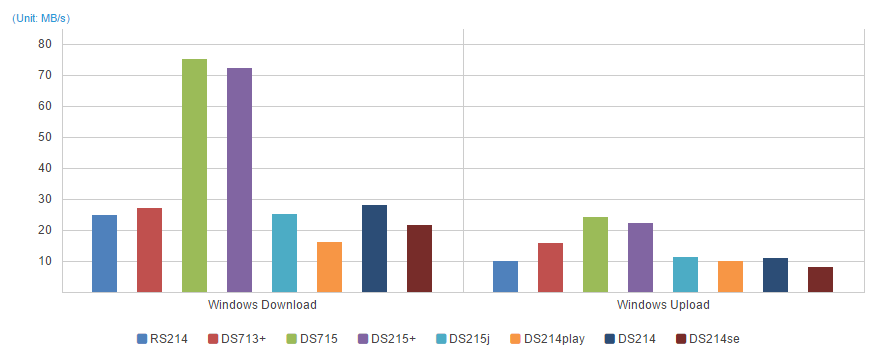 Gigabit Ethernet Environment - Web Server Response Time
| Model | RS214 | DS713+ | DS715 | DS215+ | DS215j | DS214play | DS214 | DS214se |
| --- | --- | --- | --- | --- | --- | --- | --- | --- |
| Seconds | 1061.17 | 186.18 | 118.65 | 207.52 | 599.69 | 279.88 | 473.34 | 1352.79 |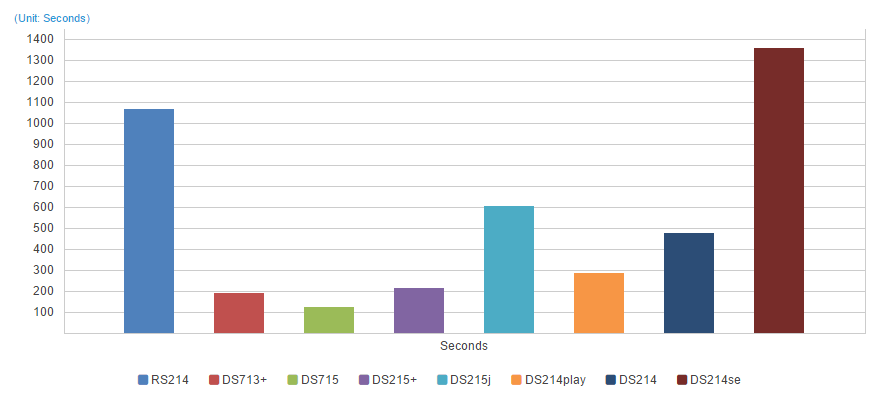 Mac Test Environment - AFP Upload/Download (5GB file)
| Model | RS214 | DS713+ | DS715 | DS215+ | DS215j | DS214play | DS214 | DS214se |
| --- | --- | --- | --- | --- | --- | --- | --- | --- |
| AFP Download | 85.93 | 88.35 | 89.29 | 89.21 | 85.38 | 88.34 | 85.37 | 79.38 |
| AFP Upload | 67.05 | 90.29 | 91.38 | 88.33 | 80.10 | 86.82 | 86.99 | 54.33 |
Mac Test Environment - AFP Upload/Download (1MB x 5000 files)
| Model | RS214 | DS713+ | DS715 | DS215+ | DS215j | DS214play | DS214 | DS214se |
| --- | --- | --- | --- | --- | --- | --- | --- | --- |
| AFP Download | 42.93 | 47.40 | 49.18 | 50.00 | 38.05 | 46.13 | 44.53 | 42.03 |
| AFP Upload | 34.79 | 44.44 | 46.63 | 46.48 | 38.17 | 39.62 | 38.58 | 29.36 |