DiskStation DS916+

A NAS built for professionals' growing needs, ready to deliver high productivity with flexible scalability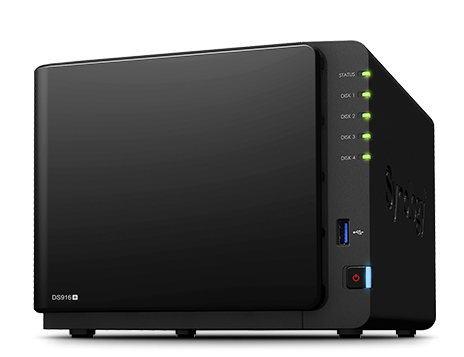 Sorry, this product is no longer available, Please contact us for a replacement product!
Overview:
DiskStation DS916+
Meet the ambitious DS916+ designed to satisfy professional NAS users' needs. With a powerful quad-core CPU, AES-NI hardware encryption engine, scalability up to nine drives, and 2GB or 8GB memory options, DS916+ brings better support for multitasking, and increases business dynamics.
---
Flexible scalability answering growing needs in storage capacity
To help businesses cope with a rapidly growing amount of data effortlessly, DS916+ supports robust scalability up to 9 drives with DX513 expansion unit, combining drives into one large volume. Your business can start with a lower upfront cost and scale up storage capacity as requirements grow while investing less time on storage management.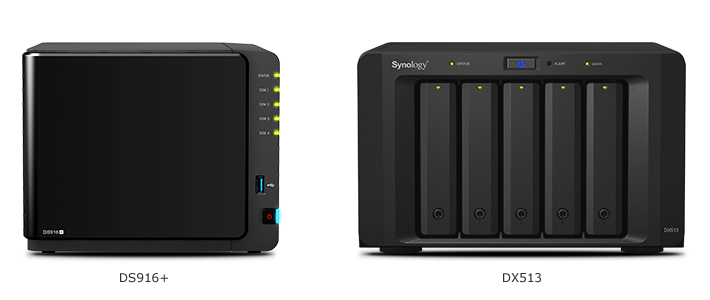 ---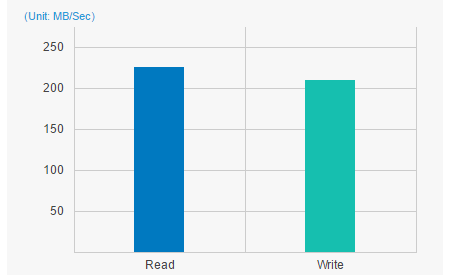 Quad-core CPU and AES-NI hardware encryption engine bringing high performance
Equipped with the powerful Intel Pentium quad-core CPU and AES-NI hardware encryption engine, DS916+ provides excellent encrypted reading speed over 225 MB/s and writing over 209 MB/s1, enabling compelling performance and a more productive user experience.
---
2GB and 8GB memory options
DS916+ offers 2GB and 8GB memory options for users with different needs. While users of 2GB model can experience many of the powerful features of DSM for a fair price, the 8GB model is created especially for startups or small and medium size offices looking for robust efficiency-oriented solutions, such as more Docker DSM resources, and higher number of concurrent users on Cloud Station, CIFS/AFP/FTP, and File Station connections.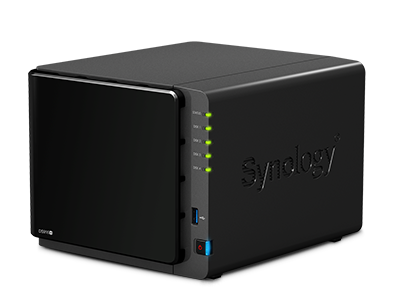 ---
4K Ultra HD video transcoding
Powered by a hardware-accelerated transcoding engine, DS916+ allows you to transcode and stream H.264 4K / 1080p videos to high-definition TV, digital media players, mobile handsets, and computers in the required format, making it easy to watch videos without having to install a 3rd party player. 4K transcoding is available only through Synology's Video Station, DS video, Media Server.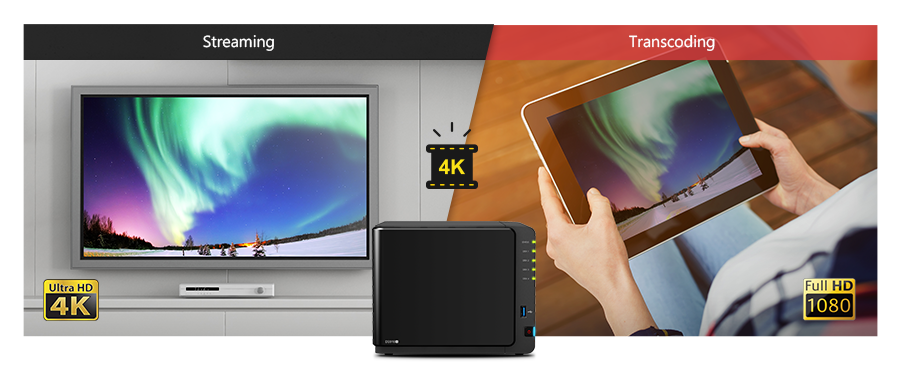 ---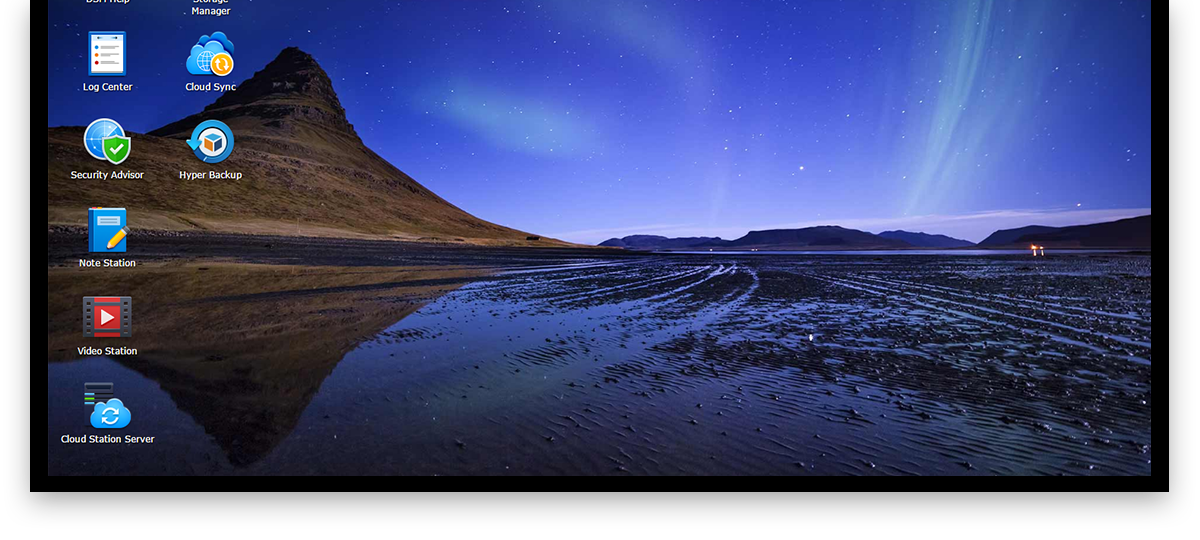 Award winning OS - DiskStation Manager
Synology DiskStation Manager (DSM) is a sleek, browser-based operating system running on every DiskStation and RackStation, which makes managing your Synology NAS a breeze. Featuring an intuitive user interface, DSM makes accessing and sharing your data smarter and simpler. Synology's Package Center lets you download and install useful add-on packages designed specifically for individual or business needs, meaning you can enjoy more entertainment in your life or better productivity at work.
---
Your files anywhere with cloud service
DS916+ brings you comprehensive cloud service. Cloud Station lets you sync files among DiskStations and multiple devices, including Windows PC, Mac, Linux, iOS, Android, as well as Windows mobile devices, whereas 2-way sync allows file synchronization among different DiskStations. With Cloud Sync, you can even sync your DiskStation with Amazon Cloud Drive, Google Drive, Microsoft OneDrive, Dropbox, Box, Baidu Cloud, and many more — establish your hybrid cloud to enjoy more storage flexibility and prevent data loss.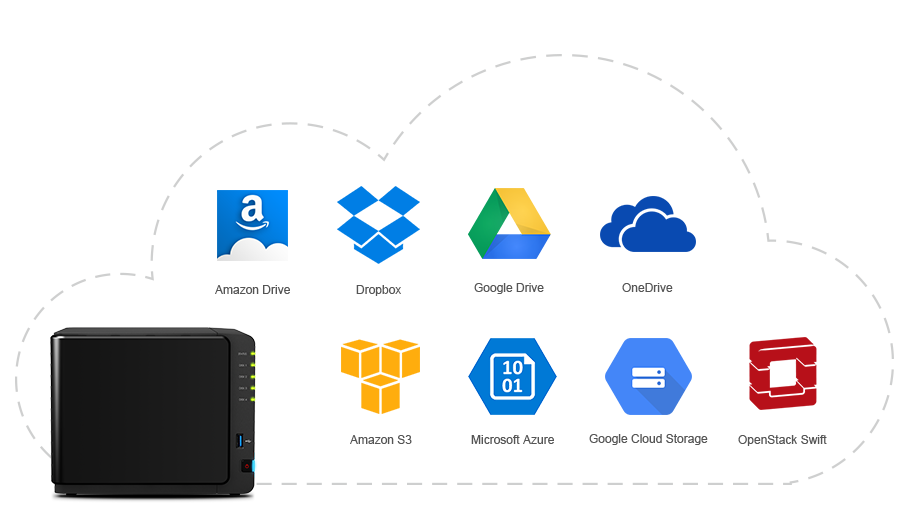 ---
The most compatible sharing
Enjoy seamless files sharing across Windows®, Mac®, and Linux® platforms as DS916+ offers comprehensive network protocol support including FTP, SMB2, AFP, NFS and WebDAV. With Windows AD and LDAP integration, DS916+ can fit effortlessly into any existing network environment - there is no need for IT administrators to maintain two sets of credentials. You also won't worry about missing files with the Recycle Bin feature which is supported on AFP, CIFS, File Station, and WebDAV. All files deleted in a shared folder will be automatically moved into the Recycle Bin.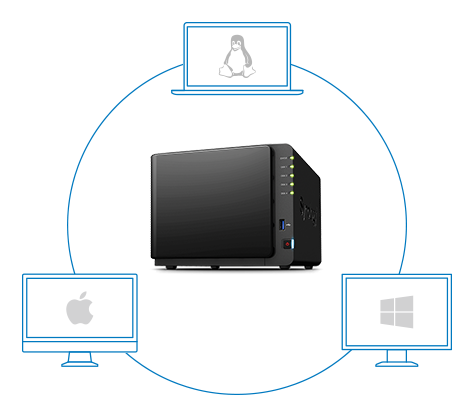 ---
Fit into business environments easily
With the support of Windows AD, LDAP, and Domain Trust, DS916+ enables seamless account integration. The User Home feature can automatically create a "home" folder for every user account to minimize the administrator's effort in repeatedly creating "home" folders for all accounts. Windows ACL support on DS916+ allows IT administrators to fine tune access controls and set up privileges to files and folders on DS916+ through the familiar Windows user interface. With compatibility for major protocols, DS916+ can eliminate server configuration overhead and enhance IT administrators' efficiency.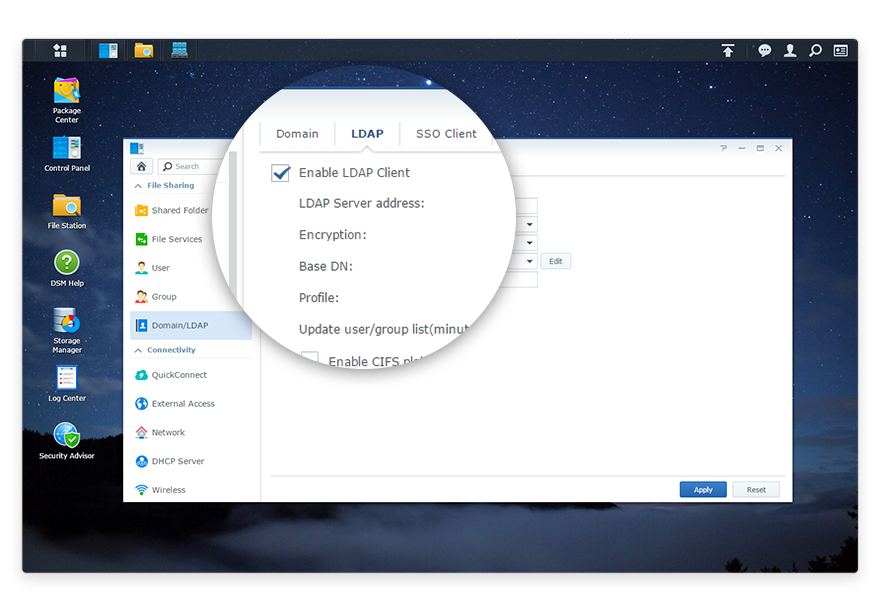 ---
Home surveillance, accessible for all
With the Surveillance Station add-on package and two free IP camera and device licenses, DS916+ serves as your home surveillance hub. Simply connect multiple IP cameras or I/O modules to the home network, pair them with DS916+, and then easily view live surveillance feeds, record videos, or enjoy other advanced features like motion detection or push notifications. Support for thousands of IP cameras makes it easy to find compatible models and brands. Safeguard your home, without breaking the bank.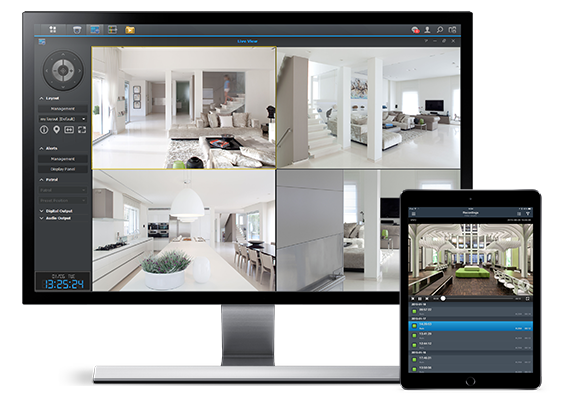 ---
Backup data in multiple ways
Synology DS916+ can serve as a centralized backup target. Whether you are a Windows or Mac user, you can back up everything on your computer directly to Synology NAS using Cloud Station Backup. Whenever you modify a file, the changes are backed up to DS916+ automatically. Mac users also enjoy native Apple® Time Machine support. You can also back up data from your DS916+ to another DiskStation, rsync servers, external drives, or even Amazon® S3, Glacier cloud service, Microsoft Azure, SFR, and hicloud. Synology Hyper Backup allows you to schedule backup tasks and restore the server to any particular point in time, while minimizing storage consumption and processing time by saving only the specific data block that has been changed between versions.

---
Next-generation data protection and integrity
When dealing with large-scale data storage, businesses require a solution that offers reliable backup and prevents file corruption. With support for the next-generation Btrfs file system, DS916+ ensures information is stored with a high level of data integrity, while providing flexible and efficient data protection tools.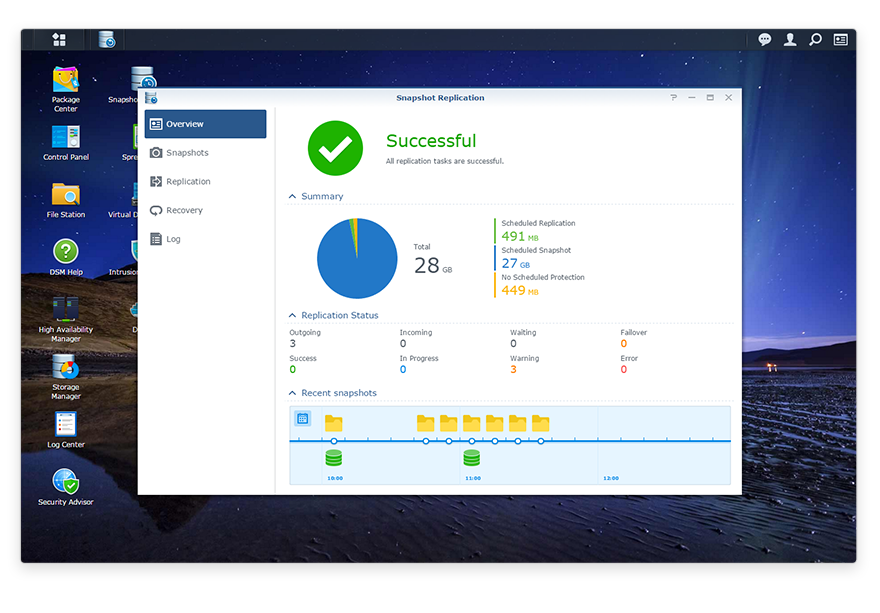 Fast and efficient snapshots
Snapshots preserve the history of a shared folder allowing you to save up to 1024 backup copies for point-in-time recovery. Snapshots can be automatically captured up to every 5 minutes, without noticeably impacting system performance.
Metadata mirroring and survivability
Btrfs file system stores two copies of critical metadata on a volume, improving the availability and ensuring the integrity of your file system.
Corruption detection and correction
Btrfs generates checksums for data and metadata, and then verifies the checksums during each read process to ensure the integrity of the filesystem and files. If the file system discovers a mismatch, metadata will be repaired to keep file system consistent. In the meantime, corrupted files will be reported and logged.
Customizable quotas for shared folders
With Btrfs, you can specify a storage limit for each shared folder, making it possible to precisely control space consumption when multiple teams or departments save files on the same Synology NAS server.
---
Ultimate file center
File Station is a fast and secure feature for sharing and managing your files stored on DS916+. Just drag-n-drop and upload data from Mac or PC. Advanced filters make it easy to search for documents, photos, or videos. With built-in FTP or email clients, DS916+ lets you organize and share files through an advanced web application effortlessly. You can even share files and folders with others by simply sending a link. Files can be reached on mobile devices via the companion mobile app DS file. HTTPS, SSL/TLS encryption, and link expiry dates also ensure file sharing over the Internet is highly secure.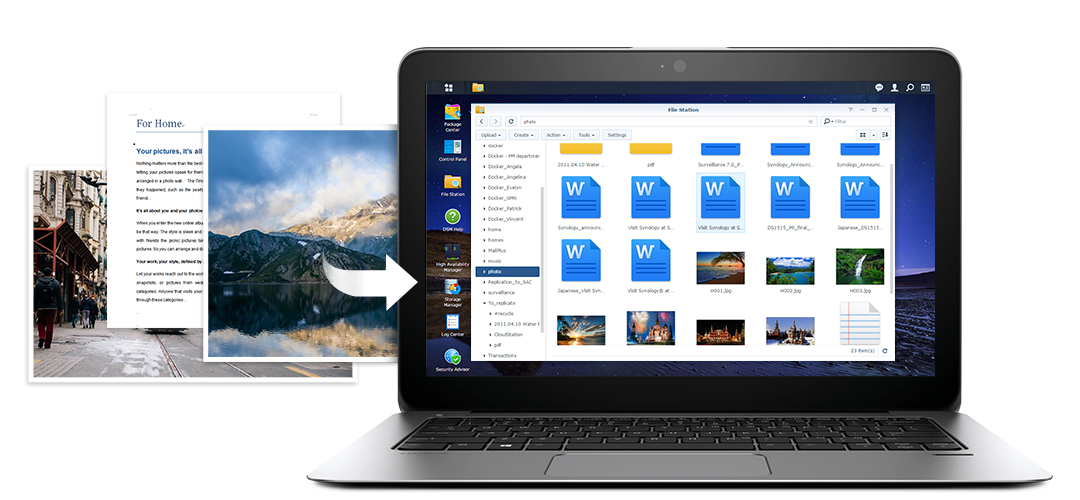 ---
Secure your data
DS916+ offers advanced security measures to protect you from potential security holes. Security Advisor analyzes system settings, password strength, network preferences and removes any possible malware. AppArmor blocks malicious programs from accessing unauthorized system resources. You can also customize the trust level in Package Center to avoid installing packages from untrusted sources, safeguarding your NAS from unknown or tampered files. In addition, DS916+ provides other security add-ons, such as AES encryption, 2-Step verification, IP block & allow list, Antivirus packages, firewall, and DoS attack prevention.
---
Stream content to your TV
DS916+ is highly compatible with other devices, letting you manage and enjoy digital content with the devices you already have: computers, mobile devices, TVs, DLNA devices, and stereos. Synology offers the latest support for TV streaming, including Samsung TV, Roku players, Apple TV, and Google Chromecast, meaning you can stream digital content stored on DS916+ to your widescreen TV effortlessly.
Samsung TV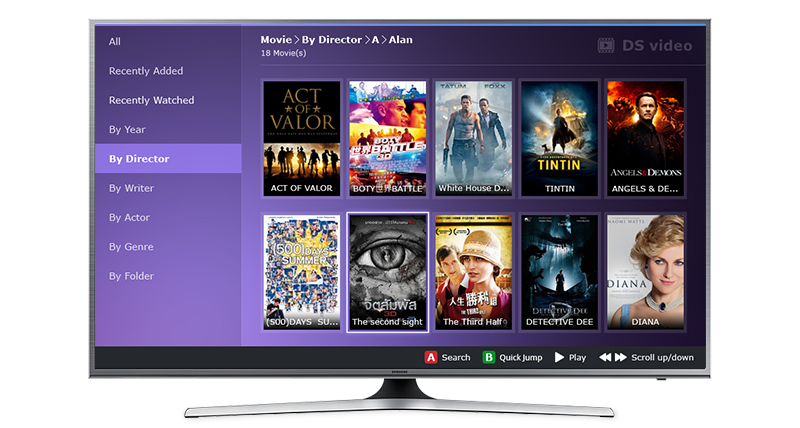 Apple TV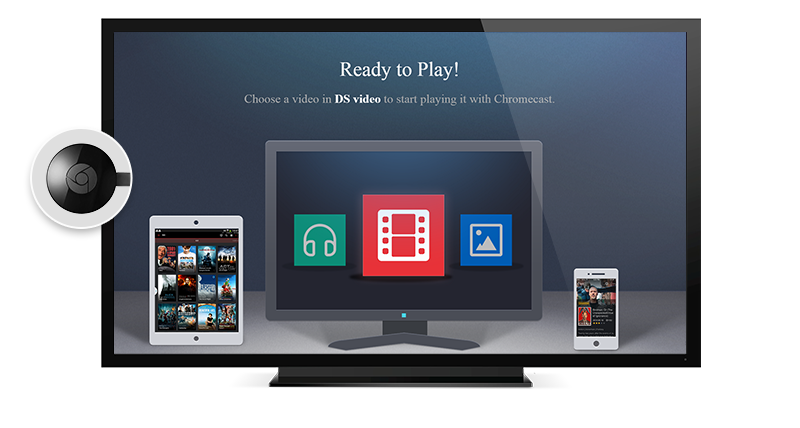 Chromecast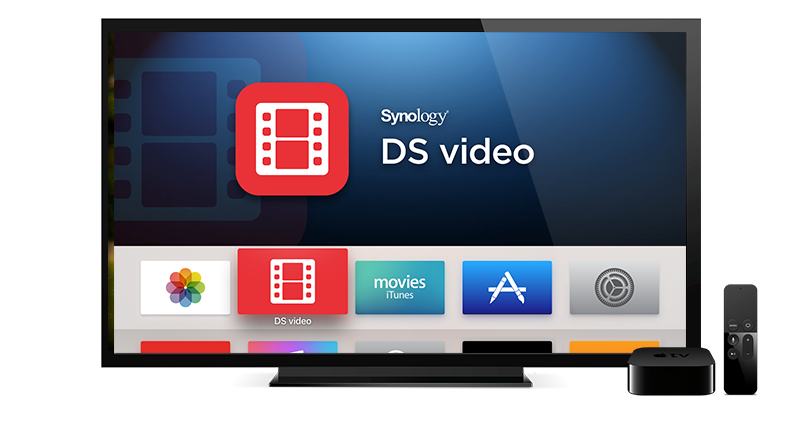 Roku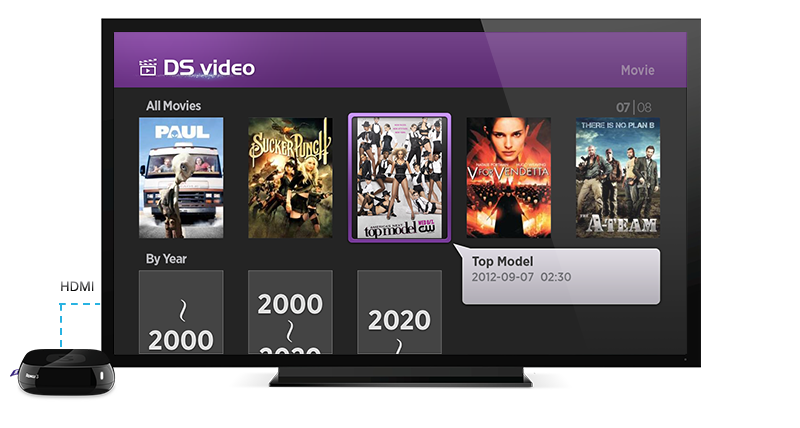 ---
Enjoy multimedia library
DS916+ provides you a central platform to organize, backup, and share photos, music, and video collections. Featuring a streamlined and sleek interface, Synology packages — Photo Station, Audio Station and Video Station — let you build a seamless entertainment hub effortlessly. Since everything is saved on DS916+, you can enjoy more customizable content arrangement, and no worries about extra monthly fees for storage capacity. Better yet, your digital collections can be shared with others via a simple link.
Photo Station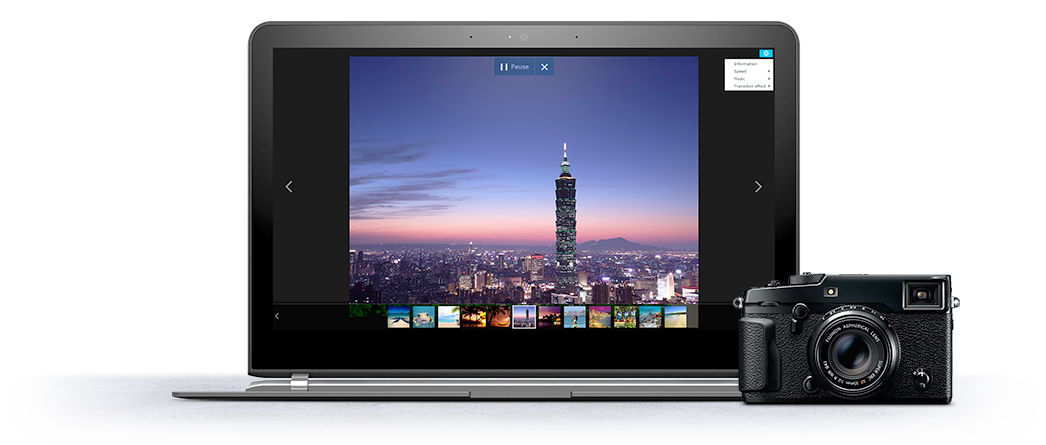 Video Station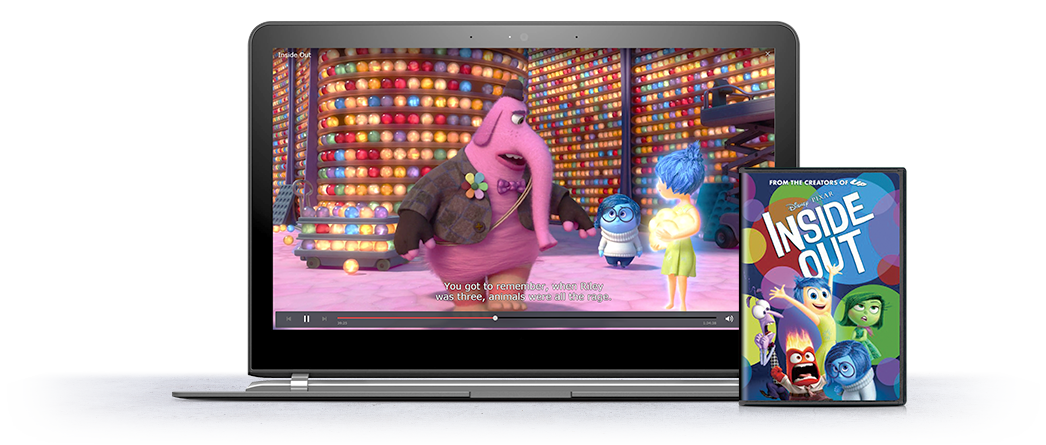 Audio Station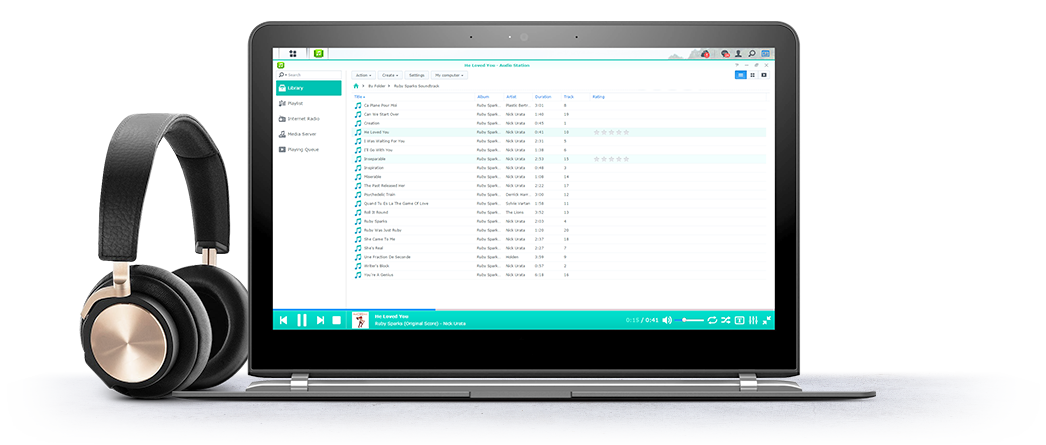 ---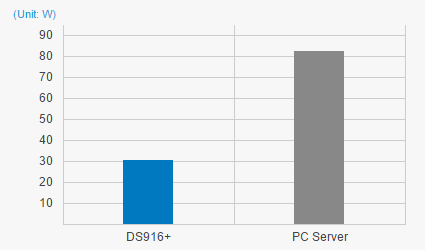 Eco-friendly NAS server
All Synology NAS is designed with energy efficiency in mind. DS916+ only consumes 13W in HDD Hibernation and 30W in access*. With special fan and the smart airflow design, the DS916+ keeps the system running cool 24/7, while its noise dampening design makes it quieter than PC counterparts. Synology acknowledges the responsibility as a global citizen, so all Synology products are produced with RoHS compliant parts and packed with recyclable packing materials.
* The power consumption figures may vary on different environments.
---
Notes:
1. Performance figures may vary depending on environment, usage and configuration.
Technical Specifications:
Hardware Specifications:
CPU
CPU Model
Intel Pentium N3710
CPU Architecture
64-bit
CPU Frequency
Quad Core 1.6 burst up to 2.56 GHz
Hardware Encryption Engine (AES-NI)
Hardware Transcoding Engine
H.264 (AVC), H.265 (HEVC), MPEG-2 and VC-1; maximum resolution: 4K (4096 x 2160); maximum frame rate per second (FPS): 30
Memory
System Memory
2 / 8 GB DDR3
Storage
Drive Bay(s)
4
Maximum Drive Bays with Expansion Unit
9
Compatible Drive Type

3.5" SATA III / SATA II HDD
2.5" SATA III / SATA II HDD
2.5" SATA III / SATA II SSD

Maximum Internal Raw Capacity
40 TB (10 TB HDD x 4) (Capacity may vary by RAID types)
Maximum Raw Capacity with Expansion Units
90 TB (10 TB HDD x 9) (Capacity may vary by RAID types)
Maximum Single Volume Size
108 TB
Notes
"Compatible drive type" indicates the drives that have been tested to be compatible with Synology products. This term does not indicate the maximum connection speed of each drive bay.
External Ports
USB 3.0 Port
3
eSATA Port
1
File System
Internal Drives
External Drives

Btrfs
EXT4
EXT3
FAT
NTFS
HFS+*
exFAT*

Notes

exFAT Access is purchased separately in Package Center.

Appearance
Size (Height X Width X Depth)
165 mm x 203 mm x 233.2 mm
Weight
2.04 kg
Others
RJ-45 1GbE LAN Port
2 (with Link Aggregation / Failover support)
Wake on LAN/WAN
System Fan
92 mm x 92 mm x 2 pcs
Fan Speed Mode
Wireless Support (dongle)
Brightness adjustable front LED indicators
Power Recovery
Noise Level
19.4 dB(A)
Scheduled Power On/Off
Power Supply Unit / Adapter
100W
AC Input Power Voltage
100V to 240V AC
Power Frequency
50/60 Hz, Single Phase
Power Consumption
30 W (Access)
13 W (HDD Hibernation)
Environment Temperature
Operating Temperature
5°C to 40°C (40°F to 104°F)
Storage Temperature
-20°C to 60°C (-5°F to 140°F)
Relative Humidity
5% to 95% RH
Other
Certification

FCC Class B
CE Class B
BSMI Class B

Warranty
3 Years
Notes:

Power consumption is measured when fully loaded with Western Digital 1TB WD10EFRX hard drive(s).
Noise Level Testing Environment: Fully loaded with Seagate 2TB ST2000VN000 hard drive(s) in idle; Two G.R.A.S. Type 40AE microphones, each set up at 1 meter away from the Synology NAS front and rear; Background noise: 16.49-17.51 dB(A); Temperature: 24.25-25.75˚C; Humidity: 58.2-61.8%