Synology EDS14

Palm-Sized NAS Server for Rigorous Environments

Sorry, this product is no longer available, Please, contact us for a replacement product!
Overview:
Synology Embedded DataStation EDS14 is a state-of-the-art palm-sized NAS server. Combining portability with endurance, EDS14 allows you to implement Synology's advanced network storage solutions in a wide range of physical locations. Synology EDS14 is backed with Synology's 3-year limited warranty.
Industrial thermal endurance level from -20˚C to 50˚C (-4˚F to 122˚F)
Dual LAN ensuring versatile deployment & network uptime
Plug-n-Play USB 3.0 & High Speed SDXC UHS-I SD storage
Up to 111.94 MB/s reading & 50.58 MB/s writing with USB 3.0
Up to 77.81 MB/s reading & 45.4 MB/s writing with SDXC
DC power output for peripheral devices
Ready-to-use right out of the box
Running on Synology DiskStation Manager (DSM)
Hardware Excellence
As the embodiment of Synology's refined hardware craftsmanship, EDS14 features a compact and portable body, fan-less and drive-less design, and advanced network storage functionality, without sacrificing system reliability or quality of service. Synology EDS14 boasts exceptional durability in challenging thermal environments without the ventilation of a fan. The dynamic cooling mechanism specifically programmed for EDS14 guarantees system uptime and CPU health even at surrounding temperatures as high as 50˚C. Despite its small size, EDS14 is powered by an 1.2GHz CPU and 512MB of RAM, ensuring both computing and multi-tasking capabilities. For a model dependent upon external drives, EDS14 delivers remarkable read/write performance - up to 111.94 MB/sec reading with USB 3.0 drive in a Windows environment, and 50.58 MB/sec writing.
The advanced hardware design of the EDS14 accommodates two LAN ports, one SD card reader, one USB 3.0 and one USB 2.0 interface - all inside a 125 x 125 x 31 mm enclosure. EDS14 supports the the latest external storage interface - USB 3.0 and SDXC/UHS-I, maximizing system availability with both speed and capacity.
Unparalleled Versatility
With its compact physical size, EDS14 is the most versatile NAS server in Synology's product line and has been optimized for deployment in a variety of environments. Apart from the increased thermal endurance range, EDS14 tolerates dynamic DC input voltage from 7 to 24V, making it compatible with a variety of power sources such as cigarette lighter receptacle in an automobile. A schedulable DC output up to 1A is available to power an external device where power outlet is out of reach. Peripheral devices can be powered on, off, or reset remotely according to a schedule using DiskStation Manager's management interface (available from DSM 5.0). Equipped with two LAN ports, EDS14 protects local network tasks and Internet connection from mutual interference. With the support for PoE splitters, EDS14 is also ideal for deployment in a PoE environment.
Cloud-Ready NVR
EDS14 has been specifically designed to run Synology Surveillance Station, a cutting-edge NVR solution with rich features that meet the most demanding enterprise surveillance requirements. In addition to its intuitive setup and hasslefree interface, Surveillance Station features an optimized live view experience with on-screen operations, smart analytics tools like motion detection, and an alert system that sends instant notification through SMS, e-mail, Skype, and DS cam. Synology works diligently to integrate all types of IP cameras on the market and currently supports over 2,400 IP camera models.
QuickConnect and Mobile Access
QuickConnect is one of Synology's most prided services. In scenarios where port-forwarding rules cannot be applied, QuickConnect offers direct remote access to your files in EDS14 without complicated router configurations. With DS cam, a dedicated app available for Android and iOS devices, users can view IP cameras live, receive event notifications and access history recordings on demand. Synology also provides mobile applications that allow you to enjoy the full variety of your multimedia library even when on the go. You can stream your private albums, music and video collection from home, on the EDS14. Available on iOS, Android™ and Windows Phone platforms, DS photo+, DS audio, and DS video mobilize your Photo Station, Audio Station and Video Station, placing terabytes of content at your fingertips.
Windows + Mac + Linux Cross Platform File Sharing
Synology EDS14 offers comprehensive network protocol support, assuring seamless file sharing across Windows, Mac, and Linux platforms. Internet file access is simplified by the encrypted FTP server and the web-based file explorer, Synology File Station. HTTPS, firewall, and IP auto-block support ensure file sharing over the Internet is protected at a high security level.
For users who are always on the move, Synology provides a handy app, DS file, for popular mobile devices such as iPhone, iPad, Android devices and Windows Phone. Anything stored on Synology EDS14 can now be accessed remotely using DS file.
Energy Efficient with Cool and Quiet Design
All Synology NAS is designed with energy efficiency in mind. Not only does EDS14 come with Synology's smart cooling technology to keep the system running cool 24/7, its noise dampening design makes it really quiet. All Synology products are produced with RoHS compliant parts and packed with recyclable packing materials. Synology acknowledges the responsibility as a global citizen to continually work to reduce the environmental impact of every product produced.
Features:
Feature-rich, environment-resistant NAS in a compact body
EDS14 is a feature-rich mini NAS server combining portability with endurance, suitable for extreme environment deployment. EDS14 delivers remarkable read/write performance - up to 103.54 MB/s reading and 61.13 MB/s writing speeds with a USB 3.0 drive in a Windows environment.
Thermal durability and dynamic DC input for harsh environments
Advanced cooling mechanism guarantees an industrial thermal endurance level from -20˚C to 50˚C (-4˚F to 122˚F). EDS14 also tolerates dynamic DC input voltage from 7 to 24V and comes with support for PoE splitters, making it compatible with a variety of power sources.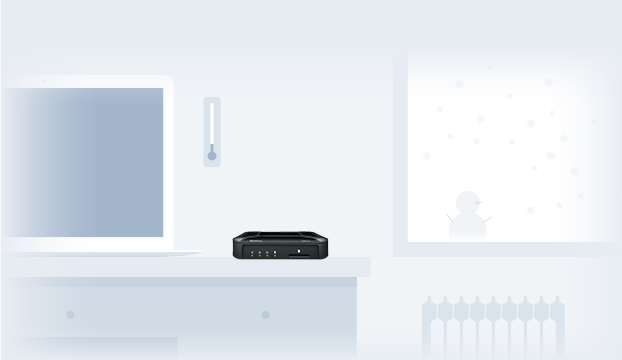 Fan-less and drive-less design reduces vibration
The fan-less and drive-less design of EDS14 lowers the chance of hardware failure resulting from vibrations, while also delivering higher durability and reliability. Being EN50155 and EN45545 certified, EDS14 is resistant against shock, fire, vibration, and harsh environments found in moving vehicles and railway industries.
Flexible design for remote location deployment
The two 1GbE LAN ports and mobile network support (LTE dongle required) allows EDS14 to be deployed farther into remote locations with flexible network combinations. A schedulable DC output of up to 1A is available to power an external device where power outlets are out of reach.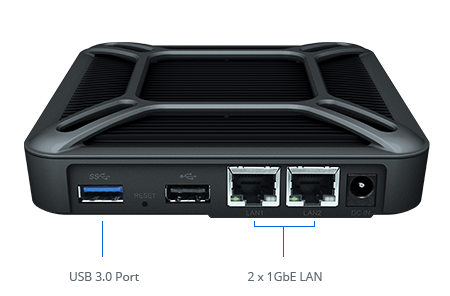 Easy file access with QuickConnect
Access files on your Synology NAS over the Internet without the hassle of setting up port forwarding rules, DDNS, or other complicated network settings. QuickConnect allows you to connect via a simple customizable address (e.g. https://customID.quickconnect.to), so that you can instantly access media and work files on any Windows/Mac/Linux computer, laptop, or mobile device without additional charge.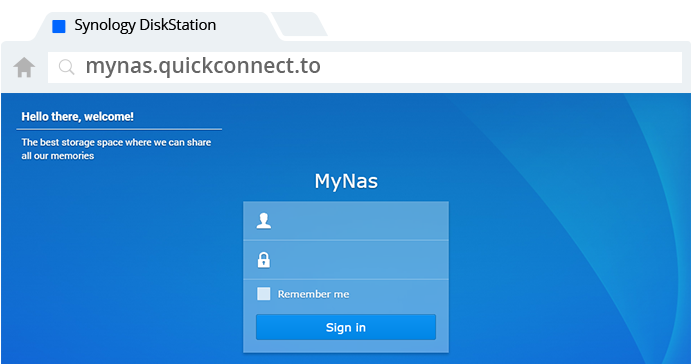 Seamless integration with your devices
Synology mobile applications are designed to allow quick and secure access to your data wherever you are.
DS Audio
DS Photo
DS Video
Technical Specifications: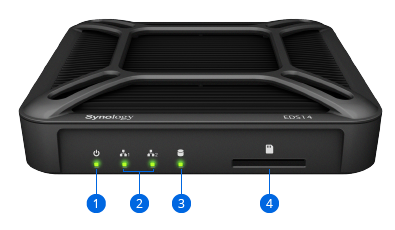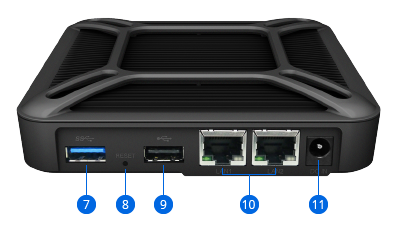 Power indicator
LAN indicator
SD card / USB drive indicator
SD card slot
DC output port
SD card / USB drive eject button
USB 3.0 port
Reset button
USB 2.0 port
1GbE RJ-45 port
Power port
Hardware Specifications:
CPU
CPU Model
Marvell Armada 370 88F6707
CPU Frequency
1.2 GHz
Floating Point
Hardware Encryption Engine
Memory
System Flash
4 GB eMMC
System Memory
512 MB DDR3
External Ports
USB 2.0 Port
1
USB 3.0 Port
1
SD Card Reader
File System
External Drives

EXT4
EXT3
FAT
NTFS
HFS+ (Read Only, with max. volume size 2TB)

Appearance
Size (Height X Width X Depth)
31 mm x 125 mm x 125 mm
Weight
0.295 kg 
Others
RJ-45 1GbE LAN Port
2 (with Link Aggregation / Failover support)
Wireless Support (dongle)
Power Supply Unit / Adapter
24W 
AC Input Power Voltage
100V to 240V AC
Power Frequency
50/60 Hz, Single Phase
Power Consumption*
8.66 W (Access) 
7.12 W (Idle)
British Thermal Unit
29.55 BTU/hr (Access) 
24.29 BTU/hr (Idle)
Dynamic DC Input
7-24V
DC Output
1A
Environment Temperature
Operating Temperature
-20°C to 50°C (-4°F to 122°F)
Adapter Operating Temperature
0°C to 40°C (32°F to 104°F)
Storage Temperature
-20°C to 60°C (-5°F to 140°F)
Relative Humidity
5% to 95% RH
Other
Certification

FCC Class B
CE Class B
BSMI Class B
EN50155
EN45545

Warranty
3 Years
Notes
Access power consumption is measured when loaded with Adata SDHC 8GB Class 10 SD card. Idle power consumption is measured with one LAN connected.
DSM Specifications:
Networking protocol
CIFS, AFP, NFS, FTP, WebDAV, CalDAV, Telnet, SSH, SNMP, VPN (PPTP, OpenVPN, L2TP)
File system
External: EXT4, EXT3, FAT, NTFS, HFS+ (Read Only)
File sharing capability

Max User Account: 128
Max Group: 64
Max Shared Folder: 32
Max Concurrent CIFS/AFP/FTP Connections: 128

Security
FTP over SSL/TLS, IP Auto-Block, Firewall, Encrypted Network Backup over Rsync, HTTPS Connection
Utilities
Synology Web Assistant, Synology Assistant, Synology Data Replicator, Cloud Station
Supported client
Windows XP onward, Mac OS X 10.5 onward, Ubuntu 9.04 onward
Supported browser
Chrome, Firefox, Internet Explorer 8 onward, Safari 5 onward, Safari (iOS 5 or later on iPad), Chrome (Android 4.0 on tablets)
Interface language
English, Deutsch, Français, Italiano, Español, Dansk, Norsk, Svensk, Nederlands, Русский, Polski, Magyar, Português do Brasil, Português Europeu, Türkçe, Český
Applications:
Backup Solutions
Local Backup, Desktop Backup (Window: Synology Data Replicator; Mac: Apple Time Machine backup application), Shared Folder Sync - Max Task Number: 2, Configuration Backup
FTP Server
Bandwidth Control, Custom FTP Passive Port Range, Anonymous FTP, Transfer Log
Printer Server
Max Printer #: 2, Printing Protocols: LPR, CIFS, IPP, iOS Printing, Google Cloud Print™, Multi Functional Print Server (MFP functions are for Windows PC only)
iOS/Android applications
DS audio, DS cam, DS cloud, DS download, DS file, DS finder, DS photo+, DS video
Windows Phone applications
DS audio, DS file, DS finder, DS photo+, DS video
Add-on Packages:
Surveillance Station
Default IP cam #: 2, MAX IP cam # (licenses required): 5 (surrounding temperature under 38 °C / 100°F), or 2 (surrounding temperature over 38 °C / 100°F) (1 free license to install 1 IP camera. Additional licenses can be purchased to expand the license quota.)
VPN Server
Maximum Connections: 5, VPN Method: PPTP, OpenVPN, L2TP
DHCP Server
Independent DHCP Server on Different Network Interfaces, Multiple Subnets Support, Address Reservation
Cloud Station
Maximum Concurrent File Transfers: 128; Retain Historical and Deleted File Versions
DLNA/UPnP Media Server
DLNA certified, PS3/PS4/Xbox 360/Xbox One Support
Download Station
Supported Download Protocols: BT/HTTP/FTP/NZB/eMule
Maximum Concurrent Download Tasks : 50
Other packages
Photo Station, Audio Station, Video Station, iTunes Server, 3rd-Party Packages
Environment & Packaging:
Environment
RoHS Compliant
Packaging Content

EDS14 Main Unit
Welcome Note
AC Power Adapter
RJ-45 LAN Cable

Optional Accessories

Remote
Camera License Pack
*Model specifications are subject to change without notice. Please refer to www.synology.com for the latest information.
1 Performance figures may vary depending on environments. Synology is dedicated to continual performance enhancement. Please find the latest figures on www.synology.com.
Performance:
EDS14
Synology strives to enhance the performance of our NAS with every software update, even long after a product is launched. For enterprises and users that demand uncompromising performance from their servers, check the figures below to find the most suitable choice.
Windows Upload/Download with USB 3.0 (5GB for NTFS/EXT4, 2GB for FAT)
| Model | NTFS | FAT | EXT4 |
| --- | --- | --- | --- |
| Windows Download | 60.06 | 105.72 | 103.54 |
| Windows Upload | 42.35 | 52.48 | 61.13 |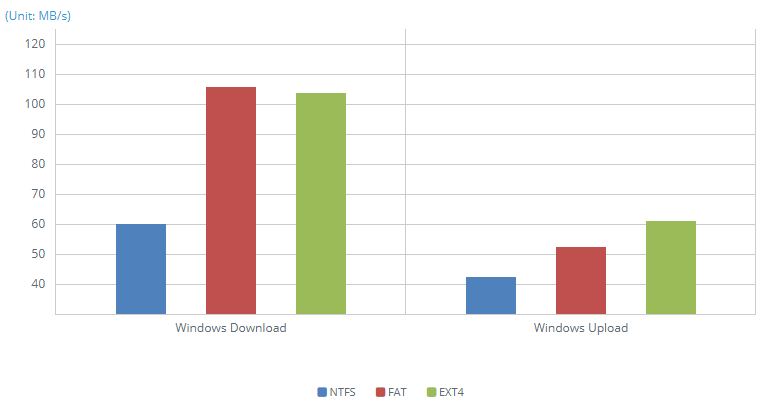 Windows Upload/Download with UHS-I SDXC (5GB for NTFS/EXT4, 2GB for FAT)
| Model | NTFS | FAT | EXT4 |
| --- | --- | --- | --- |
| Windows Download | 58.1 | 74.68 | 74.93 |
| Windows Upload | 42.78 | 55.32 | 55.84 |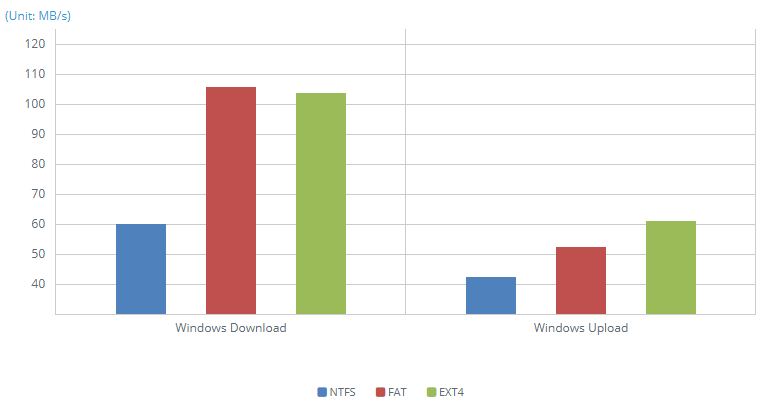 EDS14 Environment
NAS:
Operating System: DSM 6.0
SDXC: TOSHIBA EXCERIA UHS-I Type1 16GB
USB 3.0: RAIDON GT1650-SB3 USB3.0 3.5 inch external chassis
WD2003FYYS 2TB ( 3.5" )
Network Environment:: 1Gbps LAN; MTU 1500; connected to clients via HP 2530-48G
Client PC:
Intel Core i7-3770 ; 4GB DDRIII 1600; Intel 520 (120GB) SSD x 2; striped volume; Intel Gigabit CT; MTU 1500; Windows 7 64bit
Special Note:
Performance figures are achieved in the Synology lab by using very powerful client computers with optimized network settings, and could vary in different environments. Regular office desktop or notebook computers may not be able to reproduce these figures.
Sorry, this product is no longer available, Please, contact us for a replacement product!