Synology E10G15-F1

High speed data transmission for Synology XS+/XS series NAS servers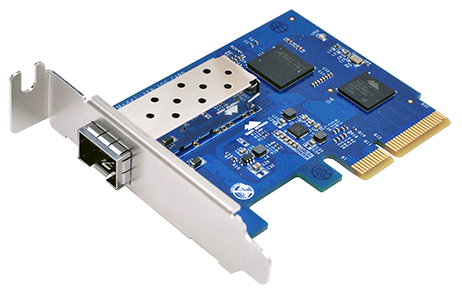 Sorry, this product is no longer available, Please, contact us for a replacement product!
Overview:
Designed specifically for Synology XS+/XS series NAS servers, Synology E10G15-F1 is a 10 Gigabit, single SFP+ port PCI Express x4 adapter which provides a cost-effective solution to increase Ethernet connection speed. Featuring high speed data transmission at a 10 Gbps connection over fiber-optic cabling, 802.1Q VLAN tagging, and 802.3x flow control, E10G15-F1 allows businesses to enhance agility and enjoy high-performance access to Synology XS+/XS series NAS servers.
Exclusive for XS+/XS series NAS servers
With businesses seeing more and more data-intensive tasks, having a 10GbE network is a good solution for organizations that need high network bandwidth and performance daily operations, such as data access or backup. With Synology E10G15-F1 Ethernet adapter, Synology XS+/XS series NAS servers gain a flexible choice for upgrading system specification and optimizing data transmission.
Specifications:
General Specifications:
Standards

IEEE 802.1Q VLAN Tagging
IEEE 802.3x Flow Control
IEEE 802.3ae 10Gbps Ethernet

Data Transfer Rates
10 Gbps
Network Operation Mode
Full Duplex
Supported Features

9 KB Jumbo Frame
Simple Network Management Protocol (SNMP) Agent
IEEE 802.3ad Link Aggregation Support
TCP/UDP/IP Checksum Offloading

Applied Models

RS18016xs+
RC18015xs+
RS3614xs+
RS3614(RP)xs
RS10613xs+
RS3413xs+
RS3412(RP)xs
RS3411(RP)xs
DS3615xs
DS3612xs
DS3611xs

SFP+ Cable Support
SFP+ Cable Support: SFP+ 10GbE Direct Attach Twinax Cables with Connectivity up to 2 Meters.
Note
DSM version requirement: 5.1-5004 or later version
Hardware Specifications
Size (Height X Width X Depth)
108 mm X 120 mm X 19 mm
Operating Temperature
5°C to 35°C (40°F to 95°F)
Storage Temperature
-20°C to 60°C (-5°F to 140°F)
Relative Humidity
5% to 95% RH
Warranty
5 Years