FlashStation FS3017

Elevate your business to the next level

Sorry, this product is no longer available, replaced by the FS3400 or FS6400.
Overview:
Designed for lightning-fast computing environments, Synology FlashStation FS3017 is a highly reliable, cost-efficient, and ultra-high performance all-flash storage solution with comprehensive business applications for enterprise users. Synology FlashStation FS3017 simplifies data management and optimizes virtualization environments, with minimal time investment in setup and maintenance. Synology FS3017 is backed with Synology's 5-year limited warranty.
200,000 4K Random Write IOPS, ultrahigh performance with low latency
Dual Intel Xeon 6-core CPU and 64GB DDR4 ECC RDIMM, expandable up to 512GB
Dual onboard 10GBase-T ports, capable of installing optional 10GbE / 25GbE / 40GbE NICs with iSCSI over RDMA
Complete virtualization solution for VMware, Windows Hyper-V, Citrix and Openstack
Advanced Btrfs file system offering 65,000 system-wide snapshots and 1,024 snapshots per shared folder
Scale up to 72 drives with 2 x Synology Expansion Unit RX2417sas
Backed with Synology's 5-year limited warranty & Synology Replacement Service (SRS)
Astonishing Performance
Powered by two Intel Xeon E5-2620 six-core CPUs and 64GB DDR4 ECC RDIMM (up to 512GB), Synology FS3017 delivers over 200,000 4K Random Write IOPS1 , making it ideal for video post-productions, mail server, virtualization and database applications, which require ultra-high performance and low latency.
FS3017 comes with dual 10GBase-T ports and supports optional 10GbE / 25GbE / 40GbE network interface cards, allowing more flexibilities for network configurations. Network performance is further enhanced with iSCSI over RDMA2 and Non-Uniform Memory Access (NUMA) integration.
Cost Effective Unified Storage
Synology FS3017 is compatible to major SAS / SATA SSD brands to avoid vendor lock-in. FS3017 is also a unified storage server supporting iSCSI protocol and file sharing services, which provides the cost savings and simplicity of consolidating storage over an existing network while providing the flexibility required by virtual server environments. In addition to the internal 24 drive bays, FS3017 supports up to two Synology Expansion Unit RX2417sas to provide a total of 72 2.5" drive bays for flexible storage management.
Virtualization Ready
FS3017 provides seamless storage solutions for virtualization environments, including VMware, Citrix, Hyper-V, and OpenStack. With VMware vSphere 6 and VAAI integration certified, FS3017 helps offload specific storage operations and optimizes computing power for unparalleled performance and efficiency in VMware environments. Windows Offloaded Data Transfer (ODX) and Synology Advanced LUN support greatly improves the efficiency on massive data transfer and migration. With OpenStack support, FS3017 can be used as a block-based storage component for servers complying with the Cinder API.
Rock-Solid Data Protection
The Snapshot Replication application provides schedulable, near-instantaneous data protection. It replicates 65,000 system-wide backup copies to offsite servers and local volumes, bringing near-instantaneous data protection and ensuring data in shared folders or virtual machines in iSCSI LUNs remain available in the event of a disaster.
With block-level incremental backup and cross-version deduplication, Synology Hyper Backup provides multi-version backup with optimized storage space utilization and allows multiple backup destinations to local shared folders, external hard drives, network shared folders, rsync server, and public cloud services.
Comprehensive Business Applications
Powered by the innovative Synology DiskStation Manager (DSM), FS3017 comes fully-equipped with applications and features designed specifically for large-scale business:
Windows AD and LDAP support allowing easy integration with existing business directory services without recreating user accounts.
Windows ACL support provides fine-grained access control and efficient privilege settings, allowing FS3017 to fit seamlessly into current infrastructure.
MailPlus allows your business to set up a secure, reliable, and private mail server while giving your employees a modern mail client for receiving and sending messages.
Reliability and System Availability
System reliability is of paramount importance to businesses which depend upon their commercial servers every day. FS3017 responds to these concerns with wide-ranging availability and redundancy features:
Synology RAID F1 optimizes RAID volume integrity and extends SSD lifespan.
Synology High Availability ensures seamless transition between clustered servers in the event of one node failing with minimal impact to applications.
Redundant power supplies, system fans, and multiple network ports with failover support ensure maximum continuous service uptime.
DDR4 ECC RDIMM detects and corrects errors during data transmission.
The tool-free system fan design allows hot swapping and simple exchanging of malfunctioned system fans. Optional Synology RKS1317 rail kit provides fast and easy system installation and maintenance.
Features:
Astonishing performance, no more bottlenecks
Enterprises are now challenged to handle I/O-intensive and latency sensitive applications, whether it's managing large raw files, virtual machines, or databases, FS3017 is an easy to maintain, affordable, yet powerful all-flash NAS solution for businesses.



Cost-effective flexibility
Due to vendor lock-in, all-flash storage is notoriously expensive, but FS3017 accepts both high-end SAS SSD and the more mainstream SATA SSD. Raw capacity of FS3017 reaches 90TB1.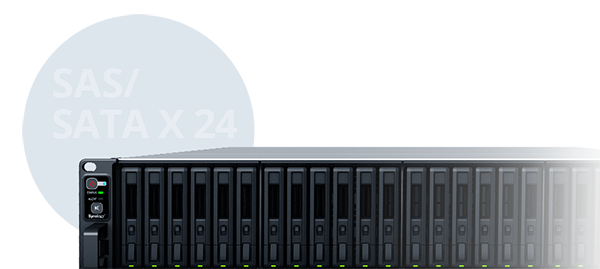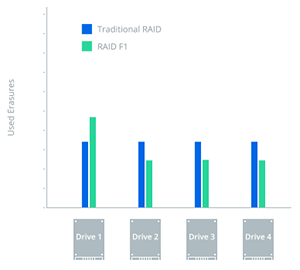 Compared with traditional RAID, RAID F1 distributes uneven workload to SSDs to prevent all drives from wearing out simultaneously.

RAID F1
Due to the peculiarities of SSD and RAID technology, a common challenge lies in how to prevent all of the drives from failing at the same time because of the evenly distributed workload. RAID F1 alleviates this problem with a specially designed algorithm to unevenly distribute workload to drives, enhancing the resilience of the storage pool and ensuring your data remains safe.

Future-proof networking
FS3017 is equipped with two 10GBase-T ports. If you need more horsepower, FS3017 also has two PCIe slots available for adding more Ethernet controllers. Choose between 10GbE, 25GbE, and 40GbE to unlock FS3017's full potential. In addition, you can leverage iSCSI over RDMA technology to enhance iSCSI performance by up to 80% with an optional purchase of supported NIC on FS3017.
Fully certified storage virtualization solutions
Synology iSCSI storage fully supports most virtualization solutions to enhance work efficiency with easy management interface. VMware vSphere 6 and VAAI integration helps offload storage operations and optimizes computation efficiency. Windows Offloaded Data Transfer (ODX) speeds up data transfer and migration rate. OpenStack Cinder support turns your Synology NAS into a block-based storage component.






5 year warranty
Synology's 5-year limited warranty provides hardware replacement and technical support via email and telephone services, maximizing your enterprises' return on investment.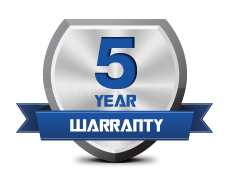 Powered by Synology DSM

Snapshot Replication
Provides schedulable and instantaneous data protection for shared folders and virtual machines on iSCSI LUNs in the event of disaster.

Synology High Availability
Ensures seamless service transition between clustered servers in the event of a server failure.

Hyper Backup
Store multiple backup versions with block-level incremental data backup and cross-version deduplication.

CMS
Manage multiple Synology NAS servers simultaneously on a centralized interface to increase business efficiency.

Cloud Station Suite
Synchronize cross-platform data automatically with file version control on all your devices.

MailPlus
Secure, reliable, and private mail server solution with an intuitive and modern mail client.
Technical Specifications:


Power button and indicator
Beep off button
Drive status indicator
Drive tray
PSU fan
Power port
PSU indicator
Console port
USB 3.0 port
10GbE RJ-45 port
PCIe 3.0 slot
Reset button
Hardware Specifications:
CPU
CPU Model
Intel Xeon E5-2620 v3 x 2
CPU Architecture
64-bit
CPU Frequency
6-Core 2.4 GHz
Hardware Encryption Engine
Memory
System Memory
64 GB DDR4 ECC RDIMM
Memory Module Pre-installed
64GB (4 x 16GB)
Total Memory Slots
16
Memory Expandable up to
512GB (32 GB x 16)
Storage
Drive Bay(s)
24
Maximum Drive Bays with Expansion Unit
48 (RX1217sas) / 72 (RX2417sas)
Compatible Drive Type

2.5" SATA SSD
2.5" SAS HDD
2.5" SAS SSD

Maximum Internal Raw Capacity
96 TB (4 TB drive x 24) (Capacity may vary by RAID types)
Maximum  Raw Capacity with Expansion Units
288 TB (4 TB drive x 72) (Capacity may vary by RAID types)
Maximum Single Volume Size

200 TB (for RAID 5 or RAID 6 groups only)
108 TB

Hot Swappable Drive
Notes

"Compatible drive type" indicates the drives that have been tested to be compatible with Synology products. This term does not indicate the maximum connection speed of each drive bay.
Expansion of the internal volume is only supported if the combined single volume size does not exceed the maximum limit of 108TB or 200TB if upgraded to 32GB RAM or more.

External Ports
RJ-45 1GbE LAN Port
2 (with Link Aggregation / Failover support)
USB 3.0 Port
2
PCIe
PCIe Expansion

1 x Gen3 x16 slot (x16 link)
1 x Gen3 x8 slot (x8 link)

Add-in-card support

FXC17 - FS3017 Expansion Card
PCIe Network Interface Card

File System
Internal Drives
External Drives

Btrfs
EXT4
EXT3
FAT
NTFS
HFS+
exFAT*

Notes
exFAT Access is purchased separately in Package Center.
Appearance
Size (Height X Width X Depth)
88 mm x 482 mm x 724 mm
Weight
17.13 kg 
Others
System Fan
80 mm x 80 mm x 4 pcs
Fan Speed Mode

Full-Speed Mode
Quiet Mode

Easy Replacement System Fan
Power Recovery
Noise Level
55.4 dB(A)
Scheduled Power On/Off
Power Supply Unit / Adapter
2 X 800W 
AC Input Power Voltage
100V to 240V AC
Power Frequency
47/63 Hz, Single Phase
Power Consumption*
321 W (Access) 
156 W (HDD Hibernation) 
British Thermal Unit
1095.29 BTU/hr (Access) 
532.29 BTU/hr (HDD Hibernation) 
Redundant Power Supply (for xs+ and RP model)
Environment Temperature
Operating Temperature
5°C to 40°C (40°F to 104°F)
Storage Temperature
-20°C to 60°C (-5°F to 140°F)
Relative Humidity
5% to 95% RH
Other
Certification

FCC Class A
CE Class A
BSMI Class A

Warranty
5 Years
DSM Specifications:
Networking protocol
CIFS, AFP, NFS, FTP, WebDAV, CalDAV, iSCSI, Telnet, SSH, SNMP, VPN (PPTP, OpenVPN, L2TP)
File system

Internal: Btrfs, ext4
External: Btrfs, ext4, ext3, FAT, NTFS, HFS+, exFAT3

Supported RAID type
Basic, JBOD, RAID 0, RAID 1, RAID 5, RAID 6, RAID 10, RAID F1
Storage management

Maximum single volume size: 108TB, 200TB (RAID 5 or RAID 6 groups only)
Maximum internal volumes: 1,024
Maximum iSCSI Targets: 128
Maximum iSCSI LUNs: 512
iSCSI LUN clone / snapshot support

File sharing capability

Maximum local user account: 16,000
Maximum local group: 256
Maximum shared folder: 512
Maximum concurrent SMB/NFS/AFP/FTP connection: 13,000

Privilege
Windows Access Control List (ACL)
Virtualization
VMware vSphere 6, Microsoft Hyper-V, Citrix, OpenStack
Directory service
Windows AD integration: Domain users login via Samba (CIFS) / AFP / FTP / File Station, LDAP integration
Security
FTP over SSL / TLS, IP auto-block, firewall, encrypted network backup over Rsync, HTTPS connection
Utilities
Synology Web Assistant, Cloud Station Drive, Cloud Station Backup, Cloud Sync Decryption Tool, Evidence Integrity Authenticator, Snapshot Manager for VMware, Snapshot Manager for Windows, NFS Plug-in for VMware VAAI
Supported client
Windows 7 onward, Mac OS X 10.10 onwards
Supported browser
Chrome, Firefox, Internet Explorer 9 onwards, Safari 8 onwards; Safari (iOS 7 onwards), Chrome (Android 4.0 onwards) on tablets
Interface language
English, Deutsch, Français, Italiano, Español, Dansk, Norsk, Svensk, Nederlands, Русский, Polski, Magyar, Português do Brasil, Português Europeu, Türkçe, Český
Applications:
File Station
Virtual drives, remote folders, Windows ACL editor, compressing/extracting archived files, bandwidth control for specific users/groups, creating sharing links, transfer logs
Backup solutions
Network backup; local backup; desktop backup; configuration backup; OS X Time Machine; backup data to public cloud; shared folder sync - maximum task number: 32
FTP Server
Bandwidth control for TCP connections, custom FTP passive port range, anonymous FTP, FTP SSL/TLS and SFTP protocol, boot over the network with TFTP and PXE support, transfer logs
High Availability Manager
Combines two FS3017 into one high-availability cluster
Security Advisor
Malware detection / removal, user account / password, network, system-related security scan
iOS/Android applications
DS cloud, DS file, DS finder, DS cam, DS note, MailPlus
Windows Phone applications
DS file, DS finder
Add-on Packages:
Antivirus Essential
Full system scan, scheduled scan, white list customization, virus definition auto update
Cloud Station Suite
Maximum concurrent file transfers: 16,000, retain historical and deleted file versions
Cloud Sync
One or two-way synchronization with public cloud storage providers including Amazon Cloud Drive, Amazon S3-compatible storage, Baiduyun, Box, Dropbox, Google Cloud Storage, Google Drive, hubiC, Megafon Disk, Microsoft OneDrive, OpenStack Swift-compatible storage, WebDAV servers, Yandex Disk
Log Center
SSL connection, log rotation: 6 months, 1 year, 2 years, 3 years, email notification
MailPlus
Intuitive webmail interface for MailPlus Server; customizable mail labels, filters and user interface
MailPlus Server
Secure, reliable, and private mail solution with High-availability, load balancing, security and filtering design (Includes 5 free email account licenses, additional accounts require the purchasing of additional licenses)
Note Station
Rich-text note organization and versioning, encryption, sharing, media embedding and attachments
Storage Analyzer
Volume and quota usage, total size of files, volume usage and trends based on past usage, size of shared folders, largest/most/least frequently modified files
Surveillance Station
Maximum IP camera: 100 (total of 3,000 FPS at 720p, H.264) (Includes two free camera licenses, additional cameras require the purchasing of additional licenses)
VPN Server
Maximum connections: 30; supported VPN protocol: PPTP, OpenVPN, L2TP
Web Station
Virtual host (up to 30 websites), PHP/MariaDB, third-party application support
Other packages
Additional 3rd-party packages are available on Package Center
Environment & Packaging:
Environment
RoHS Compliant
Packaging Content

FS3017 main unit
Quick Installation Guide
Accessory pack
2 x AC power cord

Optional Accessories

16GB / 32GB DDR4-2133 ECC RDIMM (RAMRG2133DDR4-16G / RAMRG2133DDR4-32G)
Synology E10G17-F2 / E10G15-F1 10Gbps Ethernet adapters
Synology FS3017 Expansion Card for Expansion Unit RX2417sas support4
Synology Expansion Unit RX2417sas
Synology RKS1317-Rail Kit Sliding
Synology Surveillance Video Decoder VS360HD
Surveillance Device License Pack
MailPlus License Pack
*Model specifications are subject to change without notice. Please refer to www.synology.com for the latest information.
1 Performance figures may vary depending on environment, usage and configuration.
2 iSCSI over RDMA support vary depending on the NICs installed. Please refer to www.synology.com for the latest NIC compatibilty list.
3 exFAT Access is purchased separately in Package Center
4 FS3017 supports up to 2 Synology Expansion Unit RX2417sas when the optional FS3017 Expansion Card is installed.
Performance:
FS Series
Synology strives to enhance the performance of our NAS with every software update, even long after a product is launched. For enterprises and users that demand uncompromising performance from their servers, check the figures below to find the most suitable choice.
Aggregated 10GbE SMB - Sequential Throughput (64KB)
| Model | FS3017 | FS2017 |
| --- | --- | --- |
| Read | 6462.36 | 4649.87 |
| Write | 2985.53 | 2788.98 |

Aggregated 10GbE SMB - Sequential Throughput via Encrypted Shared Folder (64KB)
| Model | FS3017 | FS2017 |
| --- | --- | --- |
| Read | 5111.13 | 3530.21 |
| Write | 2548.76 | 2046.92 |

Aggregated 10GbE SMB - Sequential IOPS (4KB)
| Model | FS3017 | FS2017 |
| --- | --- | --- |
| Read | 996195.38 | 854436.62 |
| Write | 611566.38 | 504918.53 |

Aggregated 10GbE SMB - Random IOPS (4KB)
| Model | FS3017 | FS2017 |
| --- | --- | --- |
| Read | 368300.69 | 247564.23 |
| Write | 232073.59 | 86085.95 |

10GbE iSCSI - Random IOPS (4KB)
| Model | FS3017 | FS2017 |
| --- | --- | --- |
| Read | 541157.38 | 280831.84 |
| Write | 275562.88 | 98481.67 |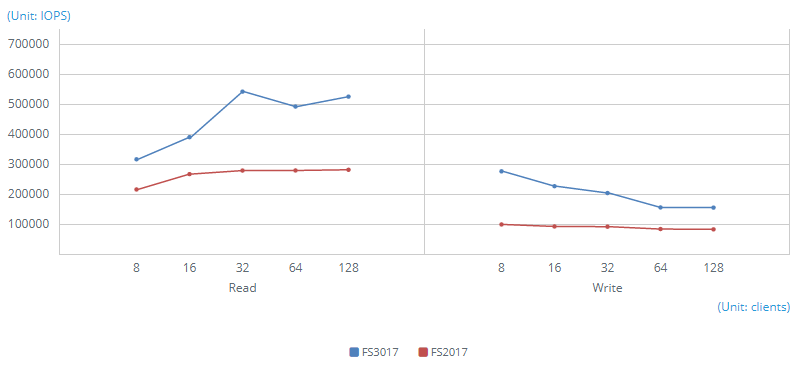 NAS:
Operating System: DSM 6.1
Volume Type: RAID F1
Drives:

FS3017: Fully loaded with Intel DC S3710 series 800GB SSDSC2BA800G4 SATA SSD
FS2017: Fully loaded with Intel DC S3710 series 200GB SSDSC2BA200G4 SATA SSD

Memory:

FS3017: 64GB DDR4 ECC RDIMM (16GB x 4)
FS2017: 32GB DDR4 ECC RDIMM (16GB x 2)

File System:

EXT4: FS3017
Btrfs: FS2017

Aggregated 10GbE SMB network environment:

FS3017: 6 x 10GbE ports (built-in 10GbE ports + 2 x Intel X540-T2 NIC)
FS2017: 4 x 10GbE ports (built-in 10GbE ports + 1 x Intel X540-T2 NIC)
MTU 9000; connected to client PCs via Netgear M4300-24X24F switch

10GbE iSCSI network environment

FS3017: 2 x Synology E10G17-F2 NIC with iSCSI over RDMA enabled
FS2017: 1 x Synology E10G17-F2 NIC with iSCSI over RDMA enabled
16GB File LUN; MTU 9000; connected to client PCs via Netgear M4300-24X24F switch
Client PC:
Aggregated 10GbE SMB network environment: Intel Core i7-4790 3.60GHz; 4GB DDR3-1600; Synology E10G17-F2 NIC; MTU 9000; Windows 7 64 bit
10GbE iSCSI network environment: Intel Core i7-4790 3.60GHz; 4GB DDR3-1600; Synology E10G17-F2 NIC; MTU 9000; Ubuntu 15.04
IOMeter configuration: Continuously read from/write to a single 16GB file for 3 minutes; Block size: 64KB for SMB, 4KB for IOPS and iSCSI
Special Note:
Performance figures are achieved in the Synology lab by using very powerful client computers with optimized network settings, and could vary in different environments. Regular office desktop or notebook computers may not be able to reproduce these figures.