Synology M2D17

Dual M.2 SSD adapter card for better SSD caching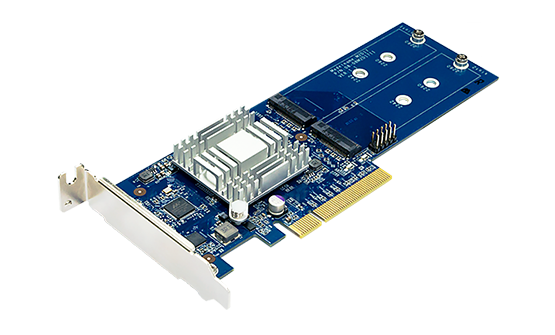 Sorry, this product is no longer available, Please, contact us for a replacement product!
Overview:
Boost Your Storage Performance
Synology M.2 SSD adapter — M2D17 — is designed to supercharge your NAS I/O performance. Its dual M.2 SSD slots allow high SSD read/write caching, reserving primary drive bays for data storage. It supports 2280/2260/2242 form factors and meets various M.2 SATA SSD options to free you from vendor lock-in.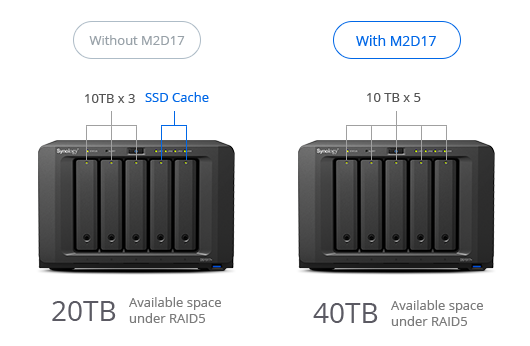 Specifications:
General Specifications:
Applied Models
Note
DS1517+/DS1817+/DS3018xs with M2D17 can only support M.2 SATA SSD. M.2 NVMe/AHCI PCIe SSD is not supported.
Hardware Specifications
PCI Express interface
PCIe 2.0 x8
Supported Form Factor
2280 / 2260 / 2242
Bracket Height
Low Profile
Operating Temperature
5°C to 40°C (40°F to 104°F)
Storage Temperature
-20°C to 60°C (-5°F to 140°F)
Relative Humidity
5% to 95% RH
Warranty
5 Years