Synology Network Video Recorder NVR1218

All-in-one, energy efficient private surveillance solution with HDMI output for PC-less management and live monitoring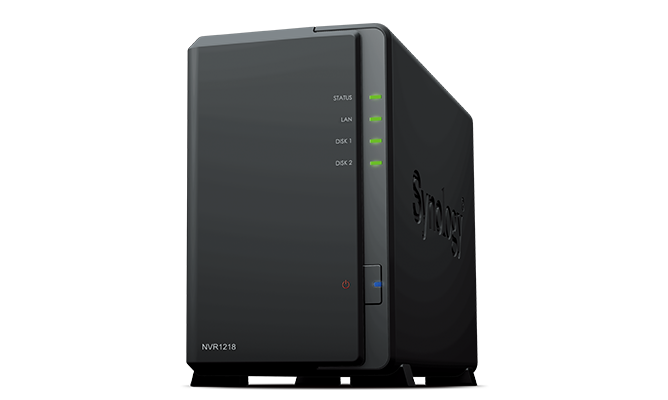 Sorry, this product is no longer available, Please contact us for a replacement.
Overview:
Synology Network Video Recorder NVR1218 is an all-in-one and energy efficient private surveillance solution with HDMI output for PC-less management and live monitoring. NVR1218 supports up to 12 channels of 720p/30FPS camera streams. Point of Sale (POS) system support combines business transaction records with surveillance recordings. Synology NVR1218 is backed by Synology's 3-year limited warranty.
Standalone surveillance solution with 1080p HDMI output
Easy installation without a computer and Internet connection
Point of Sale (POS) system support combines business transaction records with surveillance recordings
4 free camera licenses included, supports up to 12 cameras
Mobile apps ready for on-the-go surveillance
Power-saving NVR runs below 15W
Expandable storage capacity up to 7 HDDs with DX517
Standalone, All-in-one Surveillance Solution
Synology Network Video Recorder NVR1218 is an all-in-one surveillance solution with a 1080p HDMI interface for monitoring, managing, and storing surveillance videos. You can watch surveillance recordings and configure IP camera settings directly on Surveillance Station without using a computer. NVR1218 supports up to 12 channels of 720p/30FPS camera streams.
NVR1218 can be deployed and setup easily without a computer and Internet connection, which is convenient for first-time system installation in remote or secure locations without external network access. NVR1218 supports Point of Sales (POS) systems via a dedicated COM port, allowing NVR1218 to be integrated with transaction systems to enable video indexing capability against transaction records.
24/7 Security Solution
Synology Surveillance Station offers a centralized interface to manage IP cameras deployed in your workplace. Easily setup and enable secure remote access to Surveillance Station via computers or the DS cam mobile app to monitor real-time camera streams and to view recorded events and snapshots. The hassle-free interface features an optimized live view experience with on-screen controls, smart analytic tools like motion detection, and an alert system that sends notifications through DS cam, SMS, and e-mail.
Rich Compatibility and User-friendly Operation
Powered by Synology Surveillance Station, NVR1218 supports more than 5,600 IP cameras from 100 renowned brands and ONVIF Profile S and Profile G, allowing flexible system deployment options.
NVR1218 also supports navigating between different camera streams with a USB mouse, keyboard, or joystick. The audio input and output ports allow microphone and speaker connections for two-way voice communication via audio-enabled cameras. In the event of a power failure, NVR1218 can be paired with an uninterruptible power supply (UPS) for safe power down.
Expandable Storage for Growing Needs
NVR1218 supports Synology Expansion Unit DX517 to support up to 7 hard drives. With DX517 connected, users are able to create a RAID 5 or RAID 6 volume for enhanced storage resiliency and larger usable space.
Wallet-Friendly and Energy-Efficient
NVR1218 is engineered with energy efficiency in mind. It is extremely quiet and requires only 13.64W during operation. As a PC-less surveillance solution, NVR1218 economizes on both equipment and energy costs in the long-run.
All Synology products are produced with RoHS compliant parts and packed with recyclable packing materials. Synology acknowledges the responsibility as a global citizen to continually work towards reducing the environmental impact of every product.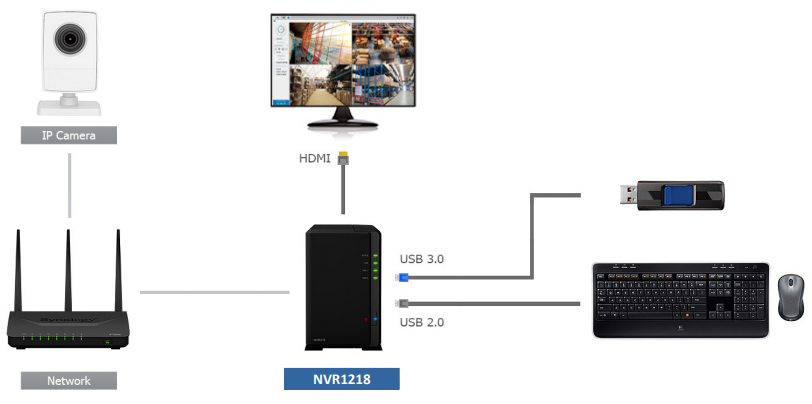 Complete surveillance solution without a computer
Connect Synology NVR1218 to an HDMI monitor and enjoy a PC-less surveillance solution that simultaneously supports up to 12 network cameras.
Features:
All-in-one, stand-alone surveillance solution
Offering an effortless surveillance experience, Synology Network Video Recorder NVR1218 has the ability to display and record up to 12 IP cameras1 while being extremely energy-efficient.


Maximum 12 IP cameras

Energy efficiency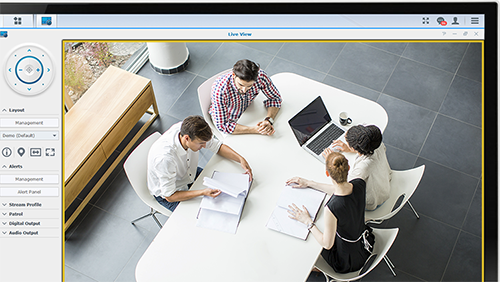 1080p HDMI output for local display
Watch surveillance feeds and manage cameras/recordings without using a computer. NVR1218 is equipped with a dedicated HDMI output providing 1080p display resolution on a monitor, while supporting 720p at up to 12 channels/30FPS.
Flexible deployment
Setup and deploy NVR1218 in remote or secure locations with no external network access required2. The support for Point of Sales (POS) systems allows NVR1218 to be integrated with transaction systems to enable video indexing capability against transaction records.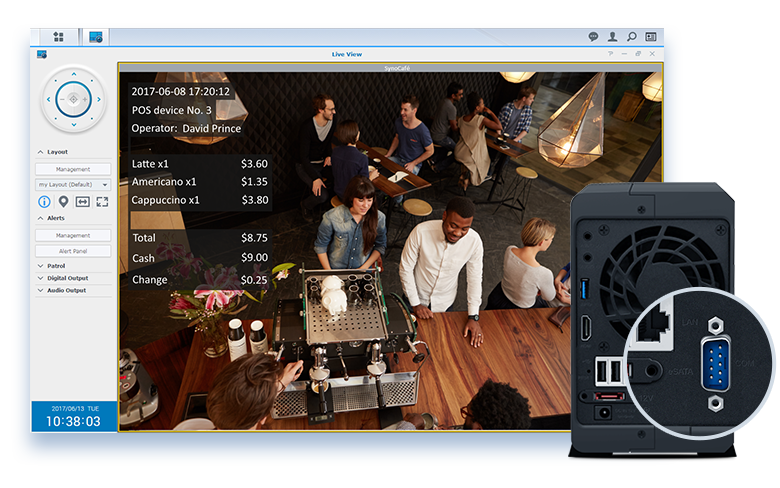 Expandable recording storage, up to 7 drives
NVR1218 can be connected to Synology DX5173 expansion unit to expand from 2 to 7 drives, allowing you to create RAID 5 volumes and find the ideal balance for your storage strategy. Once connected via eSATA with a specially designed locking cable, NVR1218's raw capacity can reach 70TB.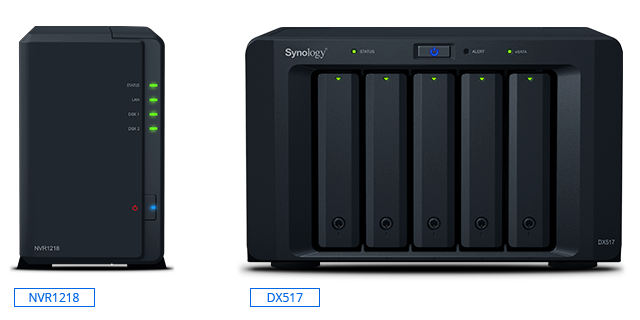 Intuitive Surveillance Station to streamline deployment
Supporting powerful features from Surveillance Station and its mobile app, everything can be done without a PC.
Full support for Surveillance Station features
Surveillance Station provides a centralized, user friendly interface, letting you manage and monitor IP cameras in your shop or office.
On-the-go surveillance with the DS cam mobile app
DS cam is the mobile extension of Surveillance Station, allowing you to access Live View, playback recordings, adjust PTZ, and receive push notifications on your mobile device.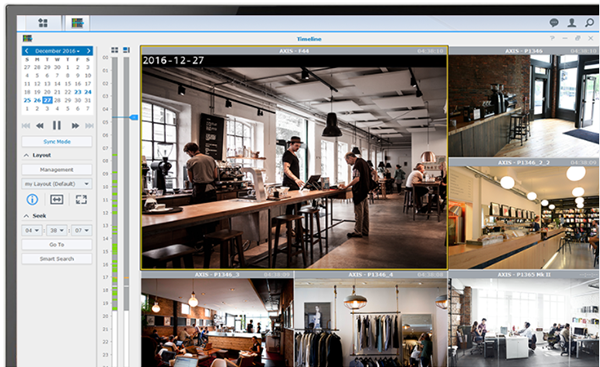 Technical Specifications: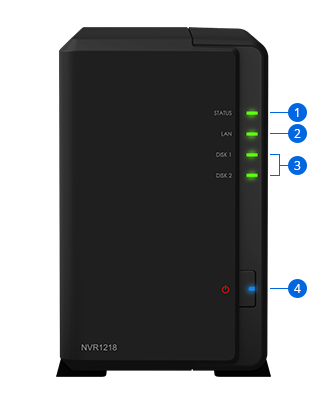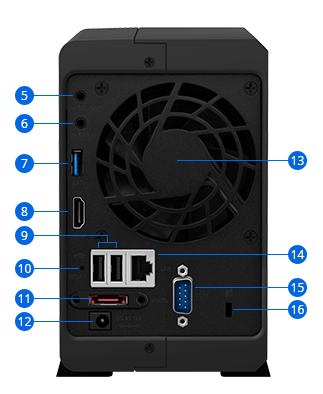 Status indicator
LAN indicator
Drive status indicator
Power button and indicator
Audio out
Audio in
USB 3.0 port
HDMI output
USB 2.0 port
Reset button
eSATA port
Power port
Fan
1GbE RJ-45 port
COM port
Kensington Security Slot
Hardware Specifications:
CPU
CPU Model
Embedded NVR SoC
CPU Architecture
32-bit
CPU Frequency
Dual Core 1.0 GHz
Memory
System Memory
1 GB DDR3
Storage
Drive Bay(s)
2
Maximum Drive Bays with Expansion Unit
7
Compatible Drive Type*
3.5" SATA HDD
Maximum Internal Raw Capacity
20 TB (10 TB drive x 2) (Capacity may vary by RAID types)
Maximum Raw Capacity with Expansion Units
70 TB (10 TB drive x 7) (Capacity may vary by RAID types)
Maximum Single Volume Size
16 TB
External Ports
USB 2.0 Port
2
USB 3.0 Port
1
eSATA Port
1
COM Port
1
Video/Audio
Video Output
HDMI x 1
Supported Video Resolution
1080p 60Hz
Audio Input
3.5 mm Stereo Audio Jack x 1
Audio Output
3.5 mm Stereo Audio Jack x 1
Appearance
Size (Height X Width X Depth)
165 mm x 100 mm x 225.5 mm
Weight
0.9 kg
IP Camera Support
Maximum Channel Number
12 (including 4 Free License)
Total FPS (H.264)*
360 FPS @ 720p (1280x720), 12 Channels 
100 FPS @ 1080p (1920×1080), 10 Channels 
60 FPS @ 3M (2048x1536), 6 Channels 
40 FPS @ 5M (2591x1944), 4 Channels
Total FPS (MJPEG)*
120 FPS @ 720p (1280x720), 12 Channels 
80 FPS @ 1080p (1920×1080), 8 Channels
40 FPS @ 3M (2048x1536), 6 Channel 
30 FPS @ 5M (2591x1944), 4 Channel
Codec
Video Codec

MJPEG
MPEG-4
H.264
H.265 (output via local display is not supported)
MxPEG (output via local display is not supported)

Audio Codec

PCM
ADPCM
G711
G726
AMR
AAC

Notes
In our test environment, live view streams are delivered via Local Display; video live-viewing and recording share the same video stream from the camera. Surveillance Station throughput is tested with an Axis network camera, using continuous recording with live view from Surveillance Station and motion detection by camera.
Others
RJ-45 1GbE LAN Port
1
Wake on LAN/WAN
System Fan
80 mm x 80 mm x 1 pcs
Fan Speed Mode
Power Recovery
Noise Level
19 dB(A)
Scheduled Power On/Off
Power Supply Unit / Adapter
60W
AC Input Power Voltage
100V to 240V AC
Power Frequency
50/60 Hz, Single Phase
Power Consumption*
13.64 W (Access) 
4.32 W (HDD Hibernation) 
British Thermal Unit
46.57 BTU/hr (Access) 
14.75 BTU/hr (HDD Hibernation) 
Environment Temperature
Operating Temperature
5°C to 45°C (40°F to 113°F)
Adapter Operating Temperature
0°C to 40°C (32°F to 104°F)
Storage Temperature
-20°C to 60°C (-5°F to 140°F)
Relative Humidity
5% to 95% RH
Other
Certification

FCC Class B
CE Class B
BSMI Class B

Warranty
3 Year Hardware Warranty
Notes

Support for Wake on WAN needs switch and routers which recognize Magic Packet.
Noise Level Testing Environment: Fully loaded with Seagate 1TB ST31000520AS hard drive(s) in idle; Two G.R.A.S. Type 40AE microphones, each set up at 1 meter away from the Synology NAS front and rear; Background noise: 16.49-17.51 dB(A); Temperature: 24.25-25.75˚C; Humidity: 58.2-61.8%

General Specifications:
File system

• Internal: ext4
External: ext4, ext3, FAT, NTFS, HFS+ (read only)

Supported RAID type

• Synology Hybrid RAID (SHR)
Basic
JBOD
RAID 0
RAID 1
RAID 5 (with Synology Expansion Unit DX5171)
RAID 6 (with Synology Expansion Unit DX5171)

Storage management

Maximum single volume size: 16TB
Maximum internal volume: 256
Maximum shared folder: 256

Surveillance Station:
Maximum IP camera
12 Channels (360FPS at 720p)
IP Camera support

Video codec: MJPEG, MPEG-4, MxPEG, H.264, and H.265 (MxPEG and H.265 do not support Local Display)
Audio codec: PCM, AAC, AMR, G.711, and G.726
Camera bit-rate fine-tuning via constant and variable bit-rate control
ONVIF 2.6, Profile S certified, Profile G for edge recording

Live View

Pan Tilt Zoom (PTZ) support with configurable PTZ speed
On-screen camera controls: camera zoom, focus, iris adjustment, auto pan, and auto object tracking
E-Map, Snapshot, and Snapshot Editor supported for instant editing after taking a snapshot
Video quality settings: bit-rate control, image quality, resolution, and FPS
Joystick support for easy navigation
Alert panel for a quick display of the most recently triggered events
Customizable layout and sequential camera view support

Recording

Supported recording modes: manual, continuous, motion detection, I/O alarm, action rule, and customized
Recording formats: MP4
The customized recording mode can be configured as a combination of conditional events, including motion detection, audio detection, tampering detection, and alarm input
Edge recording on the SD card of certain supported cameras
Configurable pre-recording and post-recording time

Playback

Customizable layouts for playback in Timeline
Playback controls include pause, stop, previous recording, next recording, fast forward, slow motion, frame by frame, and digital zoom in/out
Embedded watermark for evidence integrity
Image enhancements including brightness, contrast, saturation, and sharpness (web client only)

Management

Create and manage different user privileges
Rotate recorded videos by archived days or storage size
Event notification supported via SMS, E-mail, and mobile devices via DS cam
Recordings can be backed up to an external storage or remote server
Built-in NTP server
Supported tunnel: MPEG-4, H264 via RTSP over TCP, UDP, and HTTP

iOS/Android applications
DS file, DS finder, DS cam
Other packages
File Station, VPN Server, Storage Analyzer, Hyper Backup
Surveillance desktop client support
Windows 7 and 10, Mac OS X 10.11 onwards
Supported browsers
Internet Explorer 11 (excluding Microsoft Edge), Safari 10 onwards
Interface language
English, Deutsch, Français, Italiano, Español, Dansk, Norsk, Svensk, Nederlands, Русский, Polski, Magyar, Português do Brasil, Português Europeu, Türkçe, Český
Environment & Packaging:
Environment
RoHS Compliant
Packaging Content

NVR1218 main unit
AC power adapter
RJ-45 LAN cable
USB installation dongle
Quick Installation Guide
Accessory pack

Optional Accessories

Synology Expansion Unit DX517
Surveillance Device License Pack
*Model specifications are subject to change without notice. Please refer to www.synology.com for the latest information.
1 To set up NVR1218 without Internet connection, an HDMI monitor, USB mouse, and the bundled USB installation dongle are required. In this scenario, NVR1218 supports up to 4 IP cameras with the pre-installed camera licenses. Please refer to the Quick Installation Guide for details.
2 NVR1218 supports one Synology DX517, sold separately.
3 5-year warranty is available as an optional bundle with EW201, the 2-year Extended Warranty service add-on. Visit https://www.synology.com/products/Extended_Warranty for more information on availability.