Synology NVR216

Network Video Recorder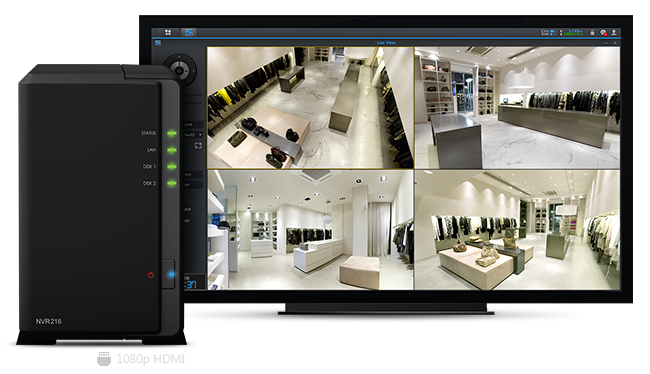 Sorry, this product is no longer available, Please, contact us for a replacement product!
Overview:
Network Video Recorder NVR216
Coming with a dedicated 1080p HDMI output, Synology Network Video Recorder NVR216 is an all-in-one, PC-less surveillance solution designed for offices and retail stores where space is precious. Capable of displaying and recording up to 9 IP cameras1, expandable to 7 bays of storage with DX513, and extremely energy-efficient, NVR216 offers an effortless surveillance experience.
---
1080p HDMI output for local display
Equipped with a dedicated HDMI output to display at 1080p resolution on a monitor, you can watch surveillance feeds and manage cameras and recordings without using a computer. It supports 720p at up to 9 channels/30FPS or even 5 megapixels with fewer channels/FPS.

---
Intuitive Surveillance Station to streamline deployment
Synology Surveillance Station provides a user friendly and centralized interface, letting you manage and monitor IP cameras in your shop or office. It delivers robust features, such as the Live View panel with on-screen operations for monitoring video streams from multiple IP cameras, Timeline panel letting you select a date and time and then play back recordings from multiple channels at once, and an instant alert system to keep you always notified. With NVR216, it's easy to monitor and protect your physical environment from practically anywhere, anytime - via local display, browsers, or mobile devices.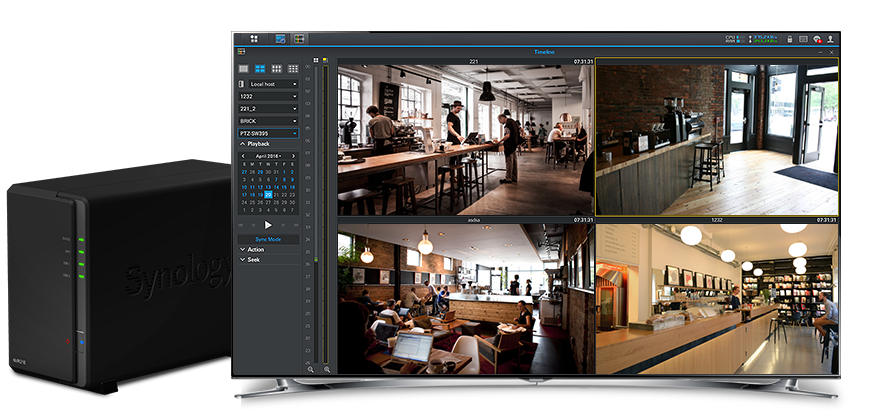 ---
On-the-go surveillance with DS cam mobile app
Available on iOS and Android devices, DS cam is the mobile extension of Surveillance Station — allowing you to access Live View, playback, adjust PTZ, and receive push notifications. You can browse through recorded events and use a timeline bar to move backward or fast forward. With DS cam, it's easy to monitor IP cameras located anywhere in the world. Never worry about missing any suspicious events!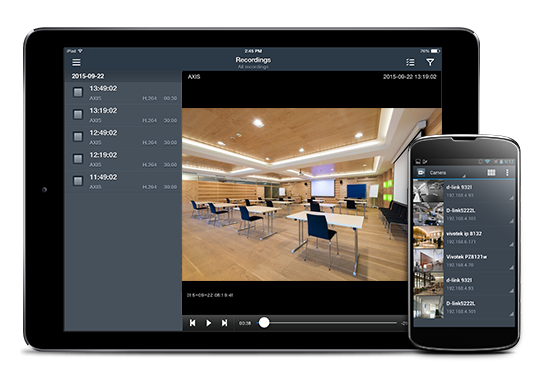 ---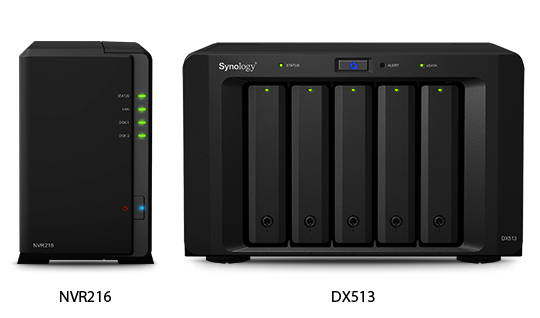 Expandable recording storage, up to 7 drives
NVR216 can be connected to Synology DX5132 expansion unit to expand the available space from 2 to 7 drives, allowing users to create a RAID 5 volume and find the ideal balance for their storage strategy. Once connected via eSATA with a specially designed locking cable, NVR216's raw capacity can be as high as 56TB.
---
Get the alert. Don't miss a thing
It's impossible to keep your eyes on a monitor all day. So how do you protect your store after closing time? Surveillance Station provides multiple notification settings to keep you alerted. For example, when a thief sneaks into your shop and is detected by a camera, you will receive snapshots of the recordings through email. In this case, even if your NVR216 has been tampered with, you will keep the evidence. If camera is disconnected or damaged, you can also receive a message via SMS and push notifications on DS cam for iOS and Android devices.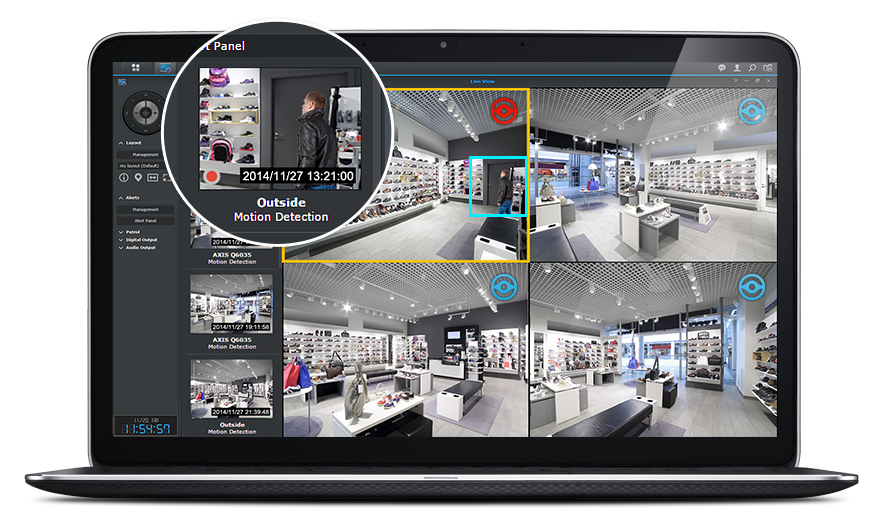 ---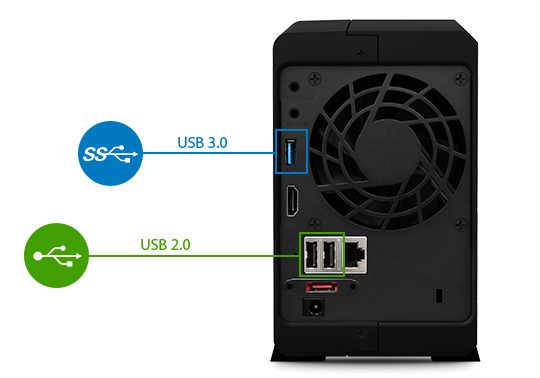 Easy navigation and two-way audio
NVR216 comes with three USB ports, including one USB 3.0, allowing you to connect to a mouse and keyboard to navigate between different camera streams with ease. Plug a microphone on the audio input and speak directly to individuals via cameras with two-way audio.
---
Extensive support for different types of cameras
Deploying a surveillance solution can be simpler if you have a good start. NVR216 runs Surveillance Station which supports ONVIF Standards and is compatible with more than 5000 cameras with a wide range of variety, from 90 or more renowned brands. You can select fisheye, PTZ, multi-lenses, or Wi-Fi cameras according to your preference and needs to safeguard your shops!
---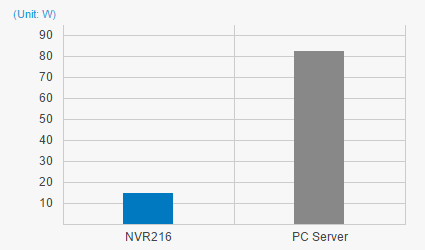 Eco-friendly Network Video Recorder
NVR216 is designed with energy efficiency and quietness in mind. When paired with 9 channels of camera streaming, continuously recording, and with HDMI output enabled, NVR216 only consumes 14.14W* -as little power as one energy saving light bulb! In addition, NVR216 is built with RoHS compliant parts.
* The power consumption figures vary on different environments.
---
Watch your premises simply via a monitor
Optimize your budget and retail space when deploying a surveillance solution. Connect NVR216 to a monitor via a 1080p HDMI output, and start to watch live view streams and manage cameras. Everything can be done without a PC. No matter what business you do, NVR216 helps you to save money and room that could be used for more things.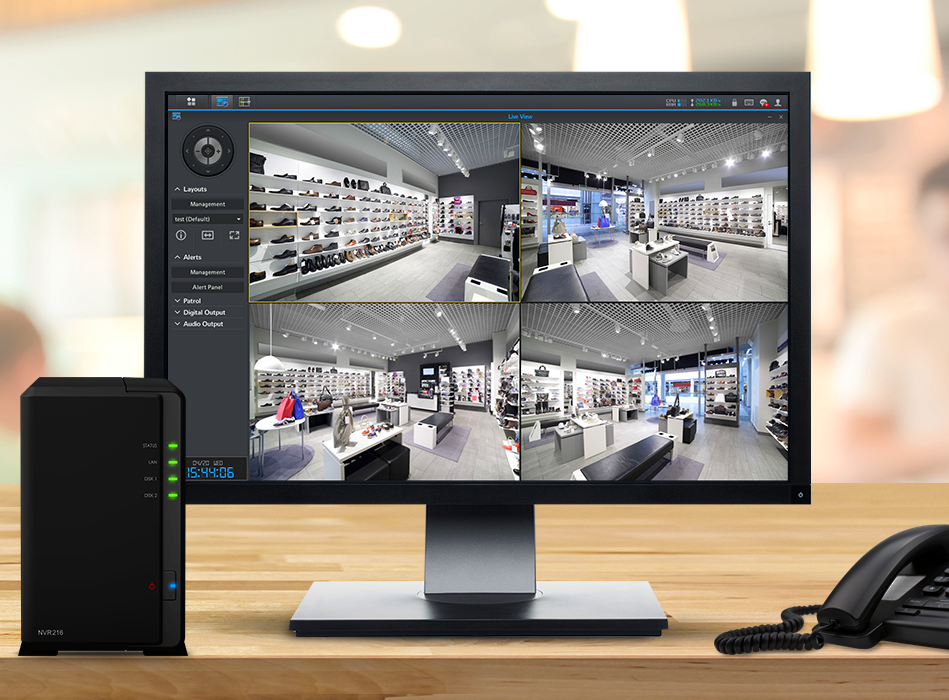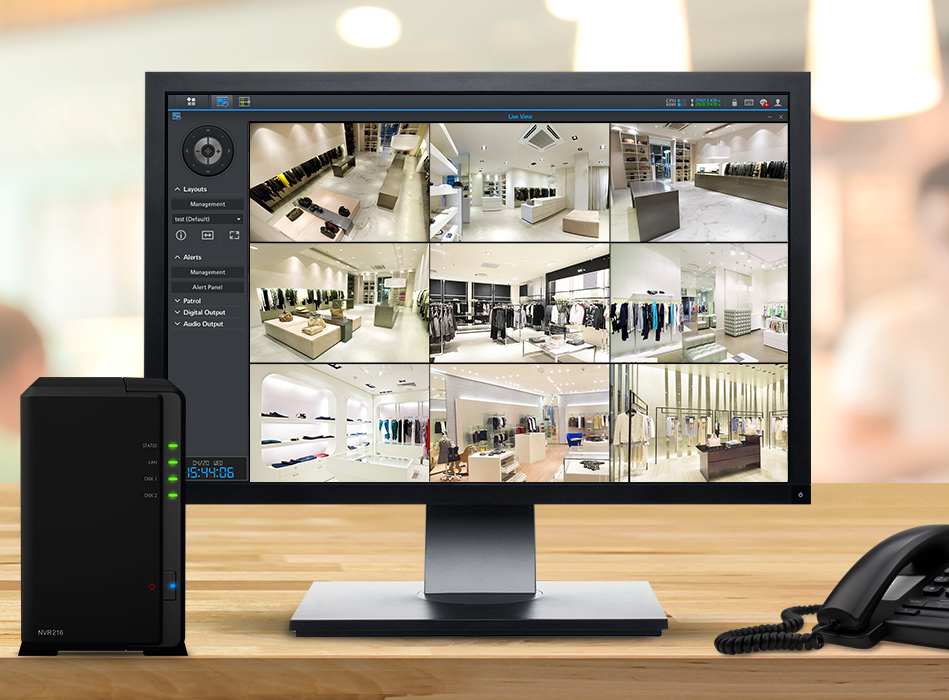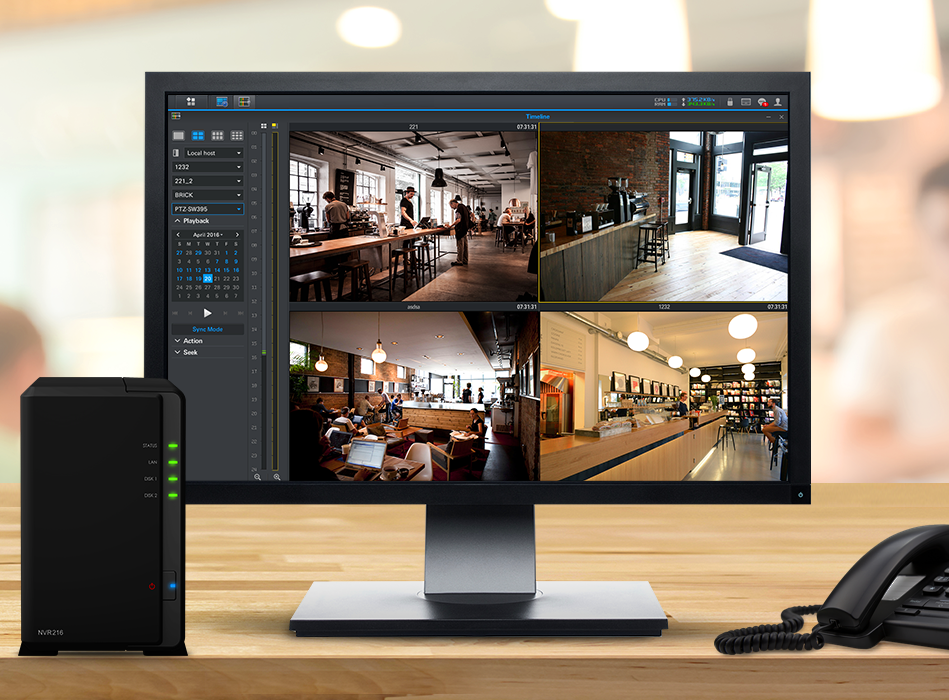 ---
Notes:
NVR216 comes with 4 camera licenses pre-installed.
NVR216 supports one DX513, sold separately.
Technical Specifications:
Hardware Specifications:
CPU
CPU Model
Embedded NVR SoC
CPU Architecture
32-bit
CPU Frequency
Dual Core 1.0 GHz
Memory
System Memory
1 GB DDR3
Storage
Drive Bay(s)
2
Maximum Drive Bays with Expansion Unit
7
Compatible Drive Type

3.5" SATA III / SATA II HDD
2.5" SATA III / SATA II HDD

Maximum Internal Raw Capacity
20 TB (10 TB HDD x 2) (Capacity may vary by RAID types)
Maximum Raw Capacity with Expansion Units
70 TB (10 TB HDD x 7) (Capacity may vary by RAID types)
Maximum Single Volume Size
16 TB
External Ports
USB 2.0 Port
2
USB 3.0 Port
1
eSATA Port
1
Video Outputs
Video Output
HDMI X 1
Supported Video Resolution
1080p 60Hz
Audio
Audio Input
3.5 mm Stereo Audio Jack x 1
Audio Output
3.5 mm Stereo Audio Jack x 1
Appearance
Size (Height X Width X Depth)
165 mm x 100 mm x 225.5 mm
Weight
0.9 kg
IP Camera Support
Maximum Channel Number
9 (including 4 Free License)
Total FPS (H.264)*
270 FPS @ 720p (1280x720), 9 Channels
90 FPS @ 1080p (1920×1080), 9 Channels
50 FPS @ 3M (2048x1536), 5 Channels
30 FPS @ 5M (2591x1944), 3 Channels
Total FPS (MJPEG)*
90 FPS @ 720p (1280x720), 9 Channels
40 FPS @ 1080p (1920×1080), 4 Channels
10 FPS @ 3M (2048x1536), 1 Channel
10 FPS @ 5M (2591x1944), 1 Channel
Video Compression Format

MJPEG
MPEG-4
H.264
MxPEG(output via local display is not supported)

Audio Codec

PCM
ADPCM
G711
G726
AMR
AAC

Notes
In our test environment, the live view is delivered via a single web client and on Local Display at the same time; the video live-viewing and recording share the same video stream from the camera. Surveillance Station throughput is tested with Axis network camera, using continuous recording with live view from Surveillance Station and motion detection by camera.
Others
RJ-45 1GbE LAN Port
1
Wake on LAN/WAN
System Fan
80 mm x 80 mm x 1 pcs
Fan Speed Mode
Power Recovery
Noise Level*
19 dB(A)
Scheduled Power On/Off
Power Supply Unit / Adapter
60W
AC Input Power Voltage
100V to 240V AC
Power Frequency
50/60 Hz, Single Phase
Power Consumption*
14.14 W (Access)
5.09 W (HDD Hibernation)
Environment Temperature
Operating Temperature
5°C to 45°C (40°F to 113°F)
Storage Temperature
-20°C to 60°C (-5°F to 140°F)
Relative Humidity
5% to 95% RH
Certification & Warranty
Certification

FCC Class B
CE Class B
BSMI Class B

Warranty
3 Years
Notes

Support for Wake on WAN needs switch and routers which recognize Magic Packet.
Noise Level Testing Environment: Fully loaded with Seagate 1TB ST31000520AS hard drive(s) in idle; Two G.R.A.S. Type 40AE microphones, each set up at 1 meter away from the Synology NAS front and rear; Background noise: 16.49-17.51 dB(A); Temperature: 24.25-25.75˚C; Humidity: 58.2-61.8%