RackStation RS18016xs+

Scalable and converged NAS for demanding businesses

Sorry, this product is no longer available, Please contact us for a replacement product!
Overview:
With superior performance and hardware specifications, RS18016xs+ provides a reliable, scalable, and easily managed network attached storage solution for enterprises seeking uninterrupted service and comprehensive business applications.
Superior performance
RS18016xs+ delivers superior performance at over 3,900 MB/s throughput and 348,000 IOPS under RAID 5 configuration1. RS18016xs+ is equipped with 8GB ECC RAM, expandable to 32GB if needed, so enterprises can guarantee data accuracy, as well as superior performance for the mission-critical tasks of the business.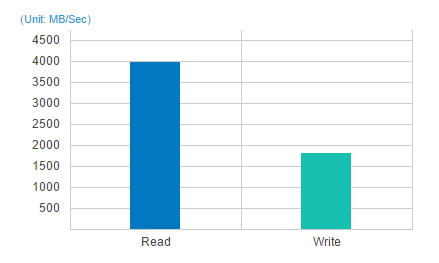 SSD cache technology
RS18016xs+ supports a combination of hard drives and read/write-optimized SSD cache, boosting throughput efficiently while minimizing cost per gigabyte. With full SSD cache reading and writing support, RS18016xs+ offers a significant reduction in I/O latency without crippling your budget. With only a small upfront investment, businesses can benefit from significant enhancement in server performance.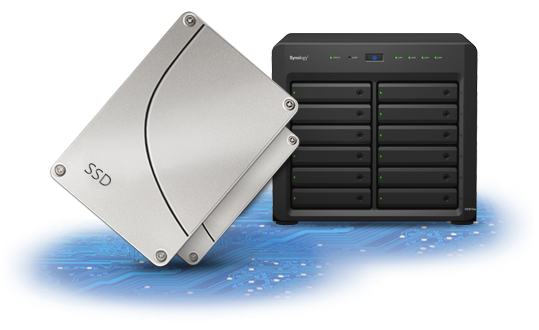 Dual 10GbE NIC and SAS & SATA III 6Gb/s support
In addition to the default 4 Gigabit ports, RS18016xs+ includes two PCIe 3.0 x8 slots, allowing installation of two dual-port 10GbE network interface cards for maximized bandwidth, bringing you the superior performance that data-intensive applications demand of your storage system. With native SAS & SATA III 6Gb/s interface support, RS18016xs+ ensures the optimum data process under heavy system loading.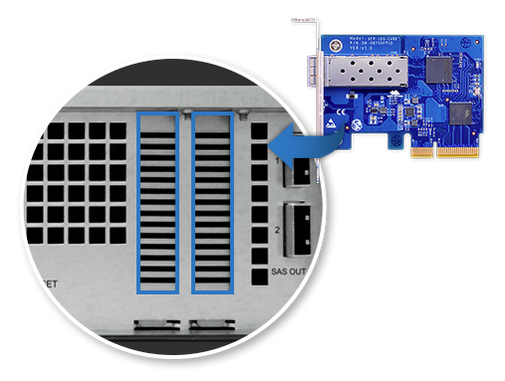 Reliable redundancy mechanisms
RS18016xs+ comes with comprehensive redundancy mechanisms to ensure business continuity. Four built-in LAN ports with failover provides the reliable redundancy in the event of unexpected network failure. The high reliability system design including passive cooling technologies prevents single point of failure. Other features such as redundant data paths, power supplies, system fans, and network ports with failover support maximize service uptime.

Scales up to more than 1PB of capacity
By supporting up to 14 Synology RX1216sas, RS18016xs+ provides the ability to seamlessly expand up to 180 drives and expand a single volume up to 200TB2 on the fly. RS18016xs+ can run with SATA, SAS, or SSD drives for flexible capacity and balanced performance to meet the needs of varying applications and processes.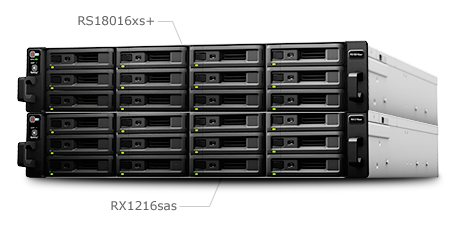 5 Year Warranty
Synology RS18016xsplus is backed with Synology's 5-year limited warranty. With technical support and hardware replacement service, the five-year warranty maximizes your enterprises' return on investment. For the entire duration, you will enjoy technical support via e-mail and telephone.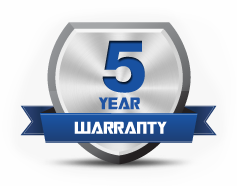 Award winning OS - DiskStation Manager
Synology DiskStation Manager (DSM) is a sleek, browser-based operating system running on every DiskStation and RackStation, which makes managing your Synology NAS a breeze. Featuring an intuitive user interface, DSM makes accessing and sharing your data smarter and simpler. Synology's Package Center lets you download and install useful add-on packages designed specifically for individual or business needs, meaning you can enjoy more entertainment in your life or better productivity at work.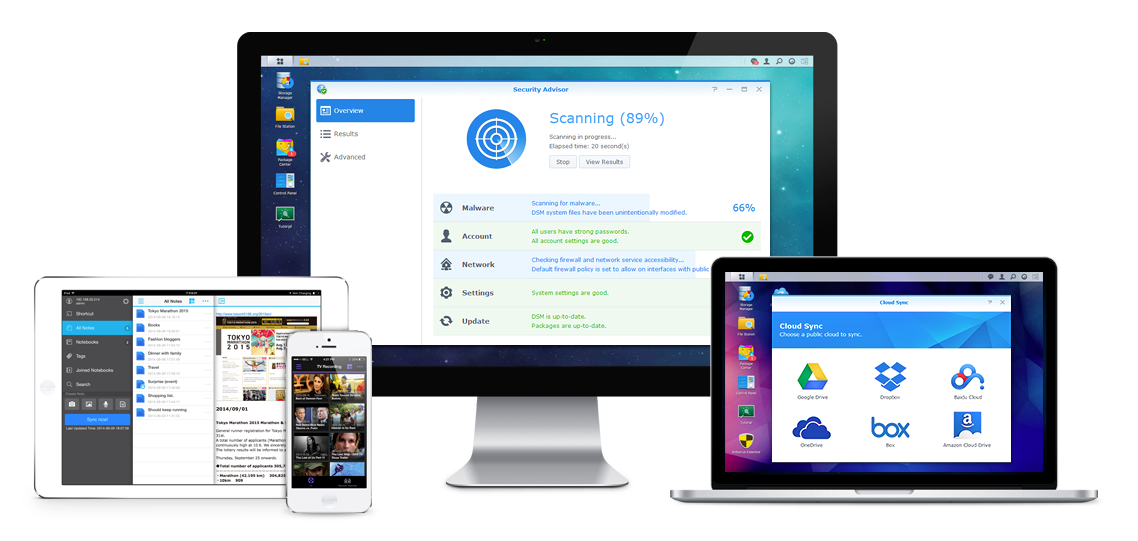 Fit into business environments easily
With the support of Windows AD, LDAP, and Domain Trust, RS18016xsplus enables seamless account integration. The User Home feature can automatically create a "home" folder for every user account to minimize the administrator's effort in repeatedly creating "home" folders for all accounts. Windows ACL support on RS18016xsplus allows IT administrators to fine tune access controls and set up privileges to files and folders on RS18016xsplus through the familiar Windows user interface. With compatibility for major protocols, RS18016xsplus can eliminate server configuration overhead and enhance IT administrators' efficiency.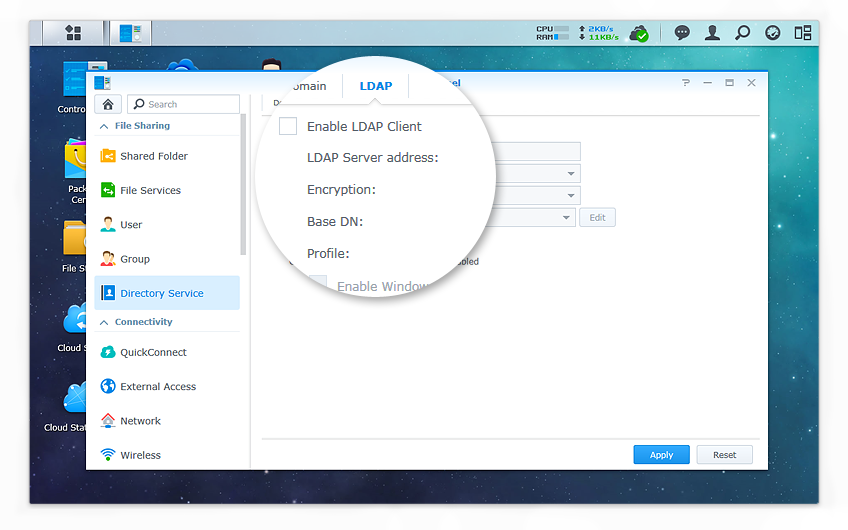 Seamless storage solution for virtualization environments
RS18016xsplus provides seamless storage solutions for virtualization environments, including VMware, Citrix, and Microsoft Hyper-V. With VMware vSphere® 5 & VAAI integration, RS18016xsplus helps offload specific storage operations and optimizes computation power in VMware environments. Windows ODX support speeds up data manipulation as the data transfer is offloaded. iSCSI also lets SMB users consolidate storage into data center storage arrays while providing hosts with the illusion of locally-attached disks.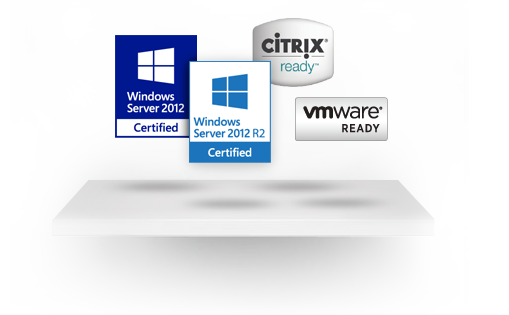 Unified storage system
RS18016xsplus enables businesses to cost-effectively manage multi-protocol data by integrating file-level (NAS) and block-level (SAN) storage into one unified storage system. Files can be shared across Windows®, Mac®, and Linux® platforms seamlessly with comprehensive network protocol support (CIFS/SMB, AFP, and NFS). RS18016xsplus provides a cost-effective iSCSI solution, allowing large scale businesses to consolidate storage into data center storage arrays. With thin provisioning available for file-level iSCSI LUN, you can maximize storage utilization by oversubscribing provisions and grow storage space as needed.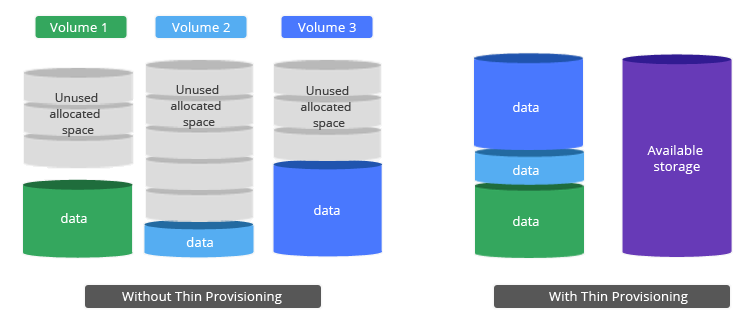 Protection by LUN backup, snapshot, and clone
RS18016xsplus enhances the ease of moving and copying data in a virtualized environment with the features - LUN Backup, LUN Snapshot, and LUN Clone. RS18016xsplus offers iSCSI LUN backup at storage level without extra charge. Synology LUN Clone and LUN Snapshot only take up 1/1000 of the original size which highly optimizes storage usage. In addition, Synology's LUN Snapshot lets you create up 256 snapshots per LUN using point-in-time technology without having any impact on system performance. With better support to servers under VMware vSphere or Windows environment, IT managers can expect guaranteed VM status and data consistency through application-consistent snapshots.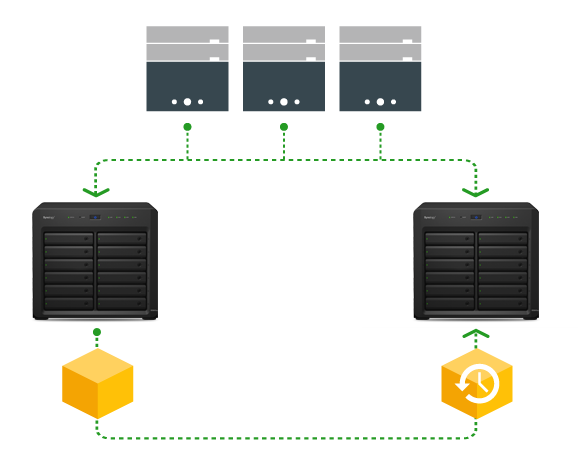 Synology CMS (Central Management System)
For enterprises with more than one Synology NAS server, CMS offers the flexibility and convenience for IT administrators to manage all of them from a single point of entry. Through a simple interface, you can obtain a clear overview on resource consumption and logs, helping you identify any issue right away. With group policies, CMS can do much more for your daily tasks. Once a NAS joins a group, it will automatically adopt its rules and behave as intended, without extra configuration.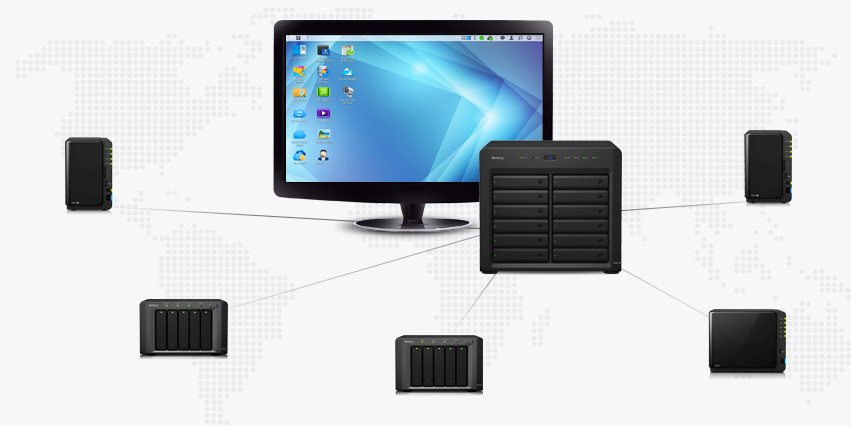 Increase business productivity with cloud solutions
With comprehensive cloud solutions, RS18016xsplus lets you create your own private cloud easily. Cloud Station is the perfect package to sync files across multiple devices. Files can be edited in offline mode and later synced to Cloud Station, which keeps up to 32 historical versions, allowing you to restore a file back to previous version or recover deleted files. With the mobile app DS cloud, any change made to a file is automatically synced to your smartphones and tablets. For distributed enterprises, Synology's 2-way sync between different DiskStations ensures employees at different locations share the same information in real-time. IT administrators can handpick individual folders that they want to sync to different devices, manually or automatically based on file format and size. Folders synced by Cloud Station can be encrypted on DSM — no one will be able to access its content without your private key.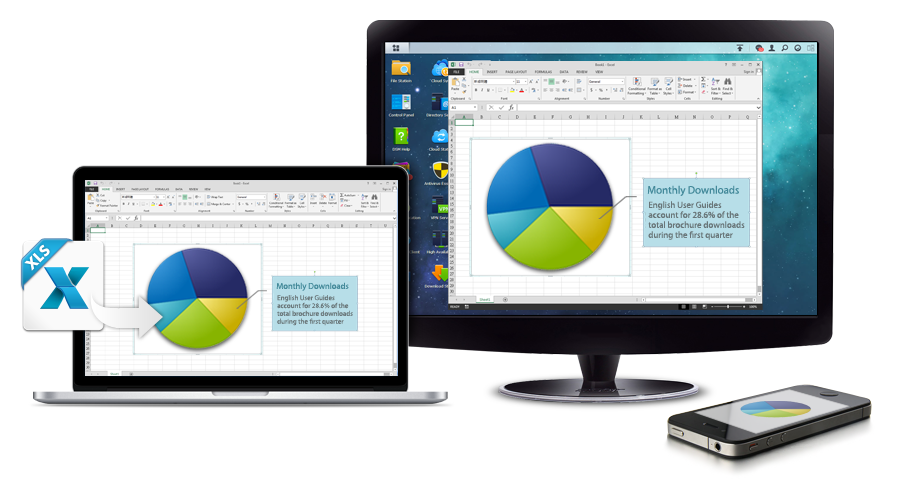 Ensuring business continuity & reliability
Uninterrupted availability is a critical goal for all businesses. RS18016xsplus offers Synology High Availability (SHA) technology which combines an active and passive server into one cluster, the former always mirrored to the latter. Shared Folder Sync can replicate data in real-time to another Synology NAS at a remote location, giving your business the Recovery Time Objective (RTO) for prompt disaster recovery. With multiple LAN ports, RS18016xsplus also ensures redundancy in the event of unexpected network failure.

Secure your data
RS18016xsplus offers advanced security measures to protect you from potential security holes. Security Advisor analyzes system settings, password strength, network preferences and removes any possible malware. AppArmor blocks malicious programs from accessing unauthorized system resources. You can also customize the trust level in Package Center to avoid installing packages from untrusted sources, safeguarding your NAS from unknown or tampered files. In addition, RS18016xsplus provides other security add-ons, such as AES encryption, 2-Step verification, IP block & allow list, Antivirus packages, firewall, and DoS attack prevention.
Technical Specifications:
Technical Specifications:
Hardware Specifications
CPU Model
Intel Xeon E3-1230 v2
CPU Frequency
Quad Core 3.3 GHz
System Memory
8 GB DDR3 ECC
Memory Module Pre-installed
4 GB X 2
Total Memory Slots
4
Memory Expandable up to
32 GB (8 GB X 4)
Maximum Drive Bays with Expansion Unit
180
Maximum Internal Raw Capacity
96 TB (8 TB HDD X 12) (Capacity may vary by RAID types)
USB 3.0 Port
2
Expansion Port
2
Size (Height X Width X Depth)
88 mm X 430 mm X 692 mm
Weight
14.5 kg
RJ-45 1GbE LAN Port
4 (with Link Aggregation / Failover support)
PCIe x8 Slot for 10GbE / 1GbE Network Card
2 (at x8 mode)
System Fan
80 mm X 80 mm X 4 pcs
Noise Level
45.1 dB(A)
Power Supply Unit / Adapter
2 X 500W
AC Input Power Voltage
100V to 240V AC
Power Consumption
106.54 W (Access)
71.78 W (HDD Hibernation)
Power Frequency
50/60 Hz, Single Phase
Environment Temperature
Operating Temperature
5°C to 35°C (40°F to 95°F)
Storage Temperature
-20°C to 60°C (-5°F to 140°F)
Relative Humidity
5% to 95% RH
Warranty
5 Years
Certification

FCC Class A
CE Class A
BSMI Class A
Notes:

Power consumption is measured when fully loaded with Western Digital 1TB WD10EFRX hard drive(s).
Noise Level Testing Environment: Fully loaded with Seagate 500GB ST9500325AS hard drive(s) in idle; Two G.R.A.S. Type 40AE microphones, each set up at 1 meter away from the Synology NAS front and rear; Background noise: 17.2 dB(A); Temperature: 23.6˚C; Humidity: 58.2%
When upgrading RAM to more than 24GB, the original 4GB RAM modules must be removed.
Performance:
XS/XS+ series


4 X 10GbE / 2 X 10GbE Environment - Sequential Throughput (64KB)
| Model | RC18015xs+ | RS18016xs+ | RS3614xs+ | RS3614xs/RS3614RPxs | DS3615xs | DS2015xs |
| --- | --- | --- | --- | --- | --- | --- |
| Read | 2313.72 | 3944.56 | 3590.33 | 2843.16 | 2202.21 | 1792.07 |
| Write | 1645.56 | 1778.25 | 2016.95 | 1525.49 | 1534.69 | 745.07 |

4 X 10GbE / 2 X 10GbE Environment - Sequential IOPS (4KB)
| Model | RC18015xs+ | RS18016xs+ | RS3614xs+ | RS3614xs/RS3614RPxs | DS3615xs | DS2015xs |
| --- | --- | --- | --- | --- | --- | --- |
| Read | 338630.56 | 348265.28 | 366052.25 | 250242.11 | 265103.62 | 65259.46 |
| Write | 197711.20 | 198225.48 | 224120.00 | 149302.80 | 153637.08 | 38197.25 |

4 X 10GbE / 2 X 10GbE Environment - Random IOPS (4KB)
| Model | RC18015xs+ | RS18016xs+ | RS3614xs+ | RS3614xs/RS3614RPxs | DS3615xs | DS2015xs |
| --- | --- | --- | --- | --- | --- | --- |
| Read | 40919.85 | 27867.65 | 31860.21 | 19616.87 | 19938.16 | 10162.59 |
| Write | 17288.74 | 15104.59 | 18417.90 | 12094.71 | 12372.17 | 5791.01 |

4 X 10GbE / 2 X 10GbE Environment - AES 256-bit Sequential Throughput (64KB)
| Model | RC18015xs+ | RS18016xs+ | RS3614xs+ | RS3614xs/RS3614RPxs | DS3615xs | DS2015xs |
| --- | --- | --- | --- | --- | --- | --- |
| Read | 2269.33 | 3034.08 | 3239.89 | 2238.64 | 2017.74 | 376.06 |
| Write | 958.68 | 952.12 | 1130.64 | 696.68 | 697.64 | 162.99 |

4 X 10GbE / 2 X 10GbE Environment - iSCSI Sequential Throughput (32KB)
| Model | RC18015xs+ | RS18016xs+ | RS3614xs+ | RS3614xs/RS3614RPxs | DS3615xs | DS2015xs |
| --- | --- | --- | --- | --- | --- | --- |
| Read | 2219.11 | 3065.53 | 3040.66 | 1769.37 | 1728.95 | 712.40 |
| Write | 1422.67 | 1532.46 | 1502.84 | 1155.02 | 1140.87 | 425.48 |

4 X 10GbE / 2 X 10GbE Environment - iSCSI Sequential IOPS (4KB)
| Model | RC18015xs+ | RS18016xs+ | RS3614xs+ | RS3614xs/RS3614RPxs | DS3615xs | DS2015xs |
| --- | --- | --- | --- | --- | --- | --- |
| Read | 305332.53 | 308923.47 | 295083.88 | 150216.78 | 165435.94 | 35971.40 |
| Write | 225329.78 | 243041.31 | 273640.62 | 167247.95 | 173405.61 | 40102.97 |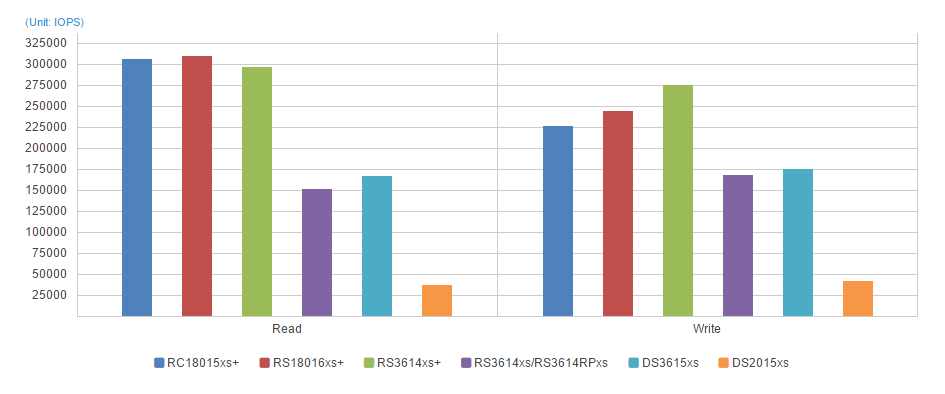 4 X 10GbE / 2 X 10GbE Environment - iSCSI Random IOPS (4KB)
| Model | RC18015xs+ | RS18016xs+ | RS3614xs+ | RS3614xs/RS3614RPxs | DS3615xs | DS2015xs |
| --- | --- | --- | --- | --- | --- | --- |
| Read | 89292.61 | 76887.00 | 57485.06 | 64367.32 | 69361.46 | 19462.58 |
| Write | 22736.99 | 16864.89 | 18080.75 | 12410.54 | 12758.83 | 6455.10 |

Gigabit Link Aggregation Environment - Sequential Throughput (64KB)
| Model | RC18015xs+ | RS18016xs+ | RS3614xs+ | RS3614xs/RS3614RPxs | DS3615xs | DS2015xs |
| --- | --- | --- | --- | --- | --- | --- |
| Read | 451.85 | 451.86 | 451.83 | 451.60 | 451.57 | 226.00 |
| Write | 444.95 | 442.73 | 450.15 | 447.55 | 448.12 | 225.43 |

Gigabit Link Aggregation Environment - Sequential IOPS (4KB)
| Model | RC18015xs+ | RS18016xs+ | RS3614xs+ | RS3614xs/RS3614RPxs | DS3615xs | DS2015xs |
| --- | --- | --- | --- | --- | --- | --- |
| Read | 113136.07 | 113076.58 | 113076.63 | 113023.71 | 113052.90 | 51356.19 |
| Write | 109909.01 | 109244.38 | 111115.98 | 109496.50 | 109565.95 | 37738.64 |

Gigabit Link Aggregation Environment - Windows Upload/Download (1MB x 5000 files)
| Model | RC18015xs+ | RS18016xs+ | RS3614xs+ | RS3614xs/RS3614RPxs | DS3615xs | DS2015xs |
| --- | --- | --- | --- | --- | --- | --- |
| Windows Download | 382.55 | 252.84 | 211.97 | 243.29 | 251.56 | 187.04 |
| Windows Upload | 303.83 | 301.33 | 296.31 | 305.56 | 298.60 | 141.79 |

Gigabit Link Aggregation Environment - AES 256-bit Sequential Throughput (64KB)
| Model | RC18015xs+ | RS18016xs+ | RS3614xs+ | RS3614xs/RS3614RPxs | DS3615xs | DS2015xs |
| --- | --- | --- | --- | --- | --- | --- |
| Read | 451.48 | 451.85 | 451.86 | 451.66 | 451.59 | 223.26 |
| Write | 450.90 | 450.51 | 444.26 | 420.03 | 431.10 | 153.34 |

Gigabit Link Aggregation Environment - AES 256-bit File Upload/Download in Windows (1MB x 5000 files)
| Model | RC18015xs+ | RS18016xs+ | RS3614xs+ | RS3614xs/RS3614RPxs | DS3615xs | DS2015xs |
| --- | --- | --- | --- | --- | --- | --- |
| Windows Download | 331.86 | 255.49 | 109.94 | 117.65 | 120.16 | 101.04 |
| Windows Upload | 194.95 | 189.07 | 232.04 | 220.43 | 221.52 | 63.37 |