Synology Router RT2600ac

High-speed wireless router designed for homes and offices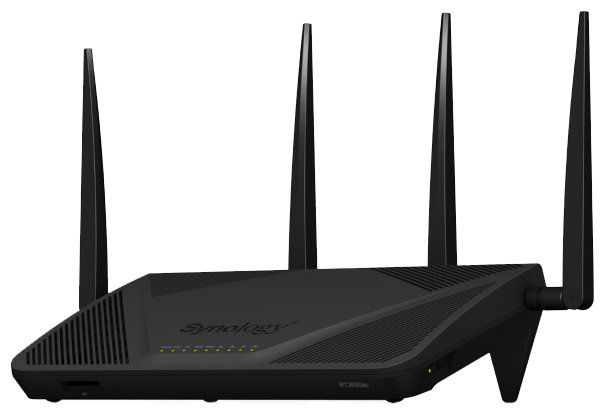 Sorry, this product is no longer available, please contact us for a replacement.
Overview:
Redefine your network with Synology Router RT2600ac's powerful wireless capabilities and rock-solid, security-focused Synology Router Manager core. Designed for both homes and offices, MU-MIMO support ensures more devices can connect at higher speeds while SRM's Parental Control and Traffic Control allows simple management and fine-tuning of network traffic.
Blazing-fast Wi-Fi with up to 2.53Gbps combined wireless bandwidth to supercharge your network. RT2600ac is a powerful wireless router for homes and small offices seeking to work and play smarter, featuring comprehensive VPN solutions, enhanced security, and flexible media and file sharing capabilities.
1.7GHz Dual-core processor for fast, uncompromising performance
Powerful 4x4 802.11ac wave 2 radios with MU-MIMO and up to 2.53Gbps breakthrough wireless speeds
Smart Connect for seamless transition between maximum speed or range
Hardware accelerated Layer 7 traffic control and monitoring
Dual WAN capable for load balancing and failover support
Create advanced VPNs with WebVPN, Synology SSL VPN, and SSTP VPN capability
Powerful add-on packages to enhance security, file sharing, and additional functionality
Revolutionary interface, powered by Synology Router Manager (SRM)
Reimagine your network
Coupling performance, security, and flexibility, Synology Router RT2600ac is powered by a high speed, dual-core 1.7GHz processor designed to handle demanding, high bandwidth processing environments. Its 802.11ac wave 2 Wi-Fi radios features MU-MIMO support together with 4x4 quad stream capability allowing up to 2.53 Gbps (800 + 1733Mbps) wireless bandwidth. The RT2600ac can automatically maximize bandwidth usage and wireless speeds for more of your devices while at the same time retaining optimal range with Smart Connect. The hardware accelerated Layer 7 traffic control design ensures that even with multiple devices and traffic control rules, the RT2600ac will still have plenty of processing power to keep up with your networking demands.
Revolutionary software experience
Synology Router Manager (SRM) powers Synology's networking lineup. SRM allows for friendly management of your device while not compromising on features and customization. Based on Synology's award winning DiskStation Manager (DSM) in proven DiskStation Network Attached Storage (NAS) devices, SRM is built with security and stability in mind.
SRM features Synology's friendly, easy to use interface. The familiar, desktop-like interface makes it easy for even beginners to manage their entire network. DSM users will feel right at home while advanced power users will find capable network tools at their disposal to quickly and efficiently setup, customize, or troubleshoot an issue.
Secure and convenient access options are built into SRM. Easily manage your network with multiple access methods locally, with "router.synology.com" and optionally, remotely with QuickConnect, DDNS, or with DS router on mobile devices. Optional two-step authentication ensures that no one but you can make changes to your network.
Advanced VPN capabilities
With the optional VPN Plus Server add-on package, you can transform your Synology Router RT2600ac into a powerful yet intuitive comprehensive VPN solution. WebVPN and Synology SSL VPN allow for minimal client setup and configuration to access your network. VPN Plus Server also supports hosting standard SSTP, PPTP, OpenVPN, and L2TP over IPSec VPN options.
WebVPN allows client-free VPN for secured, remote access to internal websites using only a browser without any software installation or configuration required on clients. Synology SSL VPN is available with dedicated clients on both desktop and mobile platforms for improved performance and integration with Layer 7 traffic control.
Solid network foundation
Synology Router RT2600ac features advanced security features that help make your network more resilient against network intrusions. Featuring a simple to use Security Advisor and comprehensive website filtering capabilities, SRM is also constantly tested against industry leading Qualys Vulnerability Management suite to ensure compliance against known security threats. In addition to SRM's solid networking infrastructure and built in IPv4 and IPv6 firewalls, with the Intrusion Prevention package, RT2600ac will help prevent malicious attackers from being able to infiltrate and compromise your devices.
Featuring constantly updated intrusion detection system (IDS) and intrusion prevention system (IPS), Intrusion Prevention add-on package is a powerful additional layer of security that you can easily and effortlessly configure on your Synology device free of charge.
SRM's built-in Security Advisor will analyze and remind you of security issues in your configuration, allowing you a clear and easy way to optimize your settings without requiring thorough networking knowledge.
RT2600ac is also capable of Dual WAN load balancing plus failover support. Coupled with a different ISP, you can ensure reliable internet connectivity should one provider or cable fail.
Fine-grained network management
Easily manage clients connected to the RT2600ac by setting up internet access schedules and allowed/restricted websites for each device. The powerful, constantly updated database of websites allow for smart, customized filters to be applied per-device to prevent access or protection from, up to 20 different types of websites.
SRM features deep packet inspection (DPI) capability, allowing for application based monitoring on your network. One step beyond traditional QoS methods, SRM allows you to define which applications you want prioritized in addition to fixed and/or dynamic guaranteed bandwidth allocation per device. This powerful per-device flexibility can continuously be fine tuned on thanks to detailed usage reports that SRM can generate for you. Easily see what are the most common websites viewed, applications used, in addition to per-device usage statistics.
The RT2600ac's new Layer 7 hardware acceleration engine allows minimal performance and throughput drop even with advanced traffic control and monitoring enabled.
Comprehensive file sharing, management, and connectivity
Synology's expertise in creating consumer and enterprise-grade network attached storages (NAS) has profoundly influenced Synology Router Manager (SRM). Comprehensive sharing capabilities together with add-on package Cloud Station Server allow you to create your personal cloud storage with ease. Easily backup, share, and sync your files with the RT2600ac from multiple devices. Coupled with a capable Media Server package, your Synology router can serve as a media server to any DLNA certified smart television set, networked set-top-box, or the latest gaming consoles.
Featuring two USB ports, Synology Router RT2600ac also features a convenient, frontaccess SD card slot. Easily transfer files with both USB devices and the SD card slot in between themselves or with another client on the network. Synology routers also support Time Machine backup with an attached storage device.
Evolving Software and Platform
SRM and its ecosystem is constantly growing. Synology is dedicated to providing not just security updates but new features with core software improvements, additional add-on packages, and new supporting mobile applications. Stay up to date with our improvements on our website and via our newsletters!
Features:
Engineered for performance
Supporting MU-MIMO and the latest 802.11ac wave 2 standard, RT2600ac enables up to 800Mbps and 1733Mbps on the 2.4GHz and 5GHz radios respectively. Reach 2Gbps combined bandwidth with Dual WAN, and easily optimize your network with minimal performance loss even with Layer 7 traffic control.


VPN Plus
Keep your network's internal services and resources hardened against direct access while still allowing work from home or a remote location with VPNs. Easily deploy a wide range of VPN solutions and manage access permissions and bandwidth allowances.
Synology SSL VPN
Secure and fast, Synology's SSL VPN1 solution requires minimal setup on Windows, Mac, Ubuntu, iOS, and Android, making rapid deployment as easy as logging into a web portal.
WebVPN
Clientless WebVPN1 for centralized access to company intranets and web backends. Easily login from anywhere with only a browser for a secured connection.
Comprehensive protocols
Additionally supports SSTP1, OpenVPN, L2TP/IPSec, and PPTP VPN server options to satisfy your specific network requirements.
Powerful connectivity management
SRM delivers easy-to-use connectivity management tools to ensure your network always runs smoothly.
Smart WAN
SRM's Smart WAN capability on the RT2600ac supports 2Gbps Dual WAN combined bandwidth when multiple connections are established2. If one of the connections goes offline due to ISP or cable problems, traffic can failover to the other interface. Load balancing can be used in addition to failover, spreading traffic across both interfaces. Policy route allows traffic routing based on destination or source address.
Failover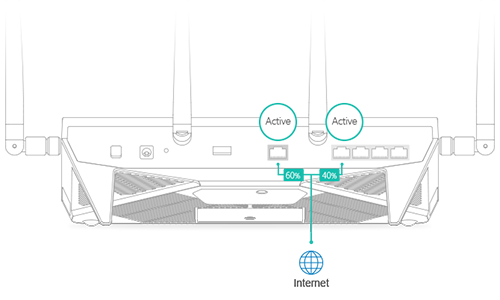 Load balancing

Smart Connect
Not sure which devices should connect to the 2.4 GHz and 5GHz bands? With Synology's Smart Connect, devices are connected to the most appropriate band automatically, letting users experience simplified management without worrying about range or speed issues.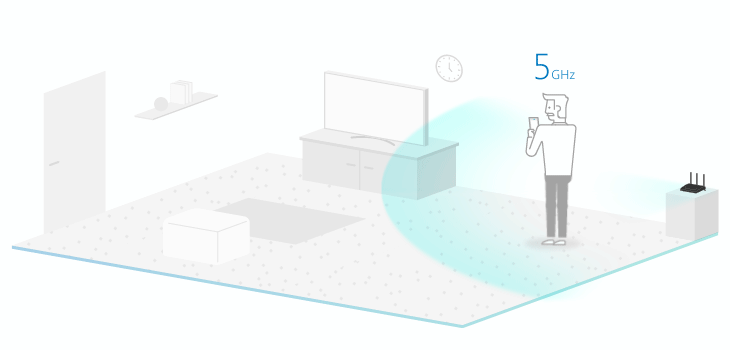 Content filtering & monitoring
Application Layer QoS and Traffic Report
Application Layer or Layer 7, Quality of Service control shows the bandwidth consumed by individual applications and devices. Restrict the amount of bandwidth for specific applications, without affecting the rest, and generate traffic usage reports sorted by application and device.
Intelligent Web Filtering and Parental Controls
Instead of traditional URL-based web filtering, SRM does so during DNS lookup. Easily block out thousands of sites with built-in Google SafeSearch integration and a constantly updated database of customizable website categories.
Stay protected
In addition to standard security tools like denial-of-service protection and firewall management, SRM delivers innovative tools and features to help protect your network from outside attacks.
Intrusion Prevention
Intrusion Detection System analyzes network traffic and logs all intrusion attempts, allowing for fine-tuning of your firewall rules with minimal performance impact. Intrusion Prevention System additionally blocks suspicious traffic based on customizable rules.
Security Advisor & QualysGuard
Monitor and check settings and system files for security issues and automatically apply recommended fixes. Synology utilizes the industry leading Qualysguard platform to detect and enhance security across all Synology operating systems.
Continuously updated
New vulnerabilities and exploits are discovered in the wild every day. Synology is committed to providing fast updates to keep device security up to date for maximum protection. SRM can automatically perform upgrades on a schedule for maximum convenience.
Manage, sync, back up, and more
With an external storage device or SD card, RT2600ac can become a private cloud server with Synology's Cloud Station Suite3, allowing easy access to files, photos, and even backups for multiple devices. Mac users also enjoy Time Machine compatibility. Connect devices with USB 3.0 to take advantage of RT2600ac's powerful connectivity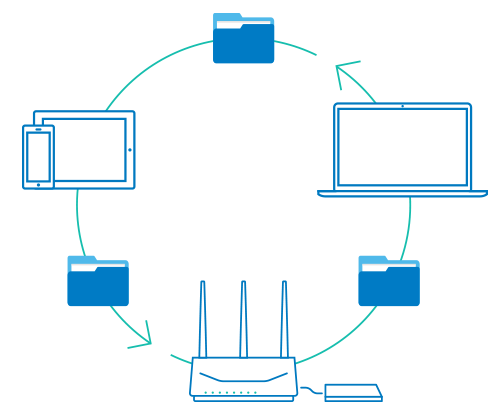 Add-on Packages
SRM's modular design allows for a tailored and optimized experience to suit your needs.

Wi-Fi and DLNA Certified
Wave 2 ac and DLNA certified for maximum compatibility with your other devices.
Synology QuickConnect & DDNS
Simplified access management and connectivity.
Technical Specifications: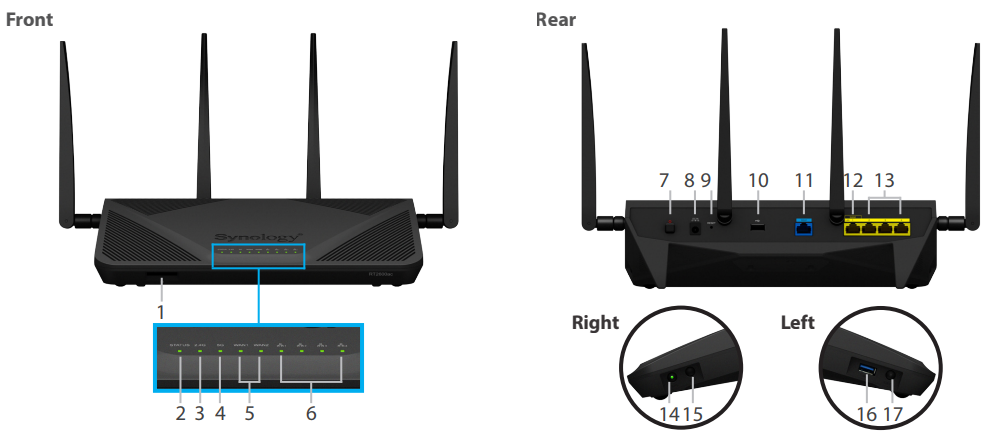 SD card slot
Status indicator
2.4 GHz indicator
5 GHz indicator
WAN indicator
LAN indicator
Power button
Power port
Reset button
USB 2.0 port
WAN port
WAN/LAN port
LAN port
WPS button
Wi-Fi button
USB 3.0 port
Eject button
Technical Specifications:
Hardware Specifications
CPU
Dual core 1.7 GHz
L4/L7 Hardware Acceleration Engine
Memory
512 MB DDR3
Antenna type
4x4 MIMO Omni-directional high-gain dipole (2.4GHz / 5GHz)
LAN port

Gigabit (RJ-45) x 4
Gigabit (RJ-45) x 3 (Dual WAN)

WAN port

Gigabit (RJ-45) x 1
Gigabit (RJ-45) x 2 (Dual WAN)

External Ports

USB 3.0 x 1
USB 2.0 x 1
SD card reader x 1 (SDXC, SDHC)

Button and switch
WPS, USB/SD eject, Power, Reset, Wi-Fi On/Off
Appearance
Size (Height x Width x Depth)
77 mm x 280 mm x 169 mm (without antenna)
Weight
0.7 kg
Others
AC Input Power Voltage
100V to 240V AC
Power Frequency
50/60 Hz, Single Phase
Power Consumption
10.80 W (Access) 
7.94 W (Idle)
Temperature
Operating Temperature
5°C to 40°C (40°F to 104°F)
Storage Temperature
-20°C to 60°C (-5°F to 140°F)
Relative Humidity
5% to 95% RH
Certification

FCC Class B
CE Class B
BSMI Class B
VCCI Class B

Wi-Fi Certification
Warranty
2 Years
Wireless
IEEE 802.11ac

IEEE 802.11a/b/g/n/ac
Simultaneous dual-band Wi-Fi
2.4GHz: 800Mbps
5GHz: 1.73Gbps

IEEE 802.11ac wave 2

MU-MIMO
2x2 160 MHz (contiguous 80 + 80 MHz)
2x2 80 + 80 MHz (discontiguous)

Beamforming
DFS
WDS
Schedulable Wi-Fi
WPS 2.0 (Wi-Fi Protected Setup 2.0)
3G/4G mobile dongle support
Maximum MAC filters
64
Maximum connected devices
100
Note

In real-world testing, at least 120 devices can be concurrently connected to RT2600ac.
Not all of the connected 120 devices are transmitting data, some remained idle.
RT2600ac supports at least 100 connected devices concurrently transmitting data.
The numbers above are for reference only. Actual performance and behavior may depend on network environment and settings.

Network
Internet connection
Dynamic IP, Static IP, PPPoE
Port forwarding
Setup via manual management or UPnP
Maximum port forwarding rules
64
Maximum UPnP rules
64
Port triggering
Maximum port triggering rules
32
Minimum port triggering timeout
30s
Maximum port triggering timeout
3600s
DMZ
IPv6
IPv6 DHCP server/client, IPv6 tunneling
DHCP
Server/client mode, client list, MAC address reservation
Maximum DHCP reservations
500
LAN/WLAN IGMP snooping
VPN

VPN server (WebVPN, SSL VPN, SSTP, OpenVPN, L2TP/IPSec, PPTP, Site-to-site)
VPN client (PPTP, OpenVPN, L2TP/IPSec)
VPN pass-through (PPTP, IPSec, L2TP)

Policy route, Static route, Network Address Translation (NAT), PPPoE relay
Maximum IPv4 static routes
100
Maximum IPv6 static routes
100
Diagnosis tools
Management
Operating system
Synology Router Manager (SRM)
Free OS upgrade
Anywhere access to SRM
Synology QuickConnect & Dynamic DNS (DDNS)
Operation modes
Wireless Router, Wireless AP, Wireless Client
Wake on LAN (WOL)
WOL over QuickConnect
Maximum connected devices
100
Notification
Email, SMS, push service (via DS router)
SSH
SNMP
Configuration backup & restore
User account management
Printer server
Maximum printer: 1
Parental Control
Maximum devices
50
Customized Internet schedule
IPv4 DNS-based web-filter with built-in database
IPv4 Customized allow/block list
Maximum blocked URLs
100
Maximum allowed URLs
100
Default policy
Traffic Control
Internet ban, device speed & priority
Application layer (L7) quality of service (QoS)
Maximum device rules
64
Maximum application rules per device
32
Traffic Monitor
Live view
Historical statistics
Daily, Weekly, Monthly, Annual
Website history
Traffic Report
Schedulable
Traffic analysis period
Daily, Weekly, Monthly, Annual
Export formats
.CSV, .HTML
Security
Wi-Fi encryption
WEP, WPA/WPA2-Personal, WPA/WPA2-Enterprise
Wi-Fi MAC address filter
Firewall/SPI Firewall
DoS Protection
Auto block
SSL certificate
Security Advisor
Mobile Apps
DS cloud (Android/iOS)
DS get (Android/iOS)
DS file (Android/iOS)
DS router (Android/iOS)

Network traffic overview
Wi-Fi management
Parental Control
Traffic Control
Network security (firewall, port forwarding, Internet ban)
Wake on LAN

USB/SD Card File Service
File System
EXT4, FAT, NTFS, HFS+
Access support

File explorer (via LAN only)
Web browsers: Chrome, Firefox, Internet Explorer: 8 onwards, Safari 7 onwards, Safari (iOS 7 onwards on iPad), Chrome (Android 4.0 onwards on tablets)
Mobile device: DS file

Protocol support
Windows file service (CIFS), Mac file service (AFP), FTP/FTPS, WebDAV
Apple Time Machine
Shared Folder privileges
Storage hibernation
Package Center
Cloud Station Server
Sync data from multiple platforms, centralizing it on the router while easily keeping historical versions of important files.
Maximum Concurrent File Transfers
128
Note
Cloud Station ShareSync is not supported
DNS Server
Helps users find and translate domain names into IP addresses
Download Station
Supported download protocols: BT/HTTP/FTP/NZB/eMule
Maximum concurrent download tasks
50
Maximum concurrent BT download tasks
20
Media Server (DLNA/UPnP)

Media indexing
DLNA certified
PS3/PS4/Xbox 360/Xbox One supported

RADIUS Server
Provides centralized authentication, authorization, and accounting for wireless network access
VPN Plus Server
Easily create and manage secure VPN access through a web browser or client. Supports various VPN services — WebVPN, SSL VPN, SSTP, OpenVPN, L2TP over IPSec, and PPTP.
Maximum Connections
20
Site-to-Site VPN
Site-to-Site Tunnels
10
Intrusion Prevention (Beta)
Greatly enhance the security of your router with IDS and IPS systems, designed to safeguard your network against internet threats.
Intrusion Detection System (IDS)
Intrusion Prevention System (IPS)
Environment & Packaging
Environment
RoHS Compliant
Packaging Content

Main Unit
Antenna x 4
AC Power Adapter
RJ-45 LAN Cable
Quick Installation Guide
*Model specifications are subject to change without notice. Please refer to www.synology.com for the latest information.
Pricing and product availability subject to change without notice.