Expansion Unit RX2417sas

Effortless capacity expansion for Synology FlashStation and RackStation solutions on-the-fly

Sorry, this product is no longer available, please contact us for a replacement.
Overview:
Synology RX2417sas delivers an effortless solution for volume expansion and data backup for Synology FlashStation/RackStation by adding 24 SAS/SATA drive bays on the fly. Synology RX2417sas is backed with Synology's 5-year limited warranty.
Plug-n-use design for seamless storage space upgrade
Online volume expansion on the fly
Redundant power supplies ensure service uptime
Fast rack fixing lock support with Synology RKS1317
Backed with Synology's 5-year limited warranty & Synology Replacement Service (SRS)
Managed by Synology DiskStation Manager (DSM)
Storage Capacity Expansion
When the storage capacity on Synology FlashStation/RackStation reaches its limit, Synology Expansion Unit RX2417sas provides an easy solution for capacity expansion by adding 24 2.5" SAS/SATA drives to the system. Synology RX2417sas can also be used as a dedicated local backup destination of Synology FlashStation/ RackStation for comprehensive data protection.
Reliable Plug-n-Use Design
Simply connect Synology RX2417sas to the corresponding Synology FlashStation/ RackStation and it is good to go. Drives in the connected Synology RX2417sas operate as though they were internal to the connected Synology NAS and can be managed directly by Synology DiskStation Manager (DSM), with no additional software installation required. Redundant power supply units of RX2417sas ensure continuous service uptime.
Green and Easy to Manage
Award-winning Synology DSM provides an intuitive user interface for easy system management. Drive hibernation can be configured in DSM to take effect automatically when the system has been inactive for a period of time. This not only saves energy but also extends the lifespan of the installed drives.
Features: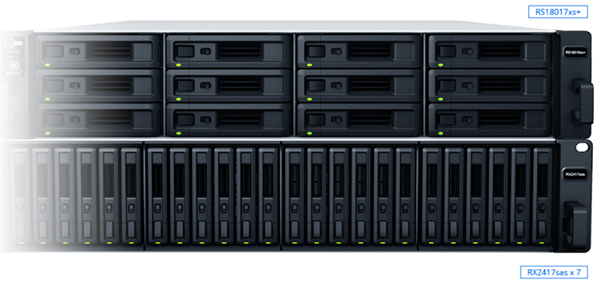 24-bay 2.5" SAS/SATA expansion
Easily add 24 additional drive bays to Synology FlashStation or RackStation. Supporting 2.5" SAS/SATA drives, the RX2417sas is a flexible solution supporting on-the-fly volume expansion or serving as a local backup destination.

Maximum reliability design
Dual power supplies ensure continuous service uptime. Easily replace defective drives with the host swappable drive trays. Experience fast and secure rack cabinet installation with the optional sliding rail kit RKS1317.


5 year warranty
Synology's 5-year limited warranty provides hardware replacement and technical support via email and telephone services, maximizing your enterprises' return on investment.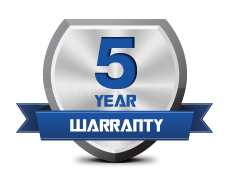 Technical Specifications:
Hardware Specifications:
Applied Models

FS3017*
FS2017
RS18017xs+

Note
Connecting to a Synology FlashStation FS3017 requires the optional FS3017 Expansion Card (FXC17) to be installed on the host device. FS3017 Expansion Card is sold separately.
Storage
Drive Bay(s)
24
Compatible Drive Type

2.5" SAS HDD
2.5" SAS SSD
2.5" SATA SSD

Hot Swappable Drive
RAID Management through Synology DSM
External Ports
SAS IN-port
1
SAS OUT-port
1
Appearance
Size (Height X Width X Depth)
88 mm x 482 mm x 724 mm 
Weight
16.6 kg
Power
Power Supply Unit / Adapter
2 x 500W 
AC Input Power Voltage
100V to 240V AC
Power Frequency
50/60 Hz, Single Phase
Power Consumption*
201.6 W (Access) 
117.2 W (HDD Hibernation) 
British Thermal Unit
687.89 BTU/hr (Access) 
399.9 BTU/hr (HDD Hibernation) 
Note
Power consumption is measured when fully loaded with Toshiba 600GB AL14SEB060N hard drive(s).
Redundant Power Supply (for RP model)
Temperature
Operating Temperature
5°C to 35°C (40°F to 95°F)
Storage Temperature
-20°C to 60°C (-5°F to 140°F)
Relative Humidity
5% to 95% RH
Others
System Fan
60 mm x 60 mm x 4 pcs
Easy Replacement System Fan
Noise Level
60.8 dB(A)
Certification

FCC Class A
CE Class A
BSMI Class A

Warranty
5 Years
Environment & Packaging
Environment
RoHS Compliant
Packaging Content

Main Unit X 1
Accessory Pack X 1
AC Power Cord X 2
Expansion Cable: MiniSAS-HD X 1
Quick Installation Guide X 1

Optional Accessories
Synology RKS1317 - Rail Kit Sliding
*Model specifications are subject to change without notice. Please refer to www.synology.com for the latest information.
Pricing and product availability subject to change without notice.