Synology Expansion Unit RXD1215sas

Reliable, scalable SAS storage expansion unit

Sorry, this product is no longer available, please contact us for a replacement.
Overview:
RXD1215sas is a 12-bay storage expansion unit specifically designed to work with Synology's RackStation RC18015xs+. When connected with RC18015xs+, it delivers the massive scalability and uncompromising resiliency that 24/7 businesses require.
Massive scalability up to 180 drives
Up to fifteen RXD1215sas can be connected to the dual RC18015xs+ computing nodes, accommodating massive scalability up to 180 drives and maximum raw storage beyond 1PB. The shared storage architecture eliminates the need for data replication over the network, in addition to drastically reducing deployment costs.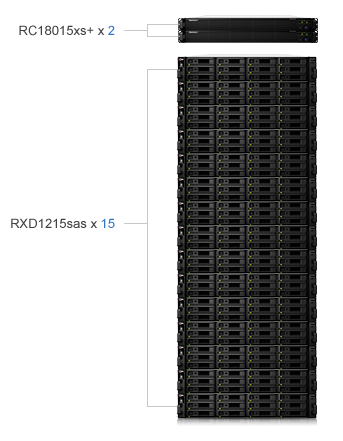 Hardware redundancy enhances system uptime
RXD1215sas is equipped with redundant hardware components, such as power supply units, SAS modules, and system cooling fans. In the event of component failure, the system continues operating normally while replacement parts are obtained and installed.

Specifications:
Hardware Specifications:
Applied Models
RC18015xs+
Storage
Drive Bay(s)
12
Compatible Drive Type

3.5" SAS HDD
2.5" SAS HDD
2.5" SAS SSD

Maximum Internal Raw Capacity
96 TB (8 TB HDD X 12) (Capacity may vary by RAID types)
Hot Swappable Drive
RAID Management through Synology DSM
External Ports
MiniSAS IN-port
2
MiniSAS OUT-port
2
Appearance
Size
88 mm X 430 mm X 692 mm
Weight
18 kg
Power
Power Recovery
Synchronized with the Synology RackStation
Power Supply Unit / Adapter
2 X 500W
AC Input Power Voltage
100V to 240V AC
Power Frequency
50/60 Hz, Single Phase
Power Consumption
248 W (Access)
British Thermal Unit
846.21 BTU/hr (Access)
Redundant Power Supply (for RP model)
Temperature
Operating Temperature
5°C to 35°C (40°F to 95°F)
Storage Temperature
-20°C to 60°C (-5°F to 140°F)
Relative Humidity
5% to 95% RH
Others
System Fan
60 mm X 60 mm X 4 pcs
Easy Replacement System Fan
Noise Level
48 dB(A)
Certification

FCC Class A
CE Class A
BSMI Class A

Warranty
5 Years
Environment & Packaging
Environment
RoHS Compliant
Packaging Content

Main Unit X 1
Accessory Pack X 1
AC Power Cord X 2
Expansion Cable: MiniSAS X 2
Quick Installation Guide X 1

Optional Accessories
Synology RKS1314 - Rail Kit Sliding
Pricing and product availability subject to change without notice.