Synology VisualStation VS960HD

Ultra-compact companion system offering features of Surveillance Station including live view and management tools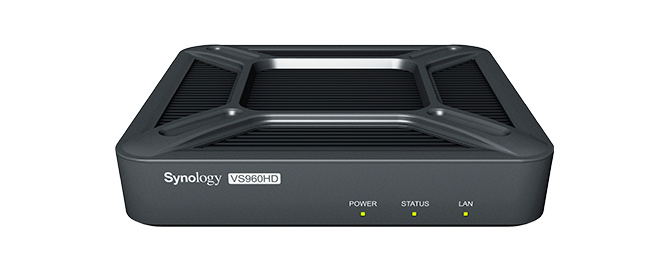 Sorry, this product is no longer available, Please contact us for a replacement.
Overview:
Synology VisualStation VS960HD is a compact, durable, and high-performance external display device built for Synology Surveillance Station 8 and onward. It comes with dual HDMI outputs supporting 4K and 1080p respectively, and supports 96 IP camera streams at 720p/10FPS. Synology VS960HD is backed by Synology's 3-year limited warranty.
PC-less surveillance live view and playback solution
H.265 decoding and 4K output support
Dual HDMI with extended desktop mode support
96-channel simultaneous HD live view
Ultra compact palm size and fan-less design
Endures industrial temperatures from -20˚C to 50˚C (-4˚F to 122˚F)
VESA-compliant mounting kit included
Works with Synology Surveillance Station 8 and onward
PC-less Surveillance Management Solution
Synology VS960HD makes surveillance management simple. The palm-sized display device comes with dual HDMI ports supporting 4K and 1080p resolutions respectively, allowing monitoring up to 96 channels of real-time IP camera streams at 720p/10FPS in a single 4K display monitor. The dual HDMI ports of VS960HD support mirrored or extended desktop options for flexible video monitoring layout arrangement. No need to use a costly, power-consuming and space-occupying computer for surveillance live view anymore.
When configured with a Synology NAS running Surveillance Station 8 and onward1 , VS960HD supports direct control of Surveillance Station features such as Live View, Timeline, and Recording List. You can browse through historical video recordings stored in the paired NAS and export video clips or live view screenshots to an external USB drive. You can also configure IP camera recording settings, and edit privilege profiles for individual users directly from VS960HD for convenient surveillance management.
User-friendly Operation
VS960HD supports navigating between different camera streams with a USB mouse or keyboard. Live View layouts are fully customizable with a few drag-and-drops. USB joystick is also supported to operate IP cameras with PTZ (Pan-Tilt-Zoom) control. The audio input and output ports on VS960HD allow microphone and speaker connections for two-way voice communication via audio-enabled cameras.
VESA Mount Compliance and Durable Design
VS960HD comes with a VESA mounting kit that is compatible to the back of any VESA-compliant monitor. The palm-sized display device easily hides behind the monitor, reducing clutter and providing maximum working space. VS960HD also endures industrial temperatures from -20 °C to 50 °C (-4 °F to 122 °F), so there is no need to worry about overheating when installing VS960HD on the back of monitors or in harsh environments.
Wallet-Friendly Energy-Efficient
Thanks to its fan-less design, VS960HD is completely silent and requires only 7.2W when operating with 96 channels. As a PC-less surveillance solution, VS960HD economizes on both equipment and energy costs in the long-run.
All Synology products are produced with RoHS compliant parts and packed with recyclable packing materials. Synology acknowledges the responsibility as a global citizen to continually work towards reducing the environmental impact of every product.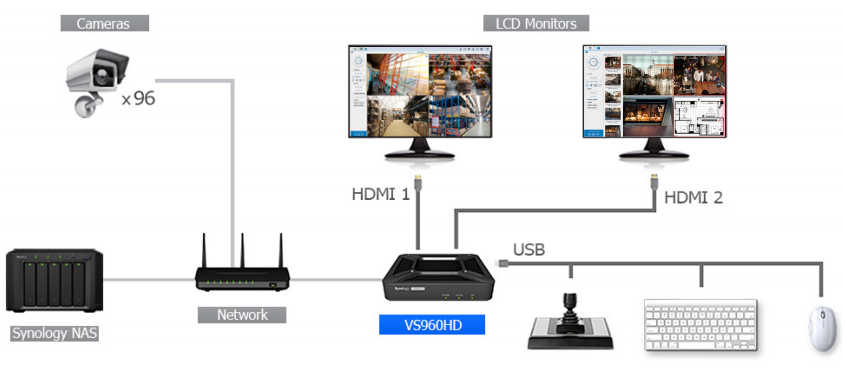 Video Surveillance Made Easy with VS960HD
Configure VS960HD with a Synology NAS and enjoy a PC-less surveillance solution that simultaneously supports up to 96 IP cameras and two mirrored or extended display output.
Features:
PC-less Surveillance Management Solution
VisualStation is the perfect alternative when facing limited space or budget constraints. Just plug in an Ethernet cable, connect to an LCD-monitor or TV, log in to Synology Surveillance Station — and you have a monitoring station for yourself.

Dual HDMI 4K and 1080p

Energy efficiency 7.2W

Compact design VESA support

Extreme performance 96 channels/720p/10FPS

Robust and certified hardware for harsh environments
Free from mechanical moving parts, VisualStation is more resistant against vibration and hardware failure. Its solid outer case and optimized design allow VisualStation to run within industrial temperature ranges, from -20˚C to 50˚C. In addition, VisualStation is EN45545 and EN50155 certified.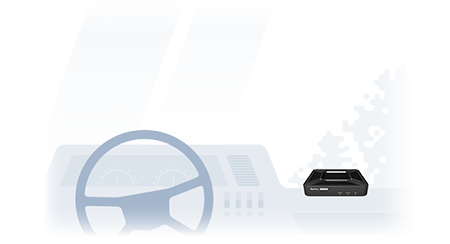 Ideal for mobile environments.
Vibration resistant

From -20°C to 50°C.
Thermal resistant

Ideal for TV wall setup
TV wall is ideal for monitoring a massive amount of camera at a glance, and it is easy to set up with VisualStation.
Dual screen display
Supporting dual monitor video outputs to allow users to switch between mirrored and extended desktop modes, VisualStation provides a cost-efficient, easy to setup, and scalable TV wall solution.
Minimum device size
The whole system fits in a palm-sized enclosure and can be easily attached to a wall or the back of a screen with a VESA compatible mount.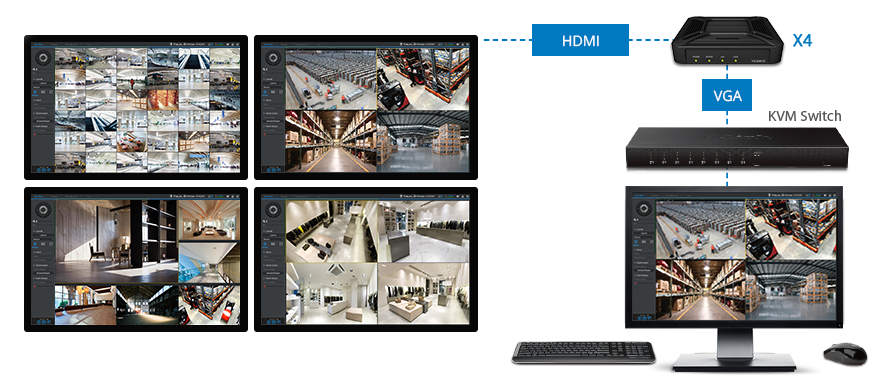 Convenient live view and playback interface
VS960HD provides a user-friendly interface and powerful features both inherited from Surveillance Station.
Intuitive interface for easy operation
For both beginner and advanced users, you can enjoy versatile features by operating VisualStation directly via an intuitive interface using a USB mouse, keyboard, or even a joystick.


Support most Surveillance Station features
Perform PTZ actions in Live View, switch to Timeline to watch recorded events, take snapshots and export them to an external storage device, and more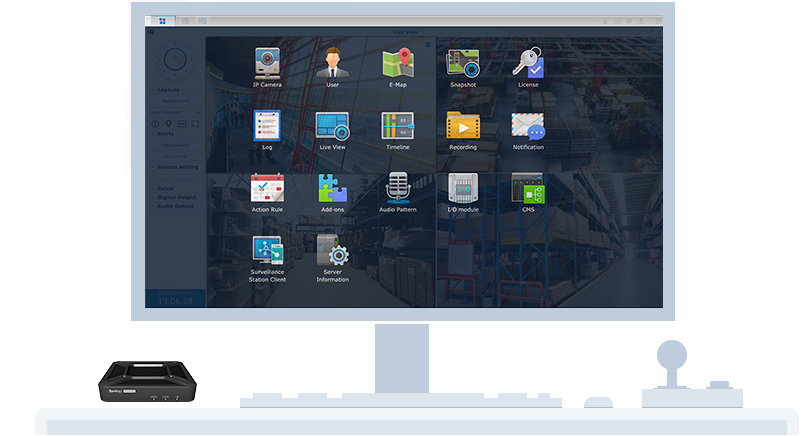 Specifications: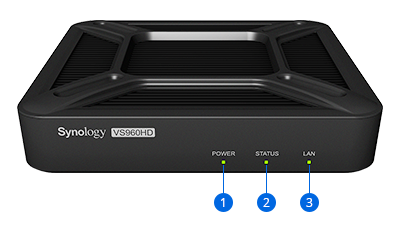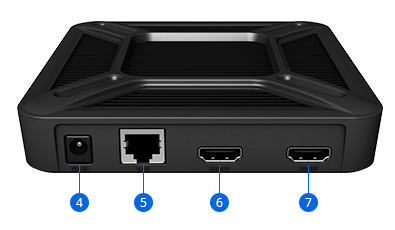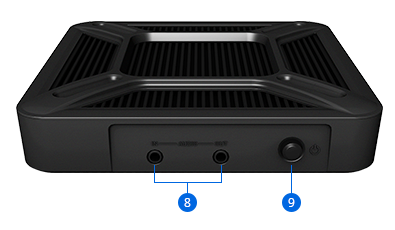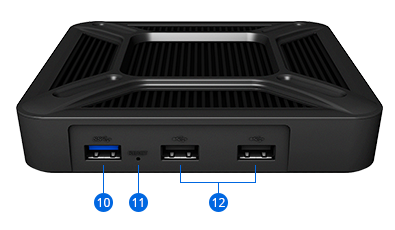 Power indicator
Status indicator
LAN indicator
Power port
1GbE RJ-45 port
HDMI output 2 (1080p)
HDMI output 1 (4K)
Audio in/out
Power button
USB 3.0 port
Reset button
USB 2.0 port
Hardware Specifications:
Video/Audio
Video Output
HDMI x 2
Supported Video Resolution
HDMI 1: 4K (3840 x 2160, 30Hz/60Hz); HDMI 2: 1080p (1920 x 1080, 60Hz)
Audio Input
3.5 mm Stereo Audio Jack x 1
Audio Output
3.5 mm Stereo Audio Jack x 1
External Ports
RJ-45 1GbE LAN Port
1
USB 2.0 Port
2
USB 3.0 Port
1
Appearance
Size (Height X Width X Depth)
32 mm x 130 mm x 130 mm
Weight
0.38 kg
Others
Power Supply Unit / Adapter
36W
AC Input Power Voltage
100V to 240V AC
Dynamic DC Input
7-24V
Power Frequency
50/60 Hz, Single Phase
Power Consumption*
7.2W (96ch full-load) 
4.9W (Power on Idle)
Environment Temperature
Operating Temperature
-20°C to 50°C (-4°F to 122°F)
Adapter Operating Temperature
0°C to 40°C (32°F to 104°F)
Storage Temperature
-20°C to 60°C (-4°F to 140°F)
Relative Humidity
5% to 95% RH
Other
Certification

FCC Class B
CE Class B
BSMI Class B
EN50155
EN45545

Warranty
3 Year Hardware Warranty
Software Specifications:
Maximum IP cam (licenses required)
96
Total FPS (H.264)*
960 FPS @ 720p (1280x720), 96 Channels 
580 FPS @ 1080p (1920×1080), 58 Channels 
440 FPS @ 3M (2048x1536), 44 Channels 
250 FPS @ 5M (2591x1944), 25 Channels 
140 FPS @ 4K (3840 x 2160), 14 Channels
Total FPS (H.265)*
900 FPS @ 720p (1280x720), 90 Channels 
640 FPS @ 1080p (1920×1080), 64 Channels 
430 FPS @ 3M (2048x1536), 43 Channels 
250 FPS @ 5M (2591x1944), 25 Channels 
150 FPS @ 4K (3840 x 2160), 15 Channels
Total FPS (MJPEG)*
400 FPS @ 720p (1280x720), 40 Channels 
200 FPS @ 1080p (1920×1080), 20 Channels
140 FPS @ 3M (2048x1536), 14 Channels 
80 FPS @ 5M (2591x1944), 8 Channel
Video compression format
H.264, H.265, MPEG4, MJPEG
Audio codec
AAC, PCM, G711, G726, AMR
Live view

Up to 96 channels in 720p/10FPS
Support smart multi-stream switching technology
Pan Tilt Zoom (PTZ) and digital zoom support with configurable PTZ speed
On-screen controls to activate audio/digital outputs of external devices
On-screen camera controls including camera zoom, focus, iris adjustment, auto pan, and auto object tracking
Alert panel to quickly display the most recently triggered events
E-Map & Snapshot support
Snapshot editor support for instant editing after taking a snapshot

Playback

Up to 96 channels synchronous and non-synchronous playback
Customizable layouts for playback in Timeline
Playback controls include pause, stop, previous recording, next recording, fast forward, slow motion, and digital zoom in/out
Frame by frame playback support
Snapshot support
Divide a recording into four equal-length sessions and playback concurrently

Management

Add and edit IP camera, I/O module, Access Control, and Transaction devices
Create and manage admin/manager/spectator user privileges
Joystick supported as a mouse replacement for hot keys and PTZ control
Virtual keyboard supported
HTTPS secured connection
System log

Interface language
English, Deutsch, Français, Italiano, Español, Dansk, Norsk, Svensk, Nederlands, Русский, Polski, Magyar, Português do Brasil, Português Europeu, Türkçe, Český
Notes

VisualStation throughput is tested with Axis P1347 (H.264@1280x720@10FPS).
The channel numbers indicated in the Total FPS column of each resolution is the maximum number VS960HD supports for live view display.

Environment & Packaging:
Environment
RoHS Compliant
Packaging Content

VS960HD main unit
Quick Installation Guide
AC power adapter
RJ-45 LAN cable
VESA mounting kit
*Model specifications are subject to change without notice. Please refer to www.synology.com for the latest information.
1 Synology Surveillance Station 8.0.2 and onward is required to support for VS960HD.
2 5-year warranty is available as an optional bundle with EW201, 2-year Extended Warranty service add-on. Visit https://www.synology.com/products/Extended_Warranty for more information on availability.