Surveillance Solution for Large-Scale Enterprises

Allowing security personnel to work at ease.

Large-scale organizations require equally large surveillance systems with hundreds of cameras to protect critical assets and reduce blind spots in the environment. Surveillance Station consolidates camera and recording management in one place and provides advanced features, allowing security personnel to work at ease.
Surveillance Station, flexible and efficient
Surveillance Station is a robust video management system that runs on all Synology NAS and NVR. Its intuitive interface lets large-scale organizations efficiently deploy, manage, and monitor surveillance system, allowing them to watch high resolution live feeds from multiple IP cameras, play back recordings, batch manage camera settings, and do much more.

Scalable surveillance system
Scaling out a surveillance system is easier than ever. By simply adding additional NVR servers, organizations can increase the number of supported cameras and storage capacity in order to meet organizations' future growing needs.

High resolution video support
Surveillance Station provides the best surveillance experience, supporting high resolution live view up to 49 channels in 1080p or 64 channels in 720p on each monitoring screen.

Efficient recording playback
Managing a large amount of recordings is easy with Surveillance Station. Security personnel can playback recordings from various recording servers on a single browser and quickly sort them based on different attributes.
Build a surveillance system effortlessly
With Surveillance Station's handy features, security personnel can speed up the process of deploying a large surveillance system and hundreds of cameras.
Deploy hundreds of cameras with Batch Add Camera wizard
Surveillance Station provides the "Batch Add Camera" wizard, allowing cameras and recording servers of the same model to be installed and configured in just a few clicks. This not only speeds up the deployment process, but also prevents human error resulting from repetitive actions.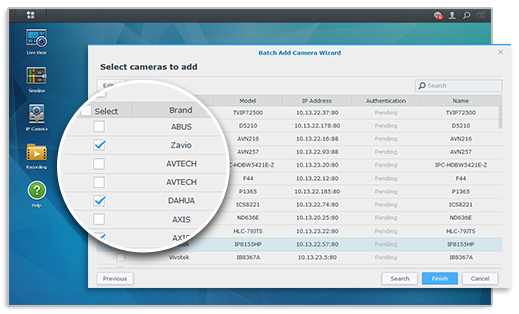 Integrate into existing IT environments easily
Businesses that have established domain user accounts through Windows Active Directory (AD) or LDAP, there is no need to maintain two sets of credentials – Surveillance Station can act as a LDAP and AD client to integrate with existing account system seamlessly. IT personnel can also access different IT systems and surveillance system with the same account.

Central Management System
Managing a large-scale surveillance system is easy with Central Management System (CMS), allowing IT administrators to enjoy efficient and centralized management, flexible deployment with TV wall solution, and proactive control with alert indicators.
Multi-site and Multi server management
With CMS, a host server can control other recording servers across different locations, so cameras, live feeds, and recording footage can be managed from a single interface, allowing security personnel to efficiently deploy and management surveillance systems of all scales.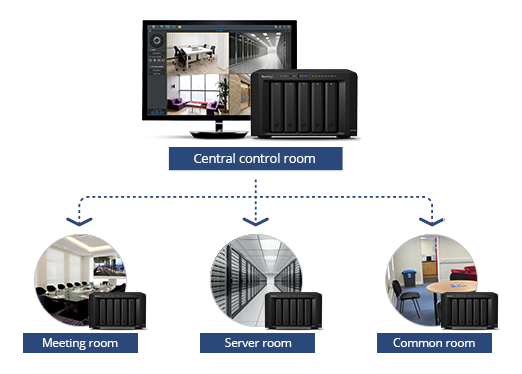 Scalable TV wall solution for easy monitoring
VisualStation VS360HD, a video decoder that provides a robust surveillance solution when paired with any Synology NVR server. By connecting multiple VS360HD units to a KVM switch as well as pairing with a CMS host server, a scalable, cost efficient, and easy to set up TV wall can be deployed, allowing security personnel to monitor a large number of live view channels and switch between channels easily.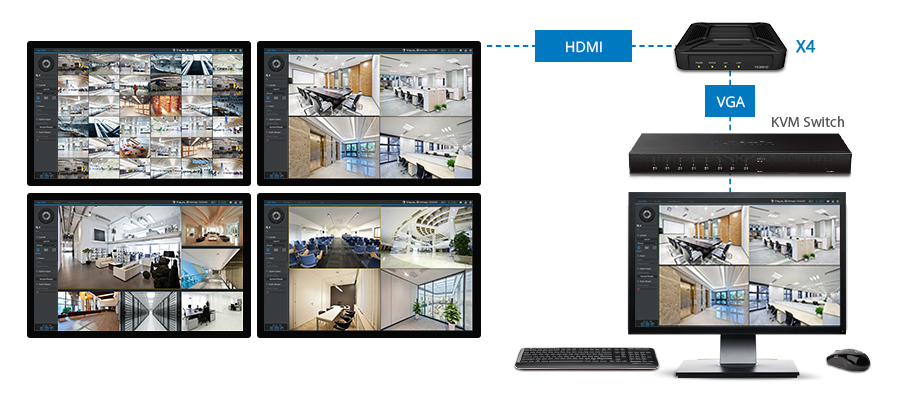 Get notified with alert indicators
Efficiently monitoring and spotting suspicious events from hundreds of live view channels is difficult. With Live View Analytics enabled, the events can be highlighted directly on an E-map, in addition to the Live View panel, so security personnel don't need to worry about missing any events when they leave their posts, as they can notice the camera and the location of the event straightaway when they get back.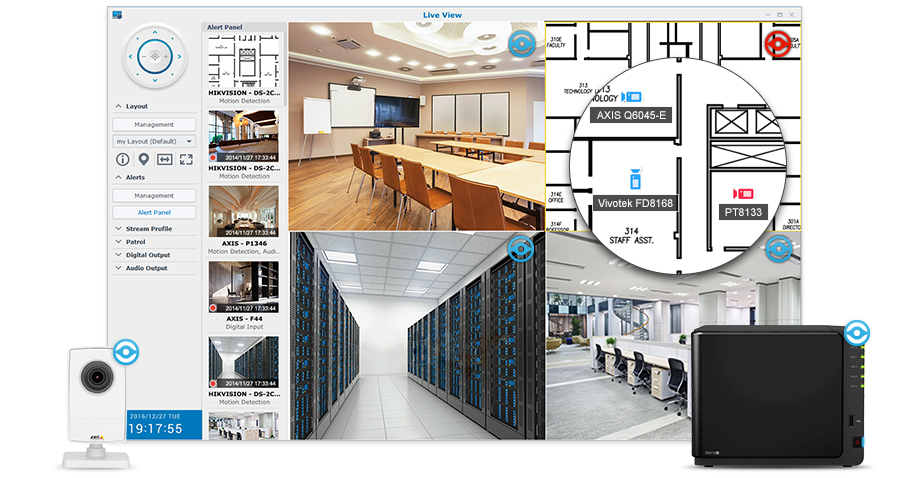 Flexible integration on Surveillance Station
Managing a surveillance system and access control system separately can result in repetitive work. Surveillance Station also works with specialized camera hardware features and even selected door controller equipment, allowing security personnel to manage everything all from the familiar Surveillance Station interface.
Vast camera support
Organizations might deploy specialized cameras in particular environment to save operating costs. For example, multi-lens cameras provide wide-angle view, allowing less cameras and licenses to be deployed in wide, open environments. Surveillance Station supports various specialized cameras, such as fisheye, PTZ, and multi-lens cameras, so businesses can deploy suitable cameras according to their need and centralize camera management in Surveillance Station.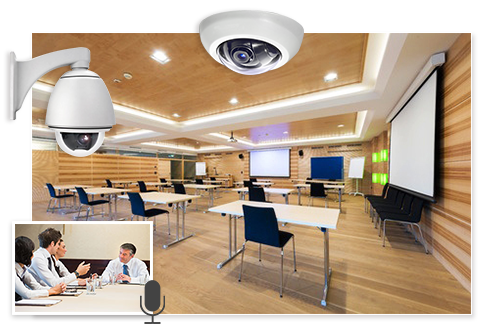 Door controller support
Surveillance Station can pair with selected door controllers, allowing security personnel to manage up to 66 doors and centralize access logs and recordings on Surveillance Station.