Surveillance Solution for Midsize Businesses

When scaling out business to multiple areas and sites.

When scaling out business to multiple areas and sites, SMBs need a surveillance system to protect their valuable assets-personnel, offices, labs, retail spaces, and storage rooms -from potential threats. For SMBs which need to install dozens of network cameras (16 to 100 cameras), the major concerns when choosing a surveillance solution are cost-effectiveness, reduced liability, multi-functionality along with efficient management.
Protect your business assets and physical security
Surveillance Station is a robust video management system that runs on all Synology NAS and NVR. Its intuitive web interface and numerous features let SMBs monitor daily operations anywhere, upgrade surveillance storage easily, and record events smartly. You can watch live feeds from multiple IP cameras, play back recordings, batch manage camera settings, and do much more.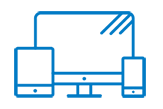 Cross-platform surveillance
Compatible with major browsers (IE, Firefox, and Safari), operating system (Windows® and Mac), and mobile devices (iOS and Android), Surveillance Station lets you monitor physical environment from anywhere.

Scalable storage
Pairing with Synology expansion units, Synology NAS and NVR offer scalable storage capacity, allowing you to keep recordings longer based on your needs or store more video recordings when adding cameras.
Efficient playback
Surveillance Station offers a variety of ways to watch recordings. With Timeline panel and Smart Search, you can play back recordings quickly and track any changes during your IP camera's watch time.
Event linking brings greater automation, less liability
Synology NAS and NVR include the "Action Rule" feature that allows you to create rules including specific events and actions. Once any pre-defined events are triggered, the corresponding actions will be performed automatically.
Automatically patrol important zones
You can set up patrol routes to have PTZ cameras automatically move along a designated path. This increases cost-effectiveness since a small number of cameras can cover large areas in storage rooms or shops. If a thief or other intruder damages one of your cameras, an Action Rule could automatically pan a nearby camera or start tracking objects that move into that area.
Deter potential offenders with digital input/output support
Imagine you just expanded to several new shops in the city; how can you protect your stores after closing time? Synology NAS and NVR can take advantage of cameras that support digital input/output, allowing you to manipulate external devices directly through the Surveillance Station interface. By leveraging an Action Rule, you could configure an alarm or flash to be triggered when there is an intruder trying to break into your store. Additionally, two-way audio support lets you speak directly to another security guide within range of a camera when you notice a suspect.

Beyond video surveillance with door controllers
When paired with AXIS Network Door Controller solutions, Synology NAS and NVR offer a set of access control system — centralizing video monitoring and physical access control in a single pane.
Monitor, lock, or unlock via the web interface
By integrating AXIS Network Door Controller solutions, Synology NAS and NVR empowers you to manage the physical access control of your offices, labs, or warehouses, preventing any risks of a break-in or employee theft. You could easily monitor access points, lock and unlock doors — all on Surveillance Station's intuitive user interface.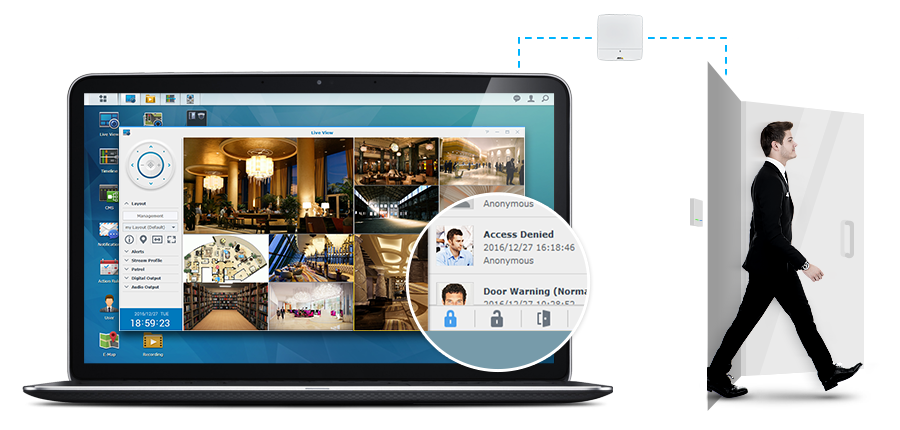 Inspect physical access logs in one place
When events happen, it's important to have logs to check details, such as which employee opened a door or when it was opened. With the Log center in Surveillance Station, you can view access logs of connected doors, search the log based on Source, Door, Status, Time interval, and Keywords, and even playback recordings captured by the paired camera.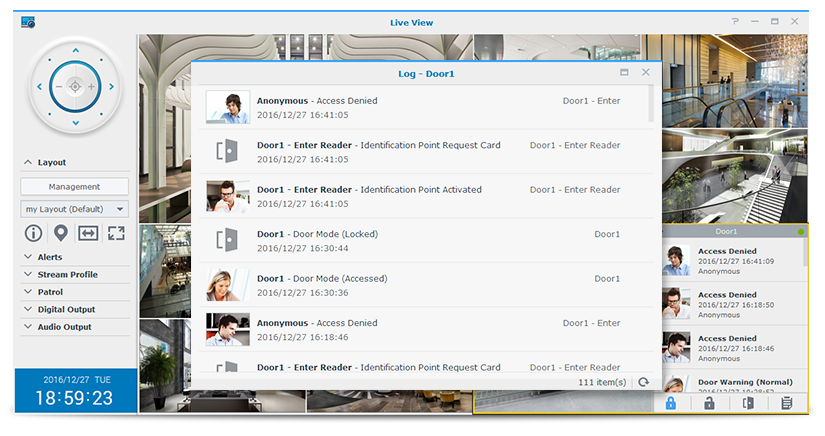 Effective surveillance management
Synology NAS and NVR offer a full range of tools and features to provide SMBs a hassle-free way to manage everything. Security personnel could easily configure cameras from multiple sites, search recordings from many cameras, and remote manage camera with mobile app.

Central Management System
Setting up one camera is easy, but what if you have a hundred cameras in different locations? Synology's CMS architecture — featuring a host server to centralize live feeds and recordings from multiple remote recording servers — is an efficient solution, letting you manage all cameras and video streams via a single place.

Smart Search
When someone breaks into the office and steals important documents or other things, the sooner you identify a suspect, the greater your chances of recovering the stolen property. Smart Search allows you to search through recordings against six types of analytics, including motion detection, missing object, foreign object, camera occlusion, no-idle zone, and focus lost.

Timeline
An optimal surveillance solution needs to offer SMBs an easy way to view recordings. With the Timeline panel, you could select a date and time and then play back recordings concurrently or non-concurrently — with support for up to 64 channels. Better yet, you could manage recordings, take snapshots, or zoom in and out; everything can be done directly in the Timeline panel.
DS cam and notifications
Sometimes a security guard needs to patrol the areas to deter illegal and inappropriate actions. With the DS cam mobile app, security guards could take proactive control on the go — watch up to six channels1 simultaneously, take snapshots anytime, and adjust your cameras' position and zoom with PTZ actions.2 By offering nine different triggering events and sending message via SMS, e-mail, and push notifications to your iOS or Android devices, DS cam keeps you notified.